Coming back to life...
It has been very warm (in the 70s F) here the past few days so we've been taking advantage of it the best we can. My days are pretty up and down but I have been completely making the best of what I've got and enjoying my critters, and the sunshine when I can.
Emerald loves coming to the house for a daily visit, she climbs right up the porch, comes inside and then heads out on the deck with me and the dogs. She also joins me and the dogs on our walks. I started teaching Spriggan my Pygmy buckling how to walk on a leash too - now is the best time for him to learn and he's a real sweetheart. He had a blast at the house. It's going to take work, but he'll get more and more used to it as we go (the leash part, he loves being at the house!)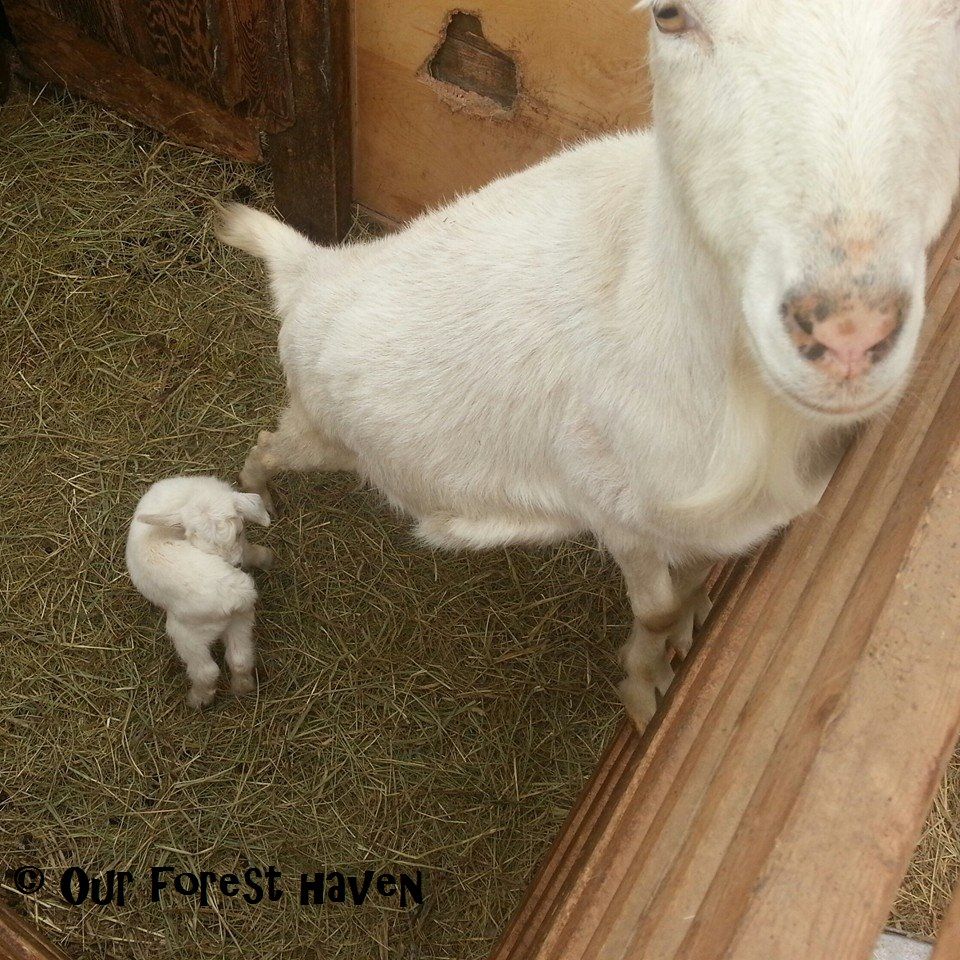 On Monday, during the full moon, Beatrice finally gave birth to a beautiful little buckling! He is so precious and so tiny. He's a Saanen/Pygmy mix.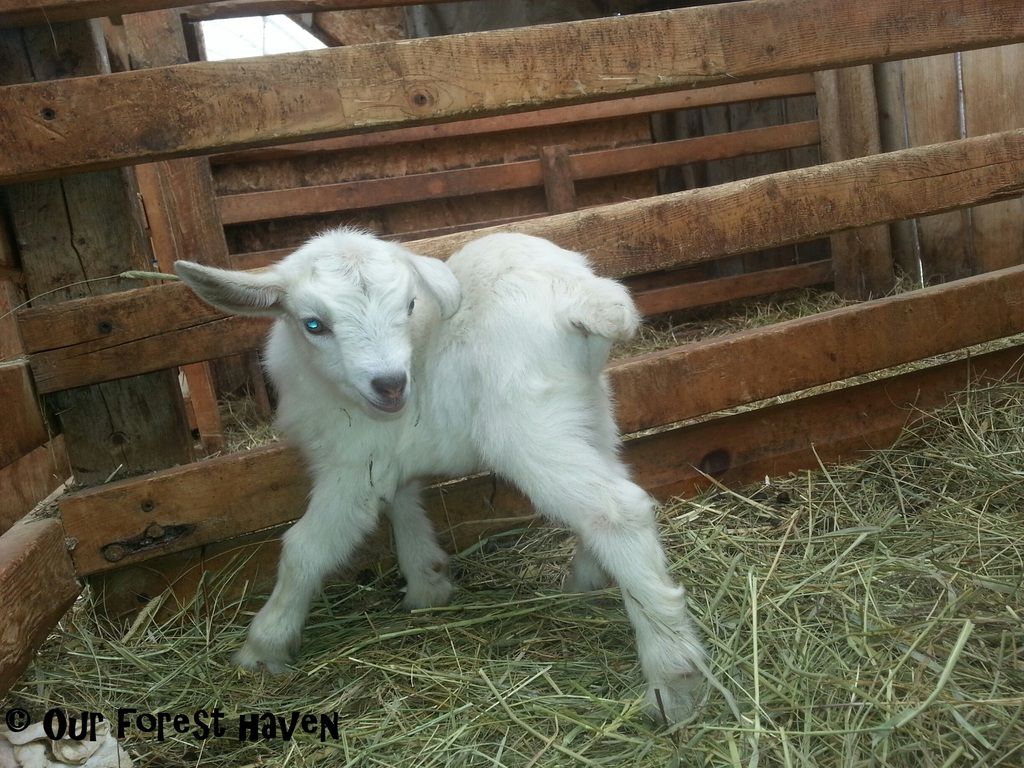 He has the sweetest face - Beatrice's kids always do.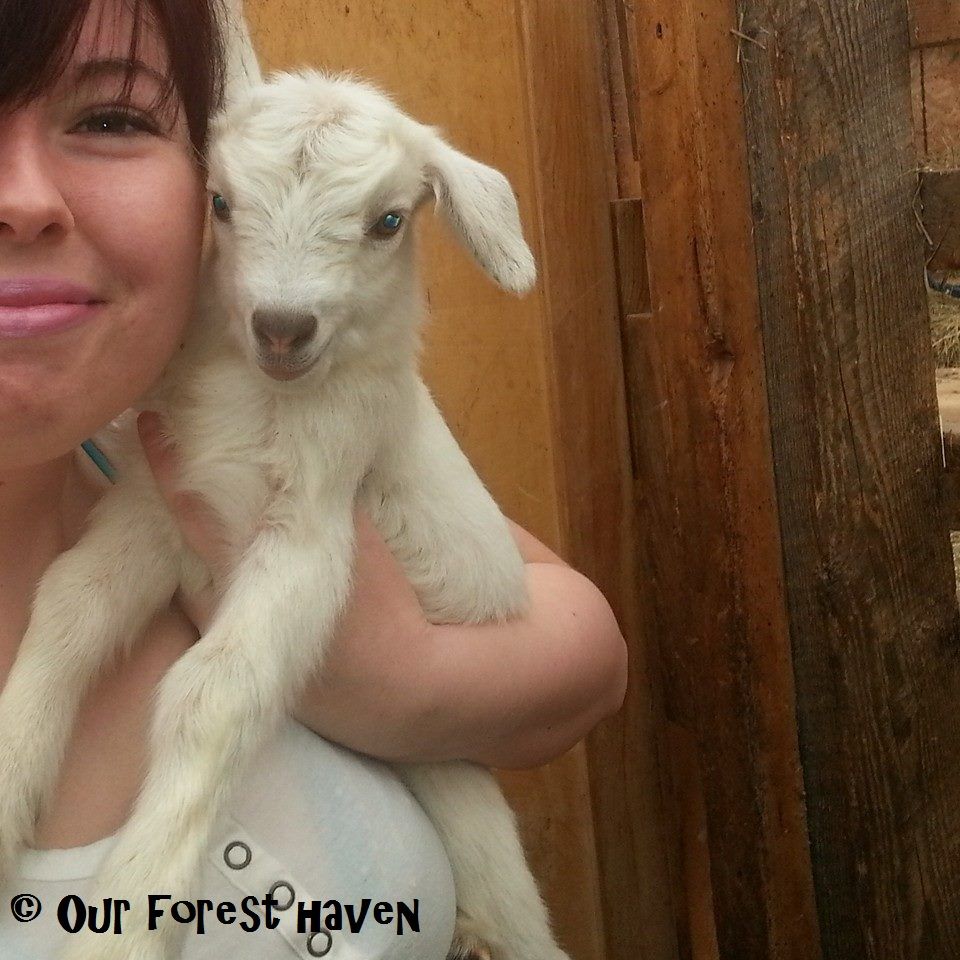 And his ears are still floppy. He's a heartbreaker.
I brought him to the house the other night because Kevin had not seen him - and since then he's been making regular short visits just to snuggle. He's super sweet and LOVES being held. You can kind of see how small he is - he's very small, Chihuahua sized but it's so hard to see in all the pictures I have of him so far.
I was having a rough morning today but after an hour snuggling this sweet baby it sure seemed a lot better! He's not a bottle baby, his mama is happily caring for him, but you wouldn't know he wasn't, he even loves the dogs already.
We've been trying to walk every day, even if it's a short one. It's good for all of us. It's hard on me sometimes but I need it too and spending as much time with the animals as I can is healing in itself, and good for my spirit.
Little (well not so little anymore!) Emerald is just a doll, she's such a sweetheart. I couldn't have asked for a sweeter baby.
She sure loves her little dogs too! And her big ones... as soon as she goes back to the barnyard, she goes straight to the big dogs.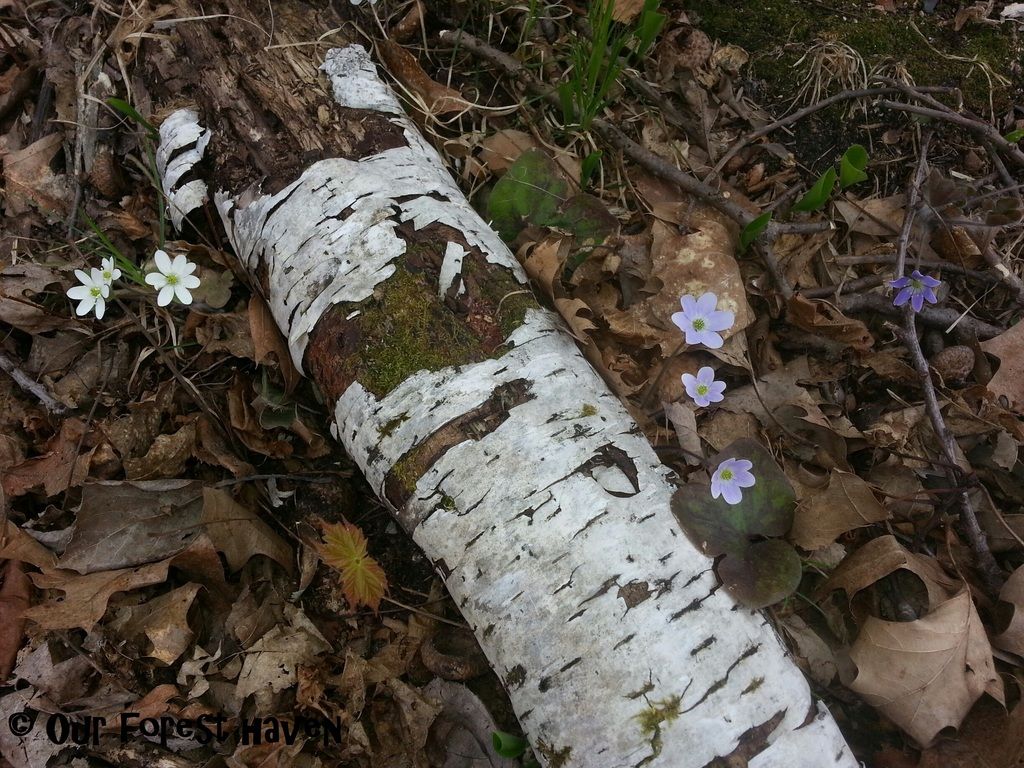 The forest is just alive with all kinds of wildflowers. We need rain pretty badly though, now is the time for it, and it's quite dry... too dry.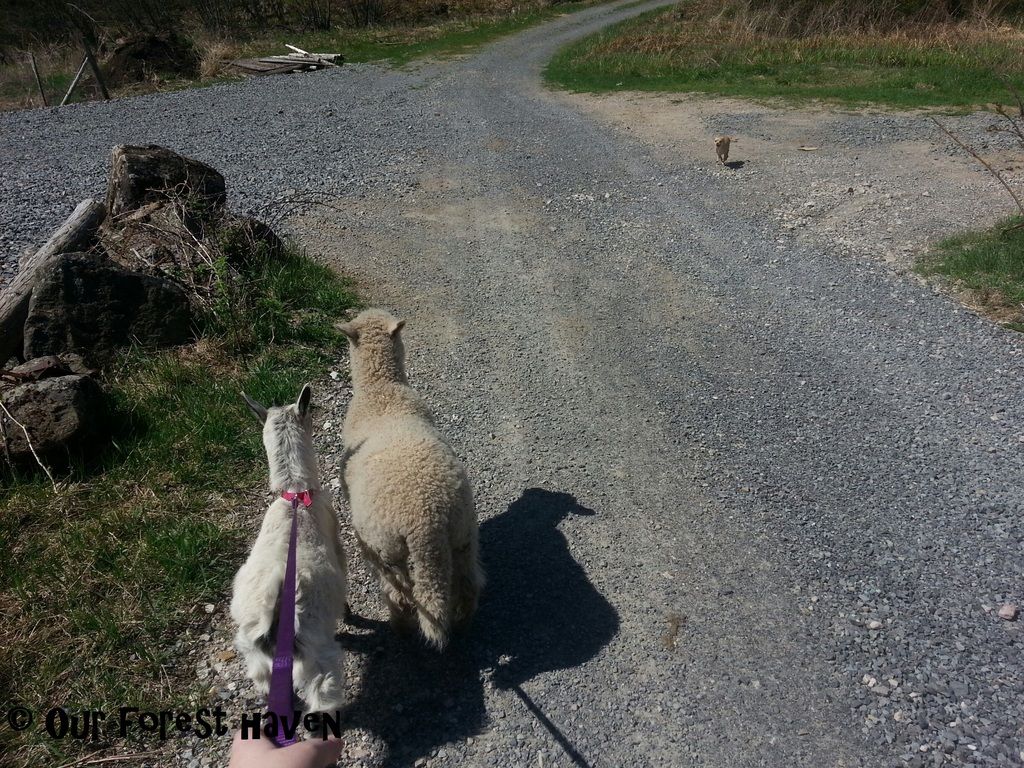 Spriggan actually walked a whole lot better on the leash once the little dogs joined us... I thought Emerald would be enough but he wasn't sure about it, but once the little dogs were there he walked much better on his lead. Sadly I only have pink collars right now and he's too small for a halter (any of mine) so he's stuck with pink at least for right now! He only wears it to learn to walk on lead of course, and actually he did quite wonderful for a first time.
I should be training Emerald on a lead now but she does so wonderful, she follows right along behind or beside me that I haven't bothered. Even when she is in the house at this size, or on our deck, she is so calm and well behaved it's quite surprising.
Spriggan the adorable.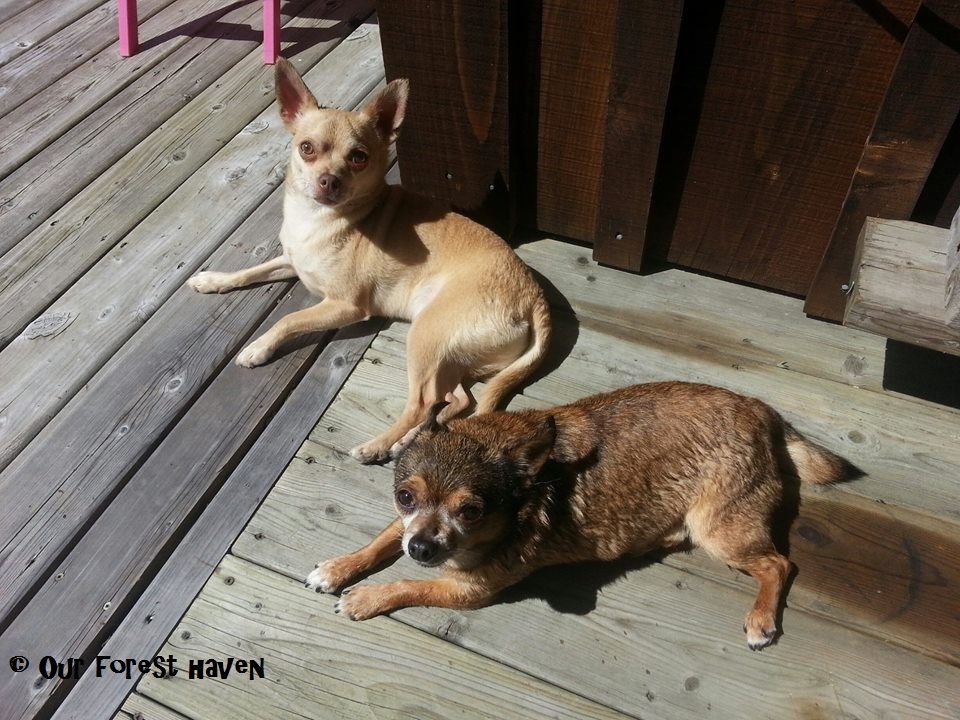 Since it was warm enough to dry off outside the boys all had baths too, which they didn't really enjoy but needed pretty badly. It's almost time for their annual check ups and vaccines, we bring them all at once so it's quite an afternoon!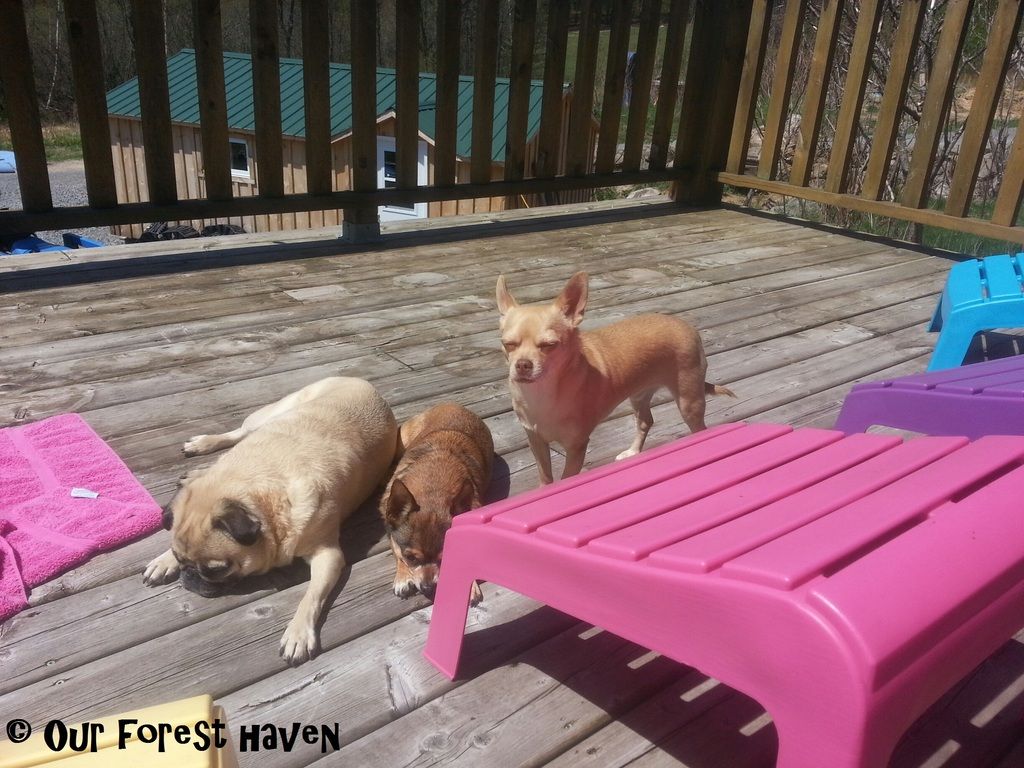 They have been loving being able to sun themselves on the deck again, it's one of their favorite things.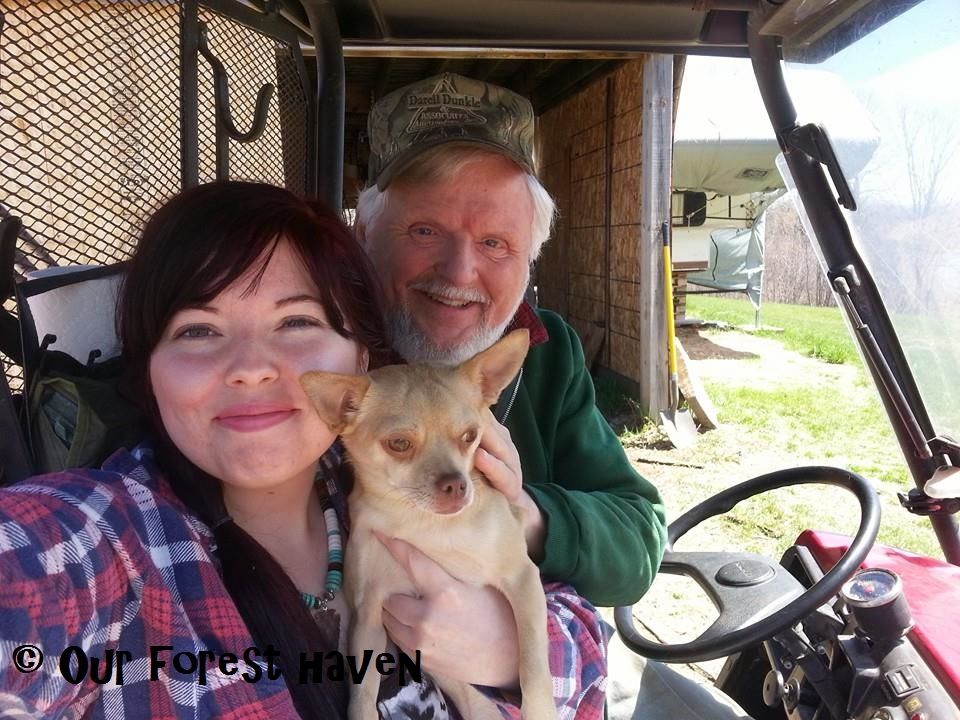 I also got to go for a ride on our trails with Kevin and Rollie, it's been ages since I've been out in the forest here, and we even got to the big creek which is quite far. I haven't seen the creek since fall. It felt amazing to be out, to see the forest waking up and coming back to life, and feel a little normalcy despite everything.
I've been trying to enjoy every minute I can that's good - and the moments that aren't, I focus on the good. I am blessed with such a great family, and it sure helps having the kinder weather returning, although the bugs are quickly waking up too! I keep hoping to get my seeds started but I haven't had the energy yet. The energy I do have I have been putting directly into just being with the animals and it's been 100% worth it even if I can't get anything else done! :)
I hope you all have a wonderful weekend friends!