A journey of (several) thousand miles...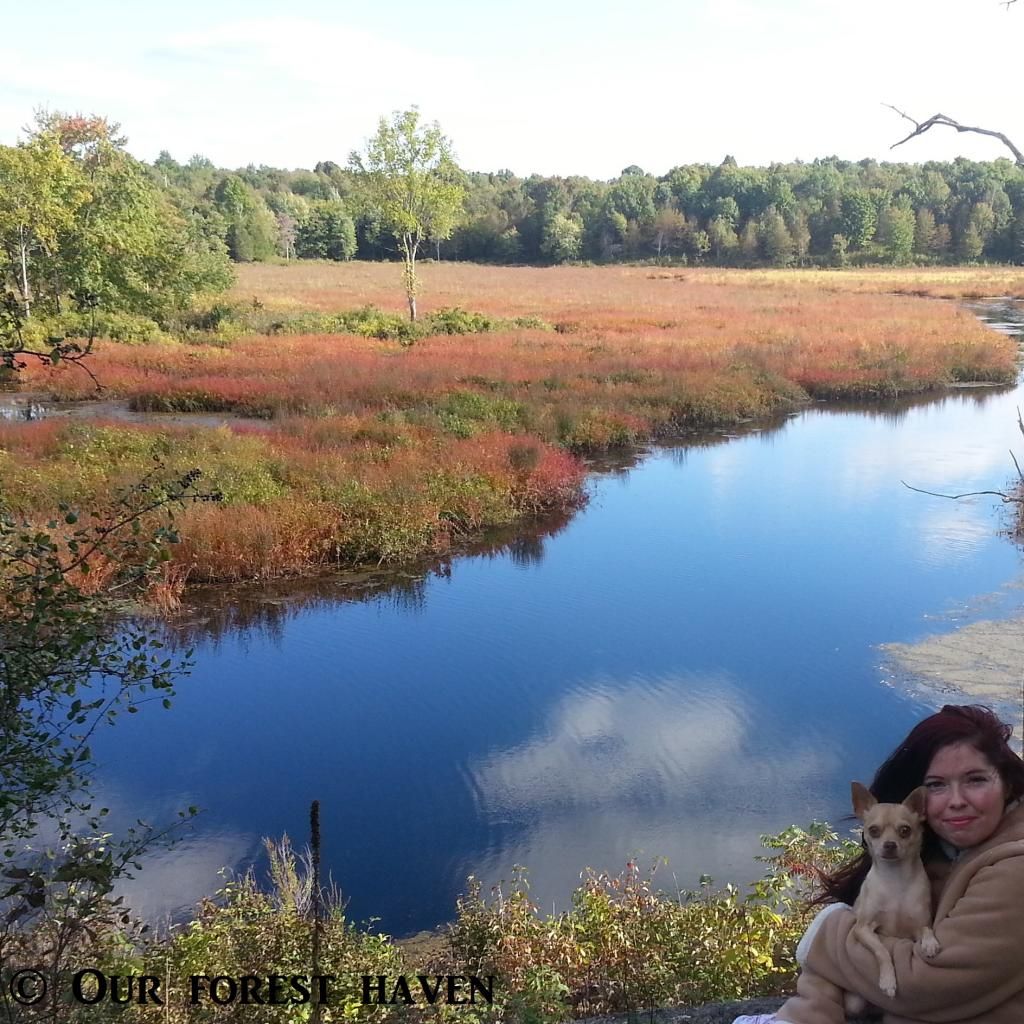 We are home! And I am so grateful for it, even if there is tons of work to be done.
August and most of September has been crazy. On the 11th of August we left the farm and started our journey to Texas for my 7th surgery.
We left early so we could enjoy the drive, and a little time away.
We drove through part of Shenandoah National Park. It was gorgeous, but much of the road was impassable because of the thick fog making visibility zero.
We also finally stopped at Luray Caverns in Virginia, something we've been by several times but never been able to stop and see. If you have not explored the cave, it's so worth the visit.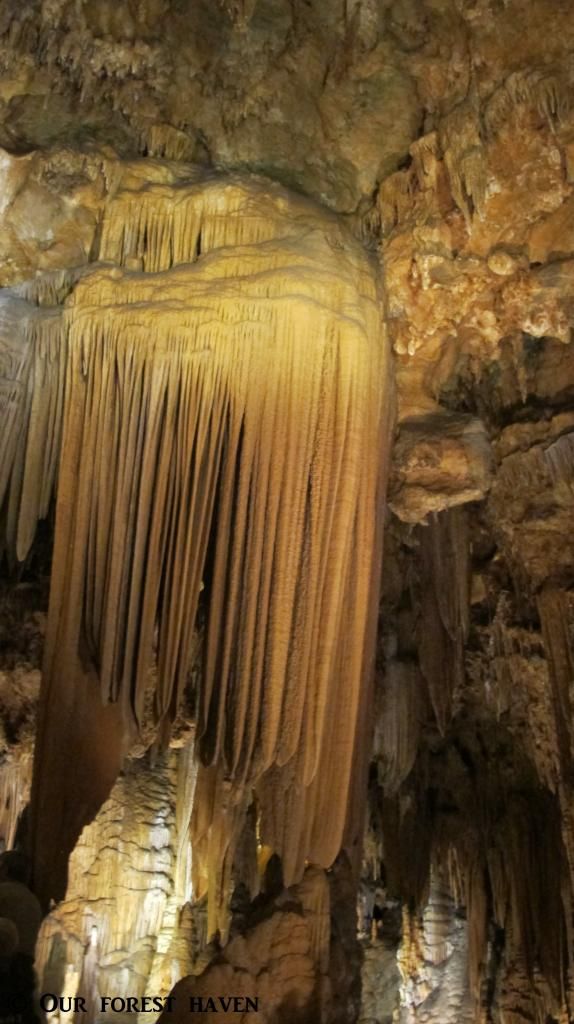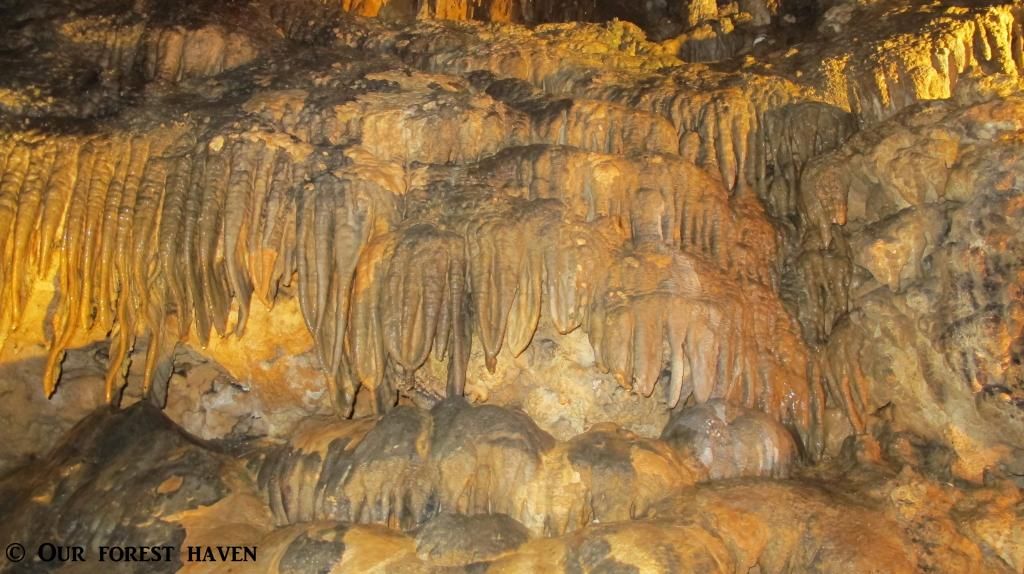 It was the first cavern I'd ever been in, and it's pretty awesome to see.
Then we spent a week in Florida with Kevin's brother and niece, which was a nice break. After that we headed to Dallas slowly, stopping in Grand Isle Louisiana for a night since I'd never been in that area ever before, so we explored a bit of the bayou country.
Sunday we made our final drive into Dallas, and Kevin had an allergic reaction and his eyes were once again almost swollen shut. Monday morning I called my Doctors office to let them know I was there and would see them the next day for my appointments - and they let me know they needed me to come in right away because they had moved my surgery up a day!
Although the hotel did not have a car service, they had the maintenance man drive me to all of my appointments - three different ones and 4 1/2 hours worth. It was beyond kind of them to do, especially since they had already made an exception for Douglas even though they had a strict no dog policy. The manager also came in at 5:30 AM the next morning just to drive me to my surgery. I can't say enough about how good they were to us.
My surgery went smoothly, Dr. Dulemba was awesome, and that is probably the least pain I've been in after surgery since they had me on a pain pump I could control myself and I also had a pump with numbing medication going right into my pelvic area. The nurses were very good to me. I was pretty sick from the morphine however. I stayed overnight and almost did not get out the next day since I was really struggling but they got me well enough to send back to the hotel Wednesday afternoon. I made it until Saturday before ending up in the ER with a severe allergic reaction to the medication, which was probably the worst part of the entire experience. I didn't think I was going to die but I was ready to. They took care of me there however and got me quick relief with a bunch of different medications, and I stopped taking the pain medication I was on. I went back to taking my pre surgery medication so I had more pain because it's not very strong, but I felt better overall because I was not sick.
We stayed in the hotel until Wed and then made our move. This surgery was not nearly as difficult as my last since much less needed to be done, so I was not in nearly as much pain. But my body went through a lot of changes this time, so that takes a long time to sort out, but we knew that was coming.
Instead of coming straight home, we headed to New Mexico to visit friends for a few days which helped give me a break too. Either way it was a 5 day drive to home, so we decided to take it slow,
On the way to our friends house near Quemado, NM, we had to pass right by Carlsbad Caverns so we decided to stop. We made it there 10 minutes before the evening bat flight! It was unreal. I was so excited to see the bats, hundreds of thousands of them, exiting the cave for their evening meal. I had never seen anything like it, and it was really incredible. I was holding my breath half of the time, it was such a special thing to be able to experience.
The next day we went on the 1 1/2 hour tour of the big cavern, I couldn't walk enough to make any of the guided tours so we did the easier self guided tour. Thankfully at Carlsbad they have an elevator down, otherwise I wouldn't have been able to walk it.
It did wear me out pretty badly but I'm so glad I saw some of it, it was beyond words. That cave is the biggest and the most impressive by far. I also appreciated that they had less lighting so you felt more of the feel of the cave, and also that you could walk alone and stay as long as you wanted to in certain areas without being pushed along like you are at Luray. I really hope someday when I am better we'll be able to go back and explore the cave further, there are several different tours of varying difficulty you can go on.
Before we left the town of Carlsbad, we stopped at the Living Desert museum and Zoo.
I was really worn out but I had to go and see the Prairie dogs. It was worth it.
They had a nice little set up there and they are the cutest creatures around. I could have watched them all day long... and also brought them all home with me.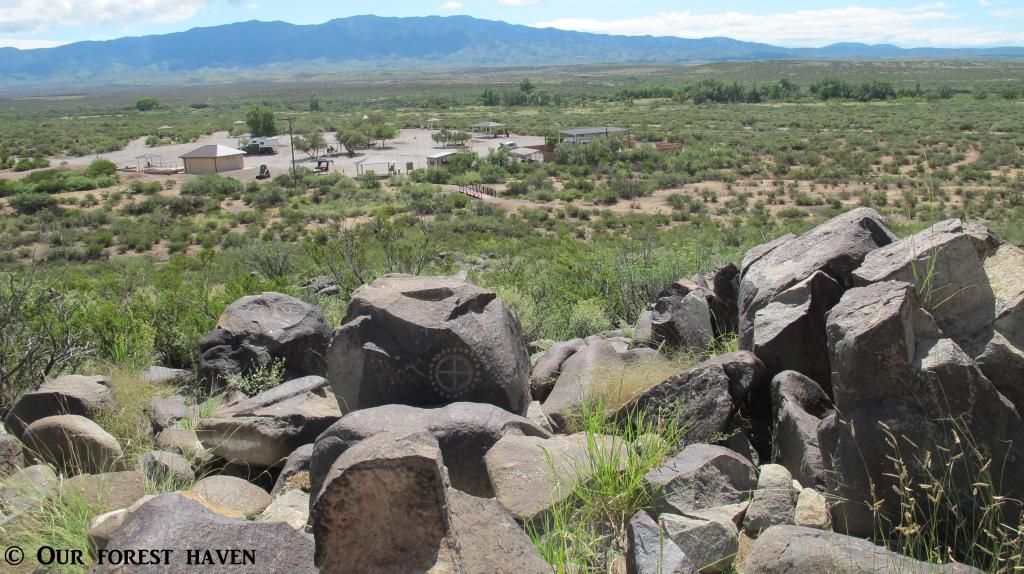 We also stopped at Three Rivers petroglyph site, but I couldn't handle the walking at all so I was only able to see a few of the rocks (out of thousands) before I headed back to the camper to rest.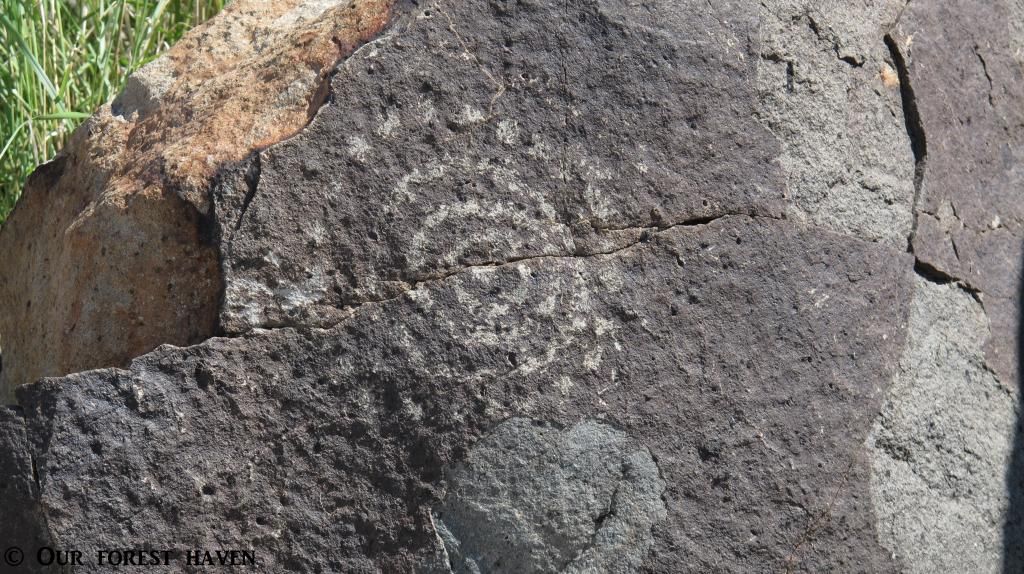 It's a pretty interesting site though and you could spend days exploring it.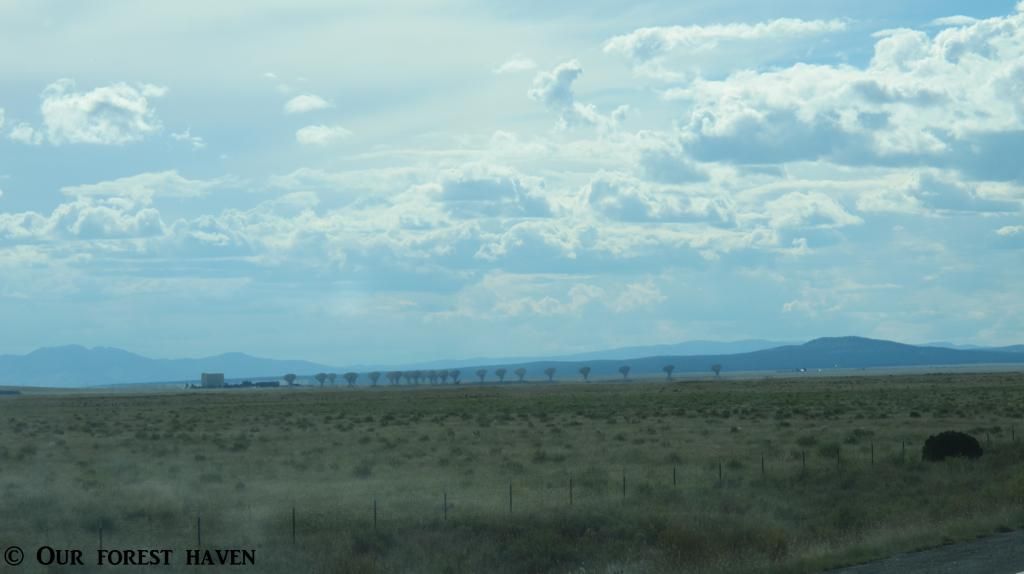 On the way to Quemado we drove by the VLA (Very Large Array) which is the radio astronomy observatory near Magdalena. It was pretty cool to see those giant dishes out there in the desert listening carefully.
We spent a few days in Quemado, visiting, exploring the area and for me, mostly resting, I needed it. Also my body realized at this point what had happened to it and I got pretty sick for a while.
But after some visiting and resting, we started out for home.
Before we left New Mexico, Kevin wanted to show me Taos since I had never been there and always wanted to go. He said it's so much different than people think, and he was right. The town was fine but no big deal to me, but the scenery! WOW. It was incredible.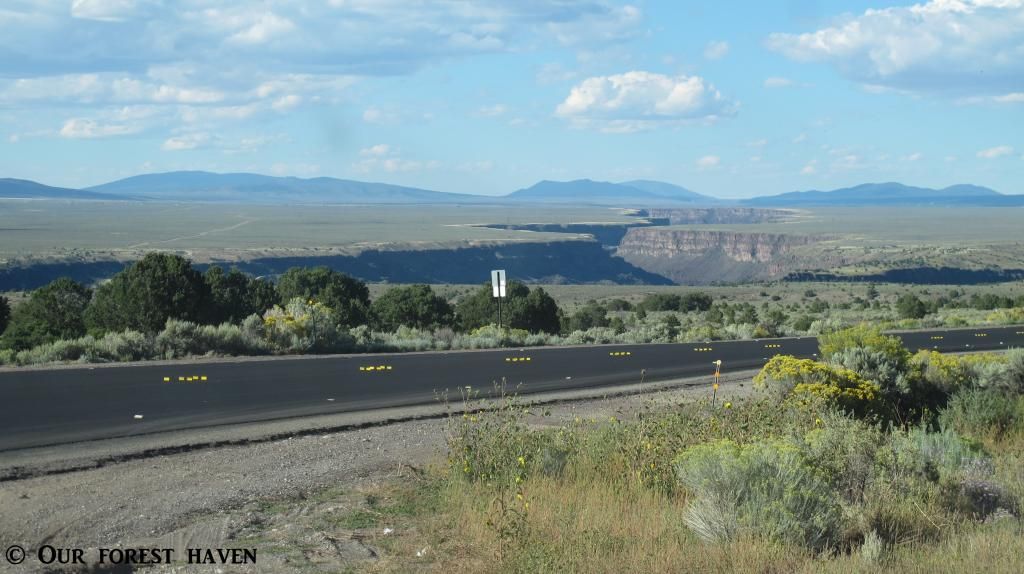 Then we just pushed on and headed for home, many LONG days of driving which was tough on all of us, Kevin, me, and Douglas too.
Douglas was a really good boy, at the hotel, and camping, he was beyond well behaved and he tried to take good care of me. I am so glad he was able to be with me, it really made things easier, especially when I was suffering the most. He hardly left my side.
We got home Sunday night, and man was it good to be HOME.
I missed the critters so much. And my bed. And my kitchen.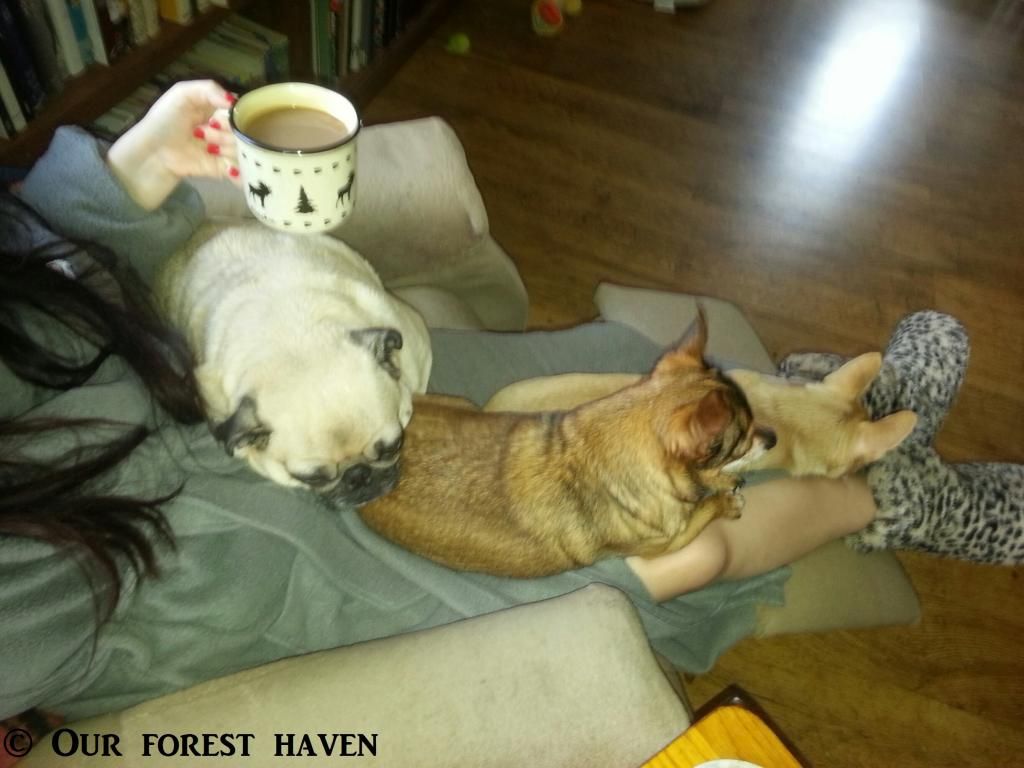 The dogs are all very happy to be back to their normal routine too.
But since we've been home we've had no time for rest. Monday we found out Kevin's cousins wife, and our very close friend passed away. We loved her dearly for many reasons, but to know her, was to love her. She was kind hearted, warm, honest. She taught me how to make my very first batch of strawberry jam and how to make pickles and she was always there for me through my earlier surgeries. She was a great lady. She just had her 67th wedding anniversary with her husband in August. She had begun in the past few years to forget things and wasn't herself, and I am grateful she is at peace now and that it was a peaceful passing, but still, those left behind must grieve, and my heart is broken for her husband. So we spent this week dealing with that, and also of course since we got home everything broke, the washing machine, the tractor, etc, which is normal, so there is a lot of stuff to be fixed!
I had to start back on one of my medications I was taking pre-surgery which has helped with the ongoing trouble but it also makes me sleepy, so it's slowed me down a bit. I am feeling a lot better but I still have pain, and I'm still really worn out. But it's only been three weeks since surgery and also, I have had little time to properly rest. I have more energy than before however, so I am raring to go, so I have to watch myself carefully since it's very easy to over do it.
But I had to get out to the big creek to see her in all of her red glory - she turns red every September and only for a few short days, it happens super fast and it's easy to miss. I look forward to it every year. Rollie came with us, as he's learning to ride in the atv, and he loved it, especially when he found out he gets to explore new areas too!
I mean how could you miss this? It's my favorite spot in the entire world. It feels good to come home and be happy to be here. Sometimes we wonder if our hearts are content here or not, and its always good to be reminded.
The Chihuahuas did just fine at home with Jim, but I did not like being away from them one bit, I am so used to traveling with all of them at once.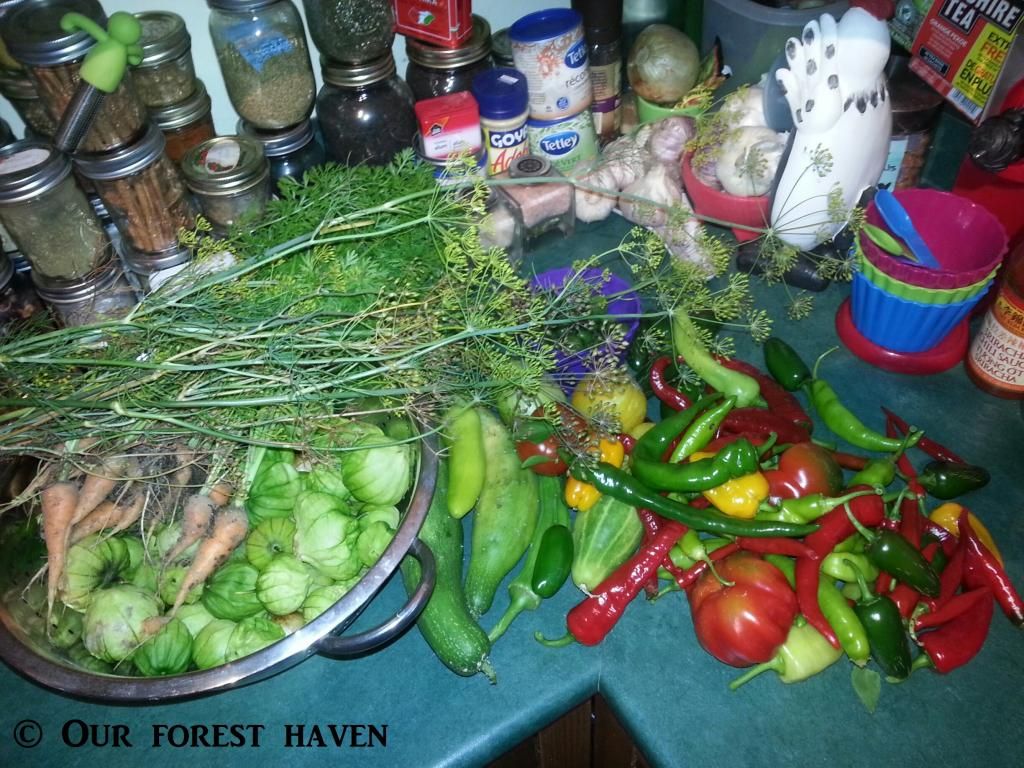 The F word (well more than one of them probably) has been getting thrown around a lot and honestly it's a little ridiculous since it's only September, But frost did indeed come Thursday morning! We moved all of my plants into our sun porch or undercover, and I harvested the rest. I got a good crop of tomatillos, lots of peppers (that's not even half of them) and I still have a ton of herbs to cut and dry... a lot of my herbs I am bringing inside for the winter to try and winter them over too. I also got cucumbers, okra, tomatoes, carrots (grown in a pot!) and some other goodies.
I am surprised at the weather. Since we've been home, almost a week, so many trees have changed color so fast it's hard to believe. I see an early fall leading into an early you know what. But I won't say it and jinx us. I hope all of your gardens grew well this summer.
Today Kevin harvested our garlic, which did pretty good considering we did not tend it at all since we've been gone. It tastes delicious. I have beets to start pickling among other things but for today, I'm resting with the dogs. I need it.
I am so happy to be home to our little world, when we get here it easily seems that nothing else matters except what exists and is happening in this forest around us. And I like it that way. For many years I wondered why I chose to live such an isolated life since I set out on my own at 17. But now I know why. Because my heart told me this was the way... and I listened to it.
Thank you all so much for your messages of support as well. This has been such a long journey and while I don't expect it's over, I am making progress, and that's all I've ever asked for.