Welcome Wally!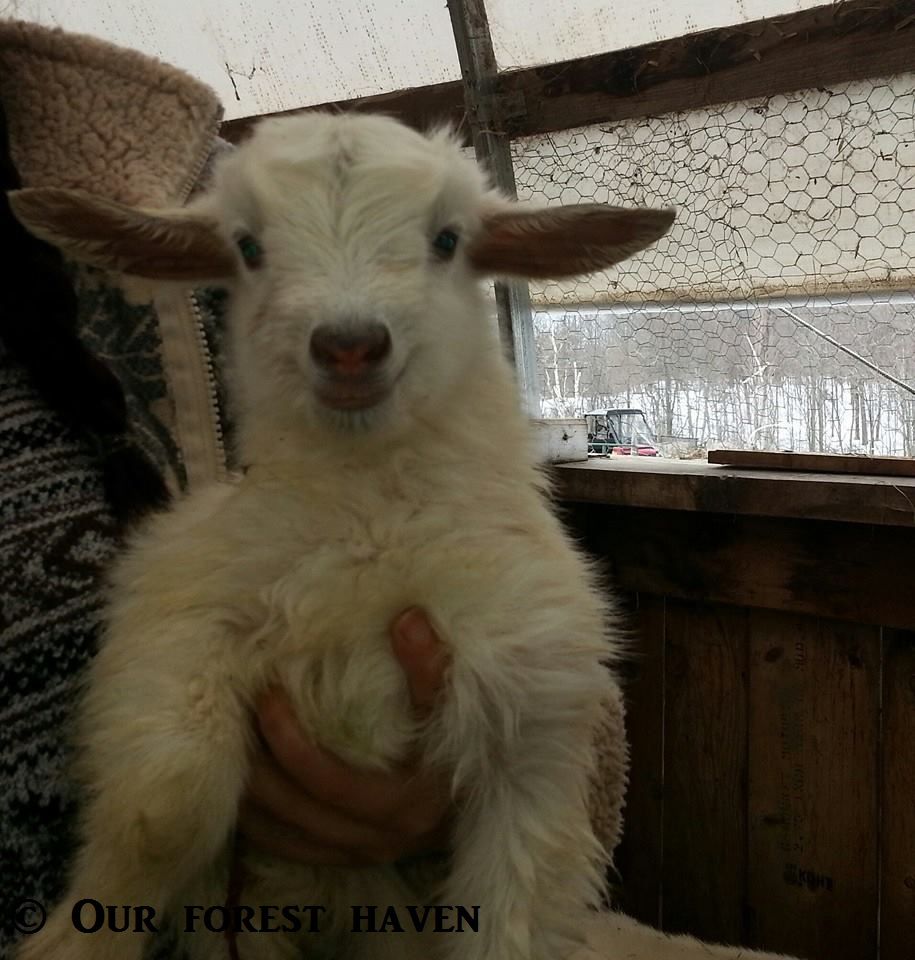 Yesterday, April fools day, also my Papa's (Grandfathers) Birthday, Beatrice, my last pregnant doe delivered this adorable little boy into the world!
I had a rough night, I was up crying most of it, and then in the morning, the cutest, happiest, healthiest, little guy was there, and it just made everything better. Look at that face - I mean, seriously!!
He's so sweet, so gentle, so round. He's quite small too - although you can't tell from that picture. Beatrice is a Saanen but all my girls were bred to my Pygmy buck. This little guy, whom I named Wally, after my Papa, is short and squat, like a Pygmy. His black nose is adorable too. I'm in love. I know, I'm in love with all of them, but he's a real cutie.
AND he's a snuggler! Which makes him even cuter. He loves a cuddle, and lets you smother him with kisses in between his naps.
Beatrice is such a great mom too.
We've had a weird few days here. The sap did start to run. On Tuesday we had a pretty good day around here, the sap started to run, the sun came out, and I felt fairly good even. I had a productive day, but still did not over do.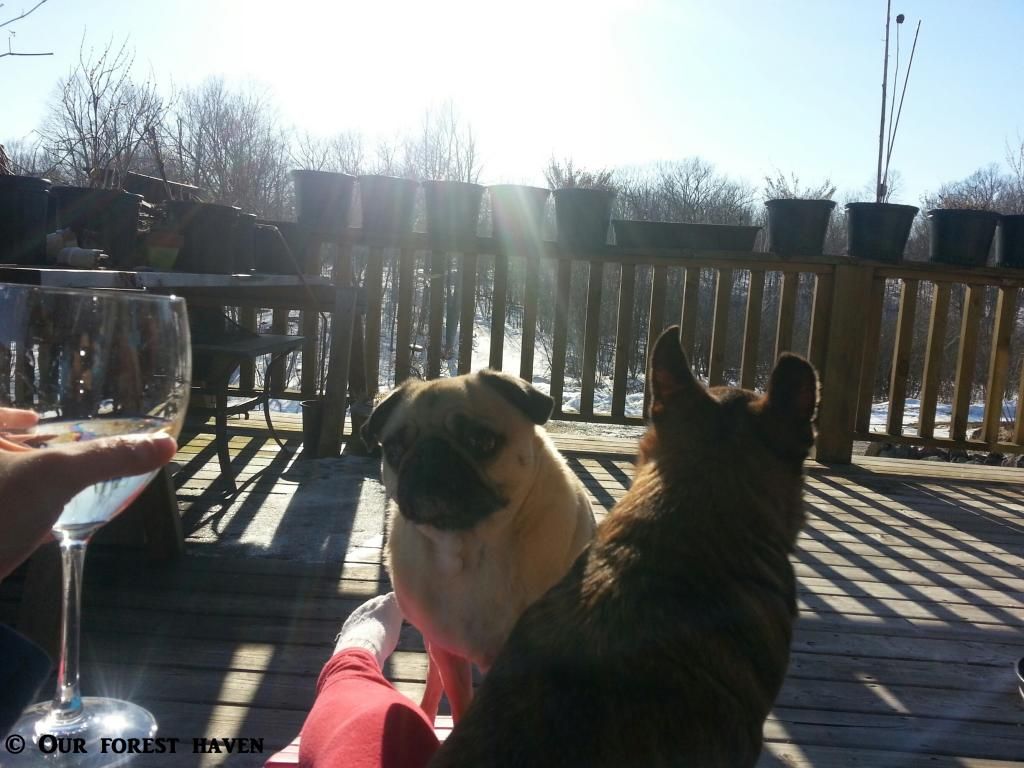 The dogs and I even got to sit out in the sun for a bit and just soak it up... it was heavenly. It felt so good. Don't let this picture deceive you - we are 14 feet up on the deck and it's been shoveled, all our snow is still here! But it felt so good, and it felt like... spring for the first time yet. The dog were so happy to be out on the deck.
Since then, I've had a rough couple of days unexpectedly but I'm getting through. Thank you all so much for your comments on my last post and just your support, it means a lot to me. Someone asked me whether I had considered or believed in holistic means and also Essential oils - I couldn't write back to you because your email wasn't listed but I wanted to mention here that yes I do believe and use both. :)
Lately since my whole routine is still off, I have mostly been taking pictures with my phone which I carry with me in case I get in trouble and need someone to come get me, if I am alone at the barn or wherever. I post a lot on Instagram but I realize not all of you see those pictures, so I thought I'd share some here from the last few days. I miss my camera though, and I have been starting to carry it more often, at least when I am more in routine, which I hope becomes more often than not sometime soon!
Here's me and Braveheart, my blind ram last week. He's still my baby, even though he is 250 pounds now.
There are few things in this world that can compare to that kind of love... maybe nothing can compare actually...
Little Lavender my bottle baby is growing like a weed!
She's a real character too! She's a real cutie. That's Puffin beside her, almost a year old! And the Pygmy babies from this year are the same size as her! She has grown out, but not up at all. She's so adorable.
A couple of days ago, Jim helped me clean the chicken coop out, which made me feel very good. It was warm out, although grey, and the girls had fun outside while they got a full house cleaning.
I got in a short walk with the boys too, which they loved - minus the wet feet.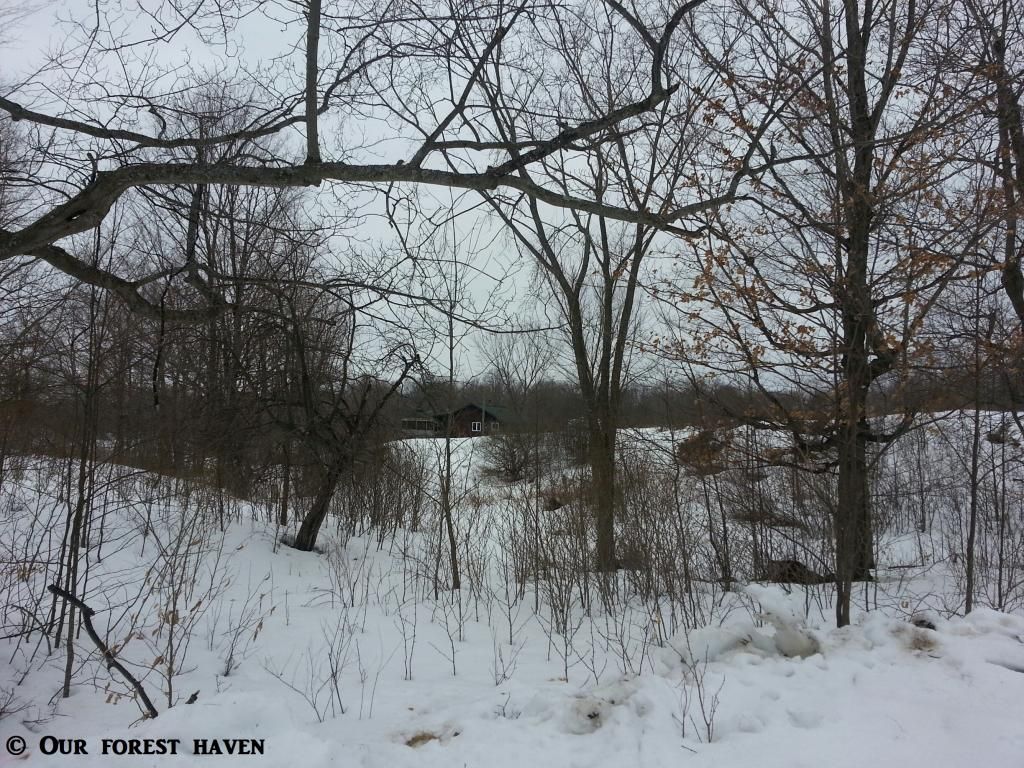 As you can see, we still have a lot of snow. We have had snow into April before but this is certainly some of the most we've had in recent times. If you go anywhere we have never shoveled or plowed, like in a field or the bush, you'll still sink up to your waist.
We are all anxiously awaiting it's departure. Except for Max. He loves it.
This years Pygmy boys are growing up, and more adorable all the time. Look at the red mustache :)
I started just briefly on spring nail trims and Noel, one of my Mini Rex was up first this morning and she was not pleased about it either...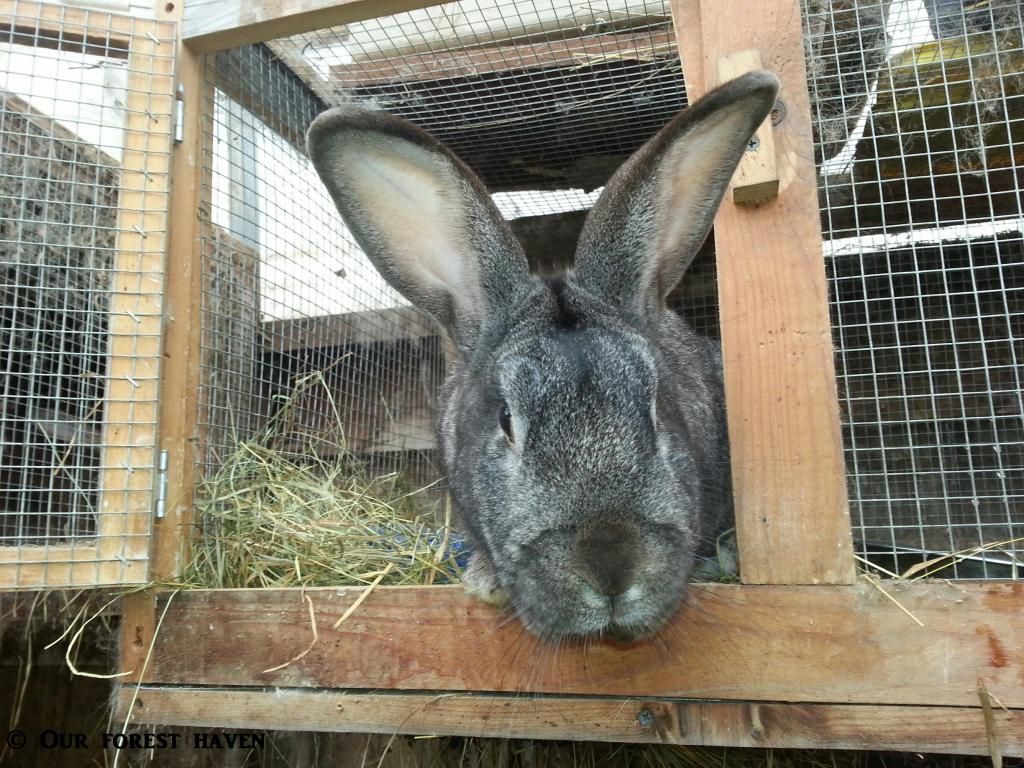 Yukon, one of bottle babies, was all for it though. A while ago when I was up to the barn after a time away because of my health, he felt the need to completely spray me with pee to mark me. He has never done that in 5 years and I've had a lot of rabbits too and only had that done once before. Now that he sees me everyday, he's much happier and marking me by rubbing me with his head instead of spraying pee all over me, which is nicer for me, I'll admit.
I managed to get some Hot Cross buns made the other day too, something I've been craving for a while. I love them toasted and smothered in butter - and hot out of the oven works too!
Yesterday I drug myself to the barn to milk and then spent the entire day in bed. Today was a little better. I managed to get my milking done and also some chores with Jim's help, and I also managed to get a big tray of cabbage rolls made and into the oven before taking some time out to rest.
On days of the year that I remember my loved ones, well I remember them everyday, but certain days in particular, I honor them, I do so by making something they just loved to eat. My Papa loved pierogi, but he also loved cabbage rolls. In a few more days, on the 9th, I'll make one of my mothers favorite things, funnel cakes. I do this every year as a happy way of remembering them through smells, and tastes, and also it's something that made them happy, and thus, me.
Kevin and Jim have managed to collect about 100 gallons of sap so tomorrow they will likely start a boil. It's going to be a super short run, and we are hoping for a gallon or two. More would be great but it seems unlikely - we'll be happy with anything at this point. The birds have all returned, the Goose has claimed our still frozen pond, I saw 6 Great Blue Heron's fly over yesterday and the Red Winged blackbirds are in the yard. So spring is here, even if it doesn't really look like it yet. :)