Funny farm...
Lets face it, sometimes I feel a little overwhelmed and I have help! If Jim wasn't here helping with chores and helping Kevin with logging/syrup, things I have always done, I'd be at a total loss. It's like some great effort and achievement for me to wash the sheets and then make the bed all in the same day. That's annoying. A good part of that is the medication I am on right now, it's not for pain, it's for another issue but it does make me sleepy. I thought to myself yesterday, "you know, I don't feel so bad, maybe I could stop it and see what happens" and then I realized, maybe the medicine is WHY I don't feel so bad!
I'd love to have more energy though. But hey, little bursts are worth it.
However, folks... my Christmas tree is still up. It's not decorated, I got that far... but it's still here. The goat thinks we just happen to have a tree in the house, which is quite convenient for her. At this point really, nothing is unusual around here. I watched a show on TV last night about a farm and I thought, man if they wanted entertainment they should have come here. At any given time you can walk into my house and see a goat sleeping under a giant fake Redwood tree right in the middle of the living room while one of the Kakarikis birds curses in the background if you don't answer him when he asks you what you are doing.
I'm not kidding either, this is a regular day.
Today we finally had enough sunshine that I decided to let the babies outside to play. It was a very happy day for everyone, me included. How could I not be happy with all of these happy animals around me? I forget about all the things that are slowing me down, and it's a lot easier to just focus on enjoying all the good things in life...
Acorn, our chocolate Pygmy buckling walking in a land of giants...
The babies are always drawn to Lambie, thankfully he loves babies, of all kinds...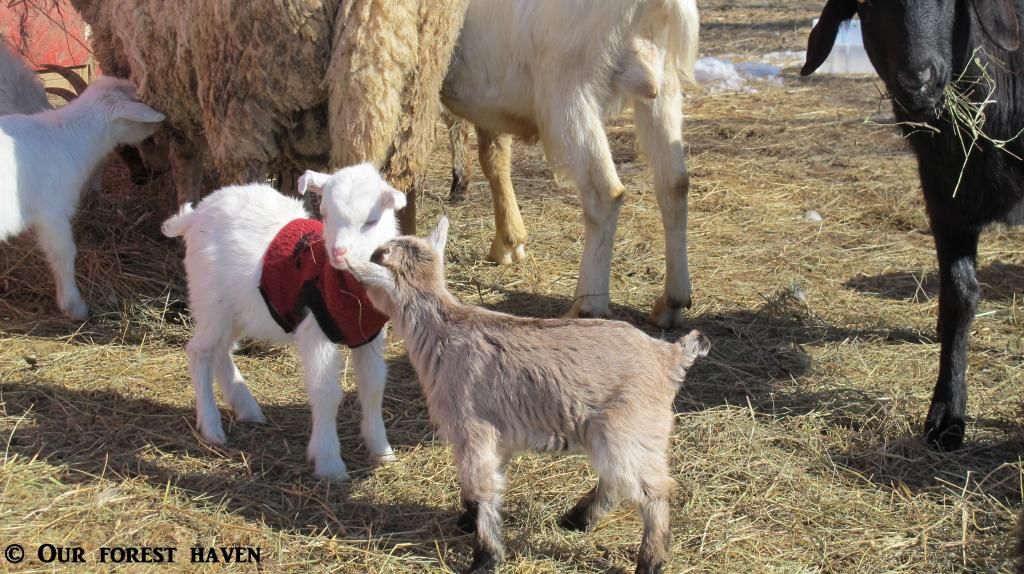 Vinnie and Acorn saying hello...
Vinnie is amazingly the least shy of the four bucklings and he went right up to Max, while the others were a little more nervous of him... Max is in his element, he lives for babies.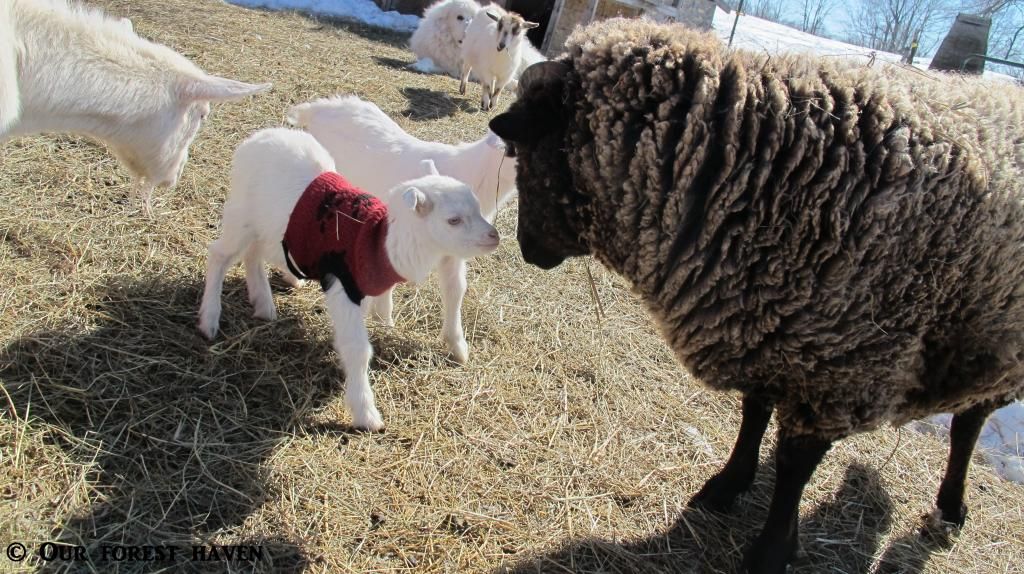 Hello to Uncle Horace...
Dahlia was glad to get out in some sunshine...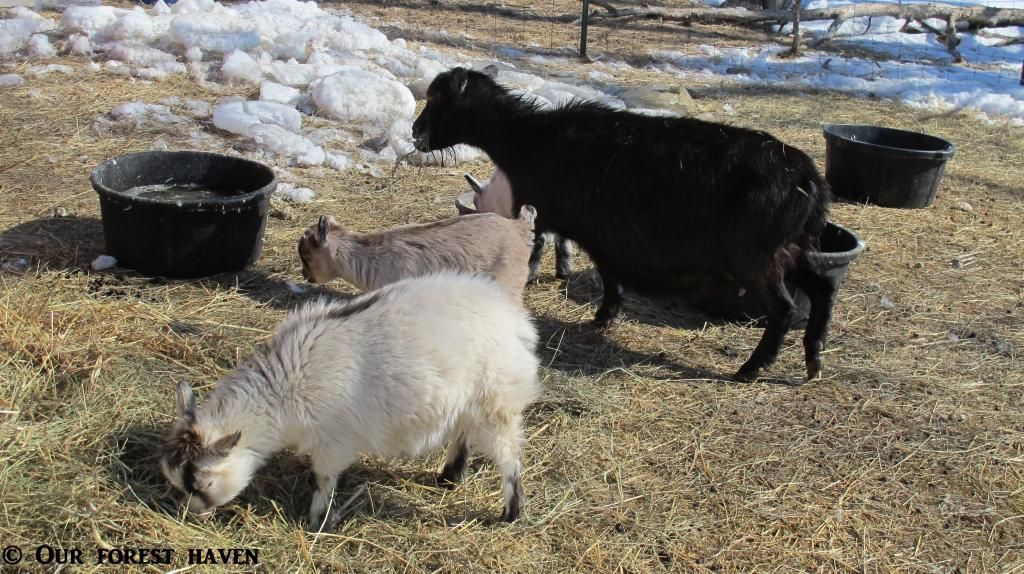 Puffin, our teeny doeling from last year is 11 months old... and the boys are as tall as her. She has grown
out
, but not
up
...
The other two Pygmy girls are half of the size of their mama now...
This years Pygmy kids, last years Pygmy kids, their mama, their daddy, and a couple of their giant Uncles...
After playing with the kids up at the barn, and milking Biscuit, I decided it was warm enough for me and the house kids to go for a walk, finally... so we suited up, and off we went. Rollie was very excited about it, and pleased he got to wear his fancy coat...
Lavender has been outside a couple of times to pee with the little dogs but otherwise this was her first adventure so she was nervous at first...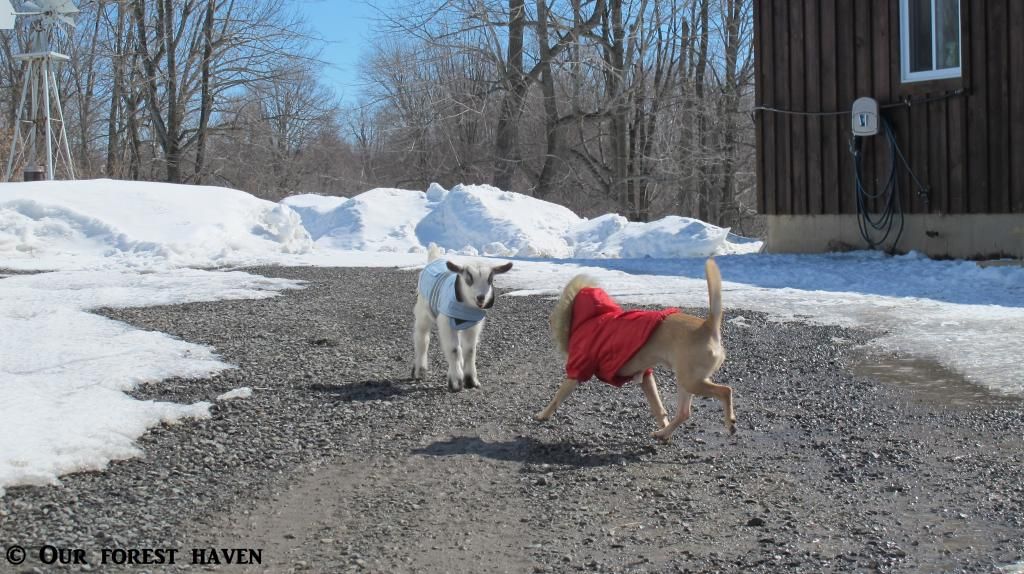 But once Rollie told her it was fun, she decided to join in...
Everyone was so happy to be able to get outside to run...
Lavender quickly figured out...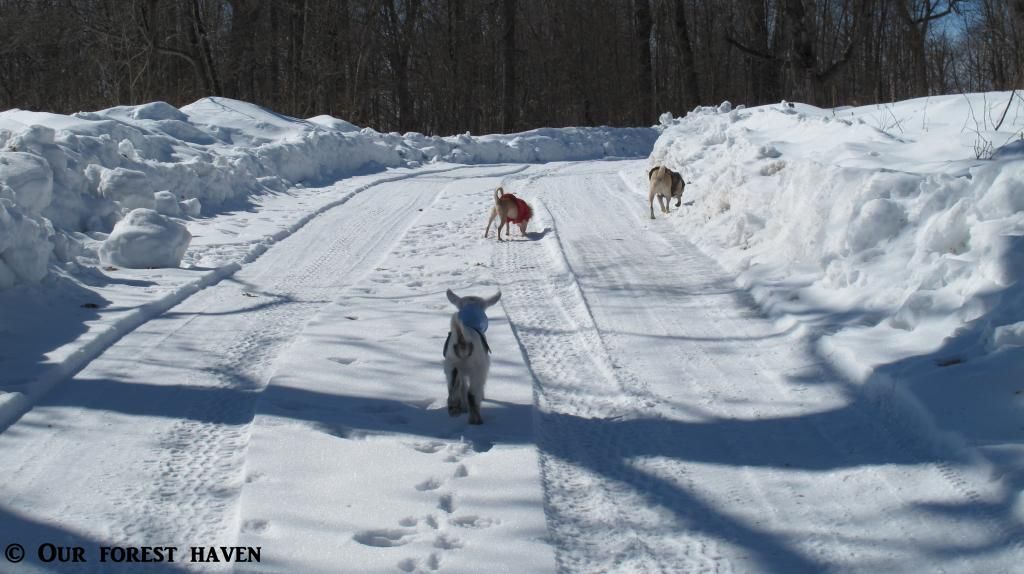 To just follow along...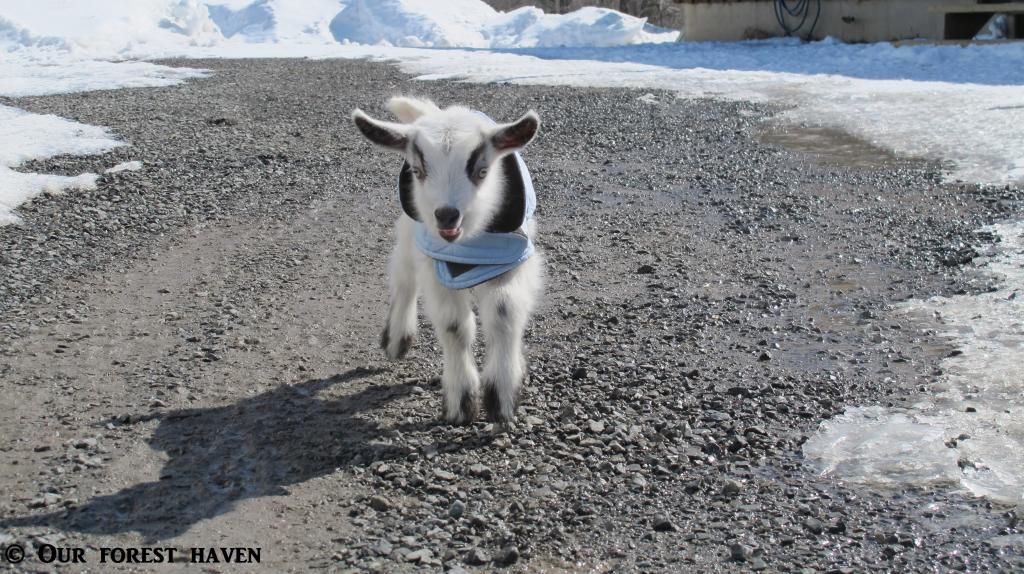 This kid is going to be a lot of trouble. She's so spoiled already, I can just imagine what a monster she'll be. But it's OK. She was sleeping in my lap last night as she always does and she lifted her head up and put it on my shoulder and rested it there. That's something my Sammy would have done. She's the first kid I've bottle raised who has not been sick, who has been as cuddly as she is... usually the healthy kids don't like snuggling as much, they are more independent even if raised in the house, but so far Lavender is a big snuggler.
It was warmer for us this morning but it wasn't warm enough to get the trees waking up... they are still pretty sleepy... This picture cracks me up because if you look at Rollie, his hood is down and you can't see his face!
Four days old...
My clan...
run!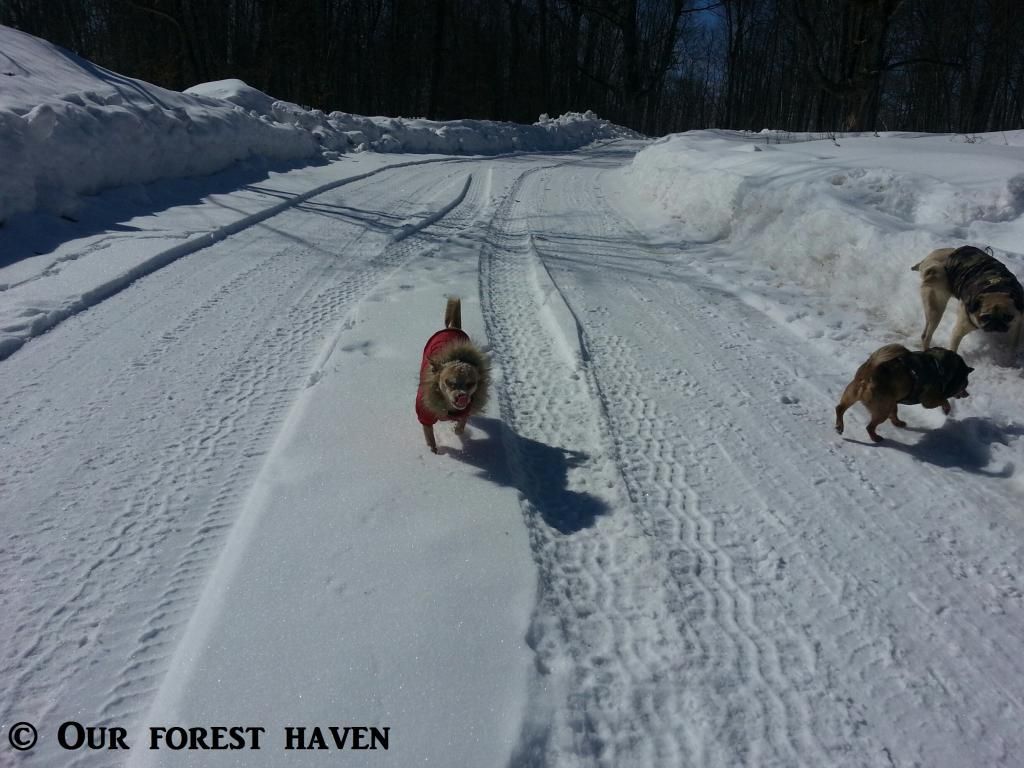 Rollie the (cowardly) lion with a face full of snow...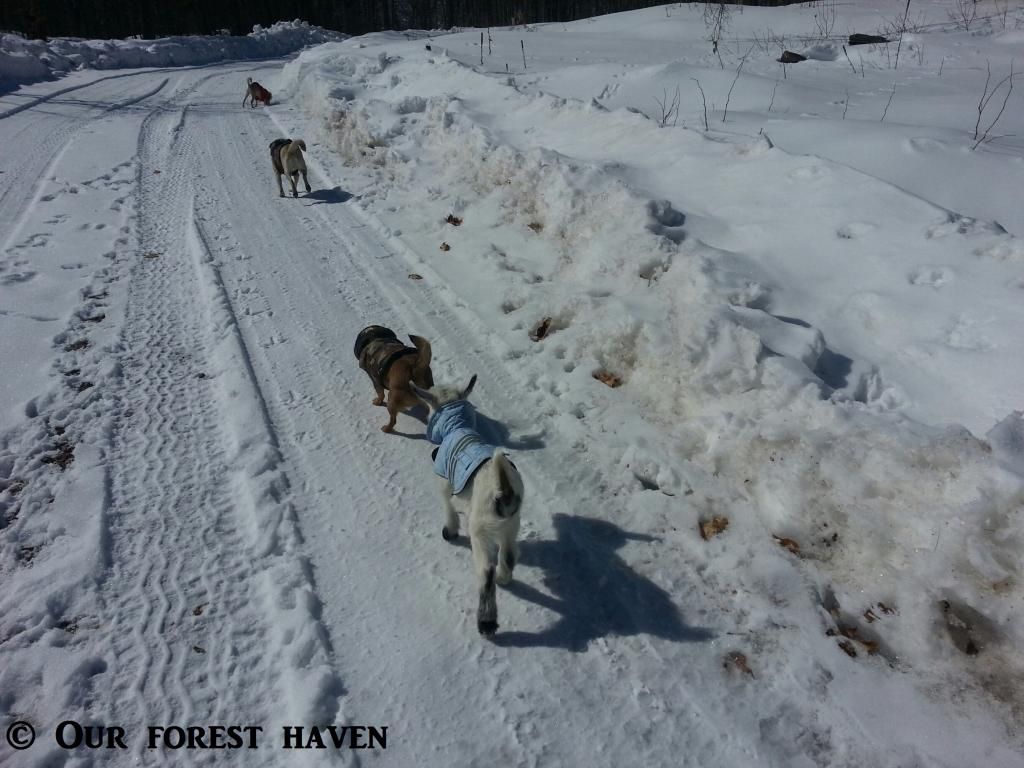 How Rollie got to be the leader, I don't know...
Last night I stayed up an hour and a half later than I wanted to because... well... the baby was sleeping comfortably and I didn't want to wake her up...

It's been a good day and if I get a second wind after a rest, I'm hoping to whip up a batch of fresh cheese!