These days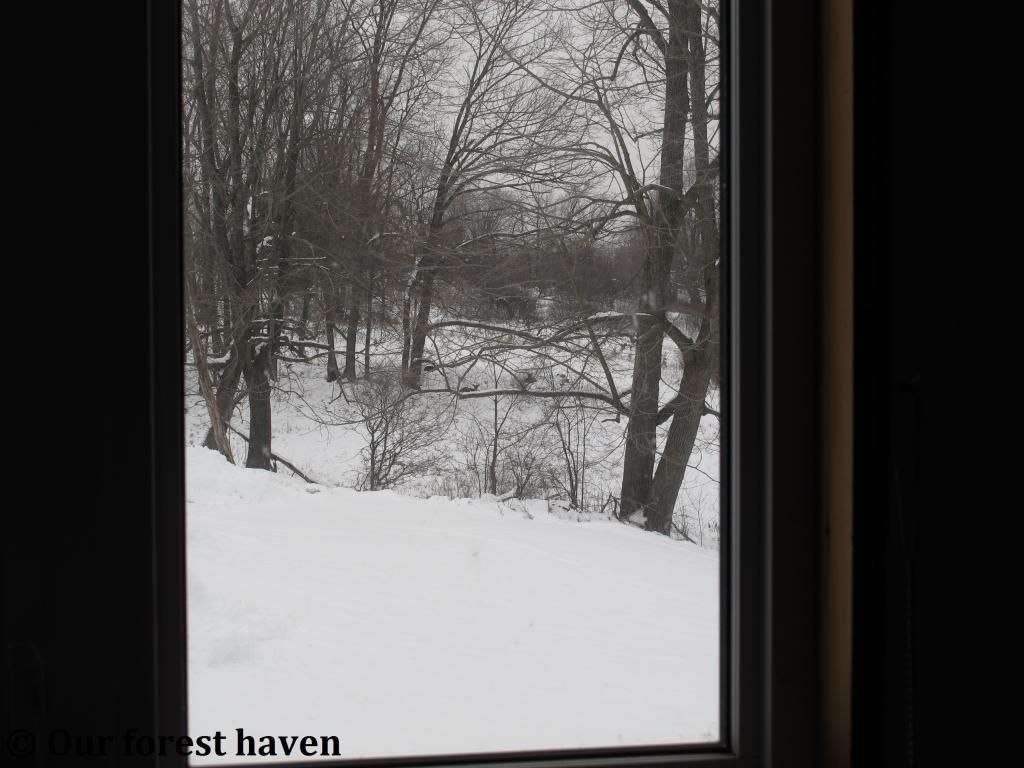 I honestly didn't think I'd even be able to get out of bed this morning. Last night was particularly rough. When I was trying to fall asleep while holding in tears, I told myself "tomorrow you can just stay in bed if you need to." It's something I feel like I need my permission to do, because even though I've had to be in bed 80% of the past four months since surgery, it's not something I easily accept. This morning when I woke up, I didn't feel great, but I did get up. I got up, and as I was walking sleepy eyed past the window beside our bed, I noticed something outside... but what was it?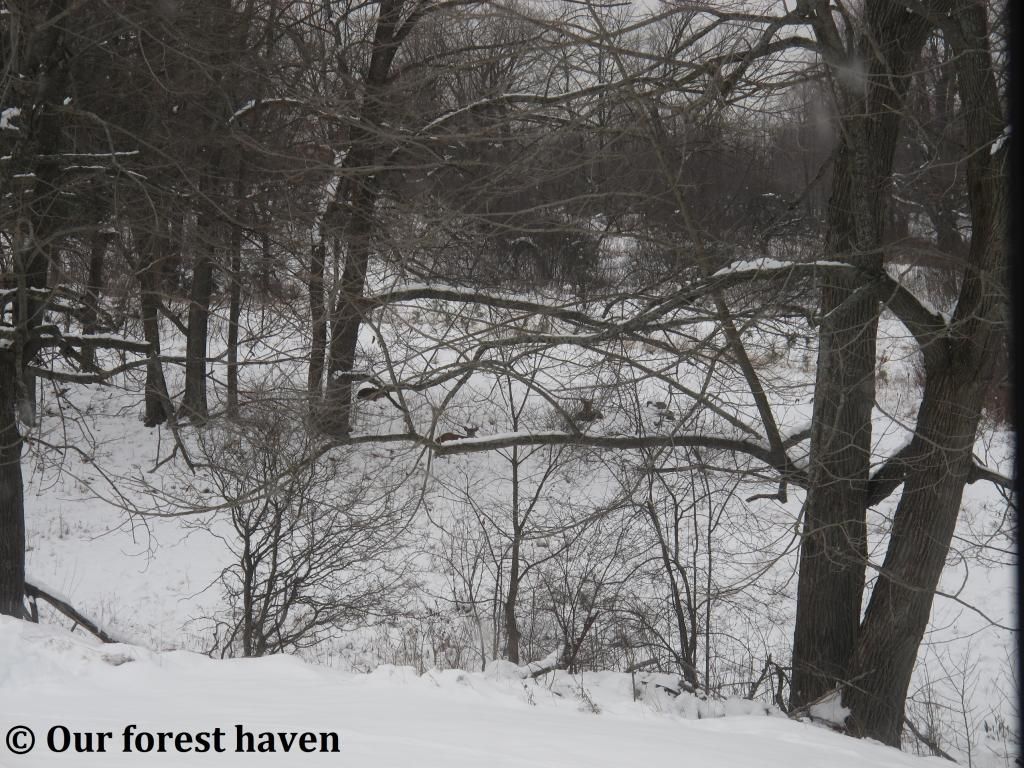 I looked closer...
It was part of our deer family, bedded down by the house where they are safe, watching to see what we were doing, and by the looks of it, not worried about anything. I smiled. Waking up to see wild animals choosing to be near you, is indeed a very special thing.
Since we have been home from our trip, I have been going to the barn twice a day with Jim to help with chores. I cannot lift water buckets or hay, but I've been letting everyone out in the morning and putting them to bed at night, dishing out their breakfast and dinner, and also taking care of the rabbits. It's felt good to have some normalcy again... to feel a little more like myself. Yesterday I found a hose that is long enough to go from my insulated box inside the barn where my water pump is, to all my water buckets outside... this way, I can reach all the buckets without carrying water to fill them, and the hose is short enough I can easily (without a big struggle) roll it up and put it inside my insulated box (that is heated) so that it does not freeze. This helps a lot. That way, water only has to be carried to Jackson (the Mini horse) and to the chickens.
This morning I didn't feel great physically but I was more concerned about how I felt mentally. When you are dealing with chronic illness or pain, keeping your heart and mind strong is probably more than half the battle. And my body is a little stronger, which I am grateful for. We've discovered since my follow up with my surgeon I have three separate yet connected issues causing my ongoing pain and problems. The excision has helped the endometriosis pain tremendously and no doubt was successful. But having that disease for so long has caused other issues that are not as easily dealt with. So I'm not feeling as fabulous as I had hoped and I still have a significant amount of pain daily. However, I am still hopeful I will have further improvement over time since it's only been 4 months and it takes a long time to heal. I've had things change as recently as 2 weeks ago - so I'm not considering myself recovered in any way. But I have further things to deal with. It can be discouraging - however, I am determined and full of hope. And I have plenty of reasons to be.
After coffee this morning I told Jim I didn't want his help at the barn today, which upset Kevin. No one around here trusts me to not do things I shouldn't - for
some
reason. I can't imagine it's because they know me all too well. I knew that today, I wouldn't stubbornly do things that would put me in more pain. I just wanted to be alone, with my animals, doing my daily things that I haven't done in so very long. I needed the comfort of that - I've been craving it ever since I woke up from my surgery.
And doing my usual every day things - some of them anyway, even though a lot slower than usual, was just as healing and motivational as I thought it would be, maybe even more.
It felt so good to be taking care of my babies again, to be able to snuggle them, kiss them, take as long as I needed to get things done. I can't remember the last time I felt so... content.
And I didn't do one single thing I shouldn't have.
I was an angel
. Well maybe that's a bit of an exaggeration, but.. you get my drift.
It was warmer out today, and actually quite nice out...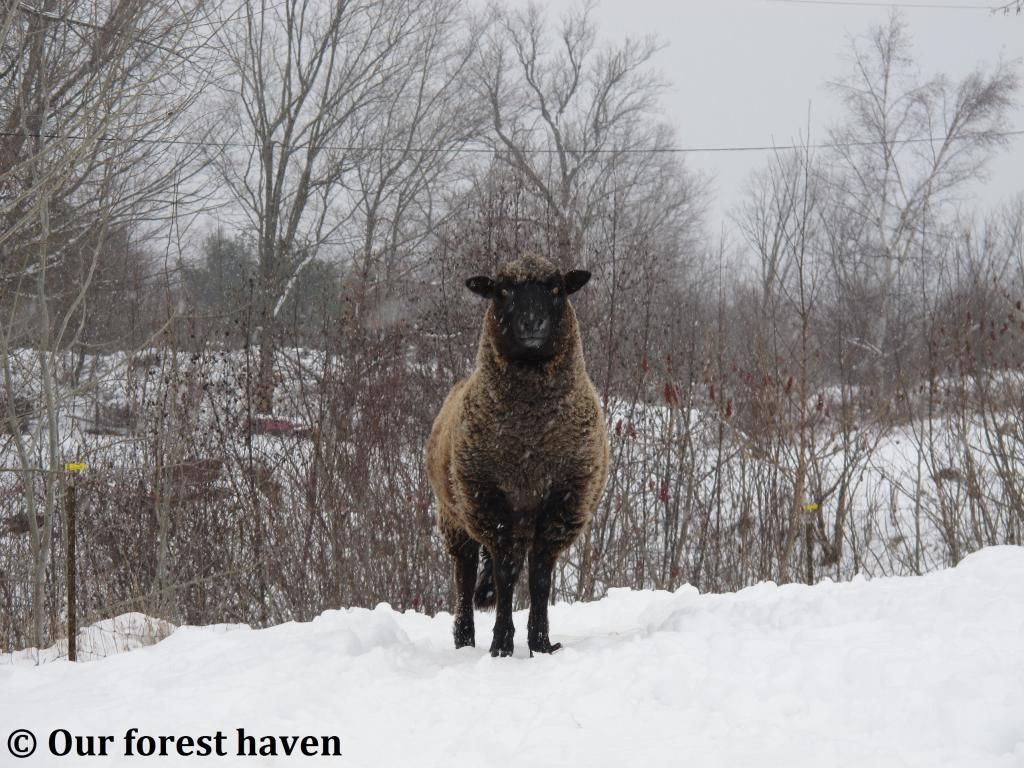 It even snowed a little bit which made me happy. Some parts of winter I really do love. In August I had a feeling that on the time I got recovered enough to get back to the barn, there would be snow... and I was right. But I don't mind one little bit.
After I got the morning chores finished, I decided to take the boys out for a short walk, since it was warm enough...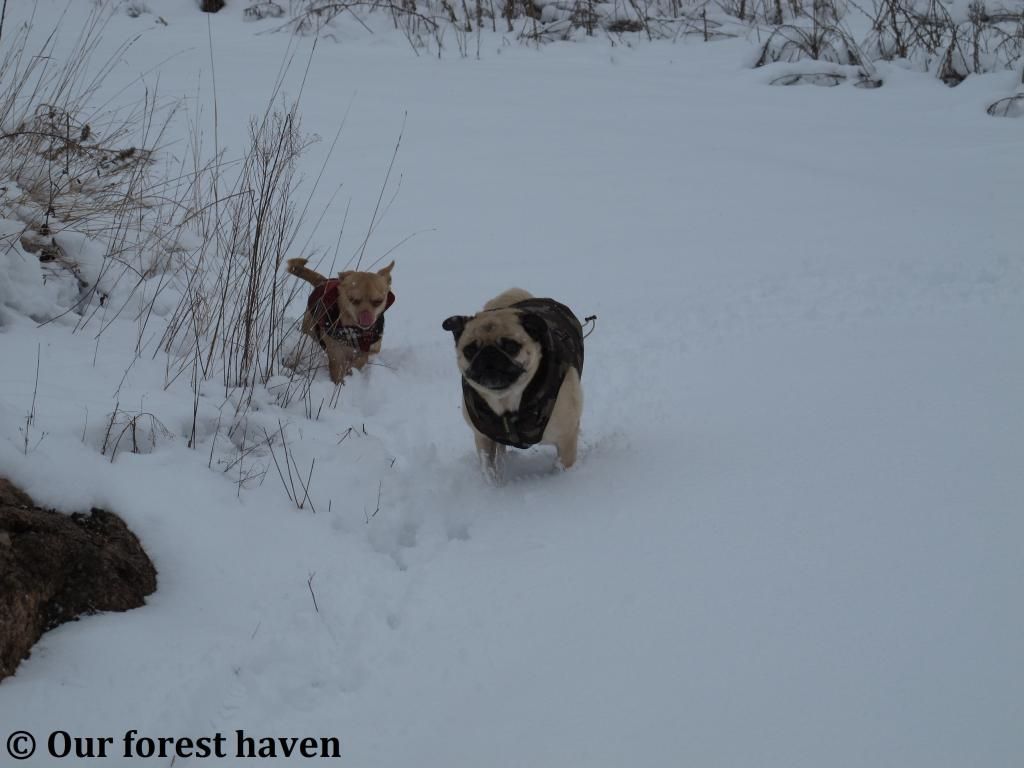 Two of them love the snow, and playing in it...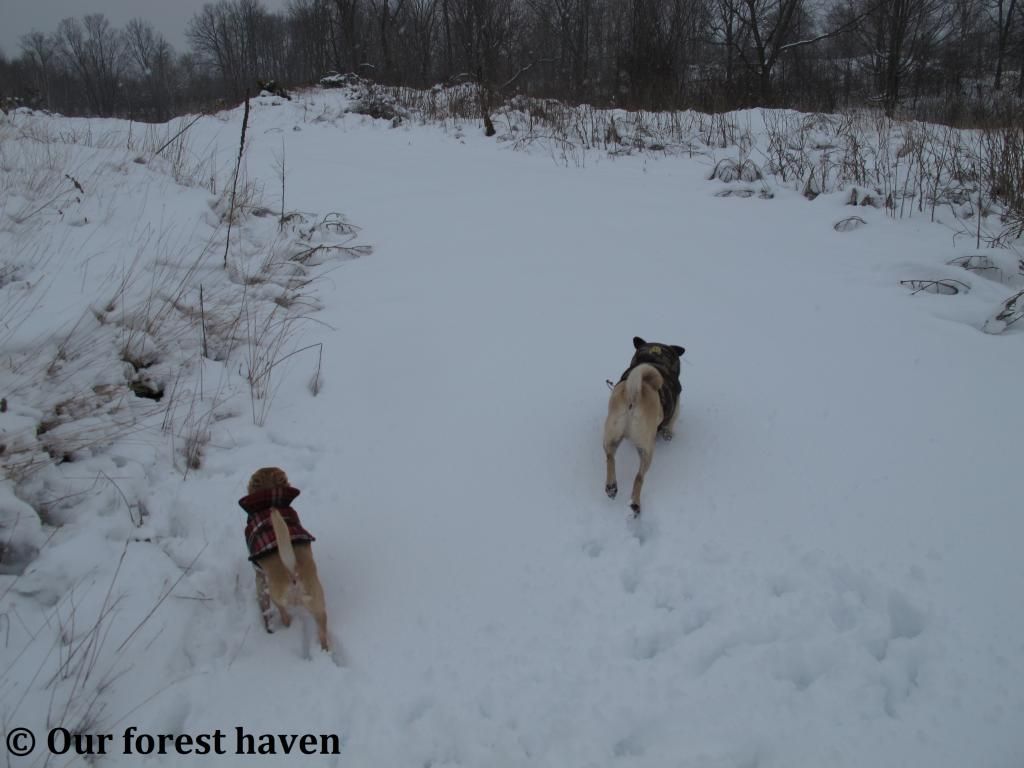 Especially one Pug...
Rollie got to wear his new coat...
I thought he looked adorable... he hasn't decided if he likes it or not...
The third child, he doesn't like the snow as much as his brothers do...
He does like catching snowflakes though...
but he'd much rather be carried...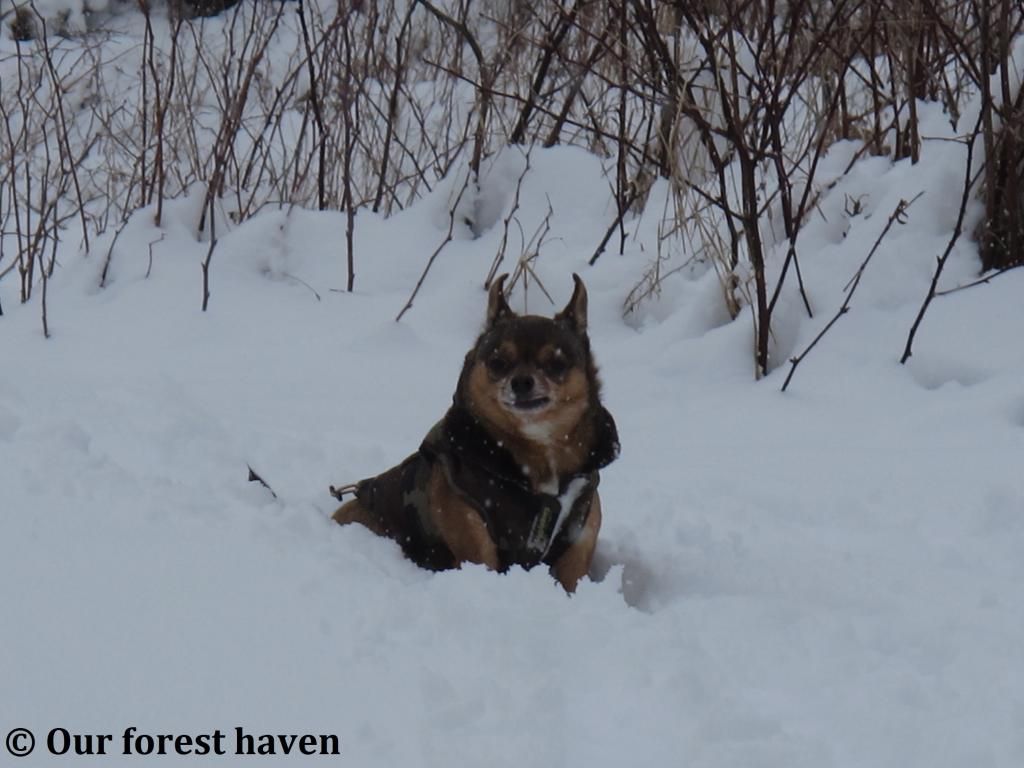 he sure makes a cute snowman!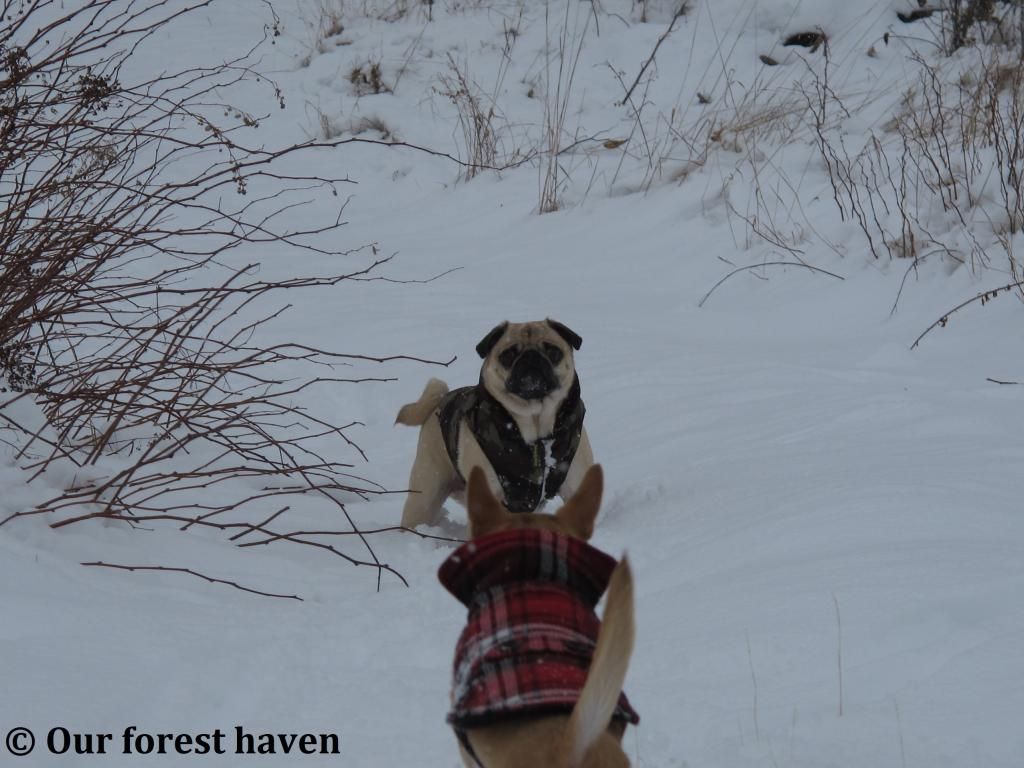 Douglas likes to pretend he's a sled dog, and wonders why it takes so long for the rest of us to catch up...
come on!! run!!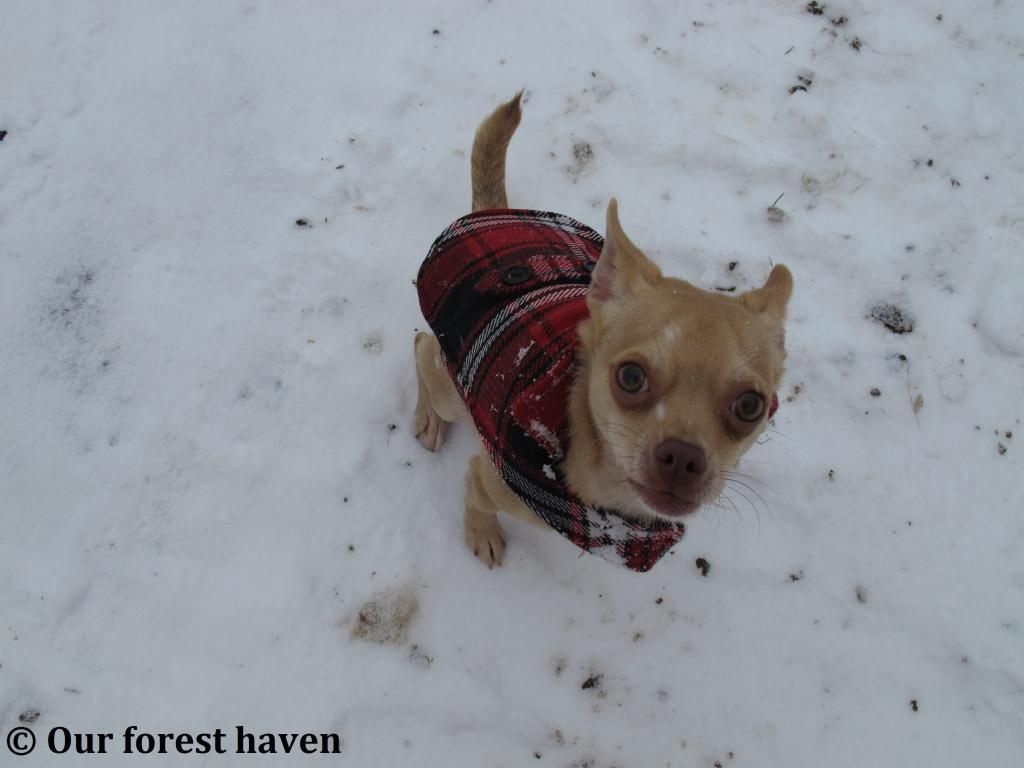 Rollie has to get used to wearing his coat so he isn't as cold, and he gets excited about putting it on now because he knows we are going for a walk... but once it's on... he gives me this look...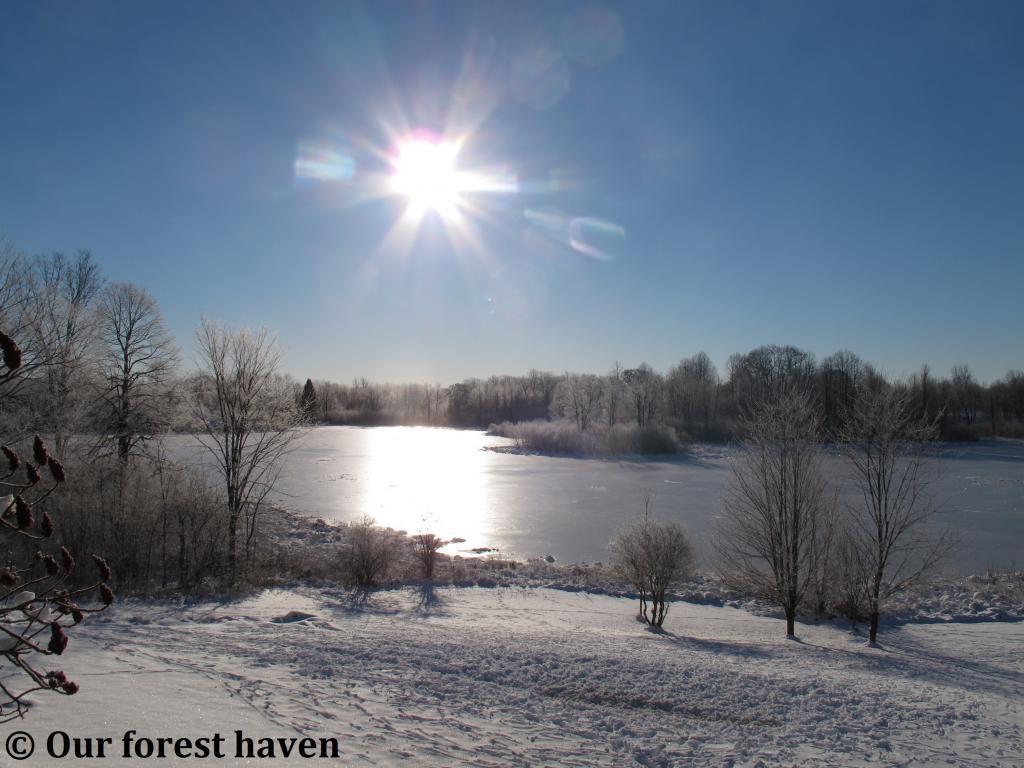 We've had some beautiful weather the past few days, even though it was a little colder...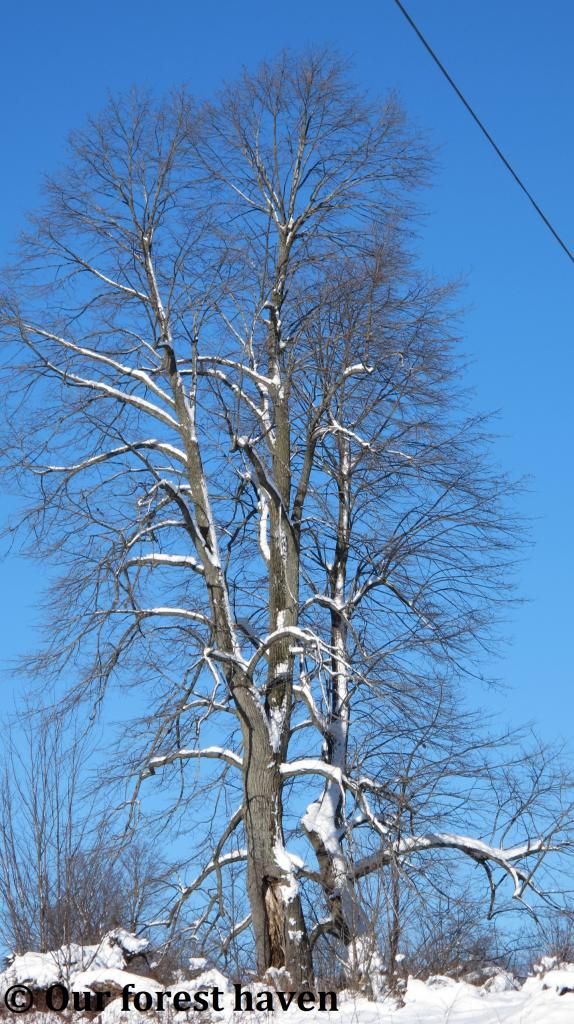 and the evenings....
have been some of the most beautiful...
I've ever seen.
All any of us can do is just simply take one day at a time. Don't judge tomorrow by today, and just remember you never know what blessings each day will bring.
I might be moving slower than I want to be, and I might not be able to do as many things in one day as I'd like to, but I'm on my feet more than I have been, and I am so grateful for having my deer friends back, for being able to wake up and go to the barn and tuck all my critters safely into their beds at night.
And my heart. It's full.