The boys and I...
We are getting some nice colors but unfortunately the leaves are dropping really fast and making this not one of our better years for color, although much better than last year...
This field was mowed not for hay this year but just to clean up some of the weeds...
We have had some of the clearest weather we've had I think in months, it's been just beautiful...
No Mr. Buzzard, we are still alive and walking around, you can move on...
It's so pretty seeing the mixture of colors everywhere you look...
Rollie sniffing all the critters that were there before him... he stands like a Pointer when he's sniffing, like a teeny, tiny, blonde, Pointer...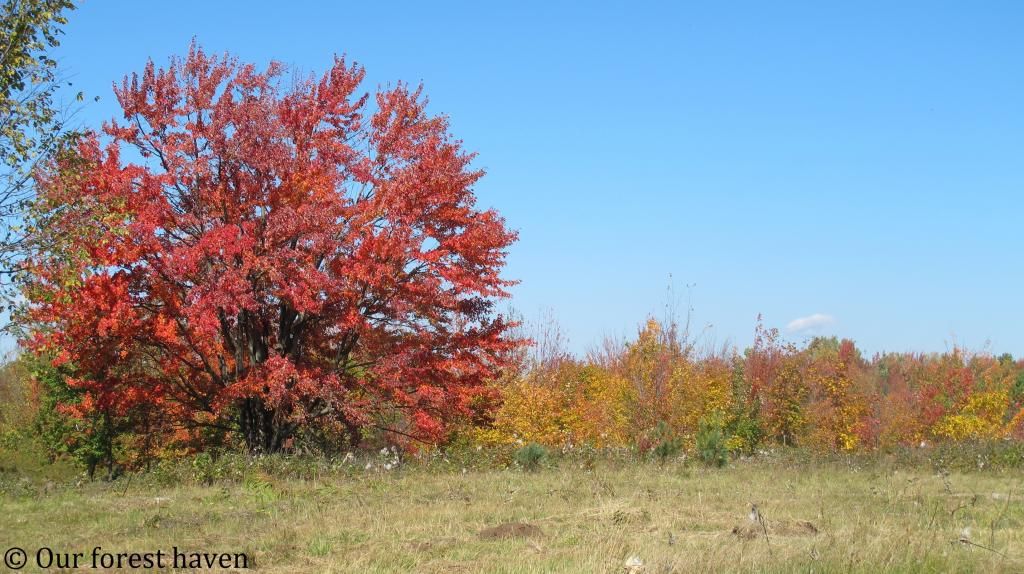 This is one of our favorite trees, it's always beautiful this time of year and it turned it's usual beautiful deep red this year, but it has less leaves than usual...
We followed one of our trails back to a spot that over looks our cedar swamp, somewhere I haven't been since spring to look at... it's always got good color this time of year. Kevin had brought me back some pictures earlier in the month, but I hadn't actually been there myself since before surgery...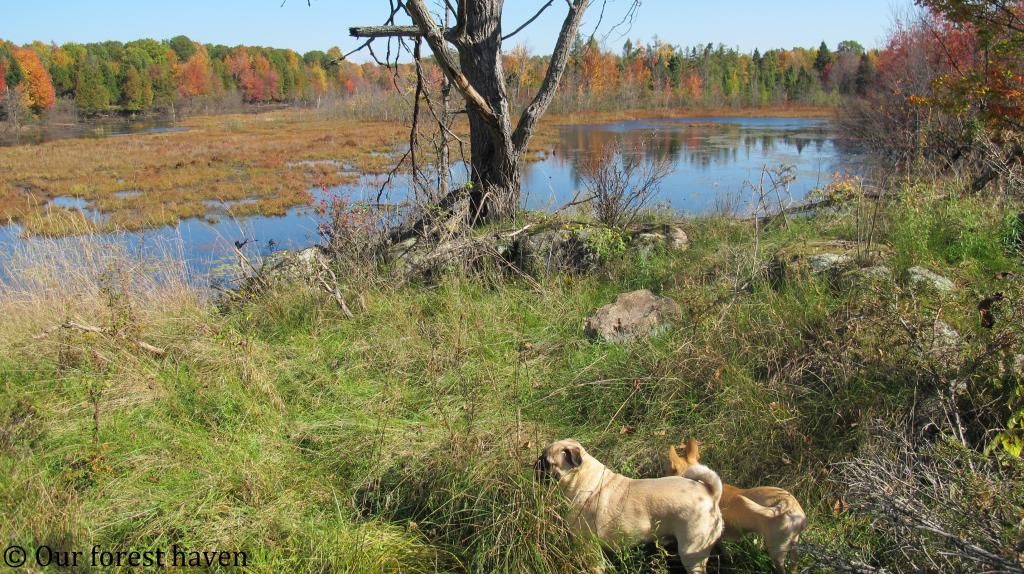 The dogs were excited to have a look too...
We've had such a great summer with hardly any ticks.. until now. They are back out like crazy and all of us picked up a bunch while we were on our walk... but it didn't cause Douglas to be upset... he knew mom would just clean everyone off when we got home...
This is an area the deer frequent, so lots of good smells here for the boys...
The sugar shack is getting ready for a rest... come March it will be alive with boiling sap and wood smoke again...
Rollie as happy as can be... sunshine and a good big run. He slept for about an hour when we got home and then he was raring to go again, even though no one else was! On the 26th he'll be a year old. He didn't come home with us until mid December, but time sure does fly. I was looking at his baby pictures last night and it seems like last week he was a tiny floppy eared puppy.
Kids these days grow up way too fast!
Speaking of which, my blind ram, Braveheart, Lambie to his mom and his dad and Uncle Jim, is going to be 7 this December. I can hardly believe it.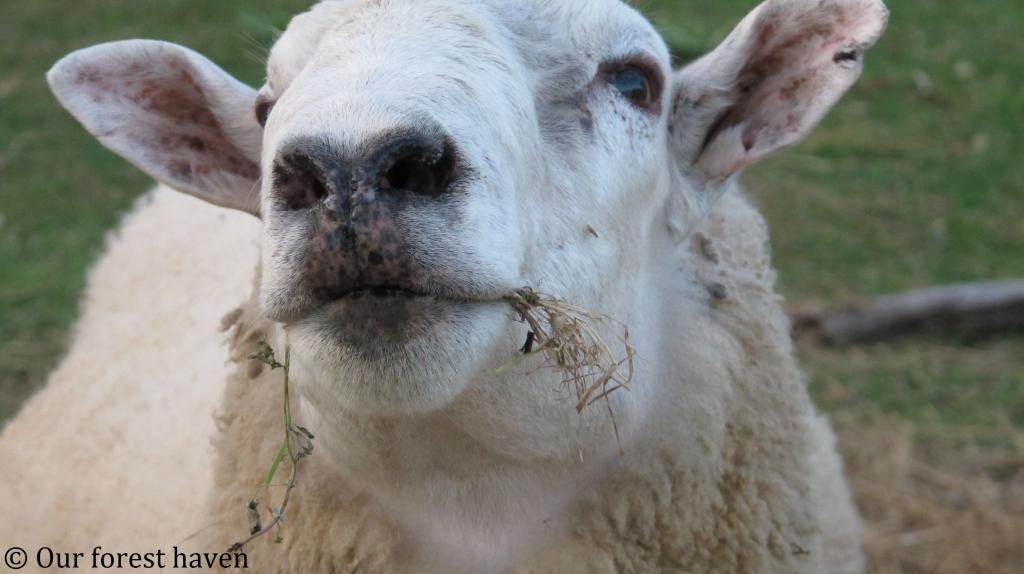 He the most handsome and most gentle guy you'd ever meet. If he hears my voice while he's in the pasture, he comes running full speed - and you have to be careful. When he's calm he knows where everything in the pasture/barn is, but if he gets excited or frightened he'll run into and over everything. And he's about 250 pounds, so everyone pretty much just gets out of the way unless it's not able to move.
He's a complete mamas boy and a complete goof. He's especially cuddly this time of year... he does not get aggressive during breeding time, he gets even more lovey than usual. He's never displayed aggression towards anyone or anything at any time of his life. He's still as gentle as he was when he was only a few pounds and a sick little orphan sleeping in a playpen in our bedroom. He's not big on strangers though, he knows the smells of his family and voices and if he doesn't recognize yours, he rarely feels safe enough to let you snuggle him. He can tell immediately when there is a stranger in the barn by their voice and he will start to panic until I calm him down.
I'm sure I've mentioned before in my stories that Lambie was going to be neutered but the Vet told us when he was still a lamb that because of the blood infection that took his sight he probably wouldn't be able to breed anyway so there was no point in traumatizing him more with neutering at that point.
It wasn't until a couple of years later when Lila (our only ewe who passed away this spring) suddenly popped out a lamb that we realized, he might have been sick, and he might be blind, but he still knows exactly what to do and can indeed, do it!
So there
he says! :)