Presents and bunny bums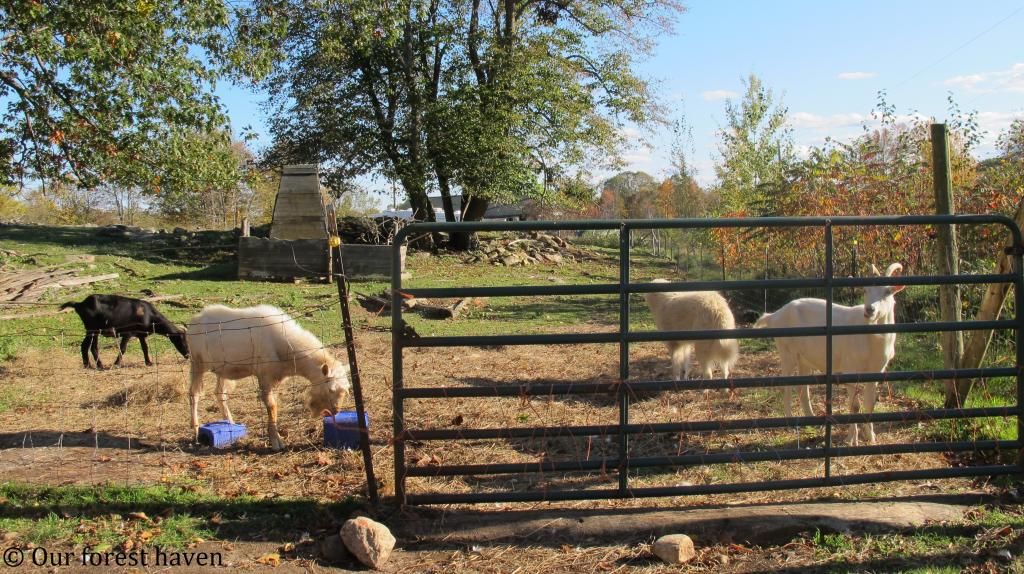 This morning we were up early because we had to make a planned trip into the city. I was in bed mostly all weekend, although I did get up and do some cooking. Yesterday I tried to rest up so that I'd hopefully have the most energy possible. I woke up this morning... in tons of pain. I pushed my way through getting dressed, getting ready, and although my evil twin took over for a while (
the cranky one
) I made it out the door and into the truck. I'm still swelling up as I was before surgery, but it's still really early to tell if it's a problem that will remain or if it's still healing, I have to remind myself that since it gets really frustrating to some minutes be your normal size and the next minute (especially from walking or moving) you are four sizes bigger. It's hard to dress for. But I also forget that although it's still not good, it's not as bad as it was either, or quite as painful.
I reminded myself as I felt my anxiety rising that not long ago I was so grateful to just be alive at all, let alone worrying about swelling and going out in the world. Was my swollen tummy really worth crying over? I decided it was not. And just about the same time I decided that, we made it to the end of our lane. (It's a mile through the forest, it leaves you time to think.) And at the end of our lane, guess what was waiting for me in the mailbox?
A present!
I got a beautiful bag, handmade from such a wonderful blogging friend, Ramona in Mississippi. It is awesome! I love everything about it and it couldn't suit me better. I'm tossing all my other bags in a bin because I know which one I'll be using all the time now! And it's just the right size, I can fit my wallet, a book, and a knitting project in there (
and some candy.
) Thank you SO much Ramona! Not only is it just perfect, it really made my day and perfect timing too, you must have had that pre-planned ;)
About 1/2 an hour later while we were driving, I felt the pain calm down a bit and I hoped it would continue to do so. Lucky for me, it did for a while.
Our first objective in the city was to drop off our replacement engine for our tractor at our equipment supplier/repairer. The engine block cracked a year ago, and last winter we picked up a used engine we found in Pennsylvania (if we were to rebuild the one we have, we might as well buy a new tractor for the cost). We were hoping to get through the winter before having to replace the engine but if we wait, we are taking too much of a risk that the tractor will finally give out in the middle of winter and we won't have it to plow the road, which means we'll never get out, which would be fine, except in an emergency. hopefully in the next few days they will pick our tractor up and then we cross our fingers that it's not gone too long.
Our second objective was to pick up a bunny.
Yes,
a bunny
. I get fewer emails about surrendering rabbits now than I once did since I changed my regulations (only disabled, senior bunnies, not
every single Easter bunny, my rabbit has had it's 100th litter bunny, I don't like cleaning this bunny anymore
... like I used to. I'd love to take them all but that's impossible.) I had room and the situation was right so we decided to accept this new girl into our family...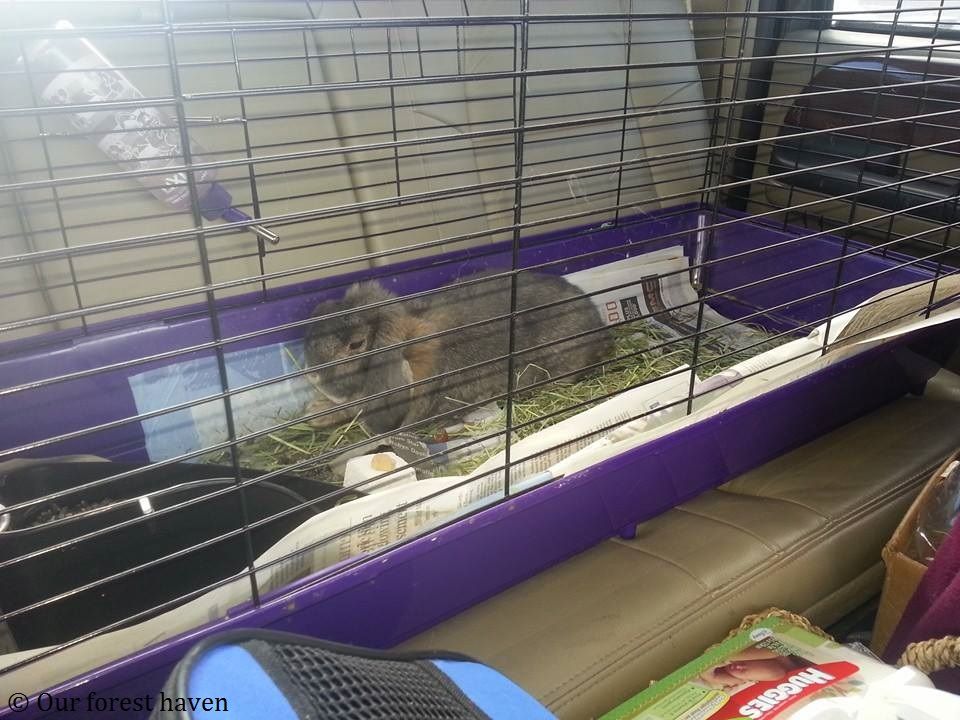 I ended up not being able to finish most of the errands, Kevin had to do most of them alone, so it was nice to have company waiting in the truck with me. This bunny is 6 years old and did not have a name other than Bunny - I decided to call her Ellie, because she reminds me of one of my past rescue rabbits, Ellie Mae.
Ellie has urine scald. Urine scald is caused if the rabbit is disabled and cannot get out of her pee, or if she is incontinent, or in a dirty space. Also it can start if an infection was present etc. Apparently Ellie had a tummy upset a while ago and this problem presented itself, and it's gotten worse. Thus the huggies diaper package in this photo... sometimes diapers are needed in situations like these. In the past 13 years I have never dealt with urine scald, and I've had over 150 rabbits come through my care since Kevin and I started our rescue and while I was in rescue previously. I have read a lot about it before and knew what it was, and what the various causes and treatment options were, but I've never actually had to deal with it... till now.
When we got done running errands and got home, I went to work straight away having a proper look at her problem and I wanted to shave her bum a bit to get some of the icky hair away.
Ellie is the sweetest rabbit ever. I sat her in my lap, and she was asleep almost instantly.
Even when I took her out of her cage in the Walmart parking lot, and also snuggled her in the truck, all she wanted was cuddles. She was not thumping me or trying to get away, or even afraid. She was completely trusting and sweet.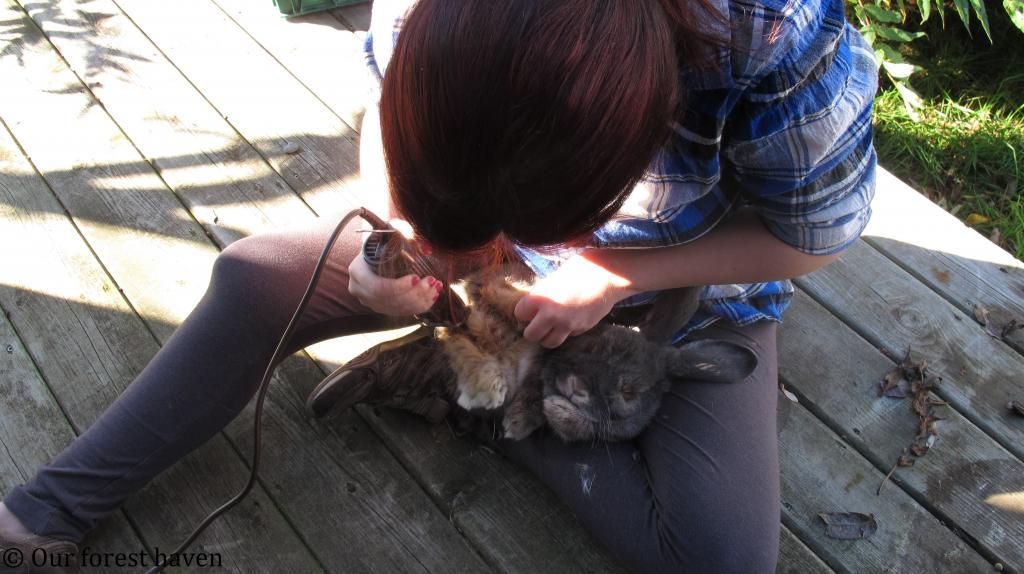 She let me shave her a bit without a problem, just quietly lying in my lap. It's quite tender so I didn't want to push it and put her through too much, I just wanted to trim back the worst areas so that I could be sure there was no extra icky stuff or moisture going to be kept there. She was actually asleep most of the time.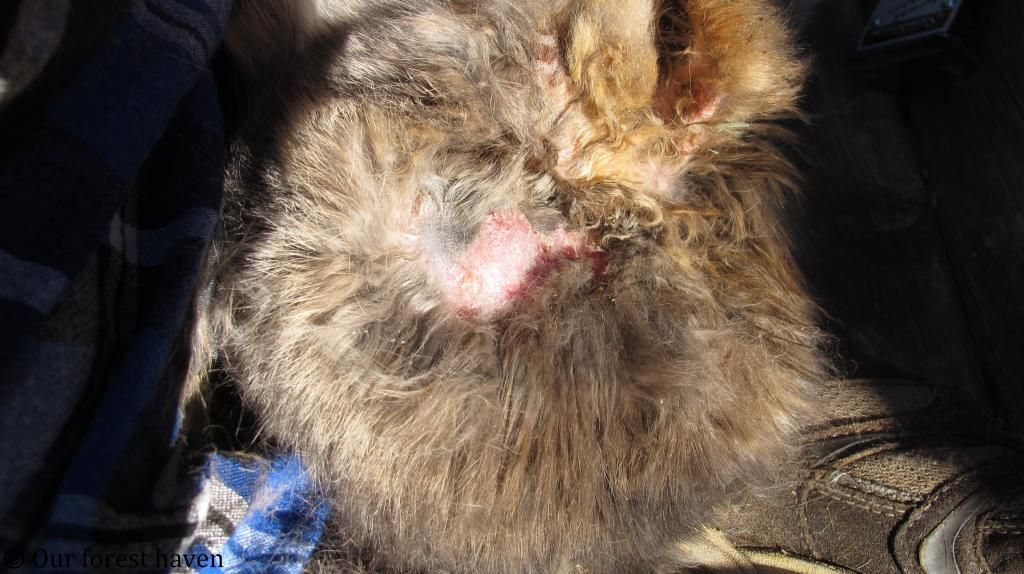 It's not the worst case ever but it's also not good... it's really, really, sore. I have plenty of ointments for it and I will wrap it if I have to to keep her from messing with it. For now, I'm trying to figure out things that are aggravating it. I have seen no signs of her being incontinent but I did watch her pee in her cage and then lie in it while we were in the truck, so I'm hoping excess moisture in her living area might be a big part of it and that's a really easy one to solve. She's got a new set up now, and tomorrow I'll put more ointment on and decide whether to bandage it or not, and trim her a little bit more.
I got up to the barn for a bit after I got home this afternoon and I probably should not have been there getting into trouble, but it felt so good. I miss being up there so much and I need to learn to behave better so I can spend more time in the barn without doing things that will hurt me. I miss my daily routine... a lot. I see the animals, but I miss just doing my everyday things, cleaning water bowls, bedtime... I even miss cleaning pens although the idea of using the pitchfork right now makes me cringe from the pain. But I miss those things so much.
I did get to say hello to Lou and Dew....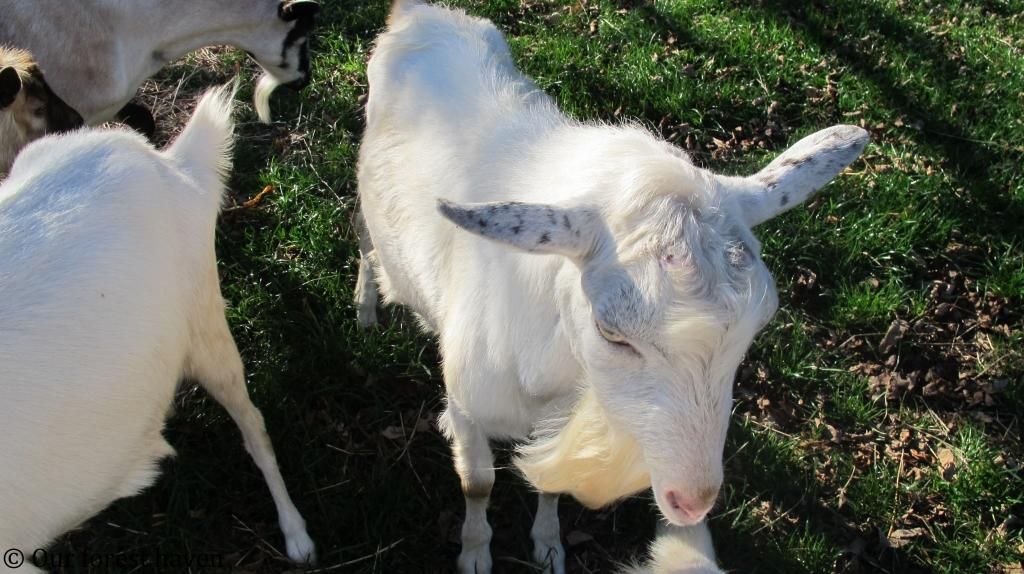 and then I tried to get a nice picture of Henrietta...
unsuccessfully.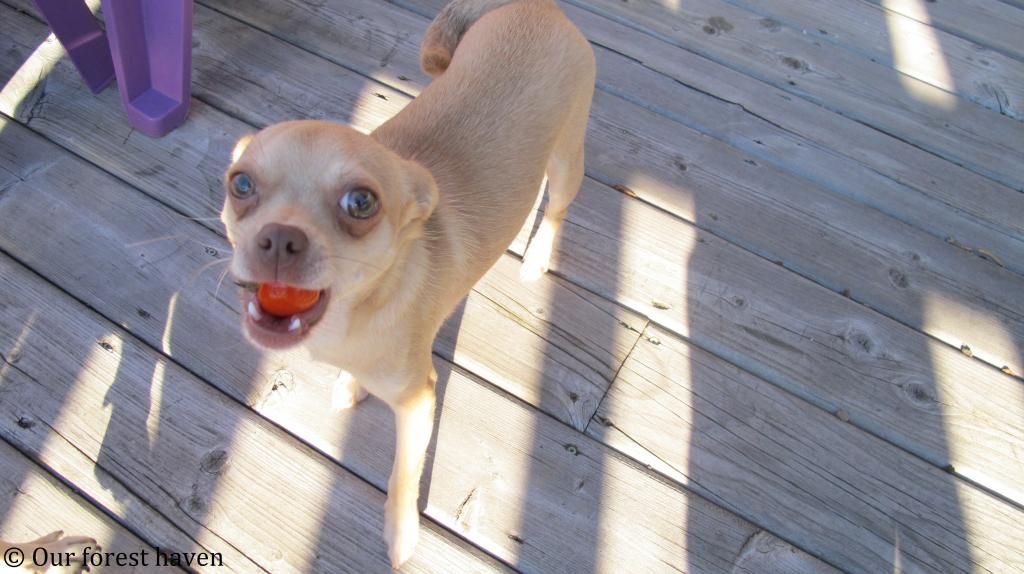 I got home just in time to catch this...
a tomato thief!
he actually thought it was a ball...
until he tasted it.
Now it's time for tea and rest. Tomorrow, we'll try all this again. Ellie is making herself at home, and quite curious about the other bunnies. The Chihuahuas are looking for more treats and Douglas is exactly where he thinks he should always be, curled up with me in bed... snoring away and sucking on (yes,
sucking on
) a headless purple monkey.
All is right with the world.
Unless you are a headless purple monkey.