Day by day...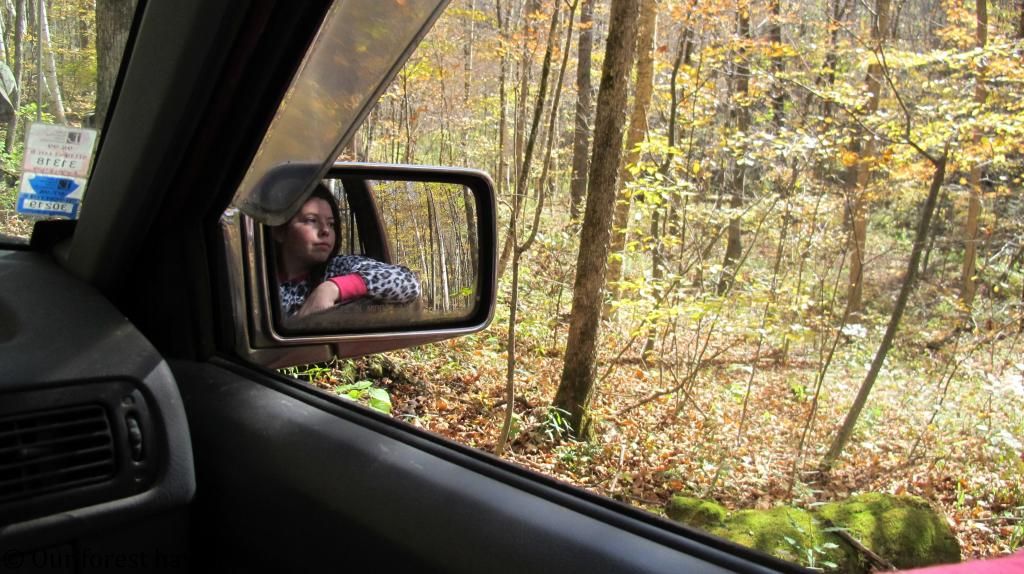 My days are up and down. I'm up for a bit, down for a bit... sometimes I feel OK, sometimes I feel terrible. Last night I slept for 12 hours (after two days off the farm) and I felt not too bad this morning...for a while. It's hard to go with the flow, but there isn't any other option so I take things as they come and one minute at a time. I try to remember to be as grateful as possible for every minute of feeling better, and for being able to do a little more than I was able to before.
Yesterday I went for a short ride on one of our trails with Kevin while he picked up some wood we had cut over a year ago. We took our farm truck because the seat is padded good for me.
Yesterday was the kind of day when everything is perfect, the color, the temperature... it's kind of like a fantasy land in the forest on days like these, you feel like Alice in wonderland.
I waited to see the white rabbit with the big pocket watch, but I didn't see him.
I just wore my PJs which happen to have feet in them. Very handy.. and forest creature like...
and I sat there while Kevin loaded up all the wood. I guess it's not so bad just watching but part of me wants to be helping like I usually would...
This morning I was able to go up to the barn for a while to do a few small things...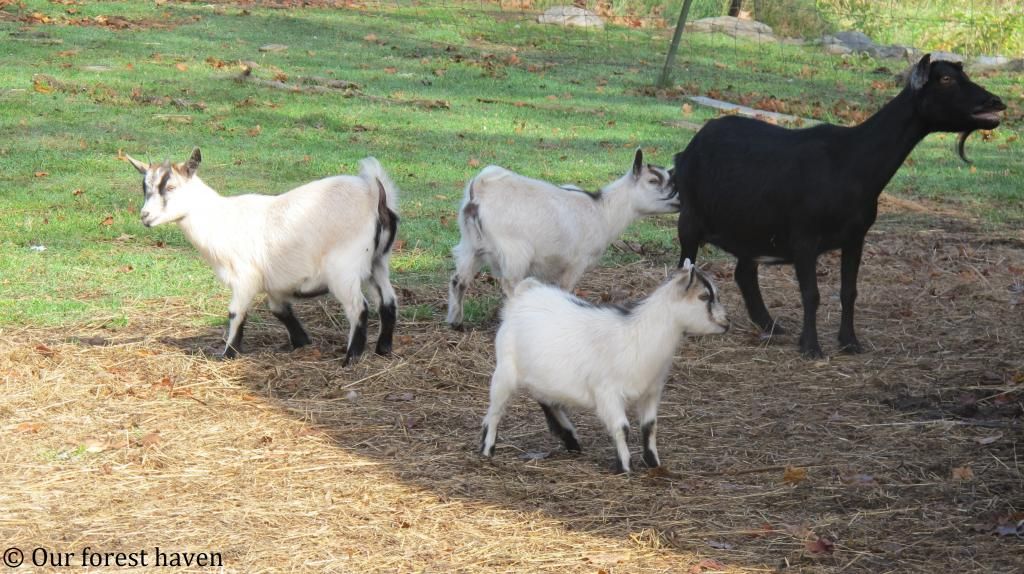 Look how big the Pygmy girls are getting! Even little Puffin is growing, although she's still a teeny weenie...
Hi Puffin... you sure are cute...
Aurora just went straight to work on cleaning duty, in the barnyard there are a lot of leaves needing to be picked up... and eaten...
Max was pretty happy to see his mom show up at the barn for a bit...
There's a smile...
OK, snuggle time...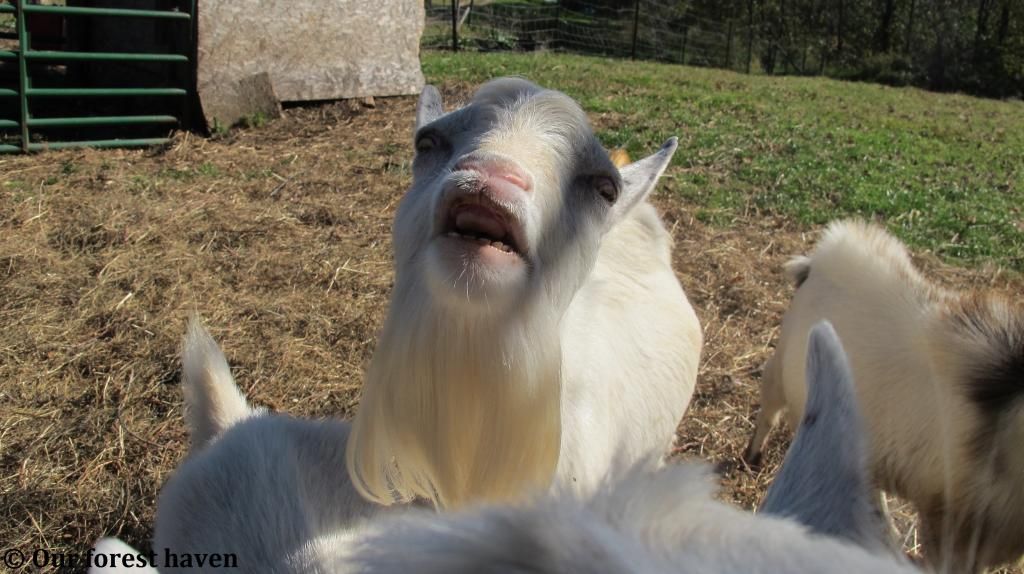 Oh hi, Henrietta...
You look pretty silly acting like a billy goat...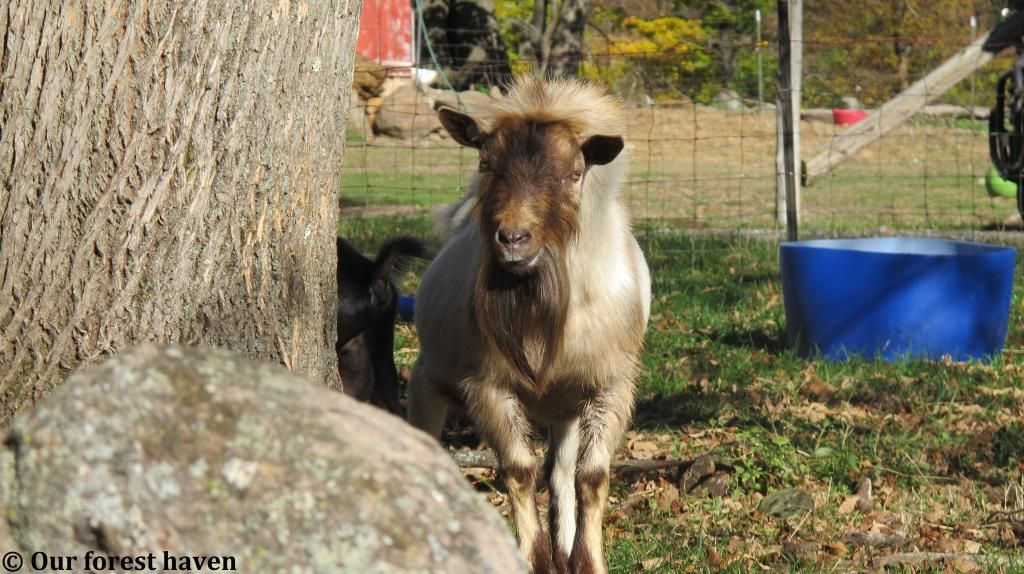 Barnaby:
She's got the faces down right, but that's about it... she doesn't smell as good as I do...
Barnaby:
and she is not as handsome as me... no one is...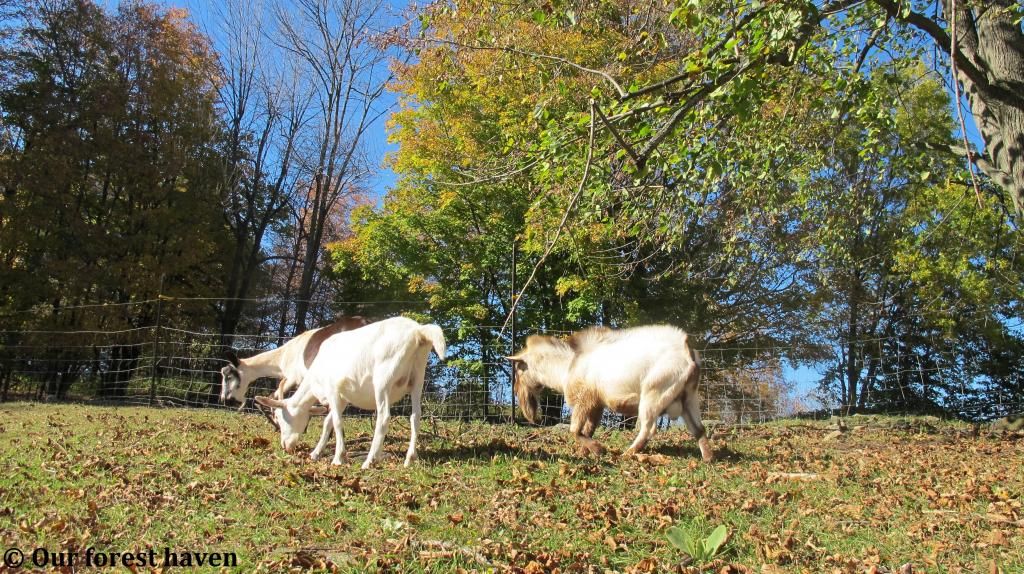 Barnaby:
Look at how the girls all flock towards me... hey, you, ladies, come back here!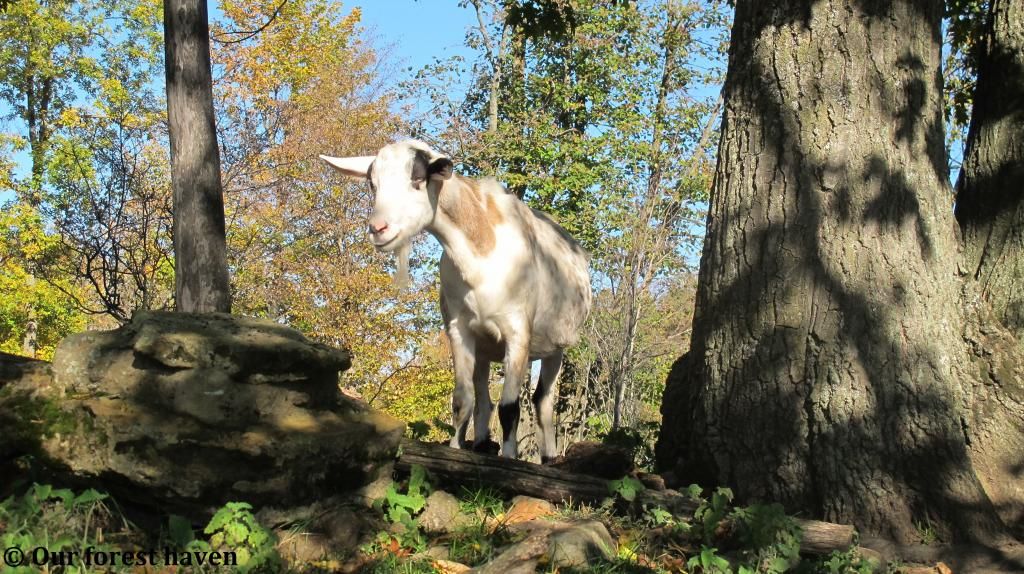 Bulrush:
I'm glad all I have to do is eat food and be cute. It's a hard job, but someone has to do it.
And there is handsome buck #2...
I raised him from one day old... And even though he is a stinky mess during rut....
He's still my baby.
The boys are loving this good weather we've been having (minus the couple of days of rain)...
lots of flying bugs are still out for Rollie to chase too...
Lots of things to sniff... and since they are all boys... pee on...
Douglas:
Um, this doesn't taste as good as it looks...
Oh and we've already had progress on Ellie's bum. I know the first picture was never very good because of the sun, but you can see how dry and flaky and chaffed it was? Now, no more flakes. The moisture in the second picture is because I had just put some bag balm on it. She is not incontinent or peeing on herself it seems the only problem was in the cage she was in before she must have been lying her pee, because she's completely dried up and in less than 3 days I've seen major improvements, even the redness is down. I never expected to see a change that fast! Hopefully it's healed quicker than we ever imagined and she'll not have to worry about a sore bum anymore.
No sore bums and no sore bellies would be a major accomplishment on this farm! :)