Here we are on day 3,596 of "our" recovery
What? Is that an exaggeration? OK maybe slightly. It's really not even been 2 months yet and I have to remind myself that a lot (like every 5 minutes). I do forget. I had hoped to be slightly more mobile by now but that's a big no go. I had been hoping all this week to be able to go out with the guys yesterday to lunch and to do a bit of shopping. I have been writing a big list for the craft store and was really excited about it. Of course that was all a dream since I still cannot sit in a chair and I cannot stand up for very long.
I'm sorry I haven't been writing more often, it's not from lack of wanting to, but I do find myself at times lacking inspiration. One day of lying in bed drifts into the other. I've been up and a few times made dinner, taken short walks, I reorganized my knitting stuff one day, and washed my hair. Each one of these things causes me trouble, it's just a matter of how much. However when I get caught up in how frustrated I am I forget to acknowledge how far I have come, while my pain is intense in some areas it's probably more than 60% improved too, and I forget that. At one point a few weeks ago one of my worst areas for healing was causing me non stop pain and spasms and I had said to Kevin "If I have to live like this, I'd rather not live." (I was quite upset at the time.) And while that is still the worst of my pain, is not nearly as aggressive as it was then, and sometimes I forget that when I'm just upset it's not gone yet. I know its early and I have recovered from many surgeries, but this is by far, the most intense. I have a lot of respect for people who deal with a lot of surgeries, recoveries, chronic pain, and manage to keep sane, positive and moving forward. An incredible amount of respect. But sometimes I must be honest, I forget to give that respect to myself... and its important to. While I feel like I'd like to be 20 miles ahead, it's important to remember that not very long ago I was 20 miles behind.
So aside from battling the normal ups and downs of recovery, and emotions that go with it, basically I'm trying hard to keep myself busy while lying down.
I've been knitting....
and drawing...
and reading...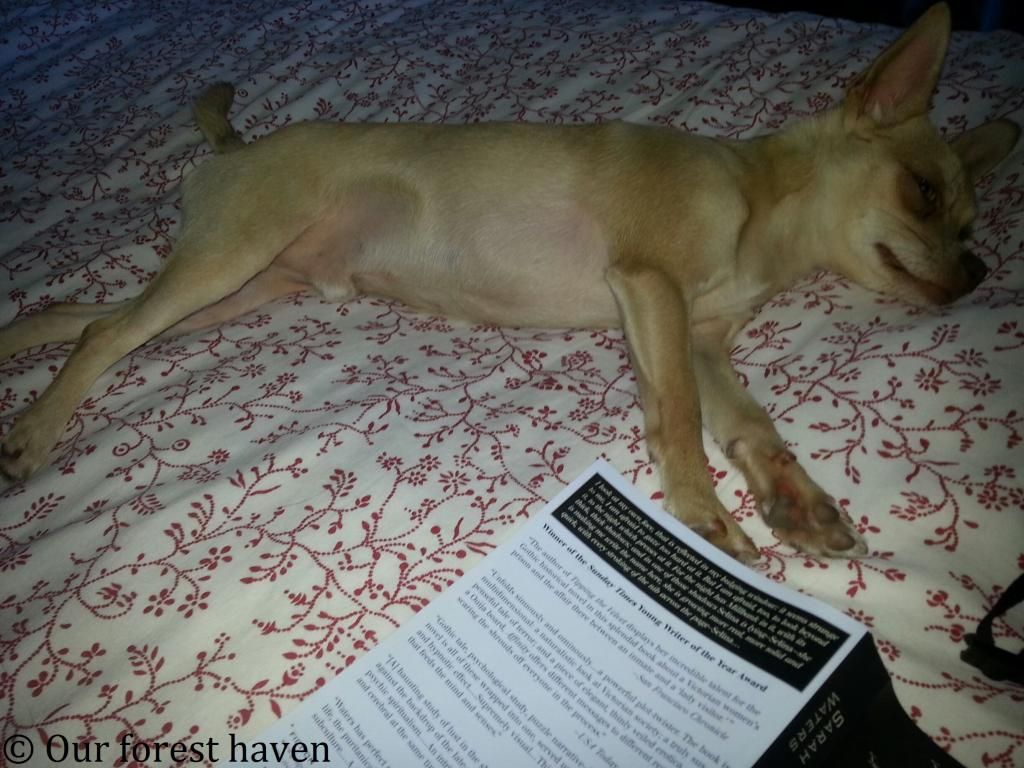 and cuddling...
And I'm still going stir crazy. I know once I'm back to all my normal things I'll miss having time for some of the things I'm doing now, but I wish I could be doing more crafts. I cannot sit in a chair to work on jewelry at a table yet... and it's not a real "bed" craft. One of my dear friends in B.C. keeps sending me amazing boxes full of yarn and goodies to keep me going without me having to go to the store. I was hoping to buy more candle making supplies at the craft store if I could get out... but in reality candle making isn't really open to me yet without being able to stand. But I am so ready to make some fall scented candles!
The weather is changing rapidly here. It was cold, then it got up to 100 degrees F the other day - yes 100. Today it's about 50 F and quite breezy, but it feels great. The leaves are turning very quickly, quicker than usual. Every day they have changed more and more.
I don't have many pictures to share, but here are some random shots from the past week or so that have accumulated on my camera...
the yard turning color...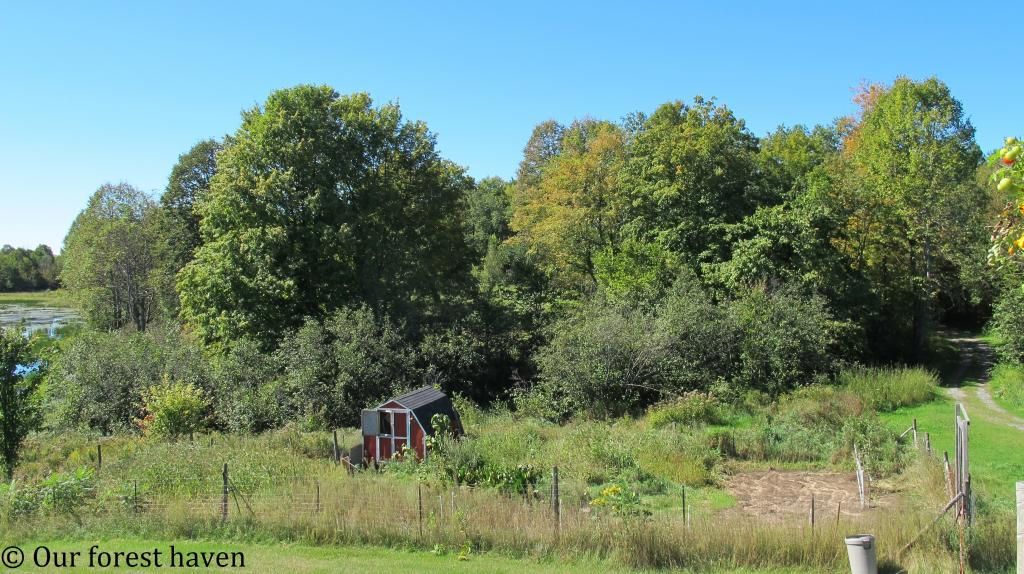 Looking off the deck at the poor big garden. My ornamental corn is doing well down there though!
Peppers!
Happy sunflowers....
My Poblanos are growing! I had to start new seeds late because the late cold and heavy rain in June did my first little ones in, so I'm very excited I ended up with any this year.
Some of my peppers I picked and froze so I can use them when I am able to work in the kitchen again...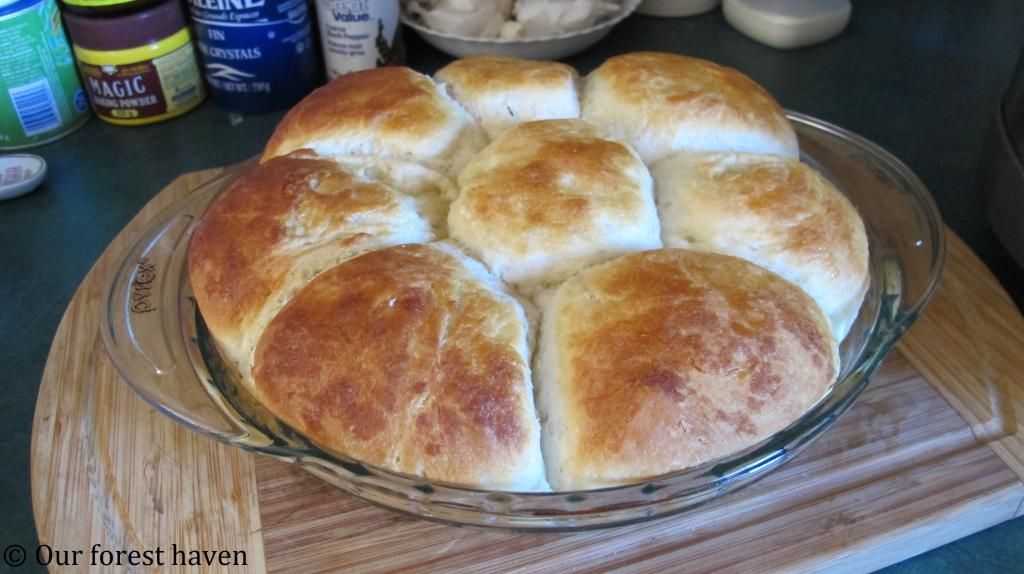 my bread from last week... my first and only homemade bread in two months! I can't believe it!
Our closest marsh turning colors...
Last night at 7:30 the guys were still not home and it was getting very dark. My Pygmy babies were in their playpen up at the house. I knew I could not move them, so I just got a sweater and went outside and sat with them to make sure they were safe while I waited for the guys to come back home.
While I was sitting with them, I noticed Sammy and a few other goats coming towards me.
Coming towards me at the house... loose.
Then I realized my Saanen buck was head butting with Henrietta (the hermaphrodite) who were not supposed to be in the same pasture... and multiple goats were loose, turkeys were all over the road.. I could hear the coyotes across the pond howling already and I decided the best thing to do would be to just go ahead and open the gate and let everyone back in, I knew they'd come. I went to the goat gate and opened it and everyone gladly went inside where it was safe. But then I noticed the barnyard gate was wide open. So I walked up to the barn, and realized everyone had broken out from their pasture across from the barnyard, and opened the barnyard gate (still not sure how) to get in there and loose. Long story short, I put everyone away. Everyone wanted in the barn and they all easily listened to me. I didn't lift or pull anything, and I didn't feed them their dinner, I just closed everyone in and came home. But even though I didn't do anything too bad, it was still more than I've done in forever so I came home and took meds before the pain hit, and it did come, but it wasn't terrible and I slept well.
This morning I was up because I had a woman coming to look at my buckling from last spring, Spock. I've been looking for a good home for him for a while now but couldn't find the right one. He is a buck, and I don't need three of them. The lady came and was really nice, and Spock ended up going to a great home with two other Pygmies - which made me a very happy girl.
And this also solves a big problem, a little less testosterone in the barnyard this time of the year is a very good thing. We can easily manage the two bucks now. My Pygmy buck Barnaby will be getting all the action, my poor Saanen buck Buckwheat won't be getting any this year, but he's easy to contain and handle. Even last night with all three of them all stinky and sweaty from running after each other, each of them quickly listened to me and went into their own stalls without any trouble.
This is why they escaped last night... everyone is all hormonal and the circumstances were just right. Life is never dull on a farm but especially at breeding time. I've been having Jim keep them apart because I don't like breeding before mid month.
So little Spock is off to breed his own girl now, and my two bucks are back to only having to argue with each other.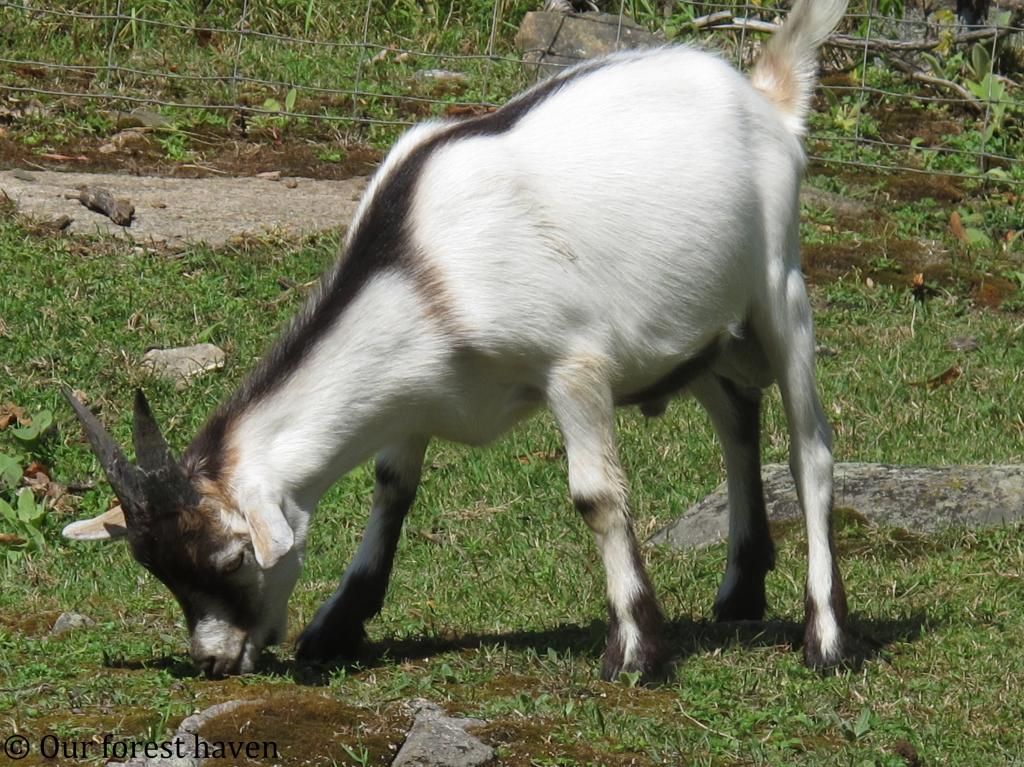 I always feel great when one of my kids that won't be joining my herd permanently gets a good home. This little bugger required a lot of TLC this spring from me, but he came through and he's a very healthy little man. And also very sweet - unless you are another buck!
So for now it's back to bed and rest for me... and.... Pumpkin donuts!
They fix everything!