Don't get your hopes up...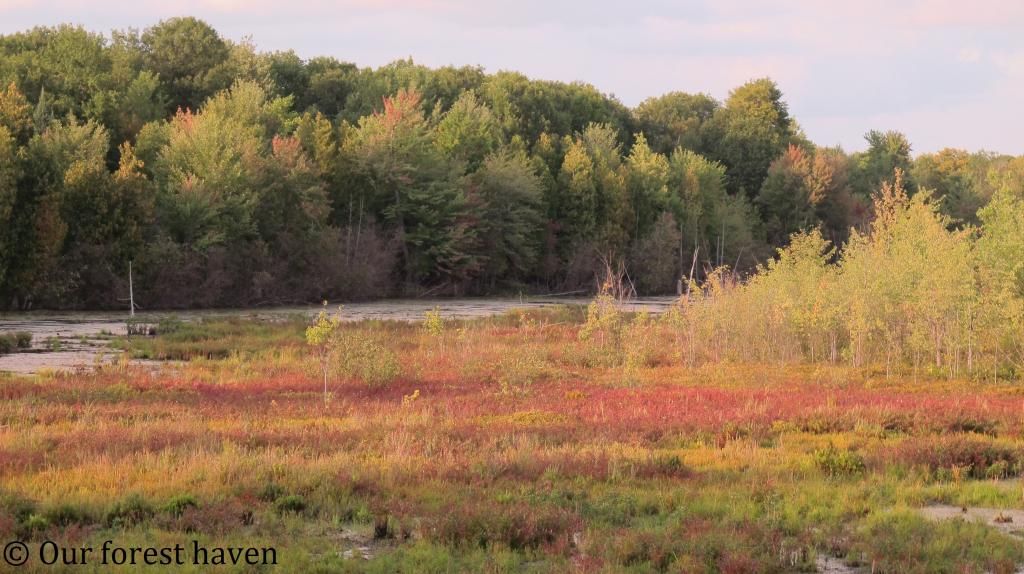 That's what my Doctor said to me on Wednesday.
We were up at 6 AM to drive an hour away to my first follow up appointment with my Doctor here in Ontario since my surgery in Atlanta. She looked at my incisions, inside and out, and said all my stitches were still inside and I had inflammation which is normal but the reason I've likely had more pain, and I will continue to for a couple of months likely. But it's all part of the normal healing. But then she said to me before she left "Don't get your hopes up that this will help you with pain."
I understand being realistic and that there is no cure for this. Nothing in life is ever a gurantee, but I just had a major operation that is not in any way comparable to any operation I have had in Canada before her or with her. She has done three operations on me herself and she is a good Doctor, my 6 inch incision from my hysterectomy is so thin and faint you almost cannot see it. She has tried and we've been down many paths of treatment together over the years. However, disregarding my Doctor's skill in Atlanta and putting a negative spin on things is not the way to move forward. She could have kept that to herself, or just said "we'll hope for the best and deal with anything that comes a long when the time comes." Maybe that would have been nicer?
Thankfully I know exactly how different this surgery was and how skilled my Doctor is and I will keep my hopes exactly where they are. I know healing is a long process. She reminded me that 6 months is a goal but it may take longer than that because of some things I had done. So patience, is as always, a virtue. But as I said to her, and I've always said, I can hope for the very best but in the end I will take absolutely any improvement I can. Before this surgery I had no hope, limited options (none really that were worth it) and I wanted to just give up. Now I have hope and that's all that matters.
She also told me that they just found out the pain clinic they referred me to a year ago that takes 2 years to get an appointment with doesn't actually deal with pelvic pain (they just found this out now?) so we'd have to start a new referral process somewhere else. So I lost that whole year of waiting for help...thankfully if that does come it will be in the future, otherwise this would have been a huge blow to me. It still was because it proved that there was no rush or urgency to help me. She has told me many times that I will live my life with pain. She might be right I don't know, but if it's true, that why has no one been helping me manage it all these years?
Yesterday was a write off - the physical exam did me in and I came home to take pain meds, rest in bed and sleep a bit of the pain off. Yesterday morning I woke up feeling much better than I expected. I wanted to do "something" but knew I'd never be able to do any of my "somethings". So after breakfast I got up and with Jim's help (he brought me all the stuff I needed and lifted the crock pot for me) I put together a big pot of beef stew and turned it on to cook for the day. Then I cleaned a teeny bit (of the counter) in the kitchen before retiring back to bed for a few hours. After a rest I decided moving around a bit would likely help me even though standing does cause more pain, it's the length of time I am up that is the real culprit. So I decided to take a walk over to the goat yard to say hi to some of the kids.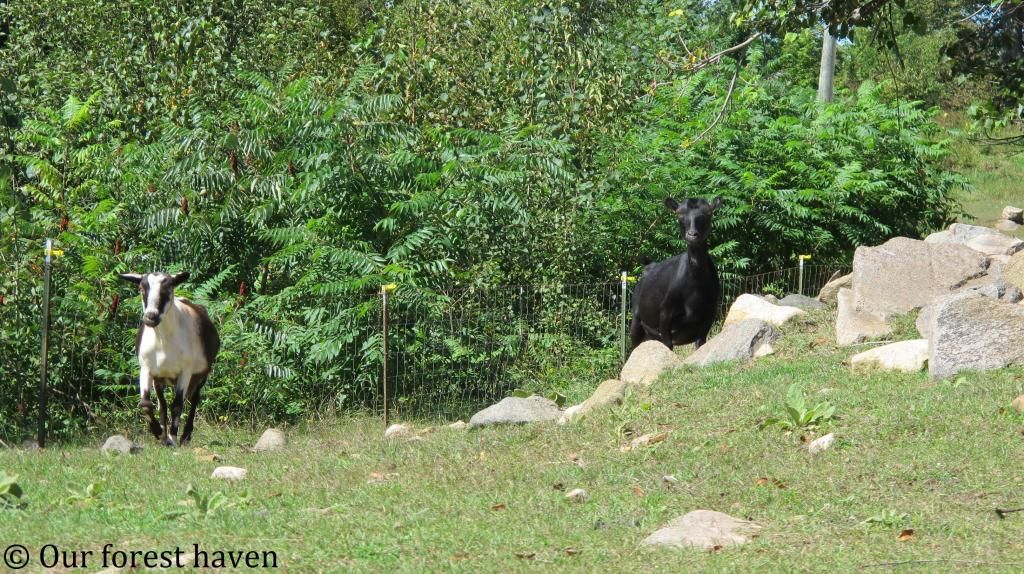 I think they were wondering if it was really me they heard calling them...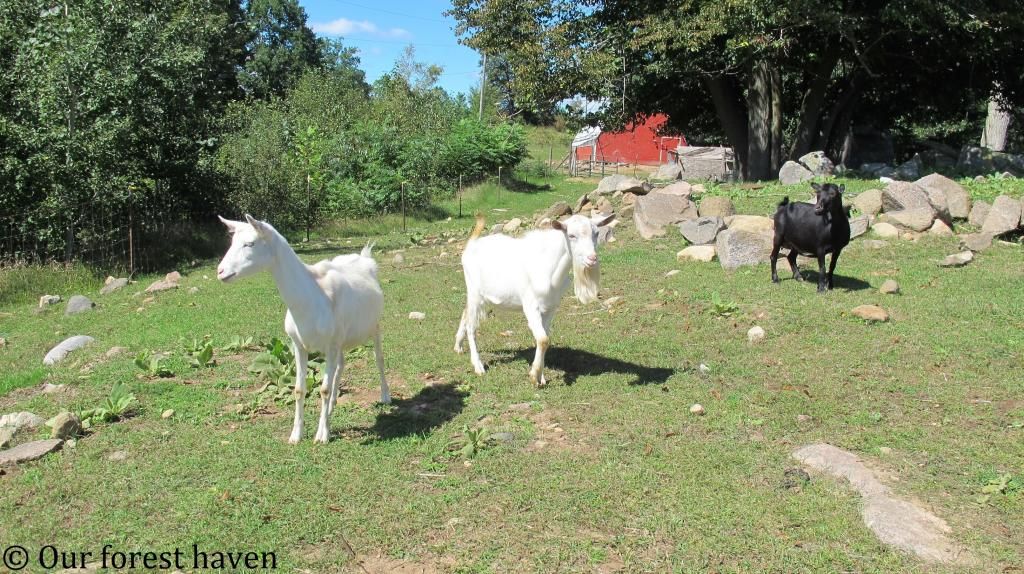 Henrietta is looking more like her dad everyday.
Everyone was distracted by the little dogs outside the fence...
Brie wasn't sure what those little dogs were up to...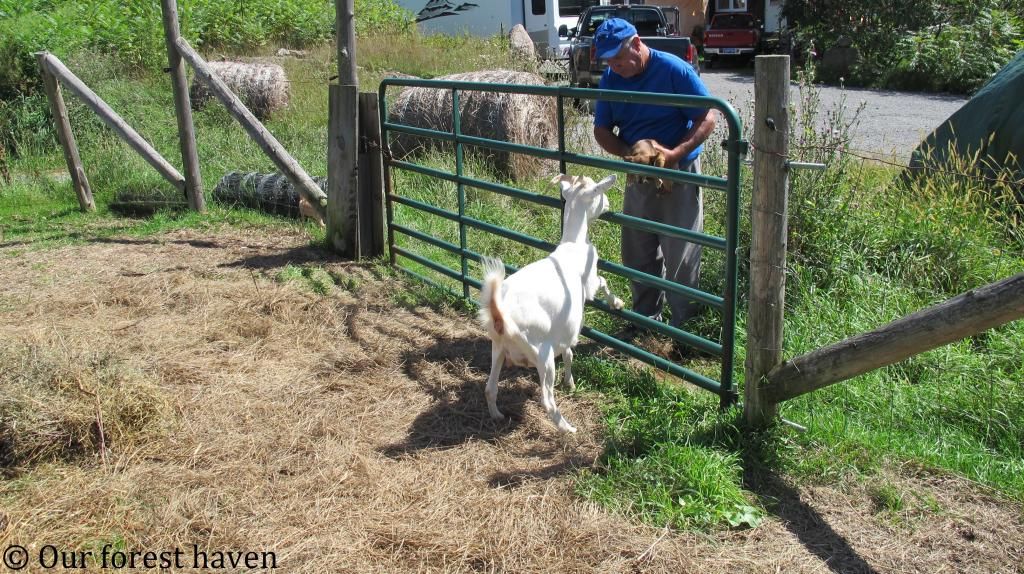 Beatrice wanted to have a closer look...
Biscuit decided to check out some hay...
Beatrice was already checking it out when she got there...
Braveheart came to say hello when he heard me talking out there.
And of course Max got some snuggles in. His nose is still healing from his fight with a skunk. Thankfully its healing nicely and the smell is almost gone...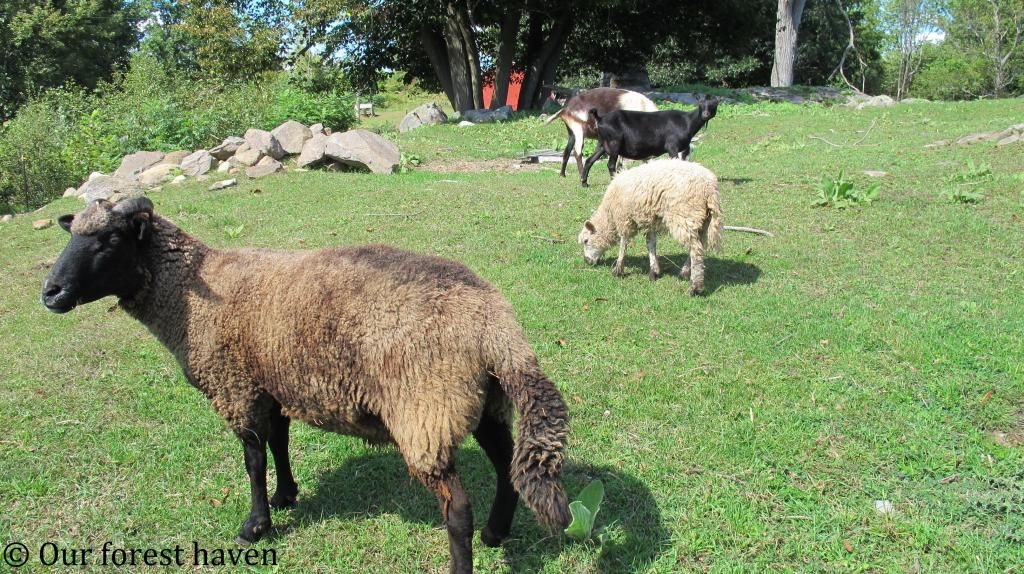 Even Horace and Ruby came over to say a quick hello before heading back out in the pasture...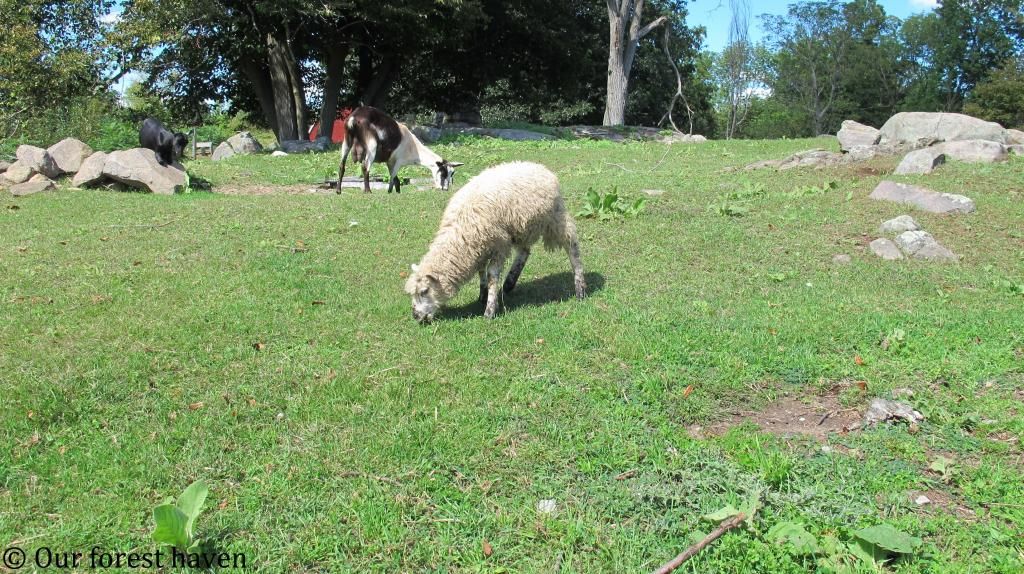 Little Ruby is really growing up fast...
I still felt fairly good after my visit so Jim and I, and the dogs, went on a short walk. It was beautiful outside, the air is cool, the bugs are gone... it's perfect. I enjoyed every second of it. I wanted to walk further but I knew that would be a mistake. Pushing myself to a place I cannot recover from won't help me. So it was a very short walk just behind the house.
Everything is just starting to slowly change color...
Rollie was so excited when he realized we were going for more than just a pee outside...
First they said hello to the little Pygmy girls who were out in their day area beside the house...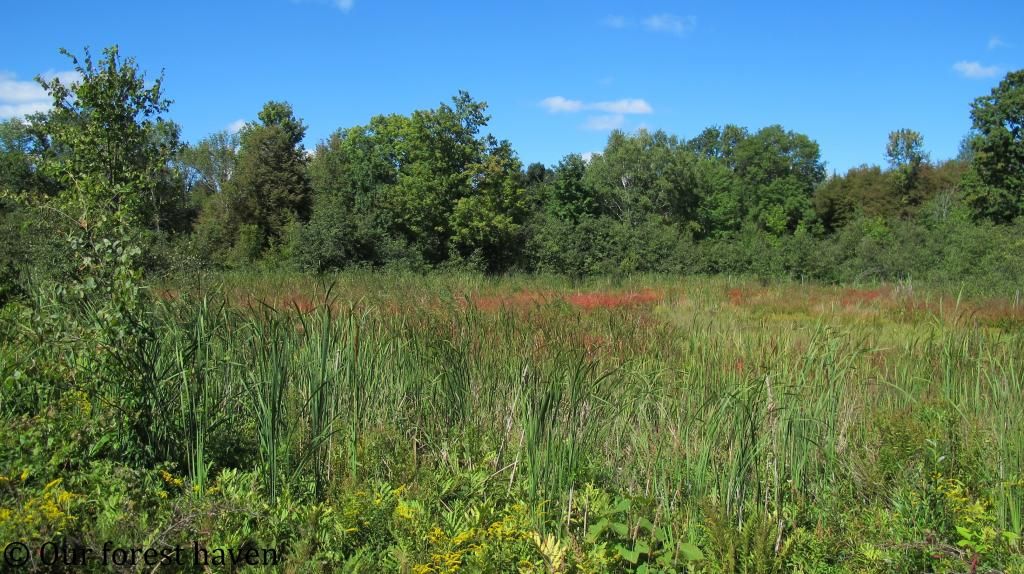 Then we wandered behind the house where the marsh is starting to change color...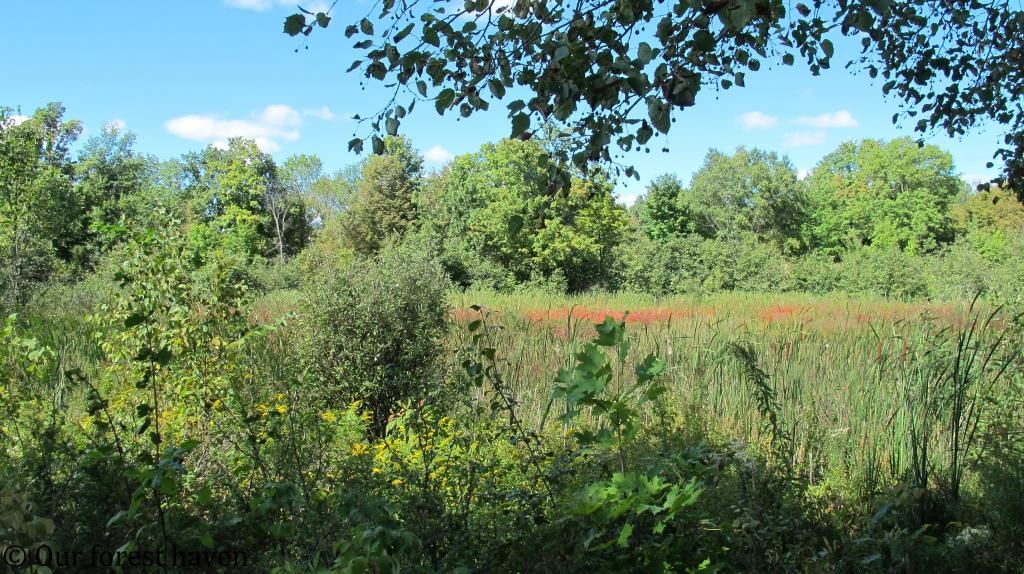 Such a beautiful time of year for walking in the forest, and its just getting started!
Come on Norman, we are heading out!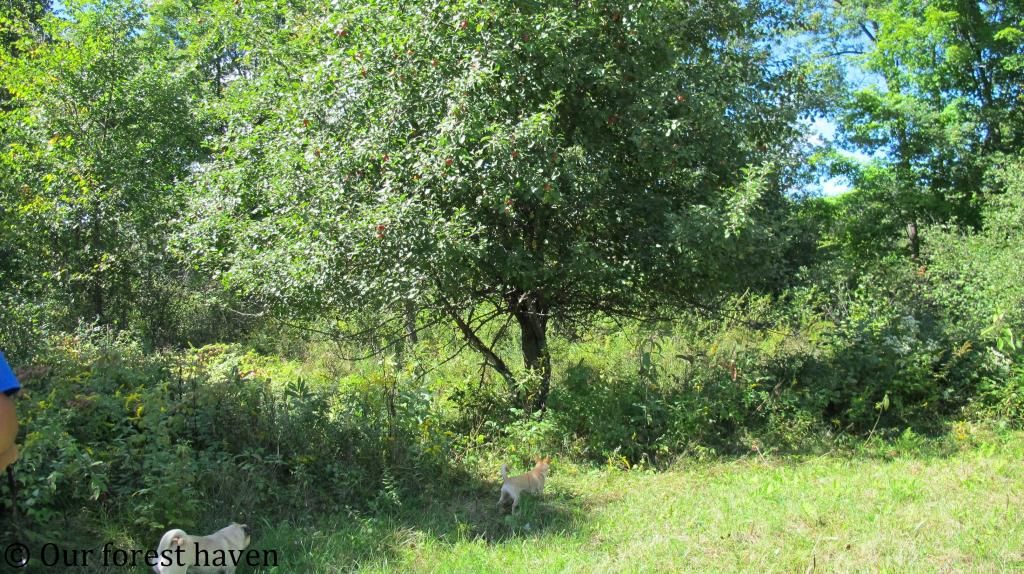 We walked to our closest apple tree to check on the apples...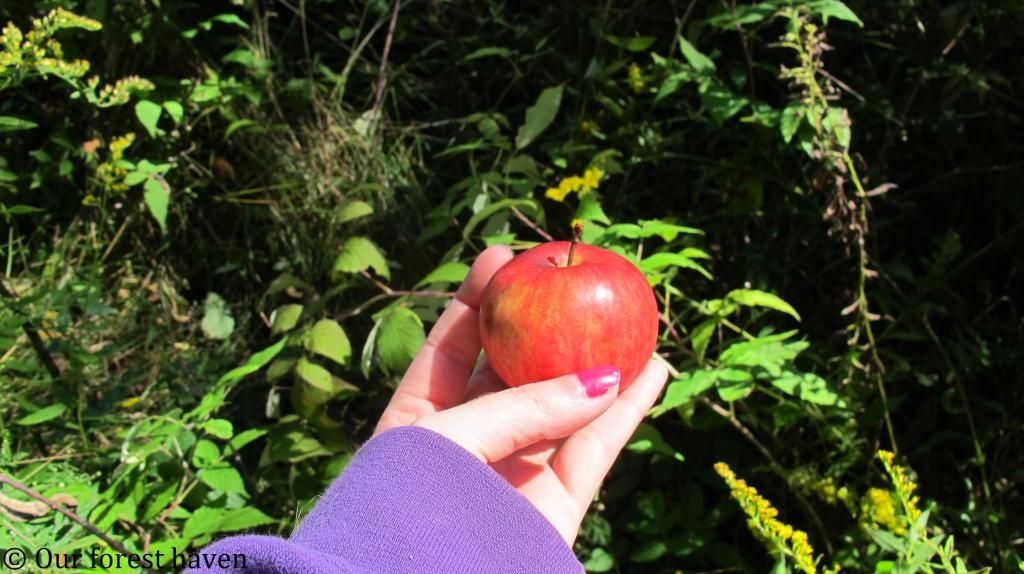 The raccoon's had been there checking them too by the looks of all the dropped apples with bites out of them. I tasted one and it was sweet already... but the apples on this tree always ripen earlier than our other trees.
Looking into our 1st cut hay field...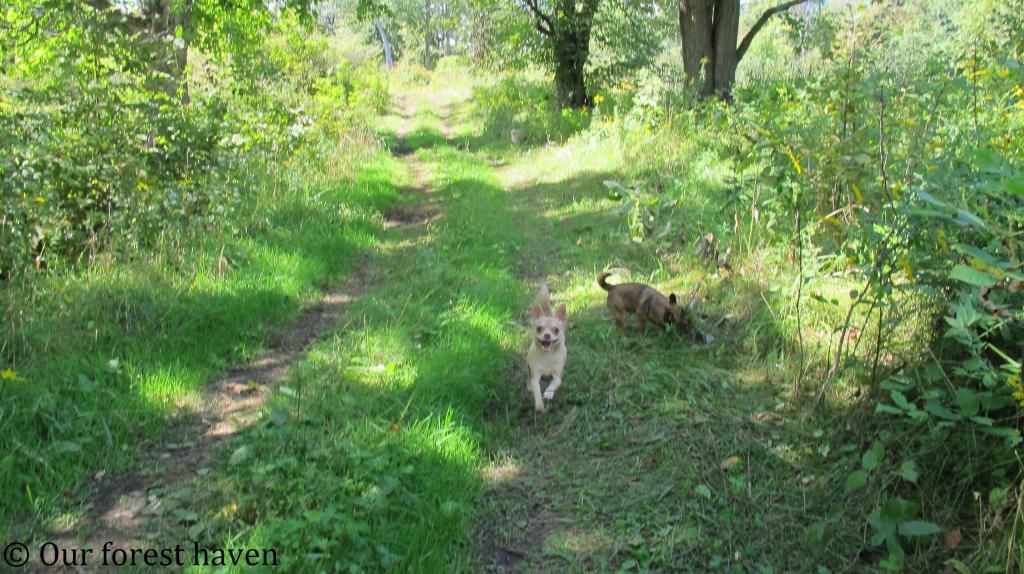 One very happy little dog...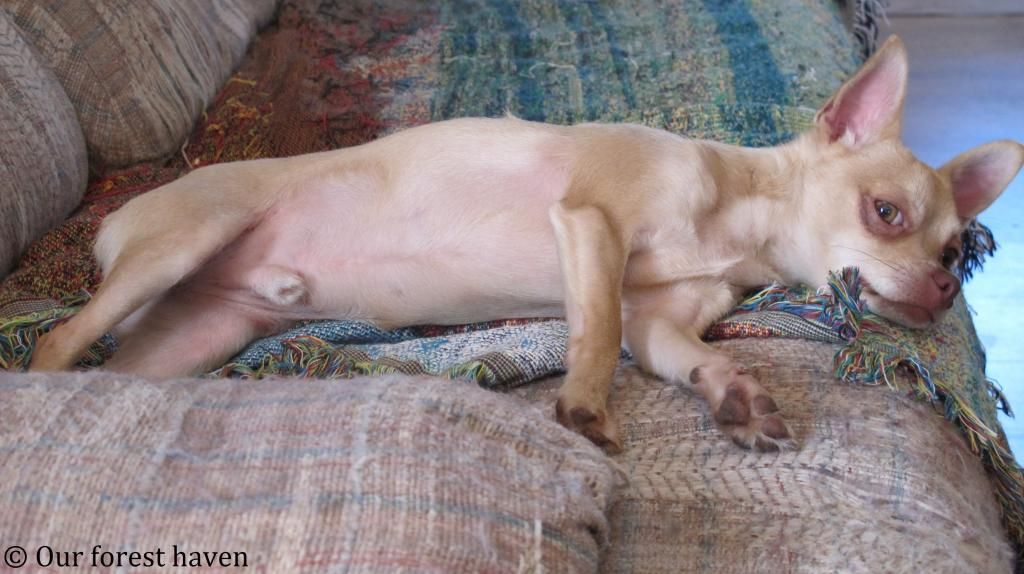 And one very tired little dog...
After another rest I spent 5 minutes in the kitchen thickening my stew and mixing dough for bread. While I was waiting for the yeast to wake up, I again lied down. Then I got up, finished mixing the dough and set it aside to rise. Then back to lying down. It's so hard to remember to do this, to lie down every five minutes. For five minutes up I need an hour or more in bed really. But I remind myself would I rather be stuck in bed and not able to do anything? And that keeps me on track to behaving. I've been in bed for over a week straight (never mind the 6 before that, I'm just talking about a week of no good days) and yesterday was the first day I felt like I may survive again, so I've been working hard to enjoy it but not screw it up.
I enjoyed every minute of the little things I got done and the visit with the critters. And man did I enjoy my bread. It tasted like... victory.
And today is a brand new day. I'm tired and won't be walking anywhere. If I have a little energy I'll pick my tomatillos and put them in the fridge to use when I can, and pick more of my cayenne peppers so they can dry out. Kevin and Jim are painting the rake boards on the house, one of our pressing before winter jobs.
I'm grateful for each little bit I can do. This is going to be very slow going, but aside from taking care of my body it's important to also take care of your spirit. So no, I couldn't go start trimming goat hooves that I really want to, and I couldn't trim my Great Pyrenees hair yet.. but I could slowly knead the first batch of fresh bread I have in 2 months, and because of it, I slept well. I don't think I've ever made bread that tasted quite as delicious.