No picking up Puffins....
And I'm not! But Jim was sweet enough to show up at the house with baby Puffin for me to see yesterday! It made my day. I was getting cleaned up and heard her voice out the window and just went rushing outside like a kid on Christmas morning to see her.
Today we decided to get the kids on some grass and give their mama a break now that they are over 4 months old, so we (and when I say
we
I mean Jim with me standing there) set them up in the puppy pen right next to the house and my bedroom. They love eating the grass and the adventure, Dahlia is loving the first break she's had from them, and I love having them here. It's also motivating me to walk a bit since I can easily and safely get to see them on my own.
Puffin, Firefly and Aurora...
Here comes Rollie so excited to see them!
Puffin peaking around Aurora....
Three little goaties and three little doggies... three little boys and three little girls!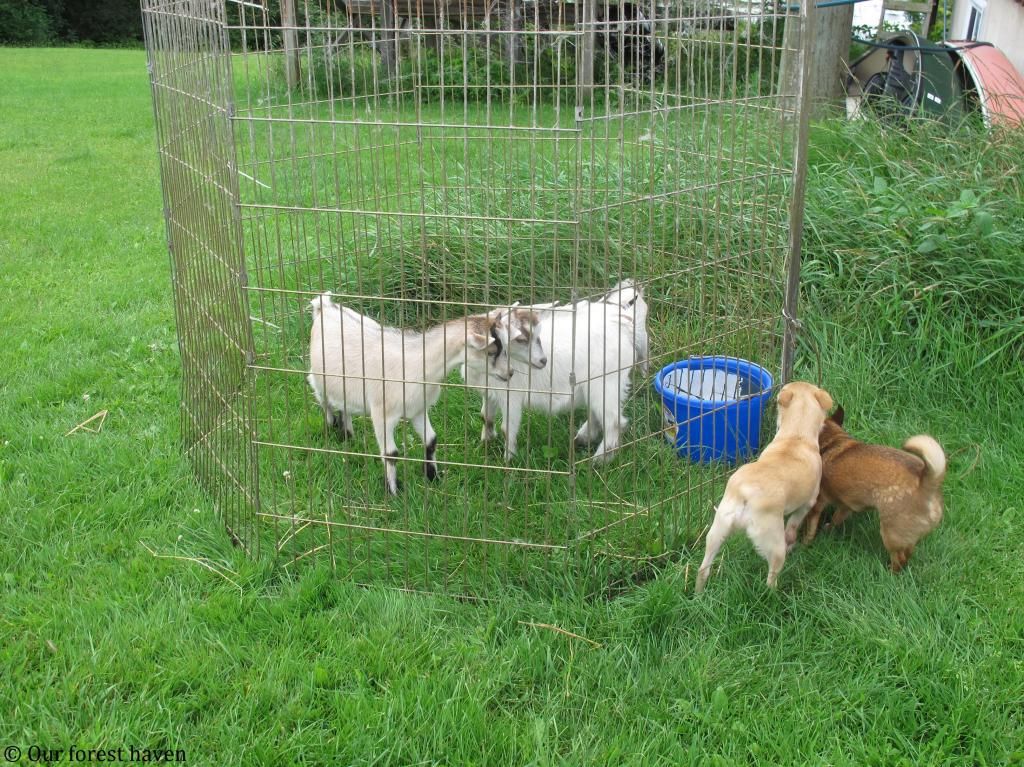 Hmmm, what's going on here...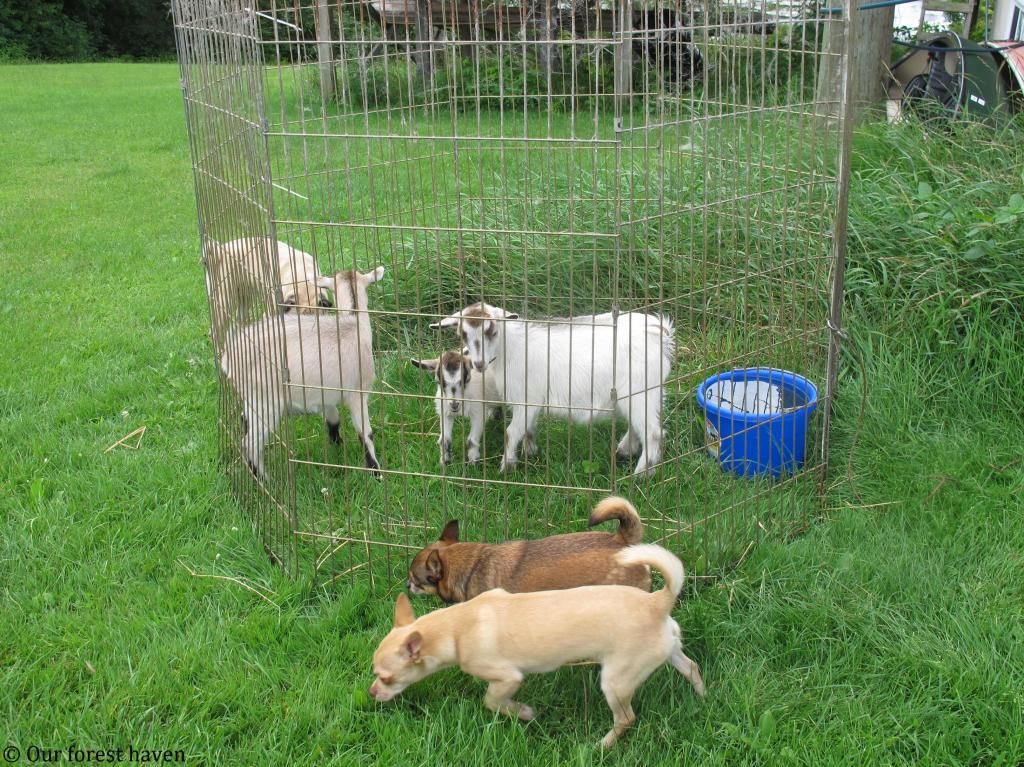 Norman and Rollie were looking for poo to roll in...
Aurora:
are you ganna let us chase the dogs and head butt them? Please???
And there you can see the size difference. Puffin is still half the size (or less) than her big sisters, although she has grown some and is an excellent eater... they are also still drinking milk. They are all on a super vitamin mix daily and will now be spending the afternoons on grass by the house so I can visit with them and also they are safe. Puffin can get through all our fencing, even the kid proof stuff because she is so small, and although my pastures still have grass for the goats, it's not as green as the stuff around the house.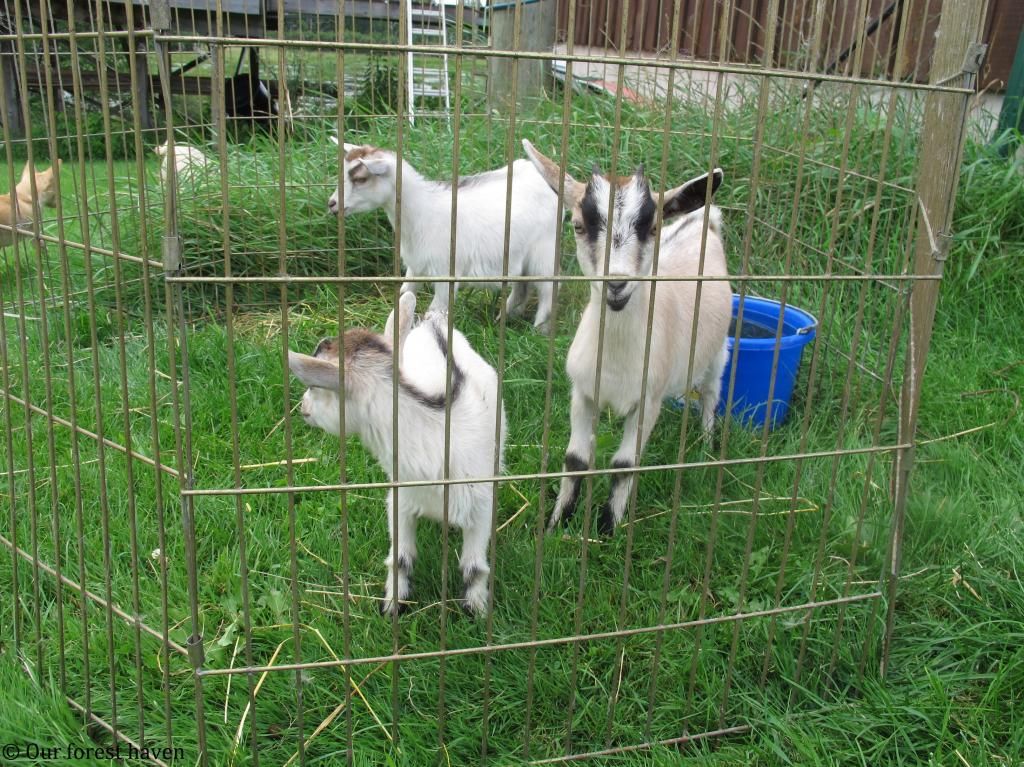 Aurora has turned a light brown over most of her body which is so pretty. I'm amazed at how different each of the girls is. They are just the sweetest kids ever. I'm in love with each of them.
and Puffin is about the cutest thing ever, she is exactly the same size as Norman and so small and adorable. And she's got the personality to match her cuteness, she's a tough nut and very spirited.
Ignore Douglas peeing in the background, what's adorable is, Puffin putting her head down to try and head butt Rollie. She's so stinking cute!
I've been up moving more this morning because I need to be, to gain strength but also to help ease the pain. It actually relieves a lot of there pressure I get when I'm sitting or lying down. So it helps, in small doses. I was up yesterday for a bit and afterwards my legs hurt so badly it felt like I had climbed several rock cliffs that day. It wasn't discomfort, it was pain. So I need them to wake up and realize they don't need to hurt so much with use again.
I decided to go out on the deck for a bit with the boys in between rain showers, and that was a real treat. The first thing I discovered next to one of my lavender pots was a new friend!
I named him Fredrick. It's the first time I've ever seen a tree frog in a color other than green. It's so incredible how they change to match their surroundings, I almost didn't see him except the eye ball looking back at me gave him away! I adore frogs, aside from being adorable, they are just the coolest creatures.
My strawberries are still producing really well so I ate some of the ripe berries and also shared with the Prairie dog girls. We lost our last male, Hector, two weeks ago. During my flight home from Atlanta, he took his last breaths. He has been declining from old age for several months so this was not a surprise, but still sad. It's the end of an era here. We are left with the two girls, Olive and Nelly, who despite both being 14 are right now in good health and quite happy. Out of all of our 7 Prairie dogs the females always thrive and live longer than the males.
Olive loves strawberries...
This is one of my new favorite pictures of the girls, how can you not laugh when seeing these little faces looking back at you? Better than prescription medication ever thought about being.
I also got a new protector of the pot garden too...
or gnome. I'm not really sure which.
Douglas was very happy for the few breaks of sunshine we had come through the clouds.
The garden is growing well despite the gloomy weather that's also been quite cool. I've had better years, but we've been pretty fortunate so far. I was able to pick our first summer squashes for dinner tonight.
We are running out of room on the deck now though, looks like we are going to have to expand!
Someone decided it would be best to take a quick nap...
Rollie picks weeds out of my plants. It's unreal. He doesn't ever take the plants themselves, but just grass and weeds. I have no idea how he learned this. I wish I knew so I could get him to teach everyone else to weed the garden as well!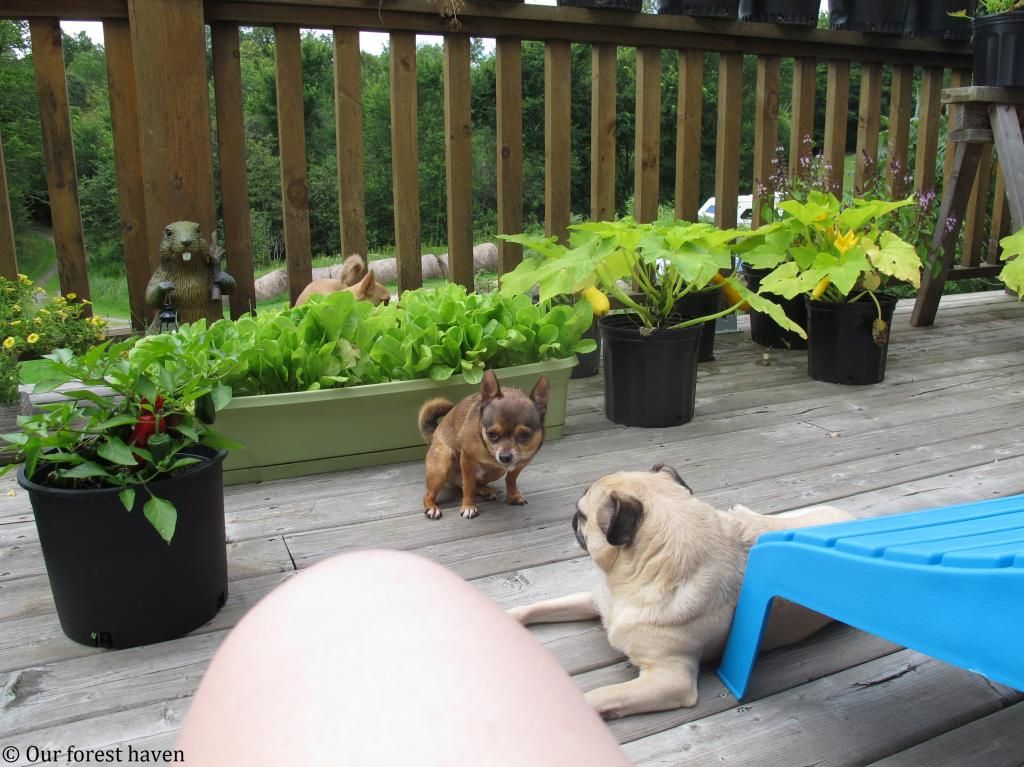 Norman's mostly grumpy because he lives for sunshine and hot weather and he's not getting it right now. But he's sure happy to be in bed for most of the day. The boys love walking and doing things but really all they want is to do whatever I am doing. And whatever it is, they are happy and good at it. I cannot believe how lazy they are being in bed. They are getting a heck of a lot more sleep than I am!
I've been able to catch up with emails and online work over the past couple of days. As I'm catching up on emails over time, please keep in mind I'm still taking pain medication. So if you receive a crazier email from me than ever before, I'm out of it. LOL. If in a couple of months you receive the same sort of responses we'll know that it wasn't the medication and it's just me :)
Kevin said to me yesterday morning while I ranted and raved about the food industry, government, and the fact I can't buy a poblano pepper in this entire Province over coffee, "apparently your personality is still the same." I reminded him the Doctor did not preform a lobotomy! As I'm trying to cut back on the pain medication because the side effects are hard to get along with, I have felt my personality and spirit come back. I had no idea how... diffused I was. Just quiet, just nothing going on in there. But it's coming back quickly and raring to go - in the morning. It calms down quickly and I'm tired again by early afternoon. But the pain now, although bad, is not worse (and maybe better) than the pain I've been in the past year. It was alarming to realize that yesterday. So obviously I'm improving in more ways than I realize.
After my last surgery 3 years ago I went through a depression. Of course your hormones are affected my these surgeries and that is never fun, but it was also winter, cold, I couldn't do anything, and it was so frustrating. I have not felt that at all yet in my recovery so far. I have cried many times because of pain, but never once because I was sad or feeling helpless like I felt the last time. So I'm grateful for that too. It makes a big difference. The frustration of not being able to do,
anything
, is sure there. But not the hopeless feeling it will never get better, which it didn't last time. I'm hopeful it will just keep getting better and once I'm through this, I'll be through it, and able to start enjoying life again. And not needing so much help. I'm sure grateful for all the help I am getting, but I would not choose to have to be looked after if I didn't have to be.
I tried sitting up today for a bit, which didn't last long. But the dogs also didn't appreciate not being able to get quite as close to me as they usually the rest of the day either. But it's small steps! And it feels good.
Thank you all for your heartfelt messages and sentiments about Bucket. I forgot to mention too that I received a phone call in the hospital from a blog reader! It was just the sweetest thing ever and thank you Chrissie for calling me, it was beyond sweet and very thoughtful. I've met some of the kindest and sweetest people through blogging, something I never set out to do or imaged possible. I'm very fortunate and grateful so many of you read the blog and also have extended your friendship to me.
Thank you.