Buckets & rainbows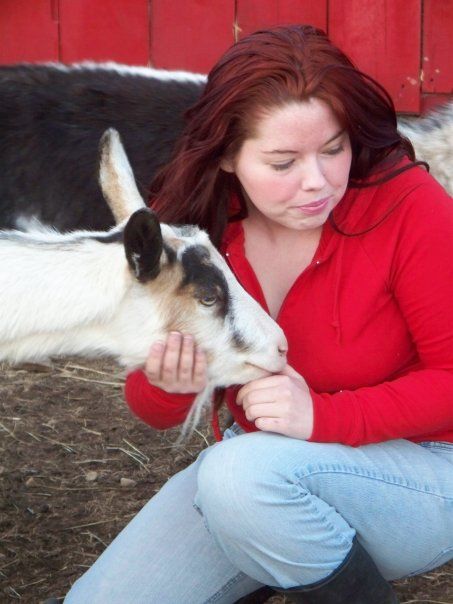 Yesterday was a difficult day. My oldest goat, and one of our first goats ever on this farm, Bucket, passed away. She has been declining over the past year due to her age and I knew it was coming. I didn't expect it to happen right now, but I knew it would be in the near future. Jim had written me in Atlanta to let me know she wasn't doing as well as when I left.
I still remember pulling up to these people's house I had heard had two goats for sale so many years ago now - it was almost dark and the goats were locked up in a small shed. They had locked the goats in with 7 Alpacas in a small shed, standing room only, because their fences were not good enough and the goats were getting out. They told us that Hilda the Pygmy (I named her, she had no name before) had killed the third goat. By crushing her. You know what really happened which we realized as we continued speaking to them? The alpacas stomped it to death in that tiny space. Both Bucket & Hilda were underweight terribly, full of worms, lice, had almost no hair, you could see the bugs crawling all over their face. Kevin pulled me aside and said "don't take them." He was being realistic. They looked horrible and we were about to pay for two goats on deaths door, who we had been told by the owners were nasty, mean, killers, and escape artists. It sounded like nothing but trouble. I walked away from Kevin towards the owners and said "we'll take them." I couldn't leave them. I just could not.
Kevin loaded them up shaking his head and off we went. By the end of the week the goats were already improving from lots of medicine, lots of hay, a big pasture to run around in, and love. They both wanted attention and affection and neither had a mean bone in their body even though Hilda was grumpy. They never once went through a fence or over it, or hurt another goat. Hilda could not have kids but loved all the other kids more than anything even though she bullied the adult goats (you can read my tribute to her,
here
) Bucket wanted nothing but food, and kisses. And both of them made not only me, but also Kevin, fall in love with goats. They are the reason I'm over run now and why goats will always hold the majority of my heart in their goofy little hooves.
The hardest part of it was that I was not able to see her. There is no way for me to get from the house, the 900 feet away to the barn in my current state... I'm lucky I'm able to get into the kitchen something I try only once a day and thankfully there are counters and walls to catch myself on. I'm very weak and unstable and the Doctor and the nurse have told me about 10 times this week to stay in bed. It broke my heart in ways I didn't realize my heart could be broken. Accepting that I could not physically get up to the barn to be with her. I cried so hard I started hyperventilating. There was a time when I would have just completely ignored my body, the pain, the Doctors, Kevin, Jim and went up there anyway, but I realized I cannot hurt myself and risk all my other animals not having me at all. The intensity of this surgery compared to all my others and the intensity of this recovery has scared me, and it's made me realize how fragile I am and that being bull headed (which I always am) is good sometimes, but not at others. This isn't one of those times. I want to be healthy so I can enjoy my life again and take care of my family. I'm so grateful I have this life and this family, and these great men in my life to help me. I want to be healthy again for me, but also for them.
But I will miss her, and my herd will not be the same. I am grateful I have three of her kids from years past, including the first kid ever born on this farm, Bulrush. So her spirit will live on. She's always been my girl, and for a long time was the alpha in the herd. It won't be the same without her. I feel like part of my team is missing, she was my partner.
But I'm also very grateful today. I received my surgical report from the Doctor and read it. He removed more disease than I realized and over half my pelvic side wall. There were a lot of complicated things going on that would have continued to cause pain but also worse complications than I was already having. It was very scary. I started to cry reading the surgical report because reading his detailed descriptions of what he found and did was moving not just because it was scary how bad it was inside of me, but also because of the level of care I was lucky enough to receive. All of my other surgical reports - 5 of them, have been short and simple and so basic you almost wonder if they did anything at all. This confirmed everything to me in a way nothing else has. It's like reading
"it was real, all that pain. You didn't imagine it."
This Doctor saved my life. He didn't just potentially put me out of pain and greatly improved my quality of life (which I'm sure he has, I just don't know what that feels like yet) but he literally saved my life.
I'm also so grateful for Kevin, who made me seeing this Doctor possible which it wouldn't have been without him. But also for loving me and for taking care of me. And I'm very grateful for Jim, who is a very good and caring friend, and also making it possible for me to heal now by taking care of my big and crazy animal family. I'm fortunate to have these two men taking care of me.
Since I have not had a lot of energy to distract myself with other hobbies, I've been watching a lot more TV than usual and looking at things online. Because of this I've decided this...
society is insane
. And I mean completely. I cannot believe the commericals I have watched for 80% lower fat foods (how do they make normal food 80% less fat?) diets, dating websites, products to keep you young. I enjoy Instagram and like looking at my friends pictures, but am amazed (in the general public area, not my friends who mostly post pictures of food and animals) how many people post pictures of themselves mostly naked, and also of their stomachs, butts, workouts, and talk about how they need to loose more inches or add another dozen six packs to their abs, which is by the way, impossible unless you use paint and paint it on... but I'm honestly not sure they realize that.
Frankly it's rather disgusting. People are so self centered and self consumed it seems like the reality of life, eating well, eating real food, loving people, being happy, being kind... have completely been lost. Of course I know that's not true, they are not completely lost and I'm so grateful I'm not part of that world that subscribes to these sort of ideas, I've just been exposing myself to it more than usual.
And I've decided this.
I'm over it
. I'm thankful to be alive. I'm thankful to eat a full fat, normal, piece of meat that has not been made 80% leaner -
somehow
. I'm happy if my animals are happy, and to be able to have a glass of wine on my deck and a batch of fresh jelly in the kitchen. It's that simple.
When I saw a pain specialist in Toronto this spring, he told me not only that my abdominal muscles had separated - which was completely false, they have not - also that I needed to exercise more. Even though I had just finished telling him everything made the pain worse especially whenever I did,
anything
. He also said I needed to loose weight. OK fine, I agreed. But here's the thing. I am 5'2, I'm short, and I weigh more now than I have before because a) I'm older and b) I've been very ill and had so many surgeries so close together. BUT when I saw him in April I weighed 135 pounds. Now I weigh 130. Is that really too fat like he said? My stomach has been swollen for so long and I've looked six months pregnant so I'm not quite sure what it looks like normally but just going on numbers, is that really too fat?
By the way, he also does botox in his office. How nice.
The point is, this is modern medicine too... in the modern world. I've been told in the past year that I need to meditate, take Tai Chi, loose weight, and exercise. None of these things would have helped with the complicated disaster that was inside of me and getting worse. Nor make the disease less. I was also told to just think positive and pretend it didn't hurt as much as it did. These things came from four professional Doctors in the medical field. Two specialists in their fields.
At this point in this journey, it scares the hell out of me.
One thing that surprised me about Dr. Sinervo at the Center for Endo in Atlanta is, when I took my three page list of symptoms to him, I ended up asking him almost nothing. The reason was, he asked me first. I've really never met a more compassionate Doctor, but also not one as highly educated in his field and professional. I can't thank him enough.
Being happy in life is as simple really sometimes as being healthy. You absolutely need your health and when you loose it, you learn that very quickly. But being healthy is not the same as being a certain sized waist or a certain number on the scale, or having certain things. Life is a beautiful thing, and each of us are different and find happiness in different ways, so I accept that, my ideals are not someone else's and vice versa, but I really do feel a good part of the world has lost touch with reality and what is most important in life. And that's sad. I hope they can be reminded of what really matters and how very basic those things are. Primal.
Don't worry, sooner or later we'll be back to more regular programming of cute animal pictures and recipes ;) and I am going to stop watching so much television.
Lastly the good news! We have hay promised to us, first cut, hopefully very good hay. It's not coming cheap but it will be delivered. 300 square bales which will go along way this winter! That is a great worry off of my mind. I've been trying to decrease the amount of pain medication I am taking and while there is still pain I am able to tolerate less meds so it must be improving, but it's also making me much more back to normal and less relaxed and dopey. However, even though my mind is raring to go, my body isn't so I don't feel up to doing anything I shouldn't be yet. Thunder woke me up this morning and right away my mind started racing - as is normal. This is my mind: "It's raining, I hope the goats are OK. I hope Sammy is dry. I hope Puffin isn't scared. I hope they don't need anything. I have so many emails I need to answer. I have thank you cards to write. It's almost time to make salsa verde because the tomatillos are almost ripe..." I actually got up because I was driving myself nuts and my body was aching so much. Who knew lying down so much,
hurt?
I've been conspiring from bed the easiest way to make fresh biscuits but I'm still to weak to stand for more than a couple of minutes, so I'm waiting. I wish I could somehow bake from bed, that would be convenient. But I know it will all come in good time.
So for now, I'm in bed, with three little dogs as closely next to me as possible since they are not allowed on my stomach and head, and life is good. It would be better if I could bring all the goats in the house, but so far I haven't been able to convince Kevin, nor Jim of that. I'll keep working on it. I've been distracting myself saving recipes I'll make once I'm better. I've got about 100 so far and by the looks of it we'll eat well.
Obviously I have not been able to take many pictures, but a couple of days ago we had a beautiful rainbow over the pond which I was lucky enough to be able to get up and go look at. Jim went out in the yard and took some more pictures of it for me.
It's been cool outside and it feels like late September. It's also been raining day after day, quite heavily. My pepper plants hate it. No sunshine and no heat. It's been nice for sleeping but I woke up this morning thinking a fire in the wood stove wouldn't be a terrible thing. And it's the first day of August! Amazingly my cayenne peppers are flourishing. But only my cayenne peppers... which I hope to dry and pulverize when the time is right. Those dried spices will help keep us warm this winter :)