Emergency strawberry jam making
Why is it an emergency? Because I'm out. And I've been out. And it's been terrible.
And I know that was a terrible sentence. I'm sorry.
And why am I standing on a stool?
Because I'm short, for one thing. And secondly when mashing strawberries it's helpful since my gut is so... busted. I have no idea why being above the pot put a lot less pressure on my stomach but it did so I went with it. The dogs were not really sure what I was doing, but they were sure there was food involved and that's all that mattered.
While we were in town yesterday I jumped at the chance to get strawberries. I've been waiting for my local strawberry guy to get his picked but with all this heavy rain and no sunshine things are behind. I decided to jump at the chance to get some nice berries in the store (in large quantities) so I could put up some strawberry jam just in case I don't get another chance. With my physical limitations right now and surgery up in the air, I didn't want to risk not getting jam made because I am completely out and I can barely sleep at night worrying I'll have to go all winter without strawberry jam.
I just wouldn't make it.

I'm already planning how I can work around my limitations to get all my raspberries picked and processed and my canning done. If I have to do it from bed, I'll figure out a way.
So last night I managed to finish two out of five batches of jam, and then my body screamed at me to quit... so I did. I mixed it up a bit by putting vanilla in my first batch of jam, and maple liqueur and maple syrup in my second.
I miss the Donna that could stay up until 3 AM making multiple batches of apple butter. I hope she comes back someday!
But I'm just glad I won't have to come to a terrible end in the near future, perishing without strawberry jam to sustain me.
I gave the goats some of the strawberry tops.. - that Kevin didn't eat. He was pretending to be a goat and picking off any bit of berry he could.

The Kakarikis (house birds) got berries too...and so did the Prairie dogs.
Everyone loves strawberry, but especially Hector. Hector is going on 14 and the old man of the bunch (the girls are not far behind him though) and he's quieted down considerably in the past few months... but he wasn't about to miss fresh strawberries just because it interrupted his nap...
He really enjoyed his berries.
Today I finished up my other batches of jam. The best one was the one I made with the raspberry liqueur, It's divine. I gave the rest of the berry tops to the rabbits and goats again, and the poor chickens missed out. I'll have to make it up to them with more tops or a different treat... I simply ran out!
I picked a big bag full of fresh grass for all the rabbits, I do that usually 3 times a week at least. I used to do it everyday but right now I'm doing it as I am able. The rest of the time they get their hay but they do appreciate the good green stuff.
and then there is Queen Dahlia. This picture of her makes me laugh, looking so royal, with teeny Puffin in the background.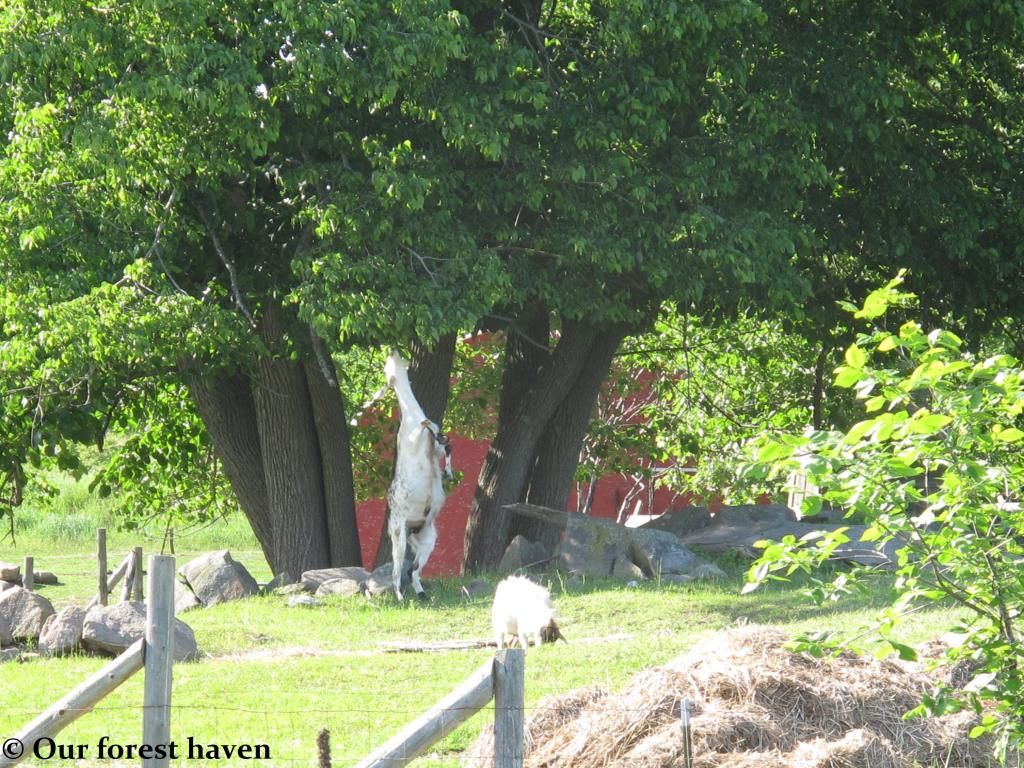 When I got back to the house to work in the kitchen, I saw this out the kitchen window... Bulrush standing up to reach the green leaves on the highest tree... he does this every year and I never tire of watching him do it either...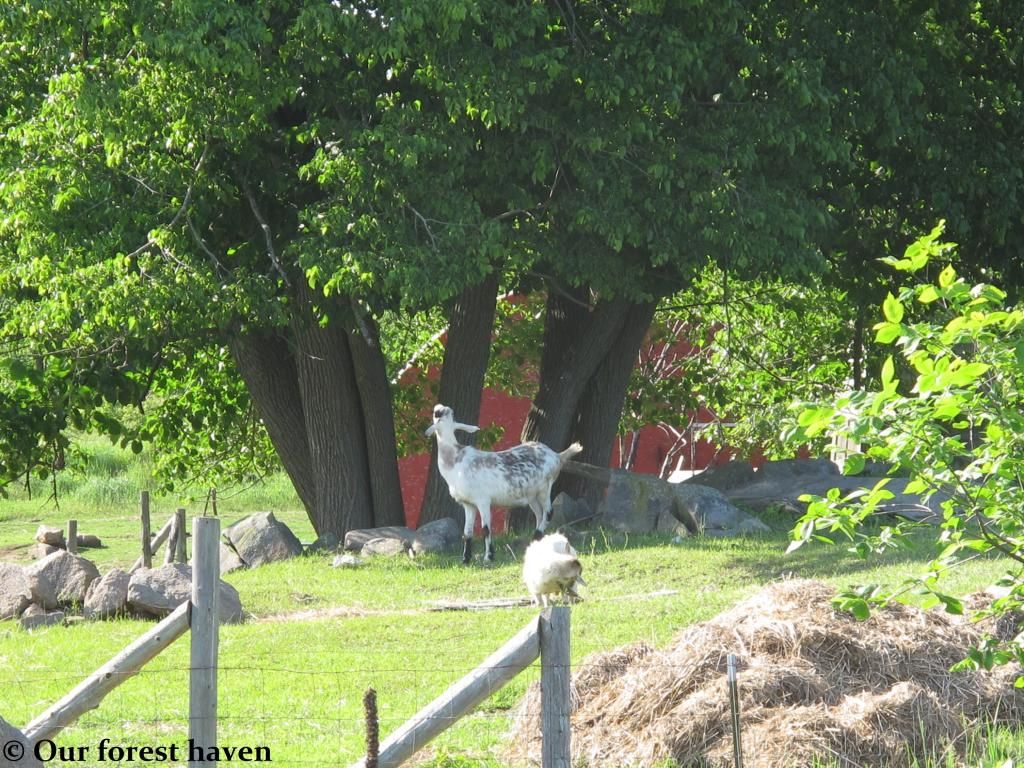 Hmmm... which one is the very best leaf of all?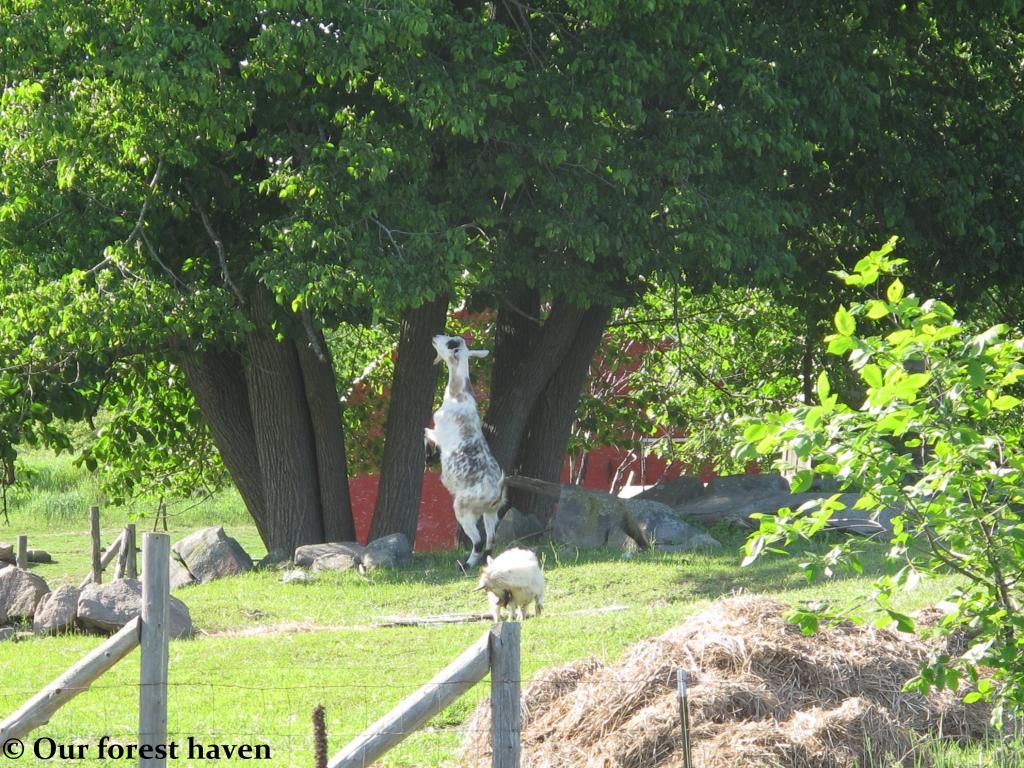 I'll find it, one of these times. A ladder would help...
After I got the jam finished up and made some pizza dough for dinner, I worked a little bit on the deck planting my chard, some more lettuce, and zucchini... It was nice that we finally had some sunshine today.
Douglas appreciated the sunshine too...
I've almost got my planting done, almost...
My peppers and tomatillos are coming along nicely...
In the big garden, Kevin managed to get the onions in. We are just taking it all one day at a time, and we'll just see what we end up with when the time comes.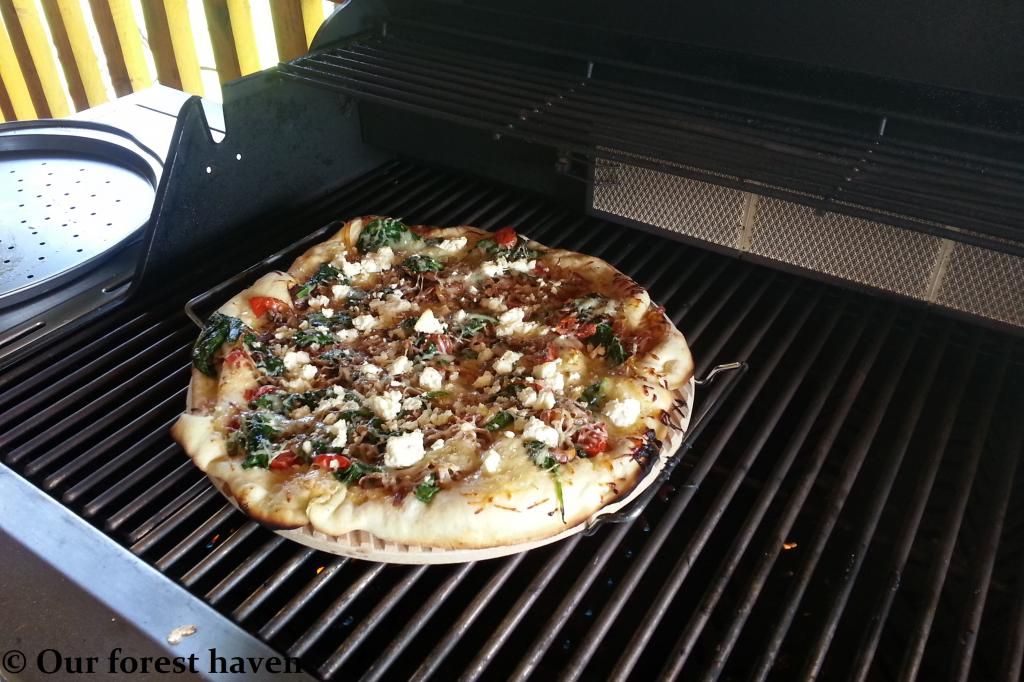 I used my new pizza stone for the grill tonight and made us a pizza with caramelized onions, mushrooms, jalapenos, cherry tomatoes, spinach, garlic butter, parmesan and feta cheese.
I cannot wait to use the stone for Naan, I think it's going to be great for that.
By evening chores I was pooped. I collected Jackson who was tied out on the grass by the back porch and headed up to the barn to put everyone away.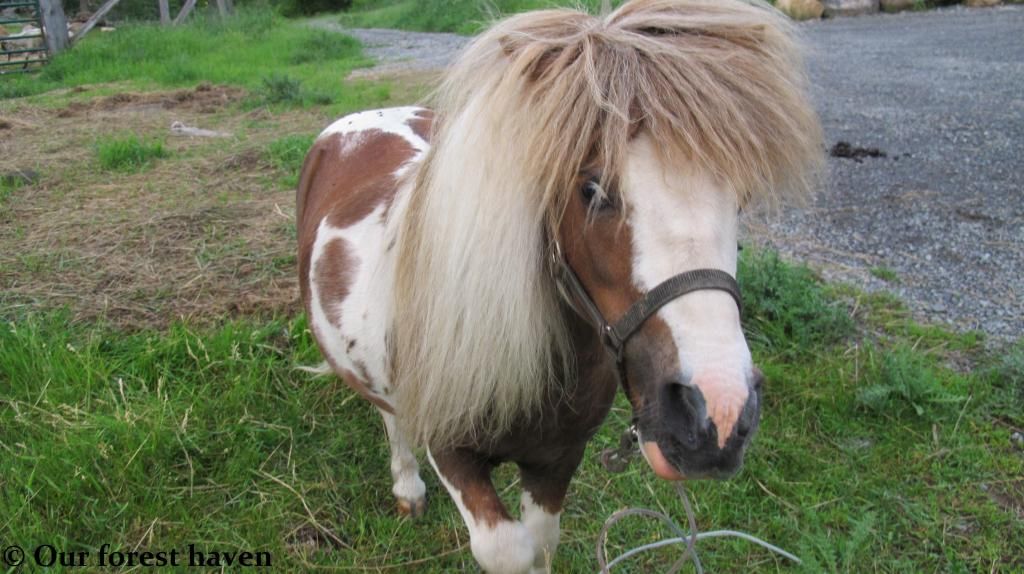 He's my little wild man... That hair, those eyes... He's the biggest horse you've ever seen...
If you've never seen a horse before.
I admit, I feed his ego by going along with his big horse act. It makes him feel tough.
This video is actually from May. I tried to post it twice before and blogger just wasn't having it. So I gave up and forgot about it - until right now. I tie Jackson out on different places around the house and barn on fresh grass everyday, and every evening he goes back to the safety of his paddock and his house. But first, he has to have a roll... he does it every evening. The walk up to the barn is shaky because I was carrying baby bottles, a grain scoop and a bucket for milk along with the end of the tie out all in one hand! I blame my days as a waitress, I always think I can carry more than I should.
And now we are comfy in bed and going to rest, once Rollie is done editing my blog posts for me.
But before I go, I have to share one last thing.
When we made the trip to town yesterday, we didn't go alone. Annabelle, Beatrice's kid, went with us to meet her new family. I had always intended to sell Annabelle when she was born, being half Pygmy and half Saanen, and the people who did buy her actually told me about a week after she was born they wanted her... and they have been waiting ever since for her to be weaned and old enough.
When we arrived in the hardware store parking lot to meet them, I was so happy to see it was just as good of a family as I'd expected from my exchanges with them and the little girl (about 5 maybe) came over to me with a little mason jar full of change to give me some of the money she'd been saving to help buy her this little goat. It warmed my heart. They also bought two other doelings somewhere else, so Annabelle will have friends and I'm sure be very loved by that little girl.

It made me feel good. For Annabelle and for that little girl.

And if I'm being honest, Bea is glad. She's a good mom and feeds her kids but she never really bonds with them the way some of the other does do - she's an independent lady and she's always been that way. Now that she's on her own again she's back on weed whacking duty for me. She's so easy to move from place to place so I use her to clean up. She's heading to the chicken yard tomorrow to trim it down for the ladies so it's not like a jungle for them.

I hope everyone has had a nice weekend!