The days have been busy, and my sheep are naked...
I've been trying to post this for a couple of days, so please bear with me, I have a lot to catch up on! I usually work on posts in the evening and lately by evening, I'm heading for bed with the dogs and crossword puzzles. Every day this week has been long and busy. We've got a lot done, but it's been pretty exhausting with a lot of off farm trips added in. Today, aside from regular chores, I'm laying low and catching up on emails and the blog, which is a good distraction because I need to lay low even though I don't really want to. I had high hopes of also baking some bread and making scalloped potatoes and ham for dinner. I'm still holding out hope I might get one of those done, but if I don't.
I just don't.
Biscuit has been milked, the animals have been fed, everyone is out relaxing... The Pygmy kids are out for the second day and playing with the older goat kids, which is a sight for sore eyes. And now it's time for me to lie down. I'm trying not to feel bad about it, or frustrated because I had to give up for a little while. The dogs don't mind these afternoon lie downs one bit. They love this new part of the day.
The kids are loving being outside and I'm so glad, Dahlia resisted taking them out for a long time.
Rose is also happy to have her Pygmy friends out. She likes the other goats, but Dahlia is best friend.
I cannot believe the huge amount of support I received, and the encouragement from so many of you after my last post. After being on the fence about whether to share it or not, I've very glad I did, and I'm also so very thankful for your prayers, kindness, support, your comments, and your private emails warmed my heart and you have all definitely encouraged me to keep moving forward, to be strong. So many of us deal with challenges in life and like so many of them, it's not always just about the ending it's also about the journey, even when the journey isn't all that fun.
If I've learned anything from what I've dealt with so far honestly as much as depression can come into play, frustration, fear... it's that I love living. I love life, and no matter how hard things are or scary, there is so much beauty all around. I see it everyday, and I hear it... and I'm grateful for it.
Wednesday morning it was Douglas, Norman and Max's turn to go to the Vet for their annual check ups and vaccines. On the 29th it's Rollie's turn to go - but he's going for the big neuter (I can't wait) and Flavious will go get his boosters. For Norman and Douglas it's not a big deal but Max does not travel well nor tolerate leaving his animals and the farm. Thankfully he fit into the largest dog crate I have (which I didn't expect) and we were able to load him easily. He gets terribly car sick (he has since he was a puppy) if he's inside the cab of the truck, but if he's in the back and he can have fresh air, he never gets sick and he's much less stressed. Norman and Douglas checked out just fine, although Norman will in the near future need dental work, which scares the hell out of me. He's been on Vetmedin since he was one because he was born with an enlarged heart. It's not too bad still, and I've been able to keep him on the same dose of Vetmedin for going on 5 years which is amazing. I manage his weight, which is the biggest thing. When he gains it's in his chest and that affects his breathing. But because of his heart, I worry more about any kind of surgery or work that requires anesthetic. Many of my friends with Chihuahua's who are both seniors and many who have had worse heart problems than Norman's assure me they have been fine. But I've also had close friends loose their Chi's (little dogs are so much more sensitive to anything) who were healthy and going in for routine work. I do however trust my Vet very much, and he just recently did dental work on a dog with a worse heart than Norman's and took precautions such as using only the amount of anesthetic necessary and also keeping the surgery super short so the dog was under for the shortest period of time possible. I've been under anesthetic 5 times in the past 6 years myself, but I'm worried sick over this little dog having some minor dental work. But I will deal with that as it comes.
As for Max, he did well. My plan all along was to leave him in the truck and let Dr. Greg come out to the truck to give him his needles, but I was going to pull him out of the crate. That wouldn't have worked. Max is very protective over me especially with men, even with Kevin so he let Dr. Greg know right away he wasn't thrilled about his presence. But if I had not been the one holding Max it would have been worse. He trusts me. So I held his collar with the crate door open and my face next to his, and Dr. Greg ran around back of the crate and quickly gave Max his shots without Max even knowing anything had happened. Done.
And when it was all over, Max was very happy to come back home where he belongs.
Thursday we ran errands in the city, the main one being picking up my camera which has returned from getting fixed, good as new! I'm so happy to have it back.
And then Friday my day started really early, just after 6. My sheep shearer was due to arrive for 7 but he ended up running late and got here closer to 8. In the meantime I had coffee and watched the mist rise from the pond. Two Swans showed up and were swimming in the far end of the pound. It was beautiful.
I am thankful for my shearer. I have three sheep. Well, four, but one is a lamb and doesn't count for shearing. I live very far back in the bush. Most people won't even come visit us because they won't drive our lane. My old shearer retired and the other ones anywhere near me (it's hard to find anyone who even shears anymore) won't even return my calls. My shearer lives in Quebec now, but still sneaks me in between his real jobs, and comes all the way out here to shear my three misfit sheep. Three legged Lila, Blind Braveheart, and goofy Horace. If it wasn't for him, I'd have to do it myself and have you ever looked up how much electric shears cost? I have. I have the normal giant hand shears but I'd be afraid for the sheep and my limbs if I tried to use those.
He was passing through on his way to Quebec for 3 weeks, so if I missed him, it would be 3 weeks or more before I'd have a chance to get the sheep sheared again. I didn't want them to wait that long, although it has been quite cool.
When I got up to the barn, everyone was asleep. My animals are not early risers, people don't believe me sometimes but go up to my barn before 8:30 and no one is going to get up to even look at you... unless it's to give you a dirty look for bothering them. This whole family doesn't do mornings very well. I love mornings, I love watching the sun rise but the whole bunch of us are night hawks, try as we might to change that.
The sheep got sheared with no problem (and they got their feet trimmed) and I think despite their annoyance, they were pretty happy about getting their haircuts.
Hey Horace, you are completely naked!
Come back, no one is laughing at you! I swear...
One of my blog friends, Suzanne asked a good question a while ago, I thought I'd answer here, in case others might wonder as well. She asked if I shave my livestock guardians, Flavious and Max (Flavious is a purebred Great Pyrenees and Max is a Maremma) for the summer, and the answer is, no. They do shed a lot of their coat but of course still have a whole lotta fur- but that fur is insulation. Just as it is in the winter from the cold, it helps keep them cool in the summer. It also protects them from the bugs. In summer here we are over whelmed with multiple nasty biting bugs, deer flies, horse flies, black flies... all of which would have easy access to the dogs skin and do a whole lotta damage. Their white coat actually reflects the sun, so that the heat does not penetrate the dogs body, and also repels rain. It's quite amazing actually! So it's really better to not shave them. They do however get a brush - and in Flavious case mats get trimmed and so does his butt. But they have evolved with that coat to protect them, in the cold and also in the heat. I've had many house dogs who needed shaving throughout the years, the main one being a Chow/Samoyed. He absolutely got shaved every summer to help keep him cool...

warning: here comes a flashback to 2004/05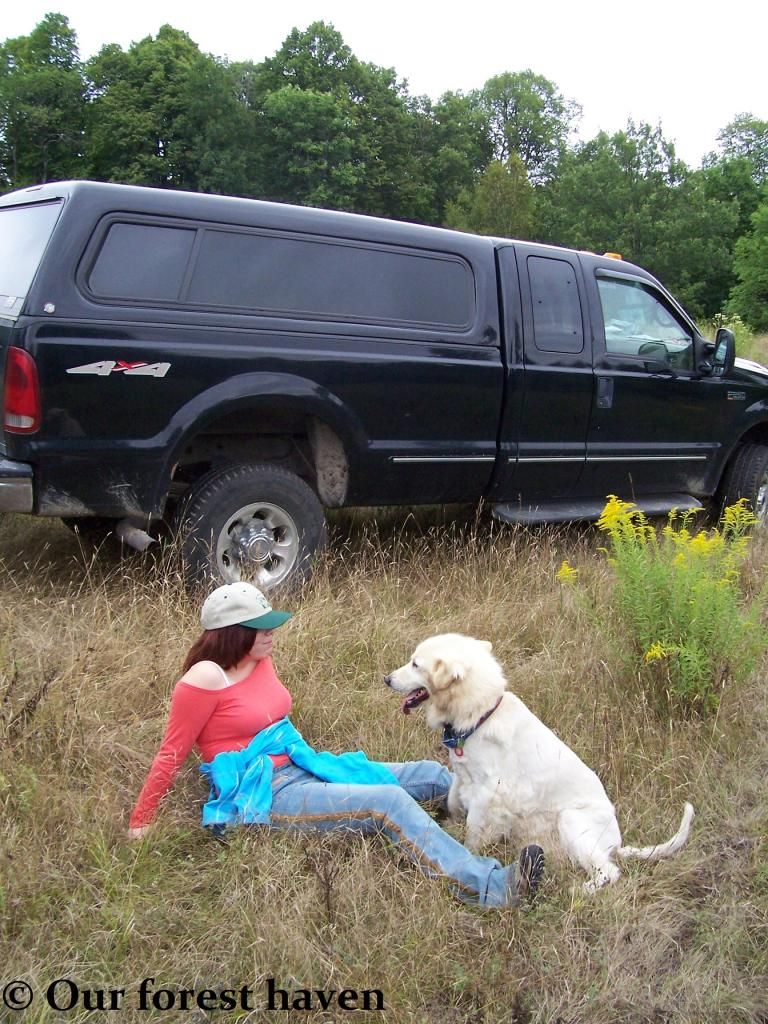 I can give a pretty good haircut... just don't expect it to be even. Dublin was a dog I adopted when I was caring for a herd of rescued animals at an Animal Sanctuary. When we all moved on from there, Dublin came with me. He was a senior then, and he had never trusted anyone after coming from an abusive home and then multiple shelters, the last one of which he was set to be euthanized at. But we bonded. He was a good boy, and I miss him a lot.
This was always one of my favorite pictures of him...
OK back to the present.
The geese have started to bring their babies into the yard. It's adorable. I love watching them from the deck, especially when they are swimming around in the pond. As they get older, they will start to bring the goslings up closer to the house and further away from the water.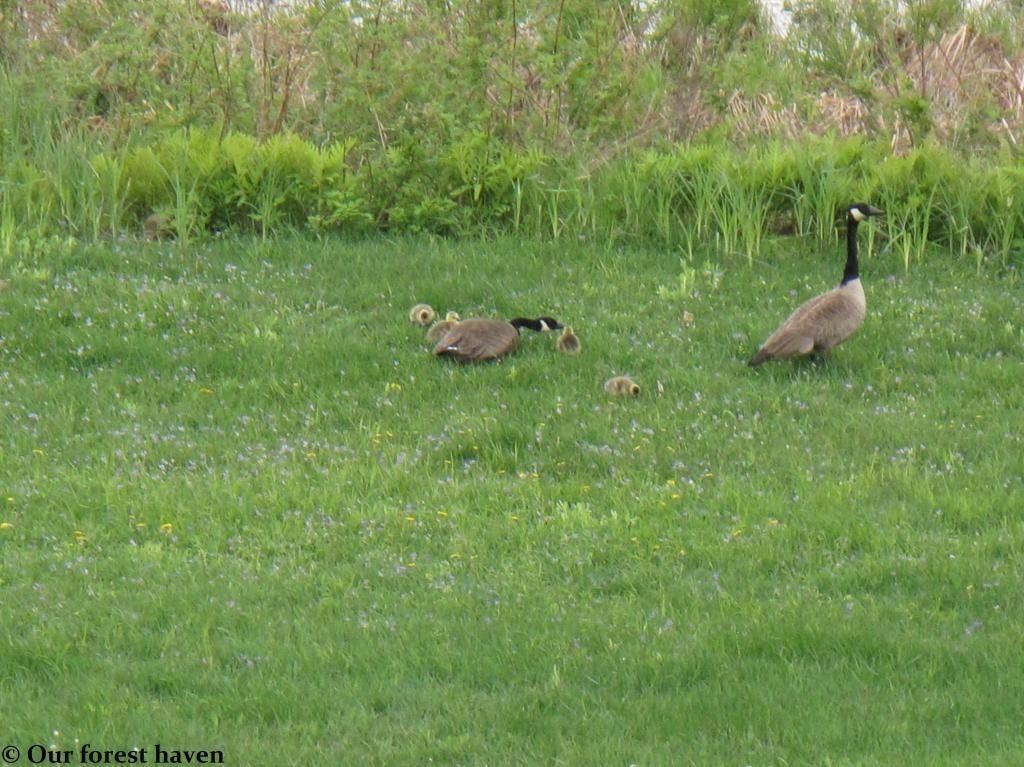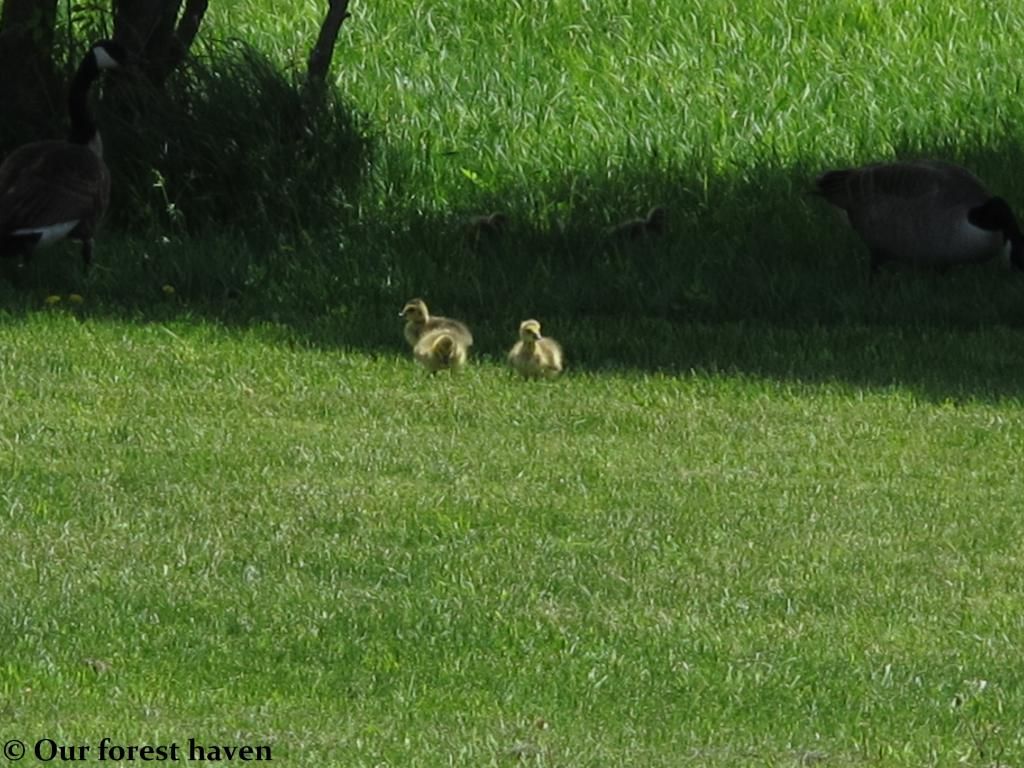 After my sheep got sheared on Friday, I was able to work for most of the afternoon out on the porch. Kevin kept bringing me dirt, and I managed to get a good start on the planting and organizing, but it was just a start.
I feel so behind but the truth is we normally don't plant until June 1st around here anyway. It seems later than it is. It's also been very cold lately and it's cold again today. I'm hoping I won't have to bring my plants inside anymore, but we are not in the clear for frost yet.
These little guys are coming up quickly. I've always planted my sunflowers right in the ground, and then watched as the chipmunks follow behind me digging out the seeds... so I decided to start them inside this year so maybe I'll actually get to enjoy them, instead of just feeding the chipmunks.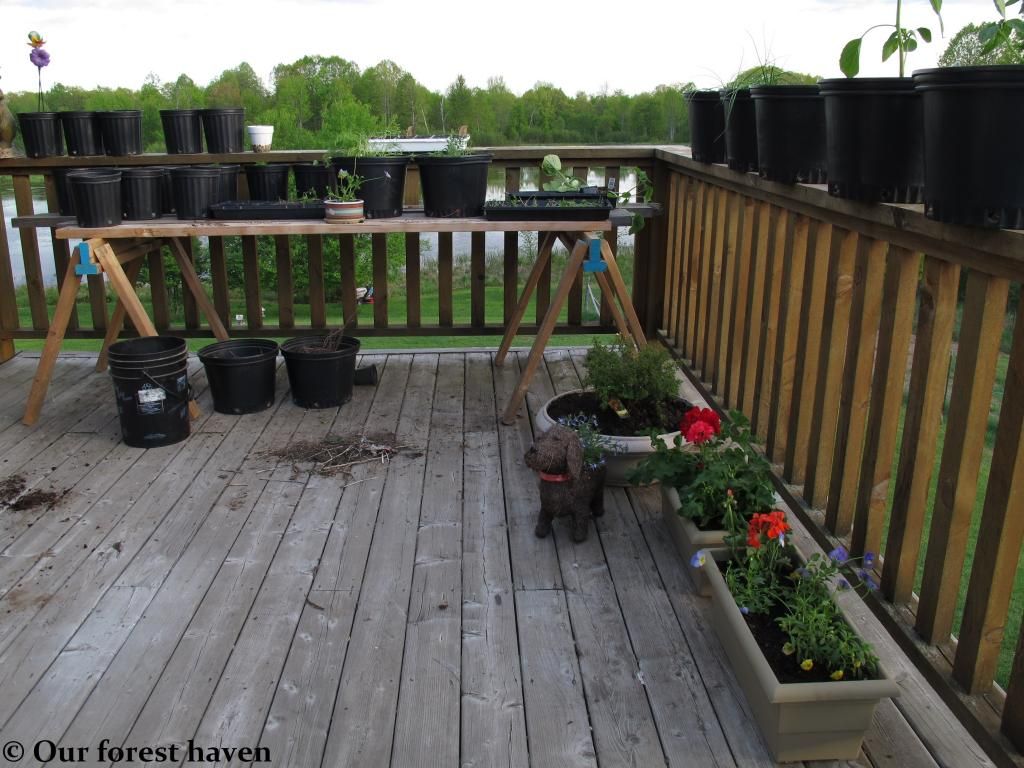 It's slow going... but things are coming a long. I've got about 50 more pots to plant. Nothing major ;)
We bought strawberry baskets this year. I always have them in the garden but I fight with the chipmunks and birds (mostly the chipmunks) a lot over the berries, so I decided to try growing some on the porch just to see how that works. I know you can buy screens, and that does help a lot with the birds. But the chipmunks... they are crafty creatures.
The Prairie dogs have been enjoying being able to be outside for most of the day, as long as it's been warm and the sun has been out.
While Kevin was busy mowing the lawn, I put my own lawn mower in the garden hoping he'd clear the unwanted grass out of my raised beds for me...
He's been working on it. I tie him out in a different spot every day so he always has fresh grass. It's perfect right now in the garden because it's easy to tie him away from anything that's planted I don't want him to eat. I find Jackson doesn't eat too much other than grass, unlike the goats who would clean out my raspberries, rhubarb, horseradish and anything even remotely green looking if they were in there.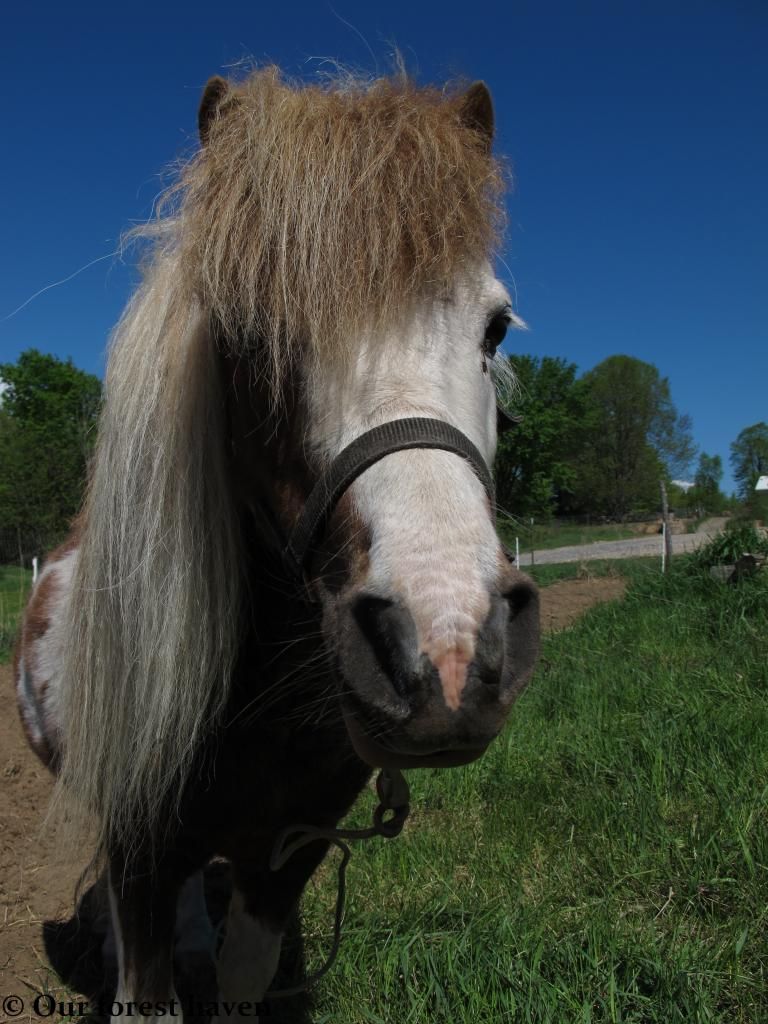 Jackson: You don't want me to eat what?
You really think I'd eat horseradish? I'm not that kind of horse lady.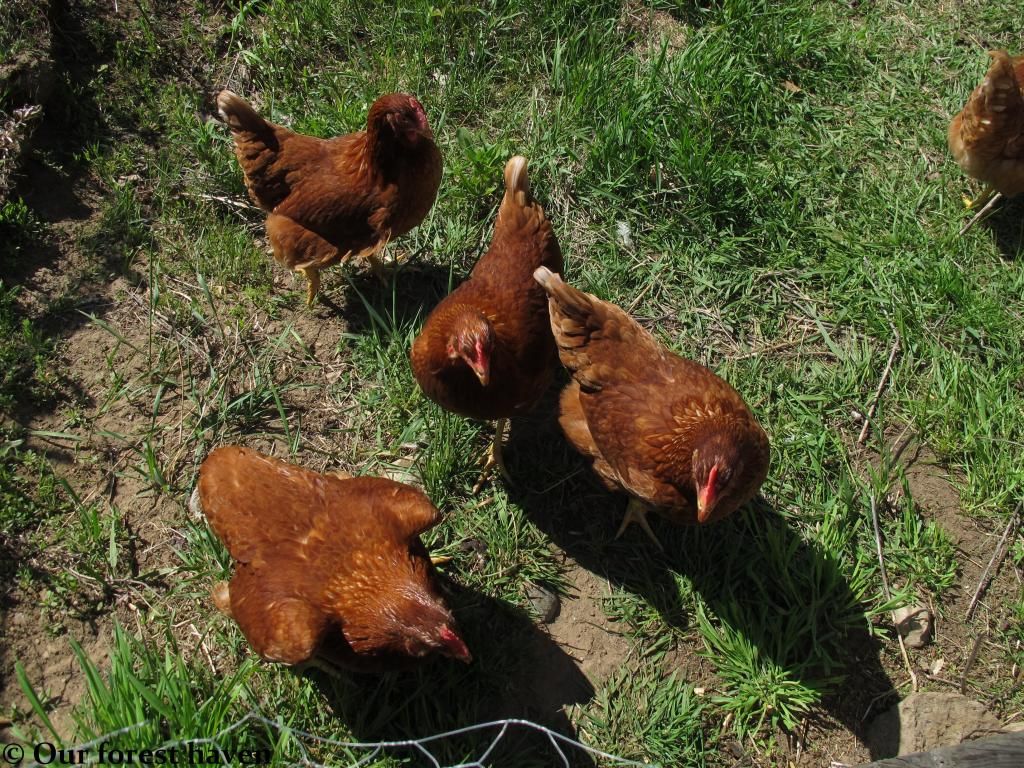 The girls have been enjoying their yard and also having Jackson around. Out of the 10 girls, I'm getting 8 eggs a day now.
The fawn we spotted by our apple tree the other night came into the yard to see me and the little dogs while they were out for a pee. I could hear him crunching the leaves, and then he peeked over the hill to see what we were doing. He wasn't afraid of the little dogs at all. I left some treats out for him, but he went off on his way after he said hello.
Yesterday morning two new critters showed up at the farm. They are in the sun porch right now, right outside my bedroom door, relaxing. They are adjusting quite well. I'll share more on them tomorrow.
I also got an update on Izzie and she's doing fabulous. She's really bonding with her new family and their autistic son, and I feel so good about it. If I did not move through some of the animals that have come to me in a time of need, I'd never be able to help any other animals, and that's the thing. This story has such a happy ending for everyone... and now maybe if and when the time comes that another desperate animal needs me, I'll have the resources to offer them a chance too.
Again I want to thank each of you for your supportive words. If you don't hear back from me personally it's because I can't reply to your comments through email. Please know every single message meant a lot to me and I appreciate not only you reading the blog, your friendship, and your kindness, but the fact so many of you took a minute out of your busy day to get in touch with me. I thank you for following along with me on this journey toward healing.