My favorite honey whole wheat bread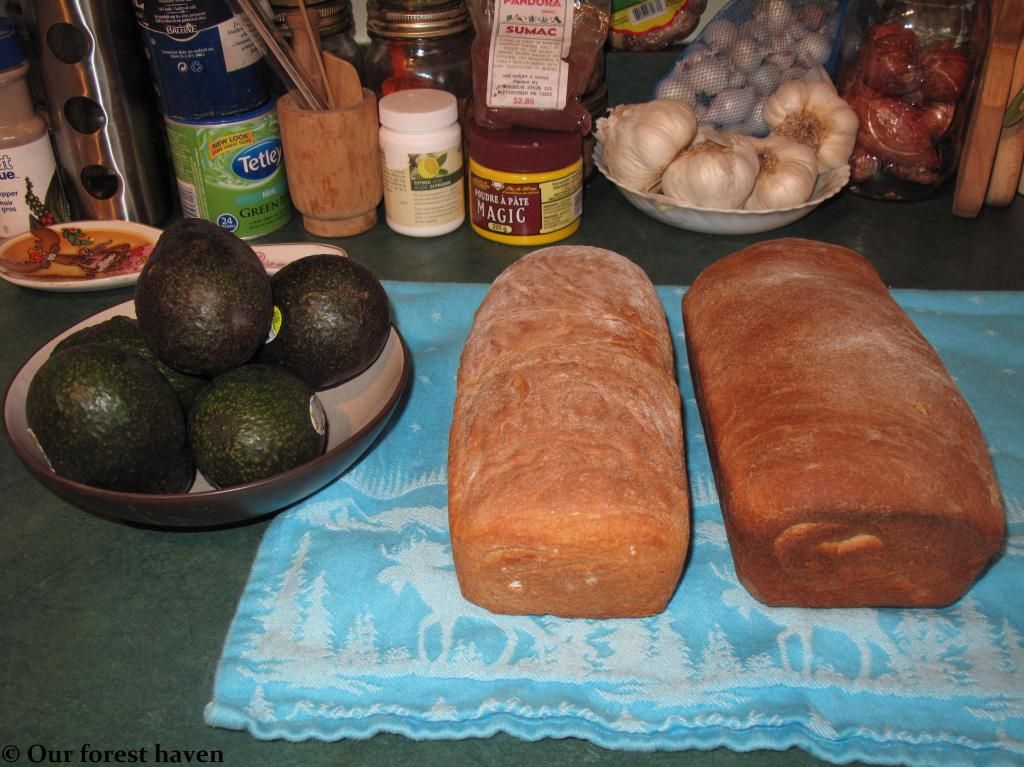 As requested by Lisa in Maine, here is my favorite whole wheat recipe - this is a honey wheat loaf, I do sometimes make straight whole wheat bread but this is my go to recipe and our favorite.
The most important thing about baking good bread is good yeast that's been properly activated and woken up. If your yeast is not active, you'll have tough, dense, flat bread. If you make sure you yeast is good and properly activated, most everything else is fool proof.
You need:
5 tsp of active dry yeast
1 2/3 cup of warm water
2/3 cup of milk
1/4 cup (1/2 stick) of melted butter
1/4 cup of honey
1 1/2 tsp salt
2 tsp granulated white sugar
2 cups whole wheat flour
4 cups bread flour
1/2 cup large flake oats
Put your warm water (not scalding hot, but warmer than lukewarm, I just run my fingers under the tap until it feels right) in a big bowl. Put your yeast in there and stir one time, then let it sit for 10-15 minutes until the yeast wakes up - you'll see it come to life.

Once the yeast is awake, microwave your 2/3 cup of milk for 30 seconds and then add it to the bowl. Melt your butter, let it cool and then add it. You don't want it scalding hot, warm is OK. Then add your honey, sugar, and salt, and stir. Now add your whole wheat flour and mix until it's incorporated and then add 2 cups of bread flour. You'll be able to still mix this with your spoon. Add the third cup of bread flour and when your bread is getting too hard to mix, pull it out onto a well greased surface and start kneading it. Sometimes you need all four cups of bread flour and sometimes you need 3 1/2 for it to come together. Knead your dough until it comes together to form a nice smooth and elastic ball - about 10 minutes.
In a clean bowl, rub some olive oil around it with your fingers, just about a tsp worth. Then place your dough inside and cover with a tea towel. Leave to rise for an hour, or until doubled in size.
Once your dough has doubled in size, divide into two even pieces. Using one half at a time, roll the dough out with a rolling pin and then sprinkle some large flakes oats in, about 2-3 Tbsp. Press the oats slightly into the dough and then roll the dough up.
Place in greased loaf pan and repeat with your second half of dough.
Cover again with a tea towel and let rise for another hour or so, until doubled in size.
Preheat your oven to 400 degrees Fahrenheit and bake for 23-30 minutes until golden brown.
This loaf is extra yummy toasted with fresh jelly...
And in other news... my hens finally starting laying! It's been a month since our 10 "ready to lay" hens arrived. I know it usually takes a couple of weeks for new hens to get used to their new home, but I think these girls were a little younger than ready to lay age and that's what the hold up was. Whatever it was, they are starting to lay and they are happy, using their big yard in the day, and every night they want me to pet each of them! I don't think I've ever had hens so friendly, and I've always loved my Reds for their sweet disposition but these girls are extra sweet.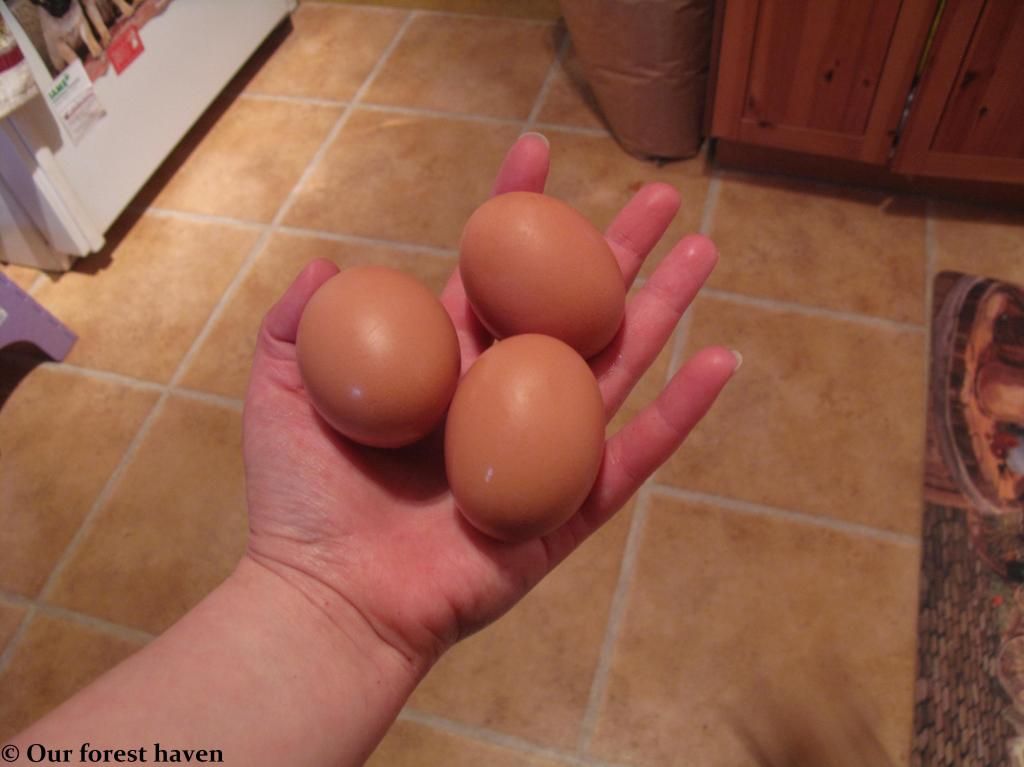 I thought I was hallucinating when I saw these first eggs in the nest box :)