May arrived
My girls are doing really well - except Puffin is hungry. I noticed last night she wasn't right and this morning I watched Dahlia refuse to let her nurse six different times. It doesn't seem like she's refusing her for good but more like she is annoyed with the kids - and with Puffin being the smallest the other two nurse first. So I supplemented her with a bottle three times today - well twice she accepted and tonight she refused me, so maybe she was full. I'm keeping a close eye on her. She's not sick at all, quite happy and bouncing but I'll still offer her a bottle again in the morning. And I've also let Dahlia have some time away from them, short times, 1/2 hour or so, but at least it's a break.
They are all growing quite nicely, Firefly and Aurora have really grown. Puffin has too but she's still pretty teeny.
Max is no fan of the sun or black flies and he found a safe place in the shade to lie in during the heat of the day.
So did most of the goats. This shed did have a wall on it blocking where Henrietta is sitting but someone decided last week (I'm still not sure who) that it needed to be more open to the air and less closed in, and so they took it upon themselves to renovate. I have my suspicions it was Horace, but it's more likely it was a goat and not a sheep.
Brie decided to go lie down outside for a while, but it was hard work getting just the right spot, which thankfully she managed to find.
Spock is getting really big! And more handsome every day. He's a real sweetheart, and ladies man.
Oh hello. It's Biscuit, our favorite dairy goat in the whole world...
Biscuit:
Did you say the "whole" world??
Sammy unlike most of the goats quite enjoys the sunshine, at least for part of the day, before he moves to the shade and in between breaking my barn doors.
Beatrice:
Will you please take my picture? Please?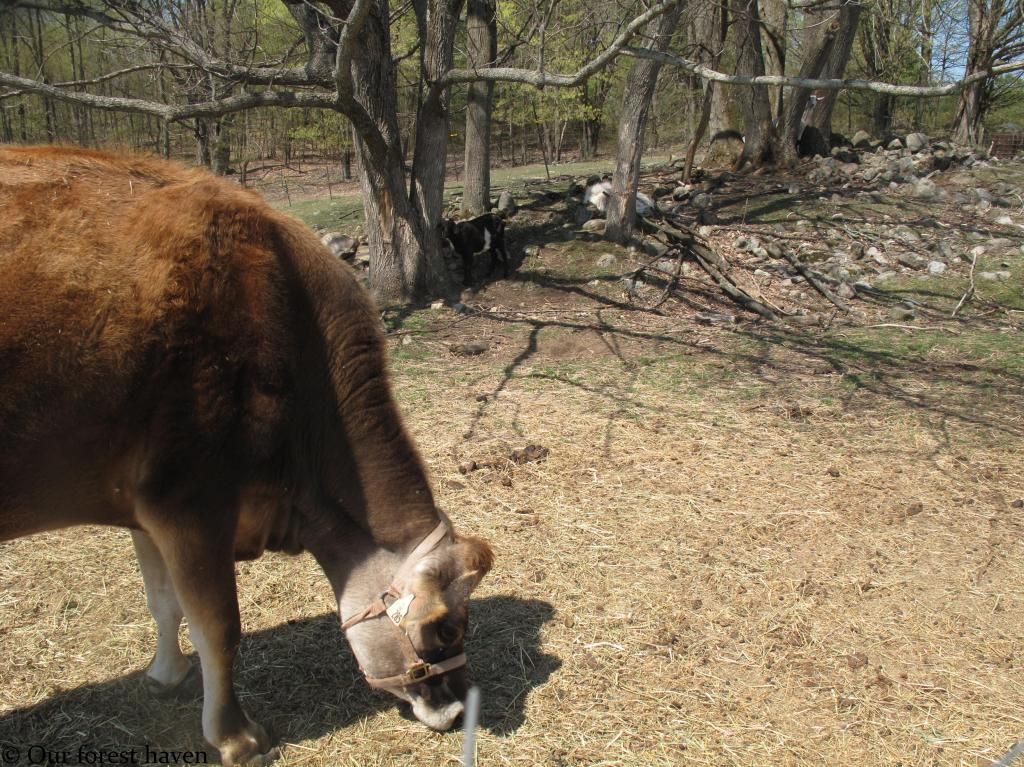 The boys that were over in Izzie's paddock moved into the shade but Izzie soaked up the sun.
Flavious wants none of it. The shade is the place to be, and if you are going to be in the shade, preferably you should be sleeping.
Bulrush agrees.
And apparently so did someone else...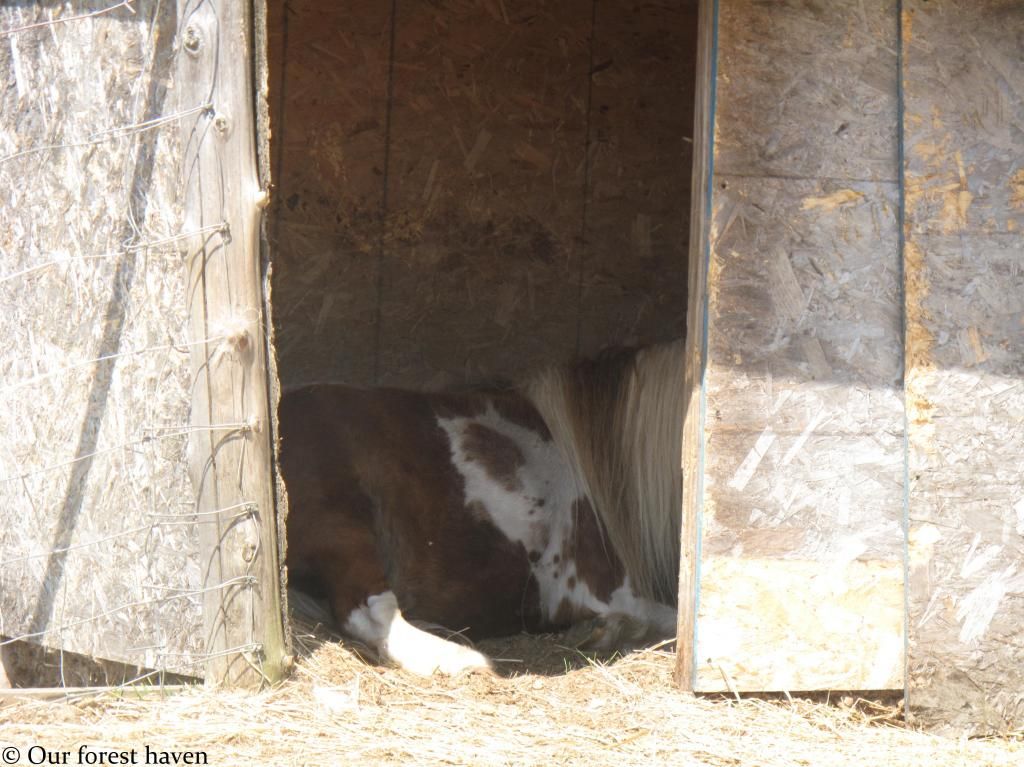 Me
: Jack, why are you in your house?
Jackson:
It's hot out there, and I'm not looking to get a tan either...
Biscuit wants me to let everyone know, clearly she isn't getting fed enough... as you can see from this picture, she badly needs an increase in her rations and she's looking for signatures for her petition.
Sammy can't be bothered...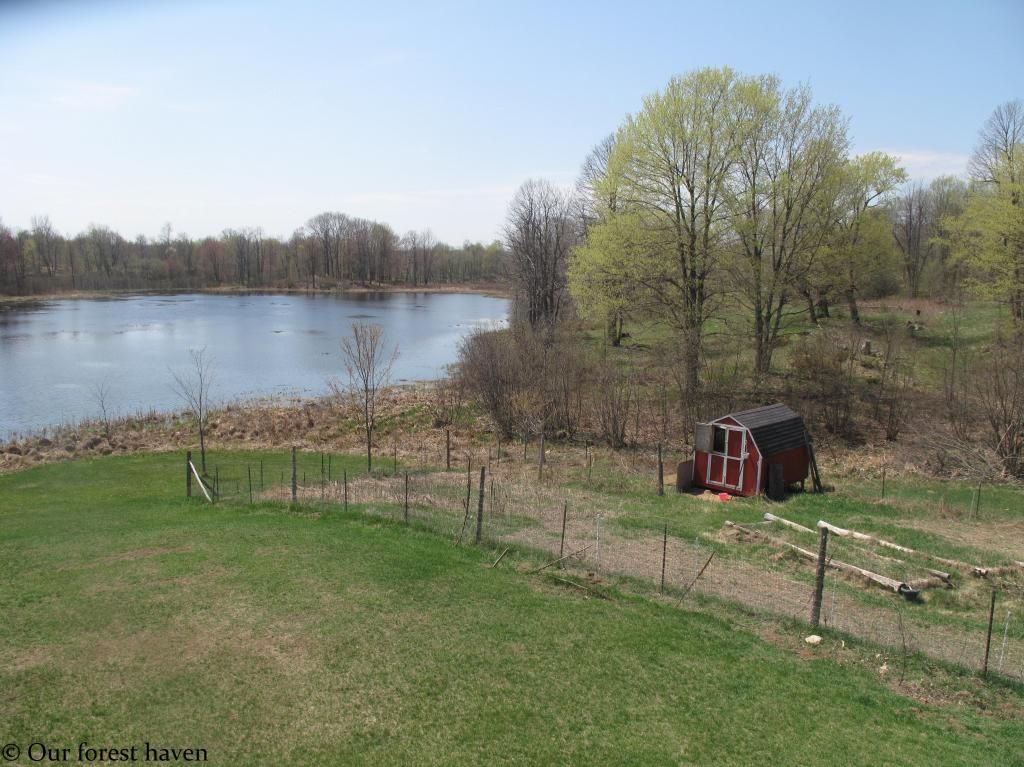 Things are starting to green up around the garden. This weekend hopefully we will be able to rototill the garden and then we'll start hauling down our manure from the barnyard. We always have two piles in the barnyard, one of the oldest manure that we take out every spring and move to the garden and one of the newest stuff that needs to sit longer.
We have raised beds to build and plenty of things to plant, but it's still early here to plant things in the garden. We will plant our raspberry canes we just bought this weekend, and possibly the four trees we bought since they are used to the temperatures already. We bought two cherry trees, a flowering crab, and an apple tree.
I do a lot of pot gardening and we've always had two raised beds, but a lot of our other plants just went in the ground. Because of my pain problems which are all abdominal related, I can't hoe and I can't bend, so hopefully we'll have enough beds that I'll be able to do most of the gardening in the beds, leaving only a few things to be outside of them, the corn, pumpkins, and whatever else I need more room for... that will make things a lot easier on me.
Otherwise any planting that's going on is happening indoors still.
I picked some nice green grass for the Prairie dogs, the first they've had this spring.
Olive and Hector really appreciated it. Nelly did too, when she got done running in her wheel. They love being able to be outside during the day. More than anything they love sunning themselves, you'll see them in the wild on the prairie doing it all the time.
After morning chores were done, I decided to take the dogs for a walk. I wanted to look at the wild flowers that are starting to come up and they really needed a good walk. I knew it would be hard on me, but it would be worth it in the end, so off we went.
It's amazing how fast everything starts to wake up... it seems like forever it's quiet and then poof - life returns to the forest.
I tried to get Norman to go around the mud - he hates mud. But he chose to go right through it which shocked me. I guess his adventurous side was coming out today, that or he didn't want to look like a sissy in front of his brothers.
The Dutchman's Breeches are all out, an early spring wild flower I just love.
The boys had such a blast, they were so happy to be out sniffing, exploring, and running around.
I love watching the flowers come back, all the different flowers at their own times. Every year I watch to see when they will come back and I know where to find each of them on the farm. I look forward to it every spring.
I wanted to go to the creek for a couple of reasons and one of them is that Rollie has not yet been near water. He has no idea what it is. The creek is very shallow and I wanted to see what he'd do when he saw water.
I had a feeling it would be funny and I was right. He really had fun!
I'm not sure he has any idea what water is yet. It will be interesting if he decides to swim. He is that kind of dog that I think might. Not in deep water of course, but I think once he figures water out, he'll be in it whenever he gets the chance.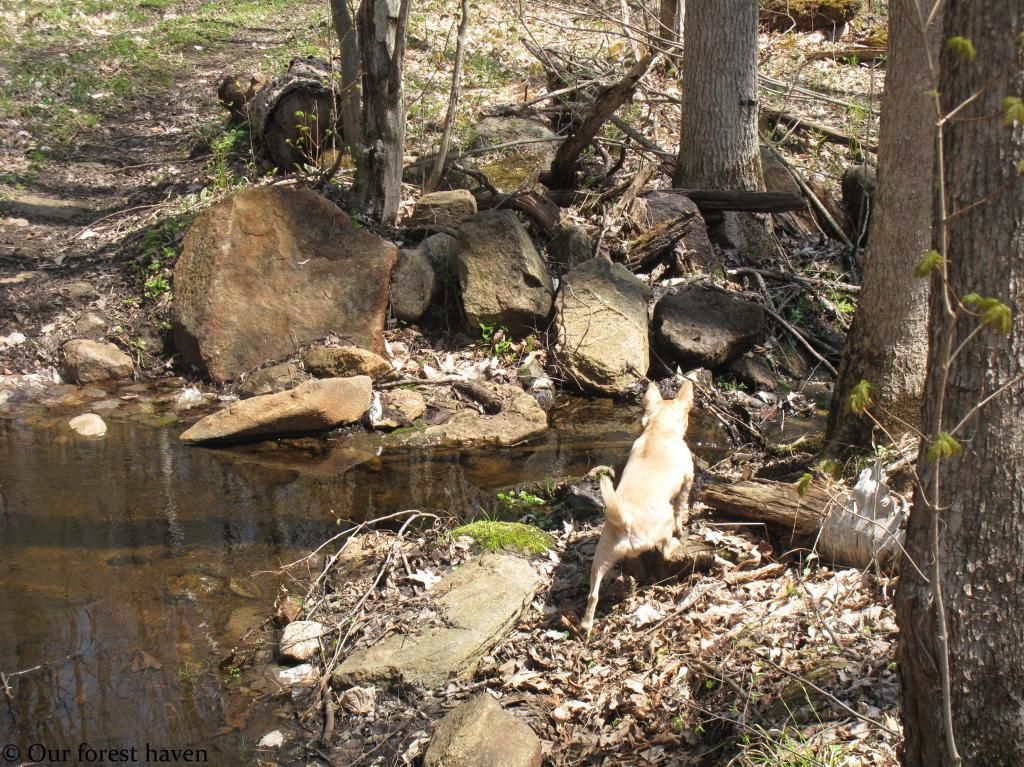 Hmmm, what is that stuff?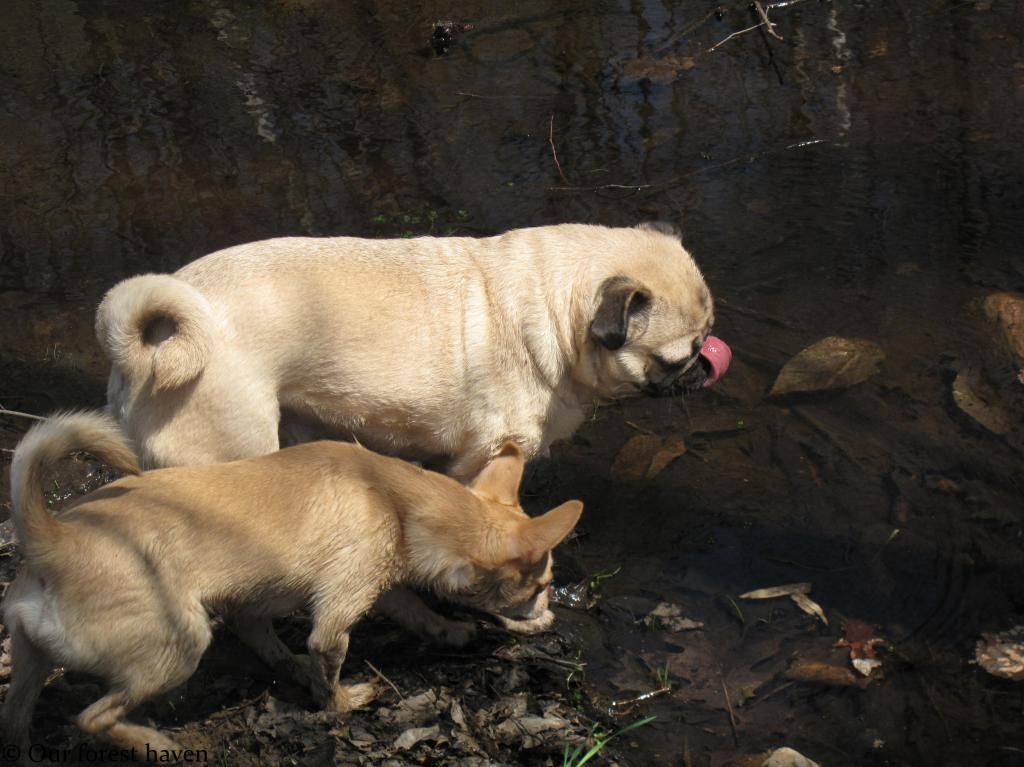 Douglas knows exactly what it is. He found out as a youngster when he jumped into a pond and found out it wasn't solid ground. He knows better now, but he knows it's good to drink.
Everything is budding and so full of life. The best part about the end of winter, the in between part, is how exciting it is watching everything come back to life. It never gets old and it's hard to take it for granted after that dreary dark time of year.
When we got home, I tried to work on some laundry but for some reason I kept missing stuff... someone kept stealing from my laundry pile.
I had hoped to make some bread but I started a batch of yogurt and cleaned the kitchen, then I worked on a few other projects and had to call it quits. I was beat. It's been a really slow week but I was able to accomplish some things today , and I was grateful for that. And it was a beautiful day. The animals were happy, and the dogs had fun, and those things brightened my heart and made me happy too.
And to top it all off, my best friend came back too.
The Whip-poor-will has returned.
I always find happiness in wet dogs, spoiled goats, and the Whip-poor-will, whipping away, singing his song, right outside my bedroom window. It's better than a lullaby or even the greatest love song.