Well I'm glad that's fixed!
Thank the Photobucket Gods things are running again. Rollie was really getting upset about it. Their mobile stuff never went down, but it's been 24 hours since their website and everyone's photos went nuts. I'm just glad everything is working again because it was getting super annoying. So now we can return to our regular programming!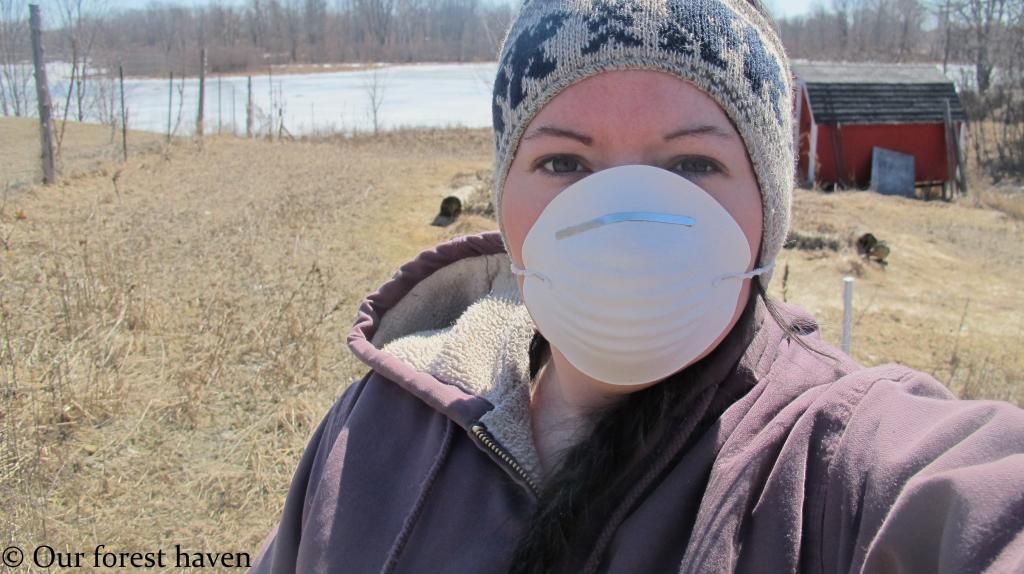 I've been cleaning house.
The chicken house to be exact. It's been empty for a year and half. It was a wee bit dusty.
Well it's empty no more! Wed morning I got a call first thing in the morning from our local feed store. Our hens were in. We've spent many springs raising chicks, we've had all different kinds of laying hens over the years and Bantams and meat birds... what I really wanted this spring was eggs. And lots of them. And sweet laying hens again.
And that's what we have, 10 sweet laying hens, ready to lay. No cute chicks this year because this chick (moi) can only handle so much at one time. And aside from that I wanted eggs now, not later. I have been planning on trying out some new pickled egg recipes.
If and when the girls decide to bless me with eggs. For now they are just getting acquainted with the place and with me. I still have to clear all the brush away that grew up in their run, and Kevin has to build a new ramp for them. But for now they need to get comfortable with their new home, and me, their new maid.
Our chicken coop is in our garden area, and while I was down there today working at the hen house I stopped to check out my raised beds. Nothing is even looking remotely alive yet -it's too early, but I did find some horseradish peeking through. The dirt is completely frozen still, I could barely get my nails dirty poking around in there.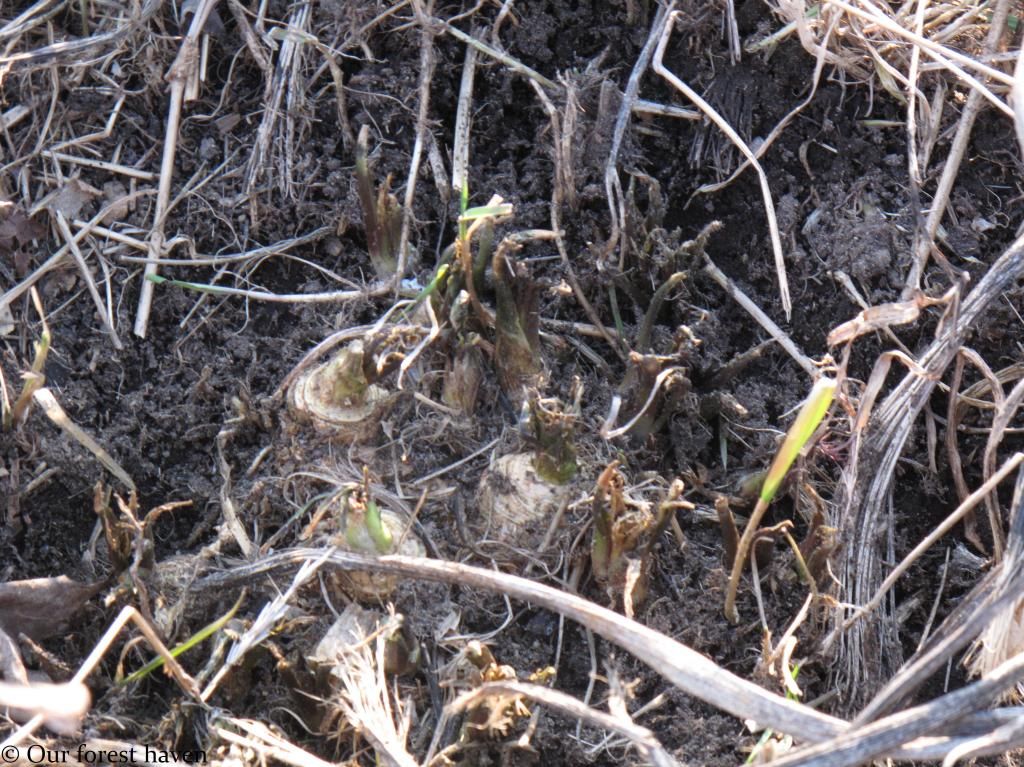 Still, it's nice to see some sign of life.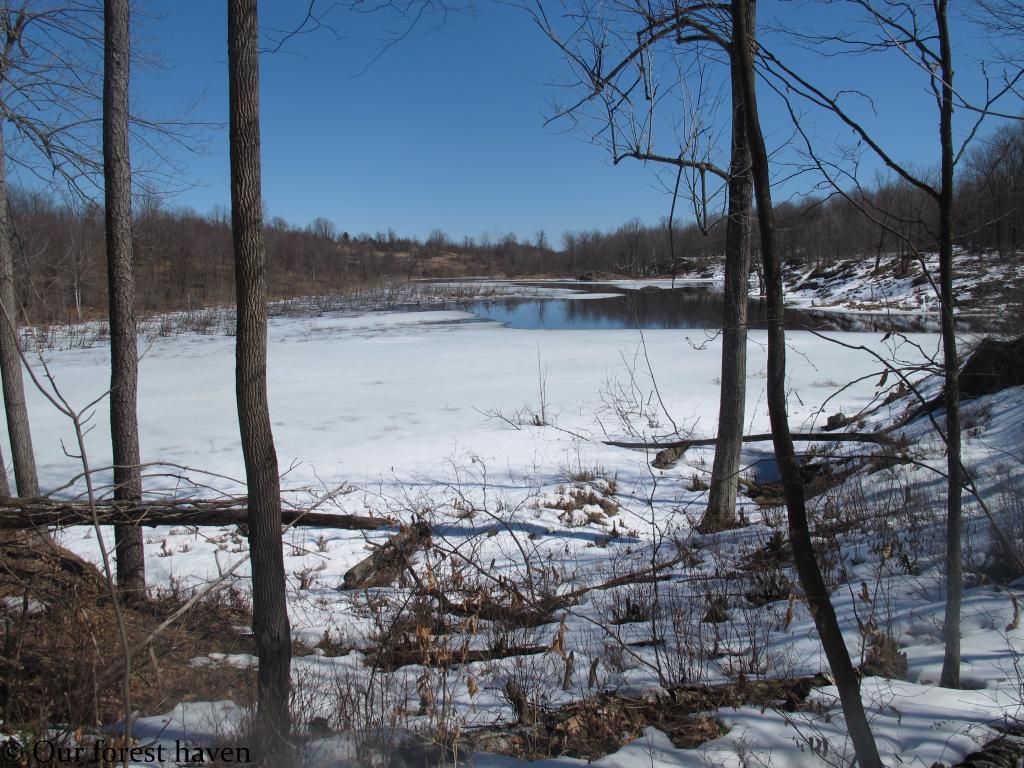 The snow is almost all gone now, just some lingering in the bush where the sun doesn't get through as strong.
Our smaller ponds are not open yet so the geese are all hanging out at the creek, waiting for their home ponds to break so they can lay claim to them again. They do that every year.
It's nice to be able to get to the creek again, because of the deep snow I haven't been able to travel through the bush to get back there in a couple of months.
Even the Beaver is happy to be able to get out and about again.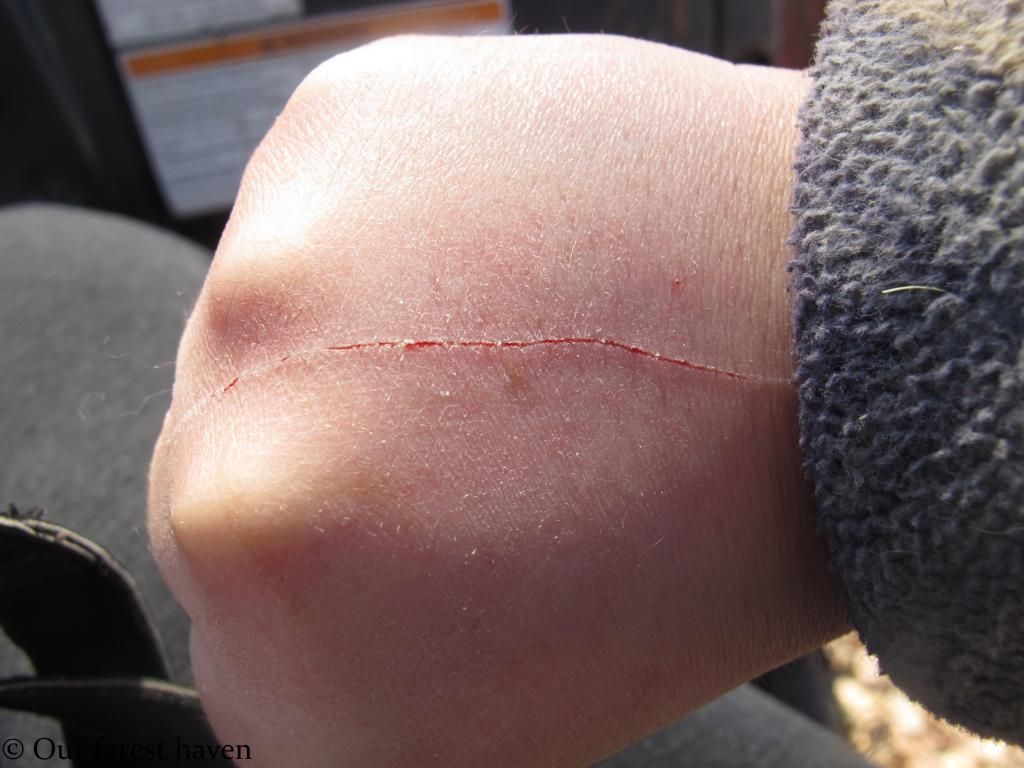 The only bad thing about getting back out in the bush is slicing myself on raspberry bushes and prickly ash. Ouch.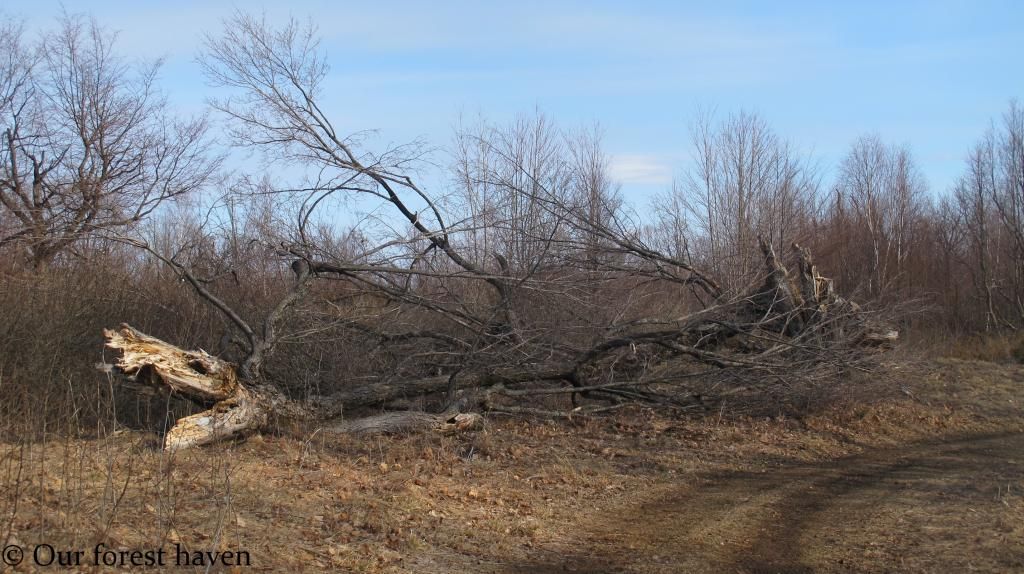 One of our next projects is to get all this dry maple cut up before the bugs come out. There is tons of wood here to help us next fall.
Ruby is doing great (and I have to say one of the cutest lambs we've ever had) and is extra safe these days. Not only does she have Max keeping a close eye on her while she is outside, she has all the turkeys watching over her, protecting her from any danger. Clearly, she's a princess. The turkeys are moulting but even though they look goofy, I still wouldn't take them on. Looks can be deceiving.
My load up at the barn is lightening. Hopefully on Sunday Bubs will be going to his new home, a local Organic farm where he'll grow up to be a big billy goat and service the ladies. And someone is coming to have a look at Melvin, and see if they'd like to add him to their herd. Annabelle, Beatrice's little doeling has also been sold. Of course she's not weaned and won't be until June - but she's spoken for, and she has a great home to go to as well. That makes me feel good and takes some worry away.
This afternoon I finally had enough milk for myself to make some cheese.
I had a gallon and a half of fresh milk.
I just made the easiest cheese you can make by heating my milk to 180 degrees F and adding some cider vinegar. On Monday I get to pick up my supplies for making Chevre and Feta! I'm so excited. I also bought rennet tablets so I can try my hand at making some Halloumi.
After I let the whey strain out for a couple of hours....
I was left with simple, delicious, creamy, cheese. This cheese is super mild. My fresh goats milk is very mild and unlike most goats cheese with this cheese you don't get any tang. It doesn't have much flavor at all, so you need to add to it. It's delicious with just sea salt added, or fresh basil. But today I had a plan for most of the cheese - I used it for a pie. I'll share that recipe later. With the remaining cheese I had, I drizzled it with honey and I rolled it in crushed almonds. I'll serve it tomorrow to company with freshly made wheat thin crackers. I had no idea wheat thin crackers were so easy to make, but they are! And they are so versatile.
If you want to make some,
here's a great recipe.
I took my leftover whey to the hens to see if we could make friends...
I'll trade you, some whey for some eggs? Maybe they'd prefer if it was actual orange sorbet instead...
They really wanted to check it out, but they still are not sure if I'm a nice person or if I'm going to eat them....
We still have deer hanging around, the three old bucks and a few does. By the middle of the month they will all disapear. They'll be here in the forest but we won't see them again until fall. Sometimes we see some does and their fawns but we rarely spot the bucks in the bush in the summer. So we wish them well and hope we see them again alive and well next fall. Being 9 years old, it's hard to say if Torn Ear will return. But we always hold out hope.
We've had some sunshine the past few days but we've also had a heavy bitterly cold wind. I'm hoping that passes soon and we can just enjoy some nice sunny days without blowing away and without still wearing all our winter gear.
I hope everyone has a nice weekend!
It's going to be a busy weekend here, but hopefully a really good one too...