Making progress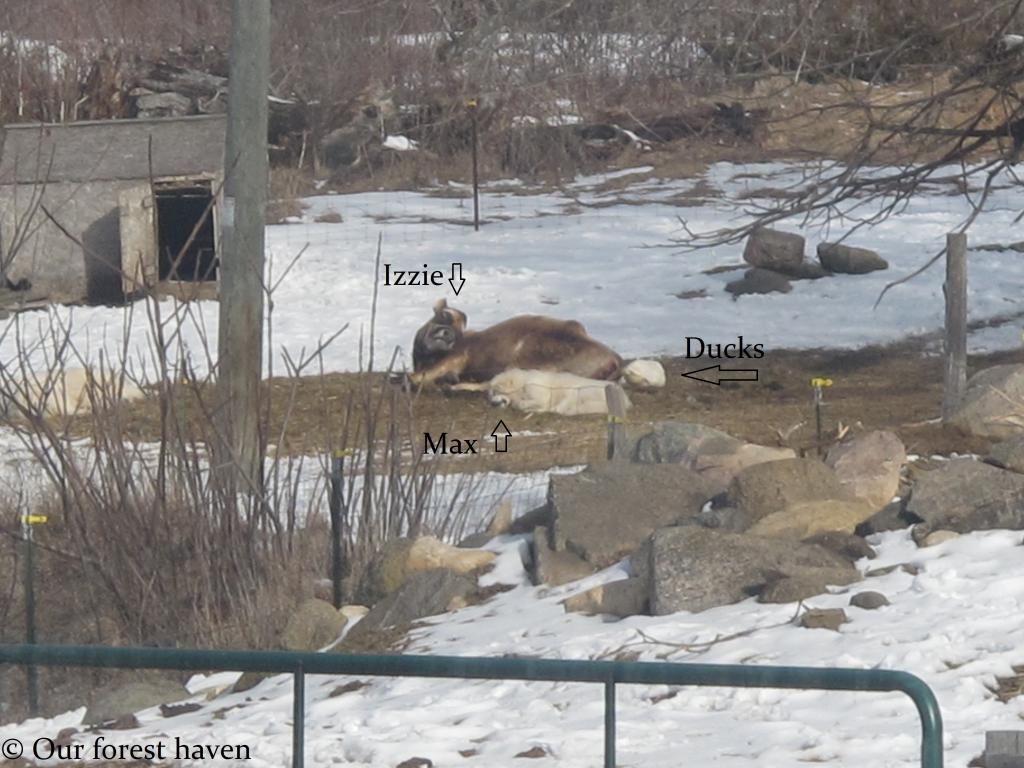 I forgot to share this photo a couple of weeks ago. This is the same scene I wake up to every single morning (sometimes with snow, sometimes without) but it's always the same. When I wake up and look out the kitchen window up at the barnyard while making coffee, I see Izzie sleeping with one of the dogs, and always both ducks. Usually the ducks are tucked up in her tummy where Max is sleeping in this picture. It's adorable and it's so sweet that every morning they are all laying out together, relaxing as a family.
This was a busy weekend for us... Aside from some company, things got a lot quieter around here. I'm left with one bottle baby now, just Spock.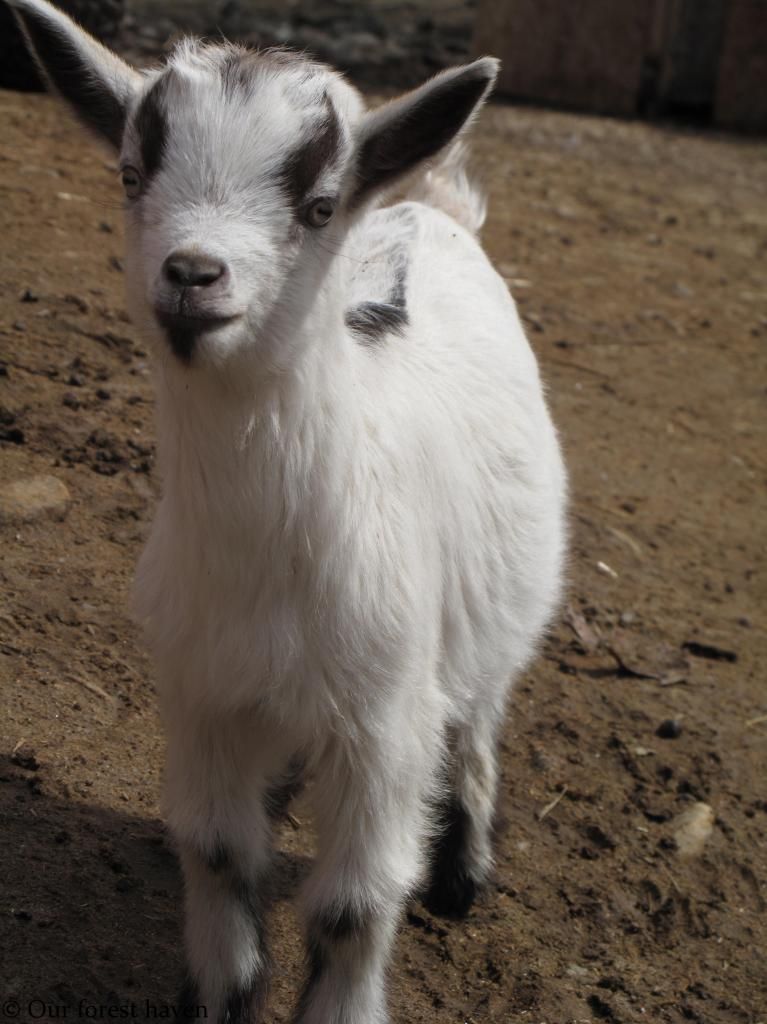 He is so adorable.
Melvin went to a great new home - and I'm very pleased with the home he got. But still. It was hard to say goodbye. I should have sold him as a buckling but I held onto him because he was just such a sweet kid and he fit into the herd here like he wasn't even there. He's great friends with Henrietta and Brina and he gets along with everyone. But he is a buck - and he's a year old now, so come fall he'll want to breed the females too. I don't need three breeding bucks - and Melvin was never destined to be a buck here. I had decided not to neuter him as a buckling because I knew he'd grow into such a handsome buck - he's a lot like his dad Buckwheat and he's so handsome. He'll throw nice genes and I knew he'd be perfect for a dairy herd. And thankfully that's exactly where he's ended up, in a small herd with four of his own girls. Still, I choked up when he looked at me from the back of the peoples truck and I had to hold my breath. It's always hard to say goodbye.
Surprisingly the couple who bought him and drove two hours to get him had a friend in common with me - they were close friends with a friend of mine from my childhood who lives in Nova Scotia! It's so funny when we are reminded of what a small world it is. I feel so much better knowing he's got a great little herd of his own and he'll be well taken care of.
And Bubs went to a great local organic farm - he's been renamed Bruce and they just love him. You can read about him on
Vanessa's blog here
. I am just thrilled he got such a great home where he's so well loved and that I get to keep up with how he's doing!
Yesterday we spent most of the day in NY State running errands. Kevin had some Doctors appointments and we did some shopping. My cheese making supplies came and I'm so excited! I was hoping to make some Chevre today but I was too busy catching up on some spring chores. I closed off my goat pasture today and moved half the herd and Izzie to a different pasture for now, for during the day. It's time to let the goat pasture recover for a couple of months and then we'll rotate them.
Everyone was happy to be in the other pasture. They spent the entire day looking for any new shoots of grass that might be trying to come up.
Bulrush and Flavious checking everything out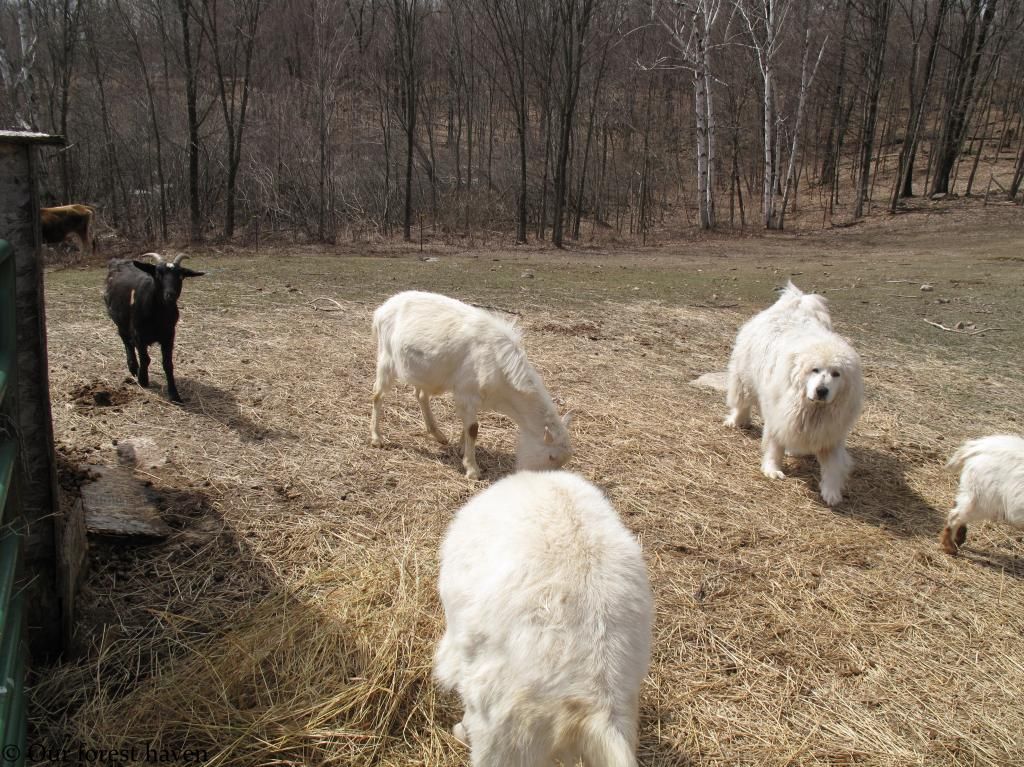 Hmmm... we haven't been over here in a while...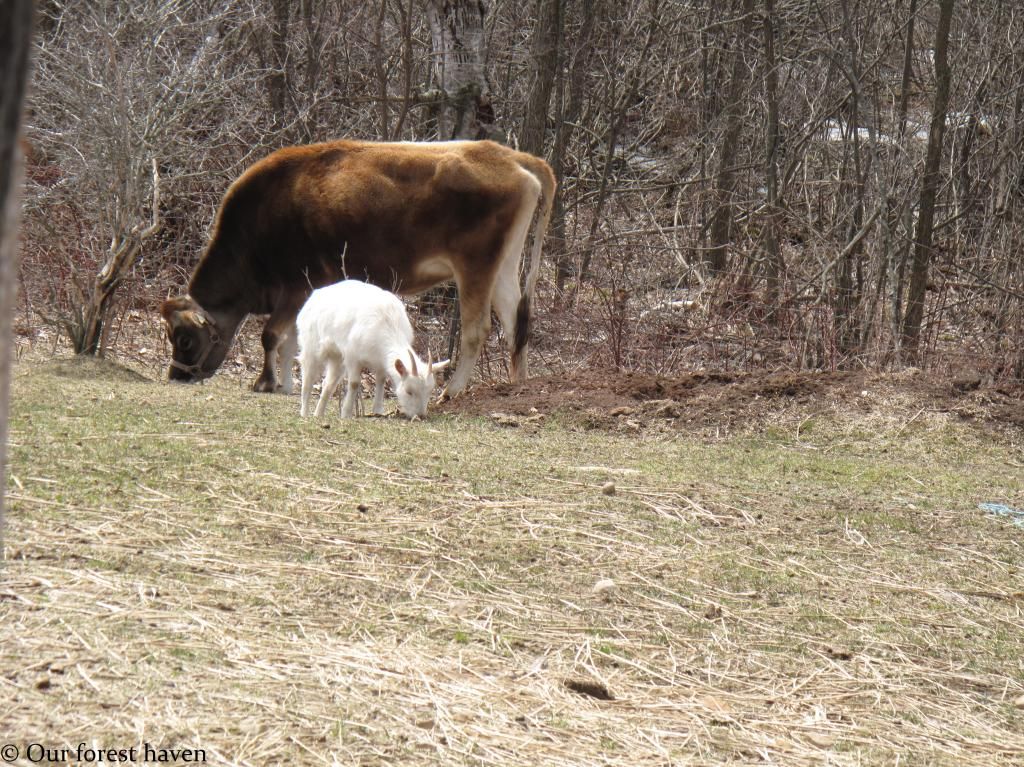 I'm not sure what kind of grass Izzie and Brina were finding, but it sure kept them occupied.
Kevin helped me hook up my hoses so that I don't have to carry water a long way from the barn to the other pasture, which helps a lot. Then he helped me get my electric fence back up and running. It's been off all winter, and it needed a lot of tending to get back in usable condition.
Afterwards I tackled another project...
The chicken yard that hasn't been used in a long time, was overgrown with raspberry bushes and needed to be cleared out.
So I armed myself and went to work. It took me an hour just to get the raspberries snipped and removed.
But I got it cleared! Tomorrow we'll build a new ramp for the girls and make a couple final repairs and they can come out and start exploring their new yard if it's a nice day. You want to believe even though I wore long sleeves I'm all sliced up though. Ouch.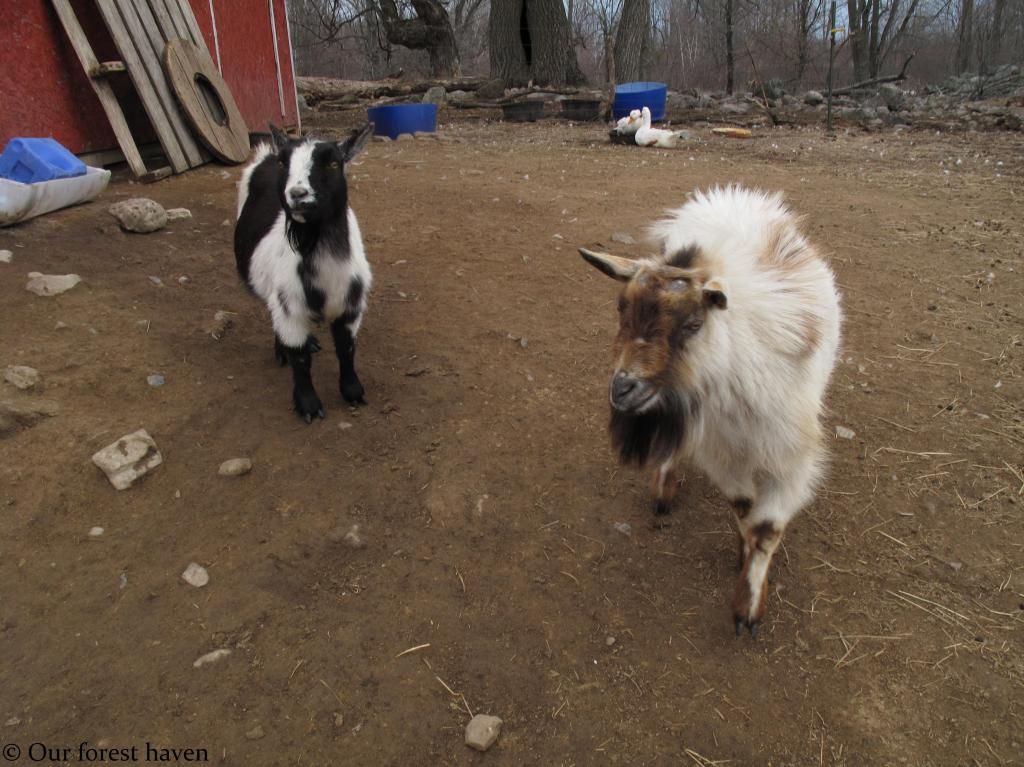 Dahlia is shedding her winter coat but neither of the other two Pygmy goats, Rose or Barnaby have started to shed yet. I guess they are holding on just in case. I'm looking forward to seeing Barnaby in his summer clothes - since I've only ever seen him decked out for winter.
Beatrice's doeling Annabelle is growing, and climbing everything in sight!
Her little horns are coming out.
She was taking a break with Max this afternoon in the barnyard. With little Ruby sleeping in the background.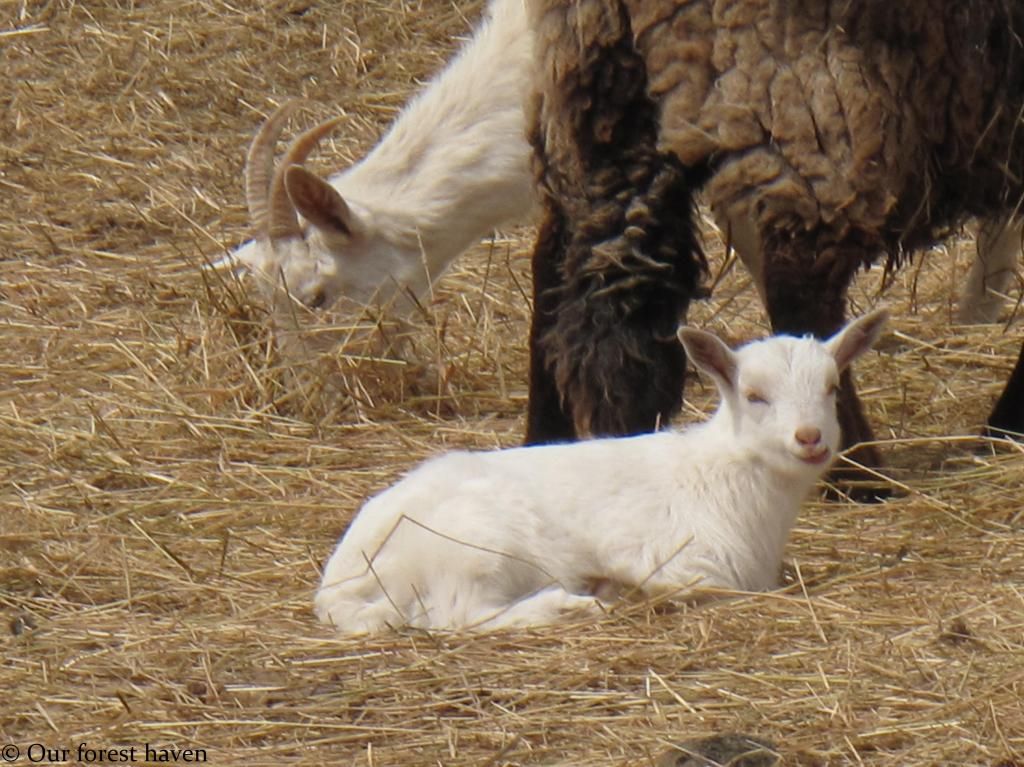 She's spoiled rotten and takes completely after her mother.
Speaking of attitude - when Kevin was helping me work on the roll up side for the barn, Miss Biscuit got annoyed I wasn't paying attention to her so she grabbed my pony tail and pulled some of my hair out. She's such a sweetheart sometimes! NOT. She loves attention but she does have her moments.
However she's supplying us with a lot of milk - this is 2 days worth of milk and there is over 2 gallons here. So I have to forgive her for her many diva moments.
I joined Instagram which is actually a lot of fun. You can see the pictures on the side bar of the blog, they will always be changing. You can also click on them and see all my pictures - without having to join Instagram. Mostly I won't share the Instagram pictures on the blog, except for the odd one. They are just snapshots of the farm and things going on that I will take.
On top of everything, the boys had their monthly nail trim which is not their favorite thing although they are all pretty good about it. Now they are all set for a few more weeks and I just have to tackle the Pyrenees to make sure their toes are all OK, and Flavious needs a trim, especially around his bum. That's going to be a big job - it always is when he's still carrying around a winters worth of insulation. Sometimes I consider shearing him a long with the sheep!
It's been raining in the evenings (which is good) and it looks like tonight that trend will continue. After evening chores I'm going to make a roasted vegetable and goat cheese tart and we are going to hopefully enjoy a relaxing evening in. We've got the wood stove going, we've had a fire most evenings still and sometimes during the day. It's been hanging above freezing but it's pretty damp outside.
I've been making huge progress in the barn (spring cleaning) and can't wait until it's all done. I'll share pictures once it is. Because of my pain problems, I can only handle so much heavy work in one day so I have to break jobs up. I find that frustrating but I'm trying to stick with making slow progress so that I don't do myself in for days at a time. It feels good to be getting spring projects done, even though the list is a mile long, things are still starting to get crossed off a little bit at a time.