Ice, rain, and Sunflower seed bread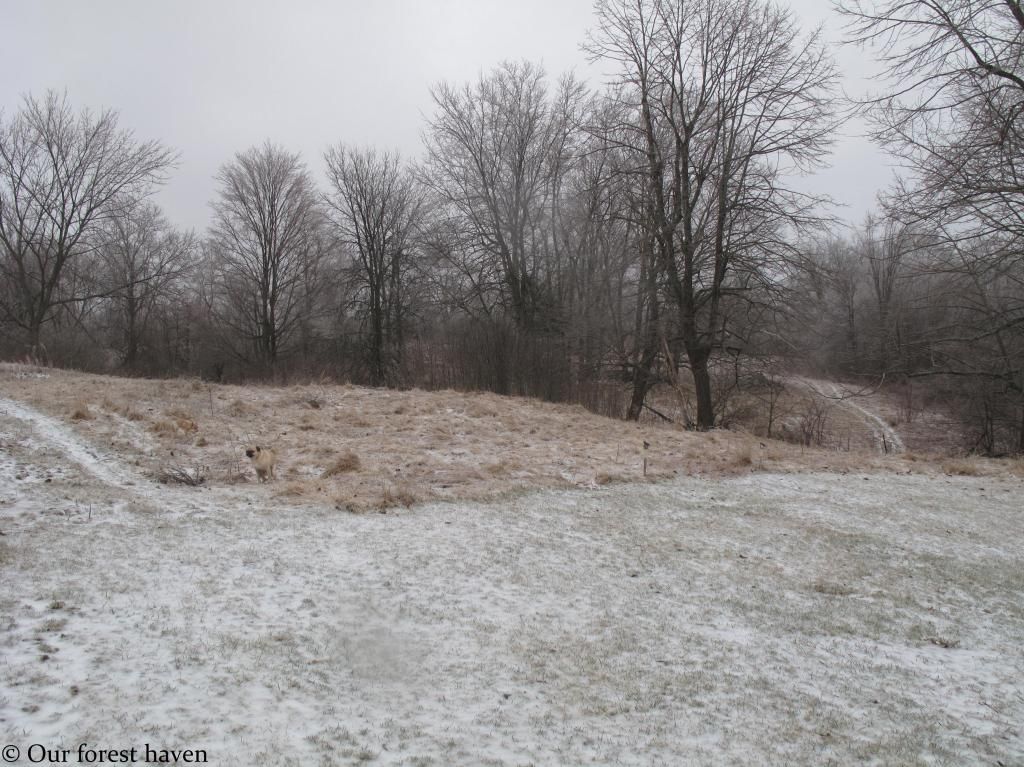 While I was laying in bed this morning I had a pretty good idea what was happening outside. I could hear it. Ice, rain, wind.
A little more ice and rain than I had anticipated.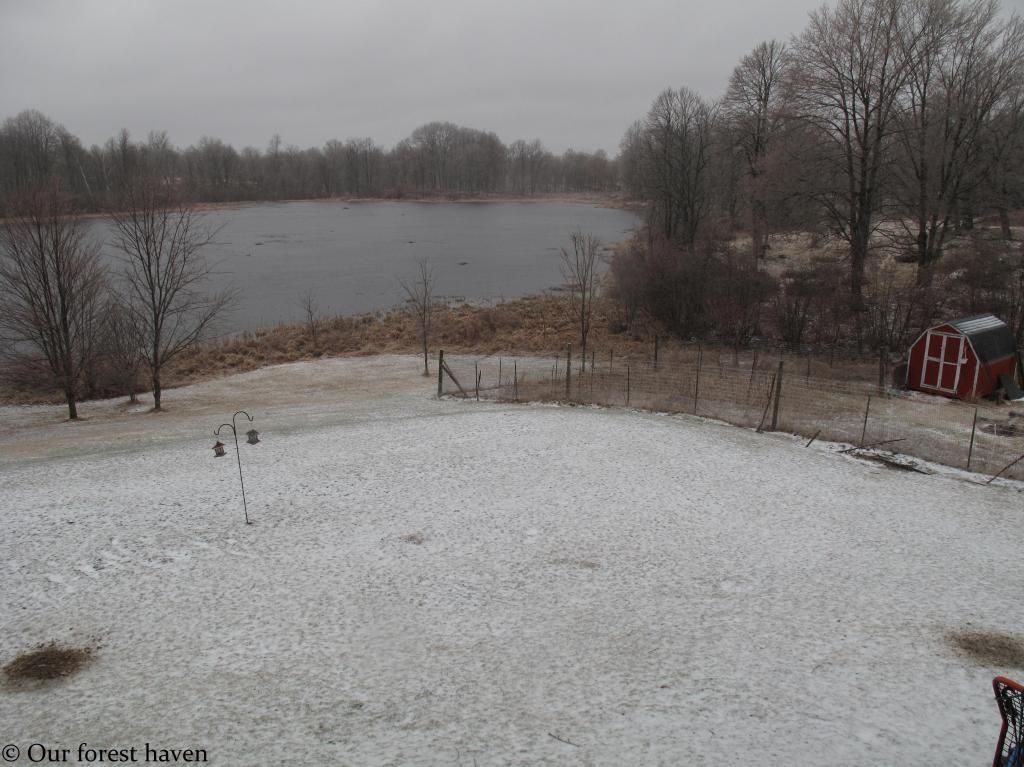 But aside from being kind of miserable, it wasn't that bad. Just a good day to stay inside. I was grateful that I had decided to unplug my electric fence last night though, because it was all weighted down with ice today.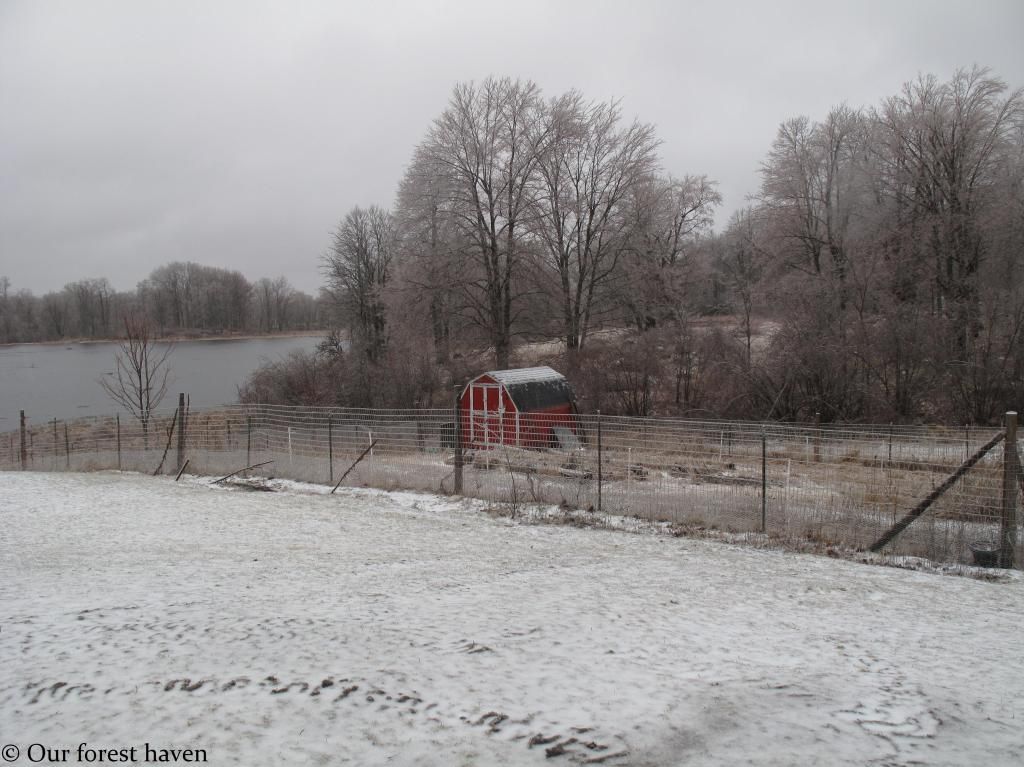 I had promised the chickens a day in the garden but we both agreed we should hold off on that until the weather improves. We all decided to stay indoors for most of the day.
It was pretty outside.
The birds were all out - probably not enjoying the ice but maybe not minding the rain.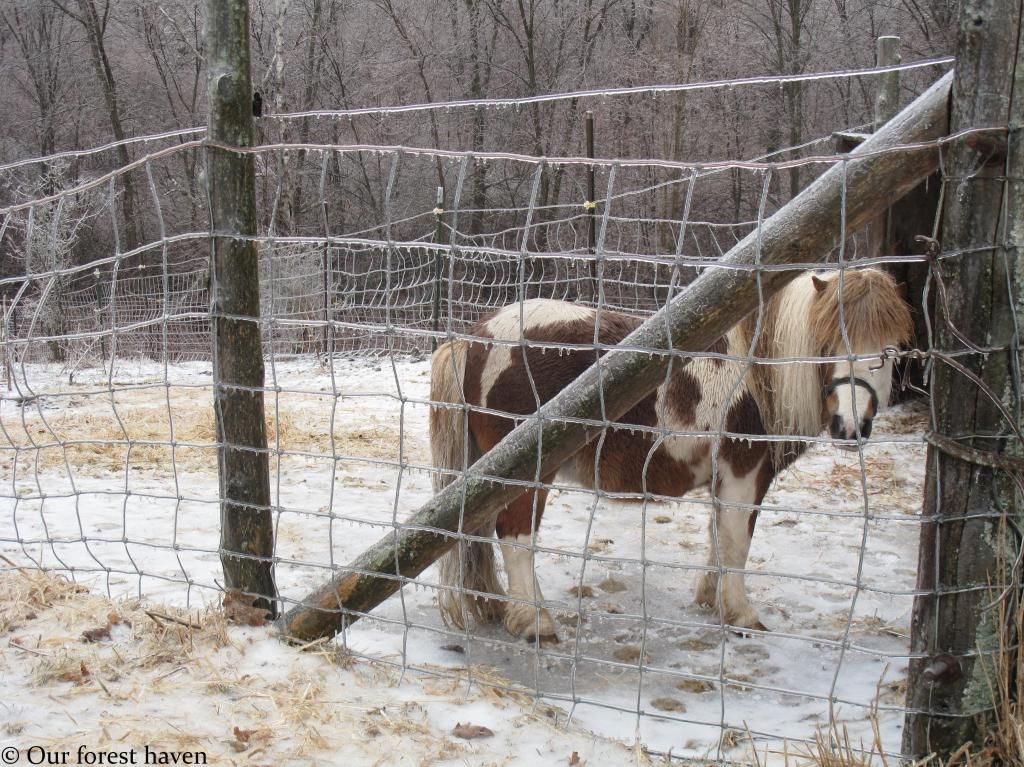 I was very surprised Jackson came out of his house to greet me this morning - usually on a day like today he doesn't come out even for food, he eats inside. But this morning he came out to greet me despite the icy rain.
Flavious also greeted me.... a muddy mess! For some reason he's also been my mud dog - he loves it. Max hardly ever gets dirty but Flavious he rolls in anything every opportunity he gets.
The ducks were out too enjoying the rain, quacking, swimming, carrying on like it was the best day ever. I put fresh straw in their house and they just looked at me like "we are not going to lie down, we are going swimming!"
It was an icy world.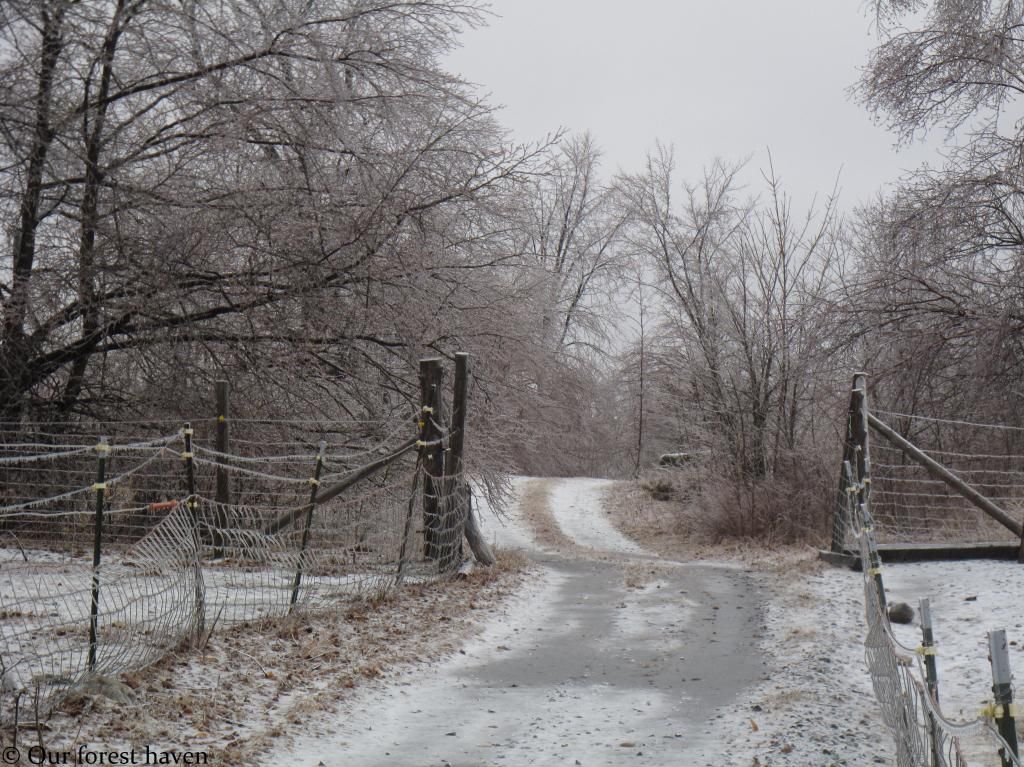 A good day for me to head back inside and work on laundry and in the kitchen. I worked on my Feta cheese, froze some milk to use later for soap when I can afford the supplies, made some crackers and tried a couple new recipes, along with making some Creamsicles - something I wish I hadn't learned was so easy to do... I'll be making them all the time now, they are one of my favorite treats.
As blog friend Redneck pointed out I didn't share the bread recipe from my Halloumi cheese post with you guys. And I got another message today about it while I was working on this post! So as requested here it is if you'd like to make some!
2 cups warm water
1 1/2 cups seven grain hot cereal mix (not the cold cereal, the hot stuff, I use Red River cereal)
2 Tbsp honey
2 Tbsp vegetable oil
3 1/2 cups bread flour
1 tsp salt
1 tsp traditional yeast
1/2 cup unsalted sunflower seeds
1 large egg lightly beaten
Mix your water and yeast and let that sit for about 5 minutes. Then add your hot cereal mix and your honey and let that sit for 10 minutes.
Next, add your oil, salt, flower, and seeds. Knead until smooth and elastic. Place in a greased bowl, cover with a tea towel and let rise for an hour or two in a warm place.
Once the bread has risen, punch down the dough and move it to a greased baking sheet. You can make a loaf, two small ones, or roll it into a circle. Using a sharp knife, make a few slices in the top of the bread. Cover again with the tea towel and let rise again.
Meanwhile place a small baking dish on the bottom rack of your oven. (You need two racks for this.) Heat your oven up to 425 degrees Fahrenheit.
When your bread is ready, beat up your egg and brush it on the bread.
Add a couple of cups (depending on the size of your baking dish) of boiling water to your baking dish that you put in the oven earlier. Leave it on the bottom rack. Place the bread tray on the rack above the baking dish, and lower your oven temperature to 375 degrees Fahrenheit.

Bake for 45-50 minutes until golden brown.
Remove from the oven and let cool for at least 1/2 hour (I know it's awful.) Before slicing.