A great surprise!
Yesterday afternoon I spent a good deal of time lying down with a heating pad. Dahlia showed no signs of being ready to go into labor, but I did ask her first thing in the morning to please have her kids because I couldn't wait any longer I was so anxious to see them.
I checked a few times throughout the day and saw no change. Until I headed up to the barn to do evening chores. Max greeted me very enthusiastically and it didn't take long for me to spot two babies - and then find a third!! I cannot believe she had triplets. I know it's common with Pygmy goats but I expected twins at most because she wasn't really that big, not to me anyway.
Once I had the babies all safely inside in a pen with her I kissed them all on the nose, then lifted all their tails to get a look. Then I did it again, and once more.I had been really hoping she'd give me at least one girl. Much to my complete amazement, they are ALL doelings! I could hardly contain my excitement. And every single one has Spocks eyes - apparently this is a common feature Barnaby is throwing in his kids.
One of the girls is so tiny, like Norman sized tiny. I almost couldn't believe my eyes. I knew I'd be surprised when Dahlia had her kids because these are the first Pygmy goat kids I've ever had born here - I'm used to larger kids. But this kid, I mean she is teeny.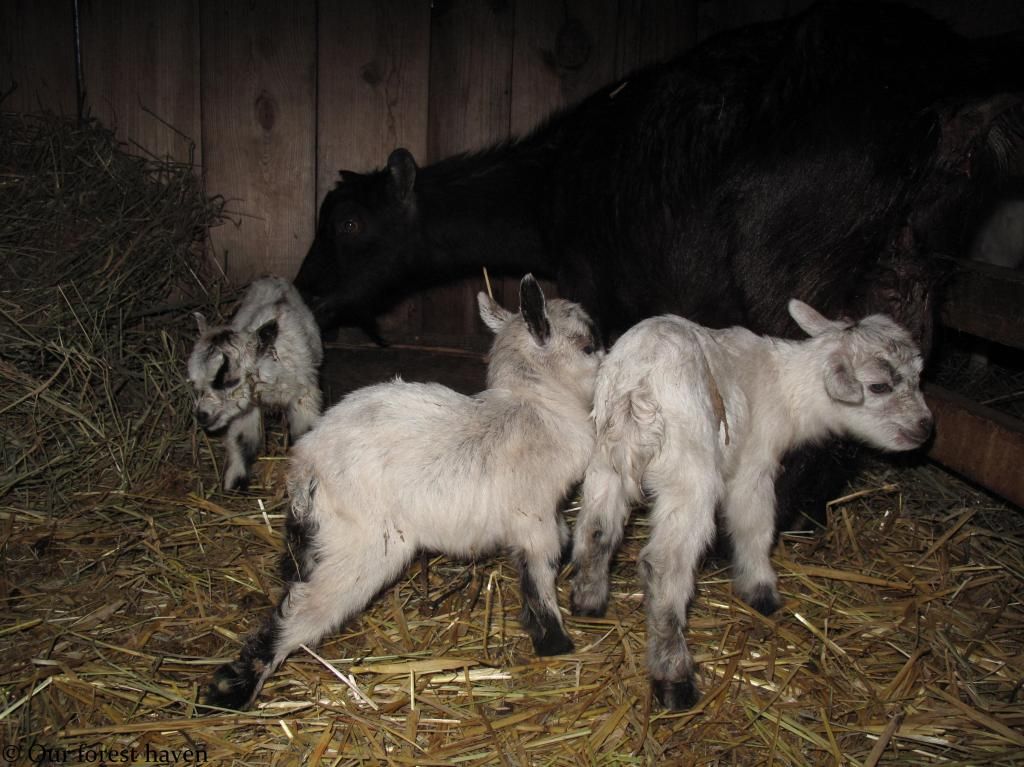 Dahlia has been a mom before and she cleaned her kids and was kissing them all and talking to them constantly so I left her to take care of her new family and trusted in her, and nature.
The cuteness was completely overwhelming. I mean all baby goats are cute, and I get excited every time one is born here but these kids just made me melt.
This morning Kevin left really early to head out for some appointments. The wind continued howling all day. I was shocked to find the upper part of my (the chicken door is a split door so we can open the top and close a screen to let air in) chicken door open. I panicked. The wind couldn't have done that, it must have been a raccoon. I held my breath as I struggled with the garden gate in the wind on my way to the coop - fully expecting to see all my beautiful hens murdered.
But nope, it was the wind. My locks on that door are twist locks, they are not super easy to move if you are not an animal or human. But the wind moved them and managed to open the door (I fixed that tonight). Everything is getting torn up, trees are falling, I was waiting for the shingles to start coming off the roof and I'm not kidding. The wind has been wicked.
I went straight up to the barn after I saw the chickens were alright, so I could see how the kids were. Thankfully this morning everyone was just fine. The one on the right, crying in the above picture is the strongest. She's playing this morning and loves a good snuggle. She's super friendly. My teeny doeling is doing alright too, she seems strong enough just tiny. The third doeling (in the middle in the above picture) is nursing just fine, but she is a little weaker. Obviously I'm going to worry. But Dahlia is taking excellent care of all three of them.
My Farrier came this afternoon despite the wind and rain and trimmed Jackson's hooves and also Izzie's. That made me feel better, one more spring chore checked off the list and Jackson is looking much better. He was an angel too, I was amazed at how good he was. He's not usually really bad but he's not usually really good either! Izzie on the other hand wasn't as happy about it because she thought we were up to something bad but we got her trimmed and now her feet are much better too.
This little doeling fits right in my hand.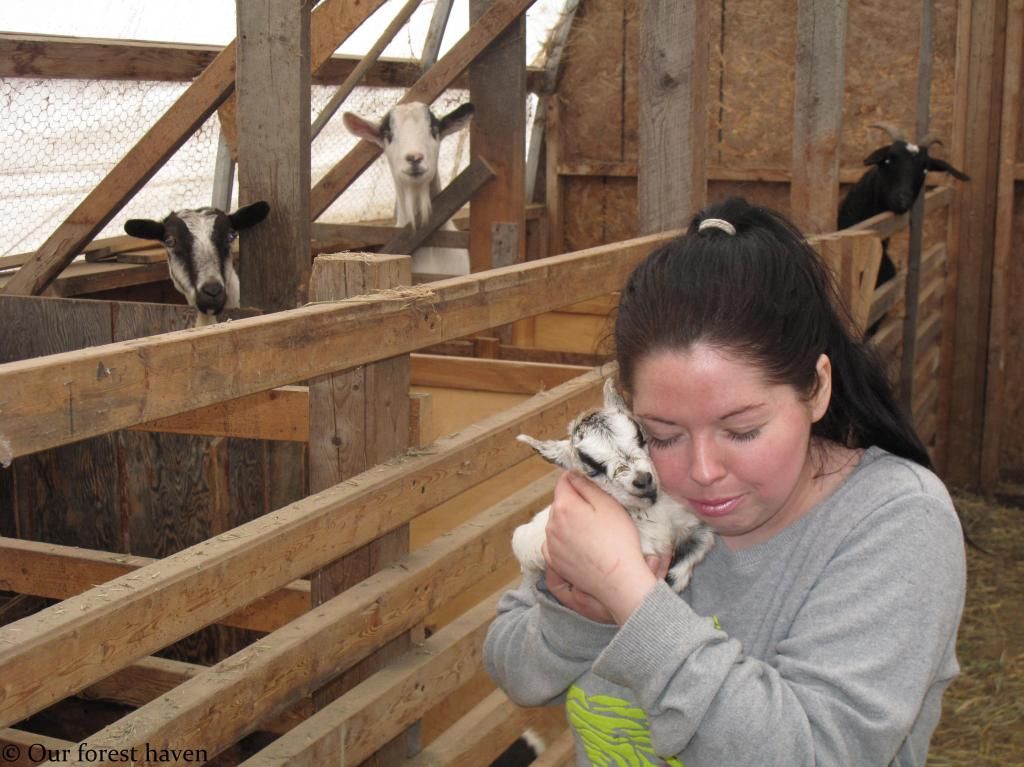 She's so tiny and so sweet. There is a few jealous faces in the background. They get kissed a thousand times a day but still get jealous of the babies.
This one cracks me up, she just falls back and closes her eyes when you kiss her. I mean, can you get any cuter?
Lambie was wondering what all the fuss was about now, and where his dinner was.
Ya, where is our dinner anyway?
Kevin came up to see the babies and get some pictures, I told him he had to come and see the tiny babies even though he was too tired. Can you believe how big Spock is getting? He's such a sweetheart that kid.
It's been a full and busy day. I'm finishing up my chicken and dumplings for dinner and we are relaxing, all safely away from the wind.
I hope you all have a great night!