The kids are alright (and not the movie)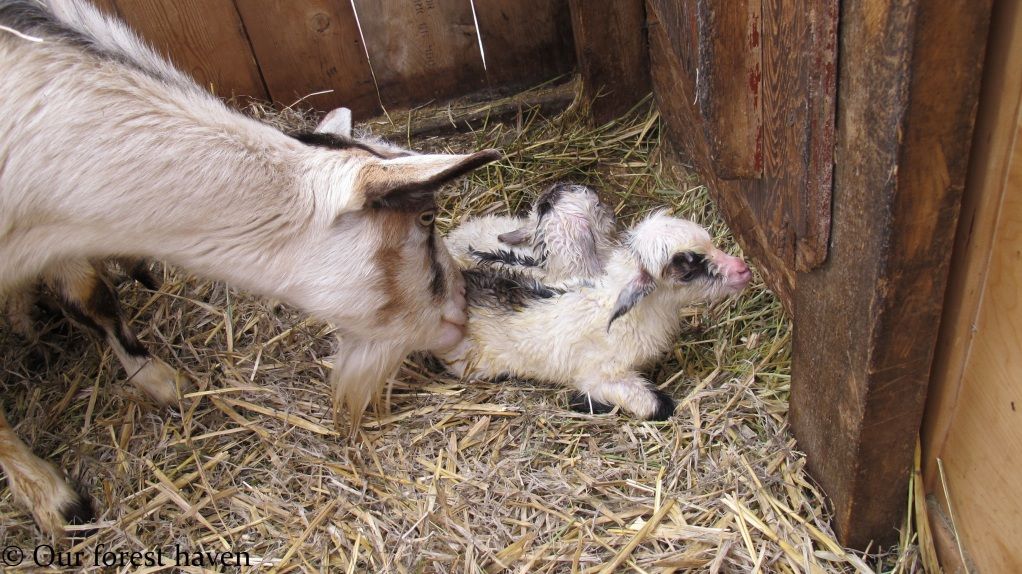 Tuesday morning when I checked in the barn before coffee I could see that Bucket had dropped her belly more and that she had some swelling. I knew it was getting closer. She had no discharge yet.
The night before I had mentioned to Kevin that every year Bucket kids between 10 AM and 1 PM. He said "ya but don't go on that." Of course I wasn't going to, I was just mentioning how interesting it was she's always kidded at the same time of day.
But it turned out she started labor at 10:20 AM and by 11:10 she had delivered three healthy little kids - yes THREE! I was super nervous during this delivery because last year she had a terrible time and could not deliver the kids on her own. I had to reach in, re-position the kids and help them out. It was rough on the kids and on Bucket. The kids were not breathing when they came out either, but I got them both breathing.
This year, it was smooth sailing. All the kids came out the right way, I waited and let Bucket take care of them ready to move in if she needed help, but she didn't. She got all the mucus from their faces, cleaned them all up, and was completely in charge of the situation. She successfully delivered two bucklings and a doeling. All of them look exactly like her. She was bred to Barnaby this year, a Pygmy goat - she is twice his size but he managed to breed her with no problem. And without a stool... I'm really pleased with these kids. The bucklings are absolutely beautiful. The doeling is the smallest goat kid born here to date but she's also the toughest, she was on her feet the fastest I've seen a goat kid get up yet.
and all cleaned up and dried off....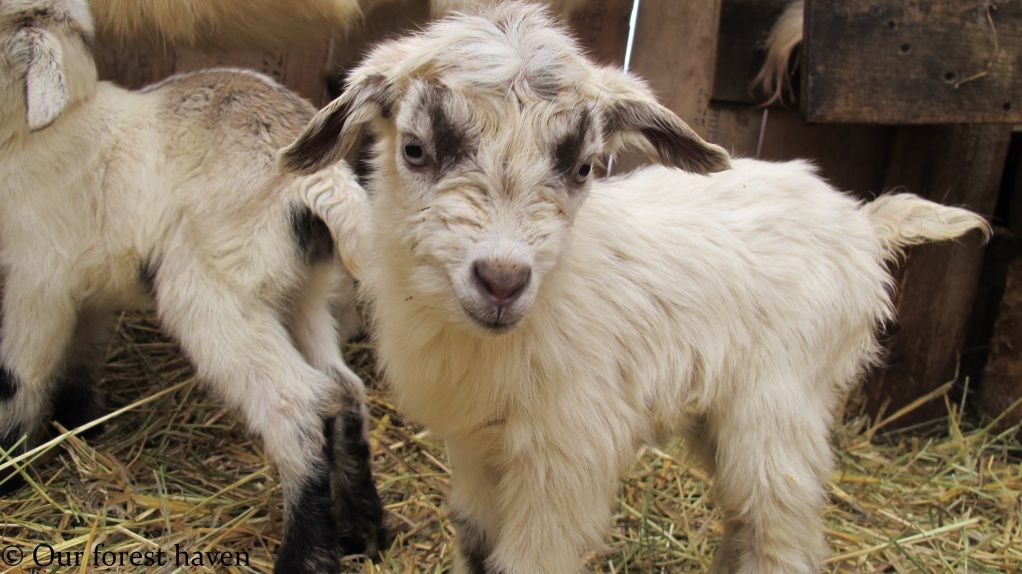 In between having kids, running errands off the farm, and trying to keep up here, we've also been rushing to get our sugar shack ready to use for this year.. thankfully we've had some help from a few neighbours.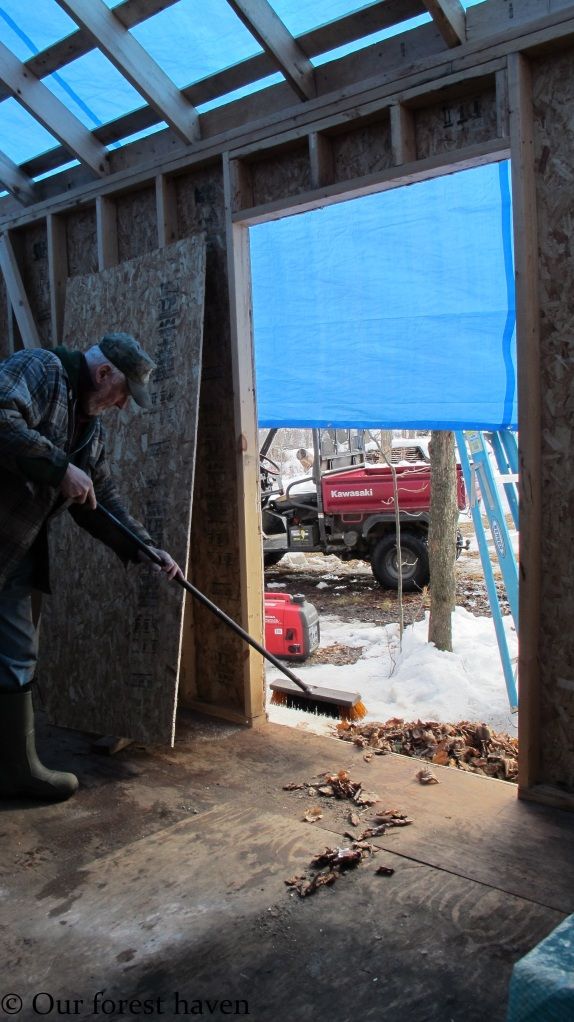 and we've got a place for a door!...
We've ordered the steel for the roof but it won't be in until next week, so we've tarped the roof to keep the sugar shack and us dry for now. We were hoping to tap the trees today but we ran out of time - there just isn't enough hours of daylight right now to get everything done we need to in one day... We spent most of the day working on getting the door cut and finishing up some framing jobs.
Early this morning we drove about 10 miles from here to pick up a round bale of hay. We found these bales from a local guy and just were not sure if our guys would like them so we decided to get a bale and give it a try.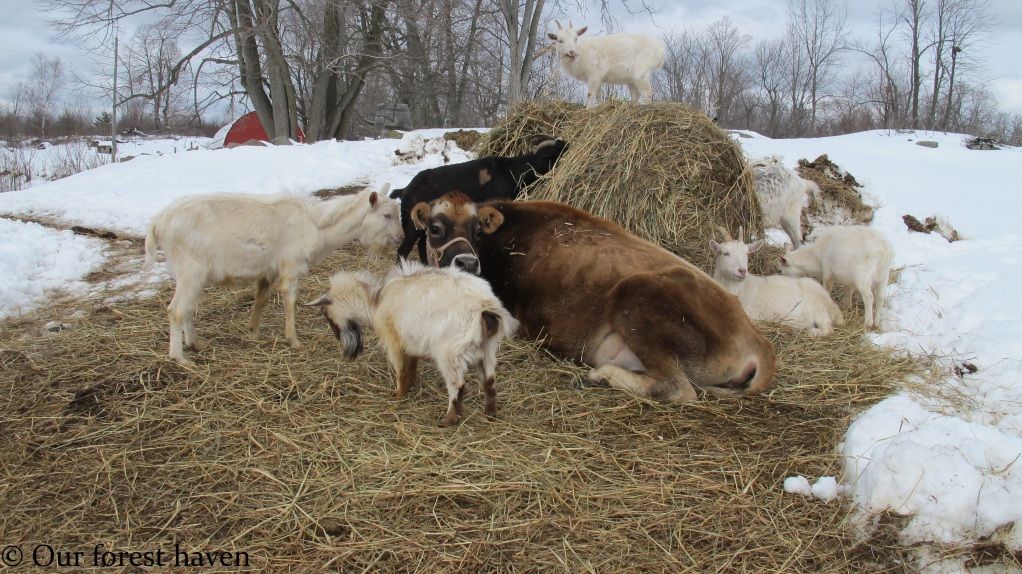 As you can see, everyone liked it just fine. We'll still need some other hay, hopefully good square bales to supplement our supply, these rounds are second cut and also quite small compared to the round bales we usually feed, but it is some security. We are going to buy some just as insurance. We've found a couple other leads on hay, not long term suppliers but people who could supply us with hay for this year. We've also been looking into starting to take hay off what fields we can here. We have 700 acres of land but maybe (and I mean, maybe) 30 of it is in small fields we could access with a tractor. The pioneers here didn't need to worry about how difficult it was to get to their fields so they are across creeks up steep hills, etc. But 30 acres will give us some hay, not enough to supply all our hay but it will help.
Our friend and tractor salesman came out yesterday to look at our fields. He's been haying for a long time so has a good idea what he's looking at. He says our best bet is to drain the pond in front of the house - it was actually a hay field for Kevin's ancestors who lived here, it was only in more recent times (15 or so years ago) flooded thanks to beavers. It's about 25 acres and would produce good quality hay because the soil is richer. But we'd also loose our ducks, geese, bullfrogs. So it's something we'd do only if we really had no choice. It would be great to be able to provide our own hay and not have to worry about finding hay and finding someone to deliver it or having to worry about it being way overpriced (which is what I am running into a lot) But it's a big investment financially and work wise, so we need to take it one step at a time.
Our premature kid - Morty, is 10 days old now and growing like a weed. He's doing just great. He's the first bottle baby we've ever had (and we have at least one a year and up to 4 at a time in the past) that's ever played with toys. He loves this little soccer ball and he'll kick it around and butt it. It's probably one of the cutest things I've ever seen.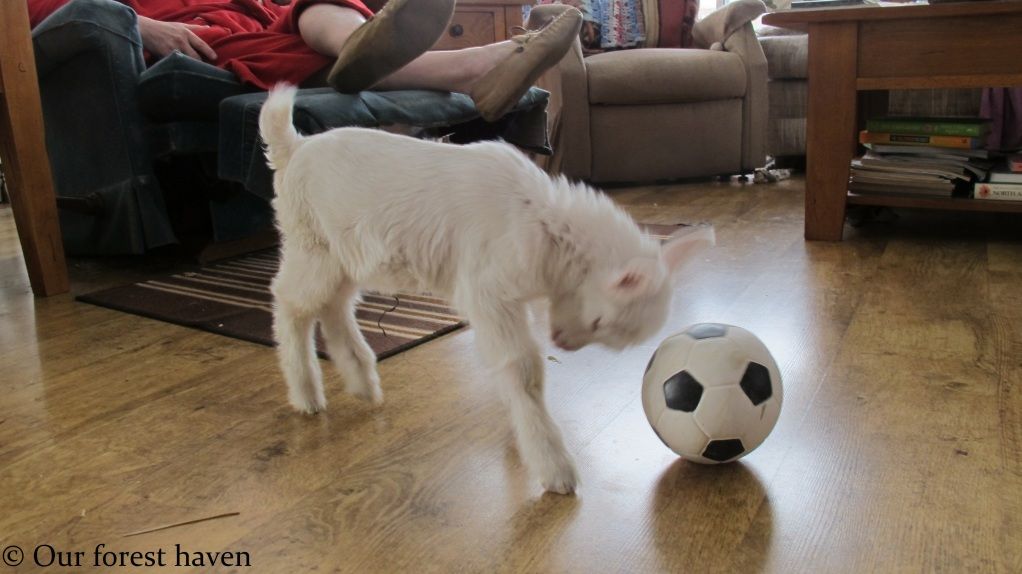 Other than that, I'm exhausted. Both Kevin and I are and we have 80 taps to put out tomorrow and then we'll start boiling. We are exhausted and we haven't even started making syrup yet. The other night I got in from the barn at 9 PM after trimming hooves, (Sammy has sore feet I'm tending to) taking care of babies, cleaning stuff up. We can just barely keep our eyes open in the evening because our days are so full right now. But we are also fulfilled. It's such an exhausting time of year but also the most rewarding. So it's worth the extra aches and pains and swollen tired eyes in the end.
I apologize for any typos you might find in this post, I can barely keep my eyes open. I have been meaning to post for two days though and I'm just always too tired, so I figured better typos than nothing! :)
Despite the snow and despite the cold, spring is in full swing here at the farm!