Strawberry shortcake braided bread
I found a recipe a while ago for strawberry shortcake ice pops and I've really been wanting to try it. While I was in the barn feeding rabbits and cleaning this morning (when I do any of my "real" thinking) I was thinking about how delicious Danishes are... also how I wish I could have one with a cup of coffee. Then I got thinking about those strawberry shortcake pops and how I should make them.
And somehow it lead me to coming up with this bread which was a complete experiment. Not quite a danish and certainly not the ice pops (yet) but delicious none the less. I was so excited when this actually came together I just couldn't wait to share it. Then I remembered I didn't stop and think about anything I was doing, so it took me a while to try and put this in recipe form, since I didn't measure. But with some brain power and tea, I was able to put it together so you can try these too if you'd like to - and also so I'll remember how I did it when I go to make them next time!


For the bread:
1 1/4 cup milk
1/3 cup sugar
1/4 cup melted butter
2 tsp active dry yeast
1 egg
1 tsp salt
4 cups all purpose flour
Heat the milk until lukewarm and then add the melted butter, sugar, and yeast. Leave for 10-15 minutes until bubbly.
Then stir in the egg and salt. Gradually add flour while mixing until a soft dough is obtained. Knead until smooth and elastic. Place in a greased bowl, cover and let rise.
for the cookies

3 cups flour
1/2 tsp salt
1/2 pound softened butter
1 cup sugar
1 large egg, lightly beaten
1/4 tsp almond extract
2 Tbsp lemon juice

Combine the flour, salt, butter, and sugar in a bowl. Mix in the butter with your fingers until it becomes crumbly. Mix in the egg, almond extract and lemon juice. If it's too dry add a little water, 1 tsp at a time just until the dough comes together. Shape into two balls, flatten into discs and wrap in plastic wrap, refrigerating for at least an hour but overnight is better.

When you are ready to make the cookies, pre-heat your oven to 350 degrees F and take your dough out of the fridge. Let it warm up a bit so you can work it.

Roll the dough out on a lightly floured surface and cut into bars or use a cookie cutter to cut it into shapes. You want it to be about 1/8 - 1/4 inch thickness depending on how thick or thin you want your cookies. Bake on a greased cookie sheet for 12 minutes, depending on the thickness of your cookies, just until the edges are very lightly golden brown. Remove from the oven and let cool.

For the filling
1 cup Strawberries (I used frozen strawberries that I thawed since it's not the season, but you can use either fresh or frozen)
1 brick cream cheese, at room temperature
1-2 cups of icing sugar
In a blender, blend your strawberries until fairly smooth, leaving just a little bit of strawberry bits in there. Mix with your cream cheese and add the icing sugar to thicken it and sweeten it. It will always be a loose filling, but you want it to thicken up somewhat so it will hold and you can handle it.

To assemble the bread
Divide your dough into two pieces. Using one piece at a time, roll out your dough into an oval, leaving your dough about 1/4" thick. Using a pizza cutter, make slices along the sides of your oval so you can use the pieces to braid later.

Put your dough onto a greased baking sheet before you finish assembling it - you won't be able to move it once you put the filling in it.

Down the center of your oval, spread out some filling. Not too much, just enough to cover and be generous. You want it to bake into the bread and not just all come out.

Crumble up a few of your shortbread cookies and sprinkle over your filling.

Braid your bread by pulling your cut pieces along the sides of your oval across the filling one at a time.

Brush the bread with a beaten egg, sprinkle on some more crushed up shortbread cookies, some sugar (about a 1/2 tsp) and a pinch of nutmeg.
Bake at 350 degrees F for about 25 minutes until golden brown.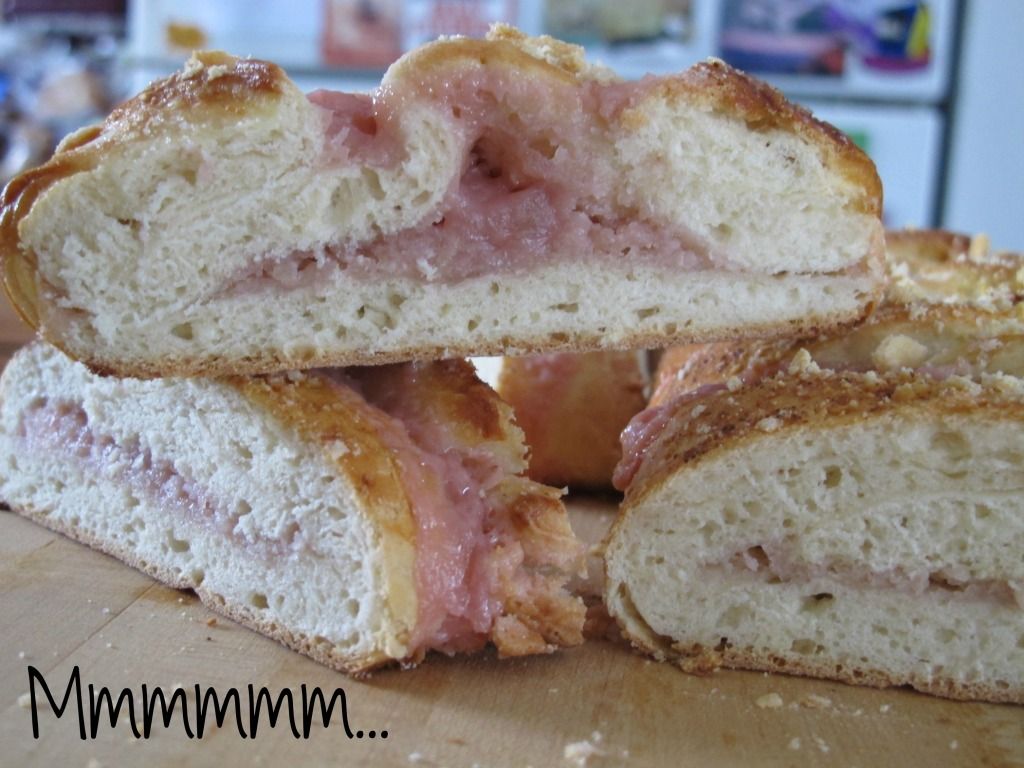 It might seem like a lot of work, but it's really not. Plus the finished product makes the effort worth it in the end.
It's time now for me to venture out in the snow and do chores again. It's cold right now, but tomorrow we start tapping maple trees. More on that later.
Hope everyone is enjoying their weekend!