Who's that critter? Goat edition
When I have time, or remember, I'll try to make a "who's that critter" edition for most of the groups of the animals here. I thought it would be fun to do with the goats today. Instead of using photos I already have of them, I tried to snap quick shots of everyone and that turned into a real ordeal. I have two groups of goats, ones who think they should be super up close in all their photographs and ones who think they shouldn't have their picture taken at all. The most difficult part is just getting them far enough away from me and the camera to take a picture - they are all over me when I'm there and it's hard not to get super up close and personal shots looking up their nose. But I tried my best.
Of course we all know smiling, spoiled, swaggering Sammy.
Rose, one of the Pygmy girls. Beyond adorable. Beyond mischievous.
Melvin is Bea's kid from last year - he's a buckling. He's the sweetest most laid back guy I've ever met. He acts like a wether, like he's been neutered. I'm hoping to be able to find a good home for him where he'll be kept as a pet, or a nice farm where he can do his job as a buck. I have little doubt he'll produce wonderful kids, he's the spitting image of his dad, Buckwheat. I've had a little bit of interest in him but no one I liked, so he's still here and waiting for the right home to come along.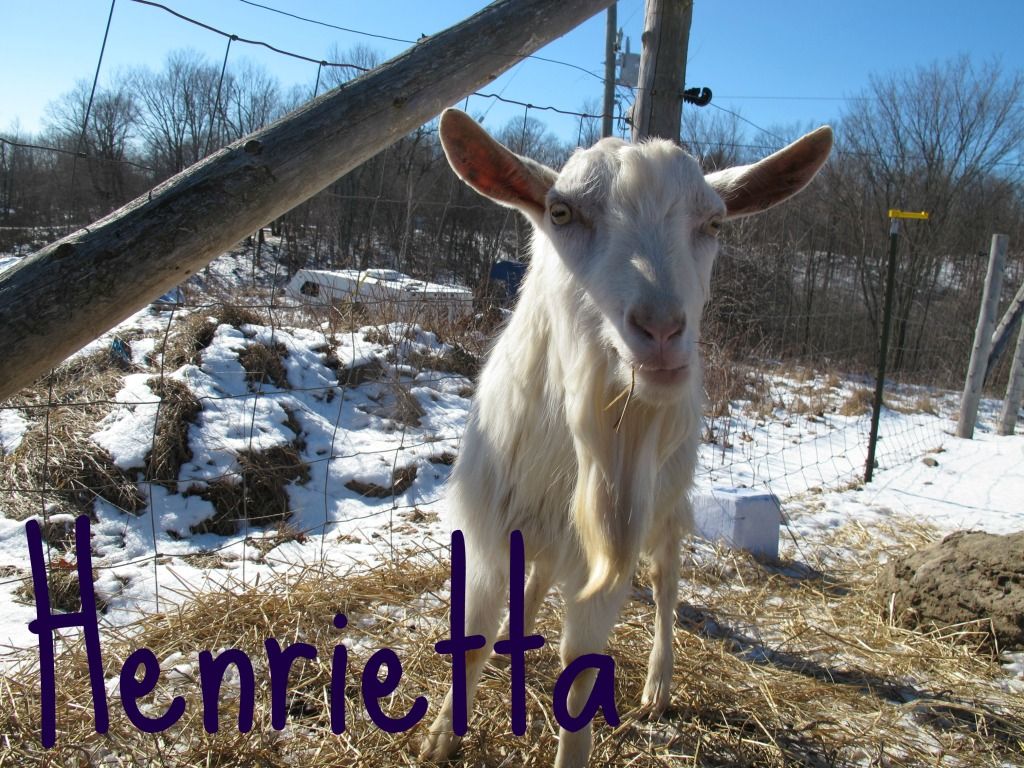 Henrietta is of course, our resident hermaphrodite. Although she has mostly female parts, she thinks she's male and acts like a buck, chasing does, making a fool of herself during rut... but she can't do anything about it. The rest of the time she's so quiet and sweet you hardly even notice she's there.
Dahlia the other half of the Pygmy girl duo. She doesn't care what anybody thinks of her and whether or not she has food all over her face.
Bulrush, the first kid ever born on this farm. He's a wether. Many people have come to the farm and told me, "that goat is going to have twins!" and I have to let them know, ah, he's a neutered boy. He loves his food.
Buckwheat is my Saanen buck. He's a complete sweetheart, all the time - even during rut. I bottle raised him and he loves kisses and back rubs. He's the most laid back goat I have.
Then there is Bucket, the first goat I ever had. Bucket and Hilda (a Pygmy goat who passed away last fall) came in 2007 as sickly little goats. Bucket was a kid, Hilda was about 5 or 6 years old. They had worms, mites, fleas, you name it. They were a mess. But we got them fixed up and they were the reason I fell in love with goats.
Then there is kissing Brina. It's very difficult to get a picture of her, she thinks if I'm around and not feeding her, I should be A) holding her B) kissing her 3) snuggling her. She throws herself up into my arms every night (it's going to be great when she does that full grown) and she still thinks if she tries hard enough she'll get milk out of me, even though she's been off the bottle since last June.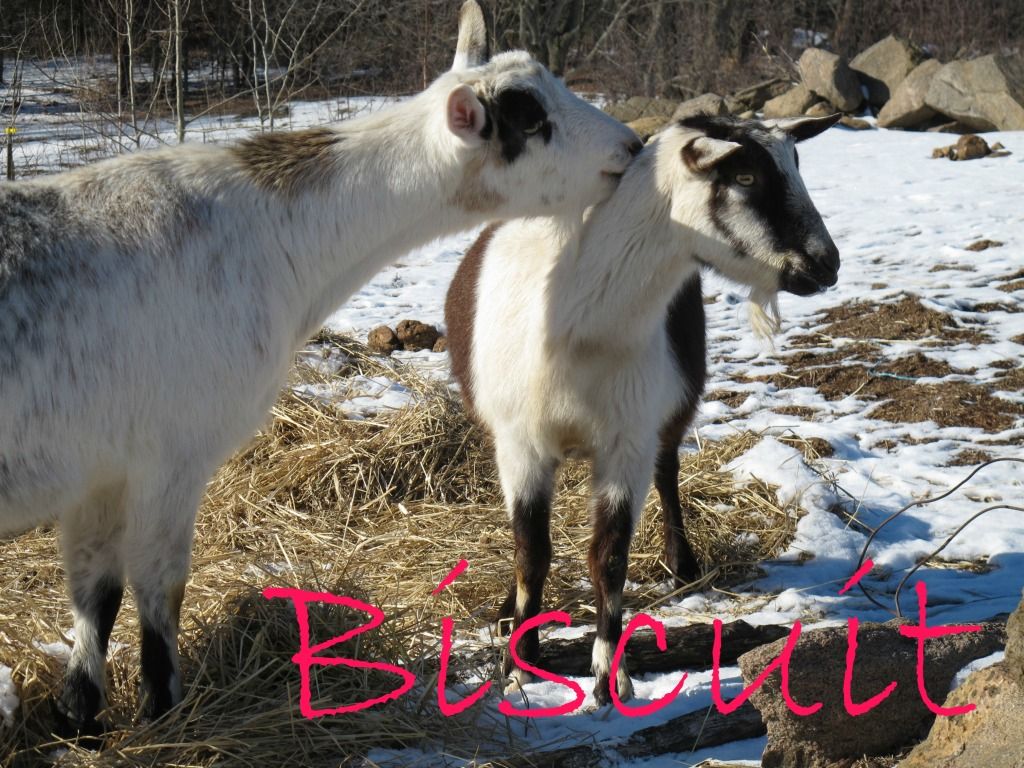 Biscuit is my milking goat, the only one who really gives us something back (other than love). She's a sweetheart with me but bossy with the other goats usually. She hates kids (hers and everyone else's) and refuses to take care of her's every year, but it works out for me since I milk her and feed the kid, and use the rest of the milk for us. She is a great producer.
Brie is Buckets kid from two years ago. She's a doll. She's just very sweet, quiet, and laid back. Not a bossy bone in her body. This will be her first year having a kid and she's bred to my Pygmy buck because she's related to Buckwheat but also because she's a small girl.
Beatrice is a teeny Saanen. She came from a farm full of Purebred Sannens, but after a couple of weeks of being here on the bottle she started bringing up her cud. It was the weirdest thing. The Vet's had no idea what was wrong with her. One morning I went to bottle feed her and she couldn't stand. She was completely unable to use her front legs below the knees. I was heartbroken. I had so much love and time invested in this little girl. Again, the Vet's couldn't figure this out.
I did a ton of research and Kevin and I decided this sounded very much like goat Polio. So we treated her for it because we had nothing to loose if we were wrong. She got better quite quickly but she still couldn't walk. We used an old T-shirt and put her legs through it, and every day she'd walk in the t-shirt to get her bottle. She completely recovered. It was a miracle.
She stayed very small though, not much bigger than the Pygmy goats. We are not sure if it's from her breeding or if it's because the Polio stunted her growth. She'll be three years old in March.
Basswood is also one of the first kids born on the farm and a wether. He spends most of his time with Bulrush. He wears his heart on his shoulder. It's so adorable that he developed a brown spot on his shoulder that looks exactly like a heart :) He's a big suck, and also very shy.
Barnaby of course is our Pygmy buck. He was a menace when he first got here but he's really calmed down now. He doesn't have a mean bone in his body but he's the first goat I've had that does jump fences, but never to get away. He fought with Buckwheat a lot during breeding season, jumping fences to go butt heads with him, but now that the hormones are calmed down they completely ignore each other, even sleep in the same pen at night. He's not the cuddly type like my goats because he was raised quite differently than them, and treated like a buck, he wasn't handled at all or cuddled, he was just there to breed.
He's starting to learn getting cuddled isn't so bad, and he goes wherever I ask him to without an argument. My plan was to buy a Pygmy buck, use him once, sell him and get a different one... but Barnaby is worming his way in. He fits so well with my group.
*Please note at some point in the future there may be a quiz.
So just keep that in mind.
Now for some of the outtakes!
Too close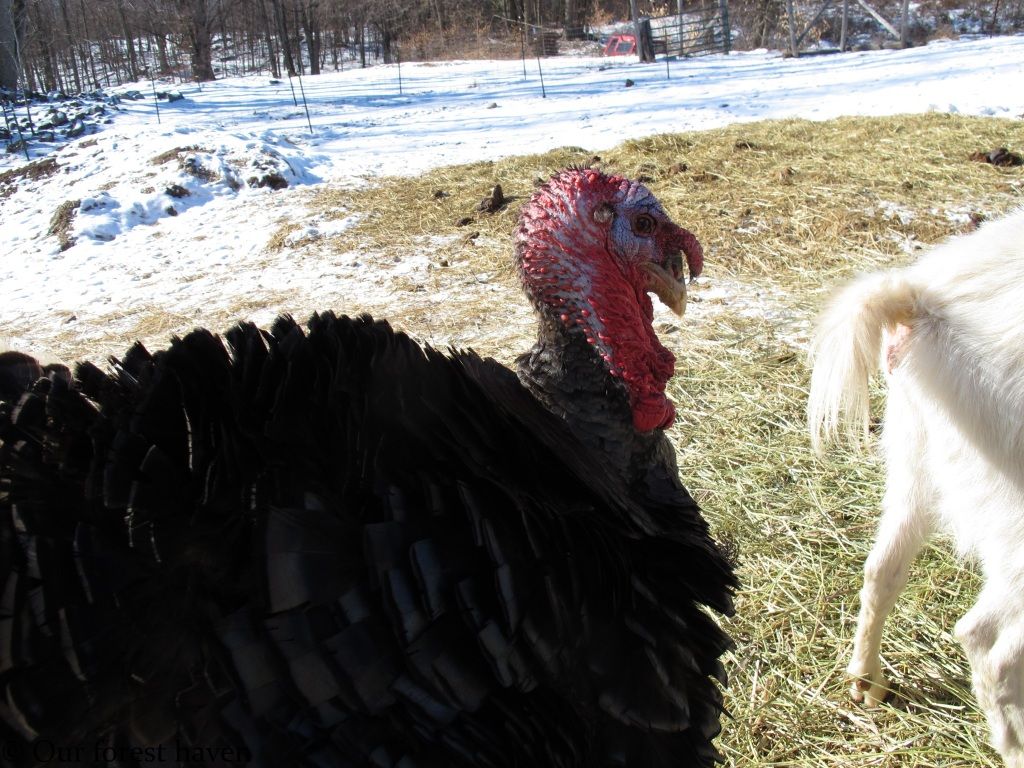 Whoops that's a turkey...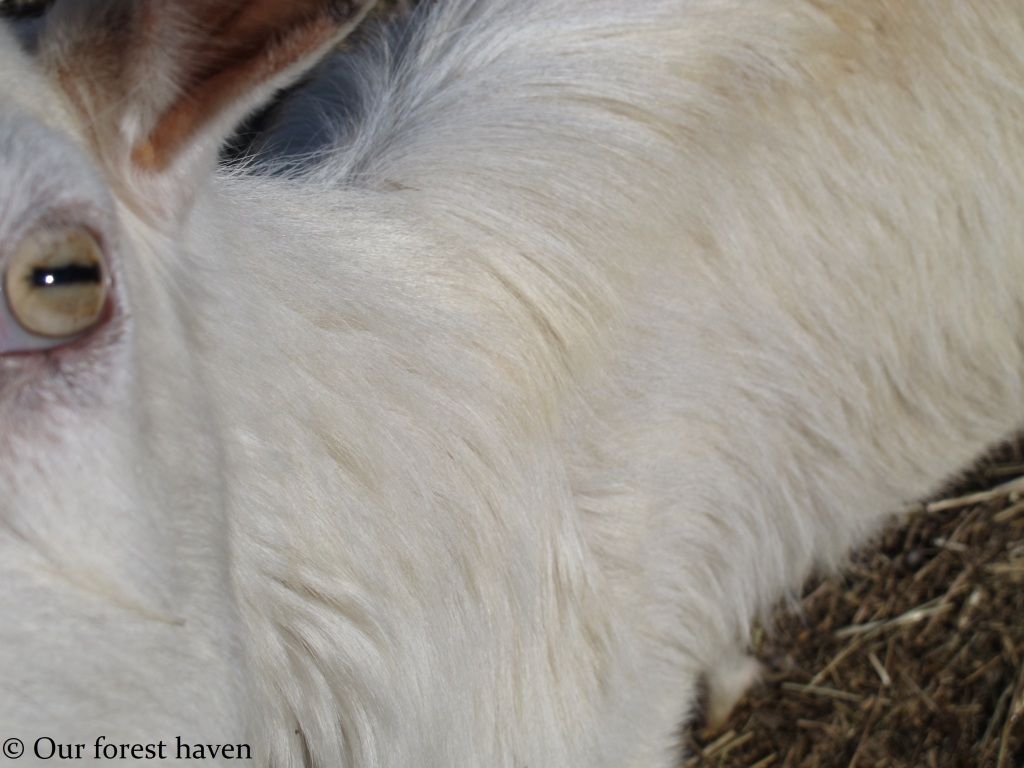 Eye see you....
Izzie, I think you have something in your nose...
Bucket, it's not a mirror...