My Polar explorers love the snow... kind of...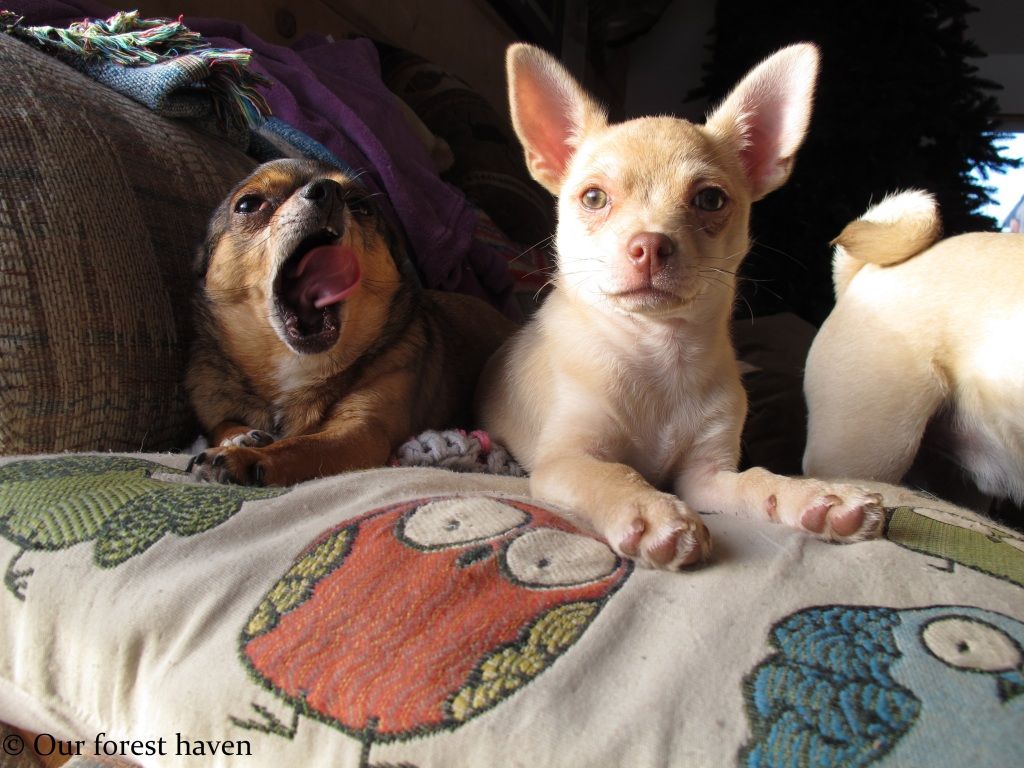 After the recent storm went through, went ended up with about a foot of snow, tops. Not a huge deal. Certainly it did involve a bit of clean up, some of the drifts were waist high on me. It's a little bit alarming when you are looking out your window at the deer walking up into the yard with snow up to their bellies. Thankfully, those were just drifts.
Kevin plowed us out, I shoveled my gates and barn doors, and yesterday and today we've had nothing but beautiful February sunshine. Last night we had some company for dinner and I put the animals away a little later, at 6 PM, and we had daylight until about quarter after or so. These are the little gifts February starts giving us. Sure it gives us snow sometimes, sometimes wacky weather, sometimes pretty cold temperatures, but it always gives us more daylight, more sunshine, and the promise of March being just around the corner.
Looking out the door on Saturday morning, after the storm was past it was a world of white. Those indents in the snow are from where I walked to get up to the barn on Friday night.
Thankfully it was fluffy snow, so easy to shovel, easier to walk through.
I had to shovel a path Friday morning during the storm for the little dogs to pee, and I kept it shoveled throughout the storm. Yesterday when Kevin went out to plow, he plowed a big area for them.
Starting to plow so I could open my first gate.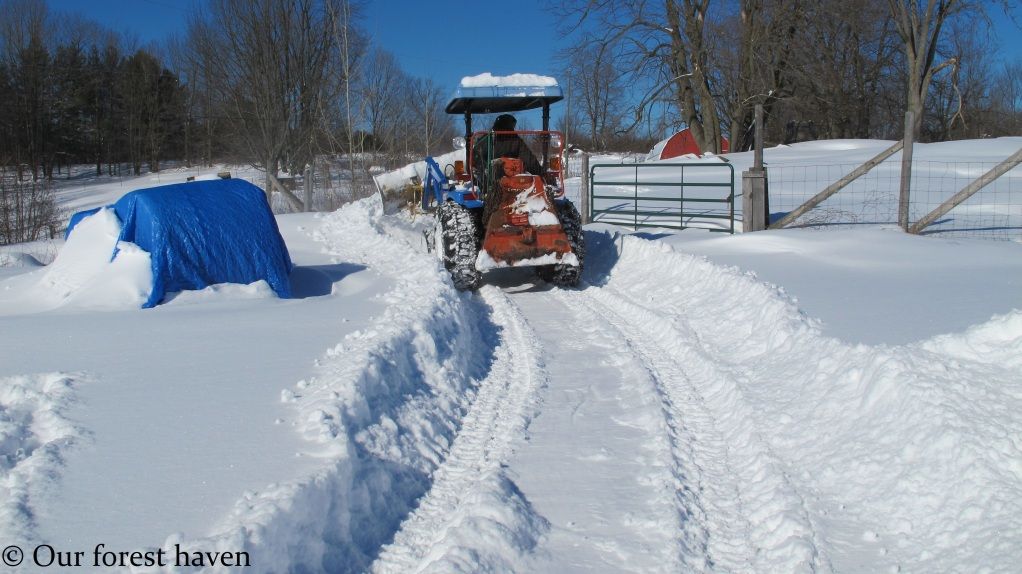 Well that's going to make it easier to walk!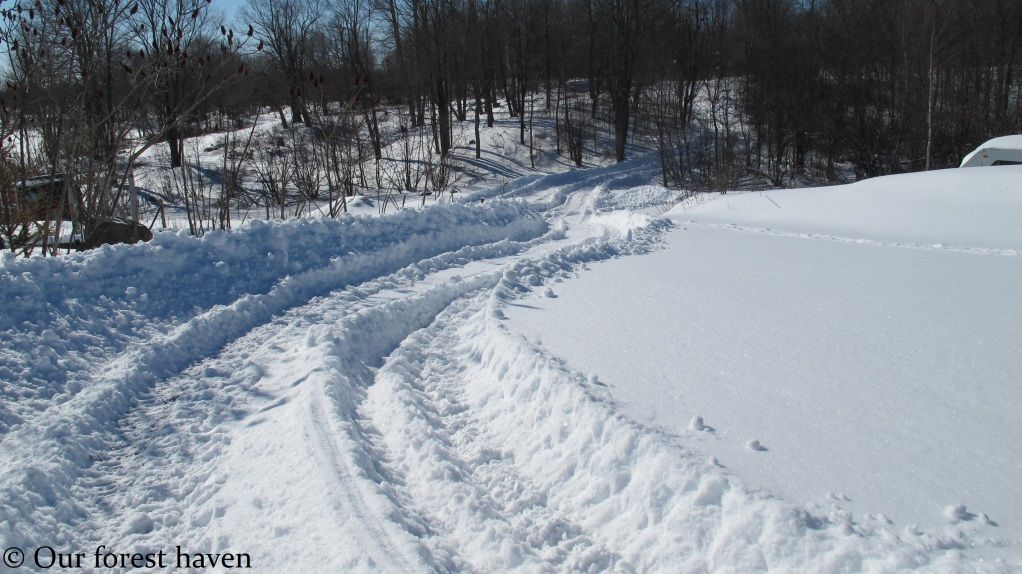 First pass with the plow
Melvin and the turkeys were happy to be out in the sunshine but less thrilled about the snow...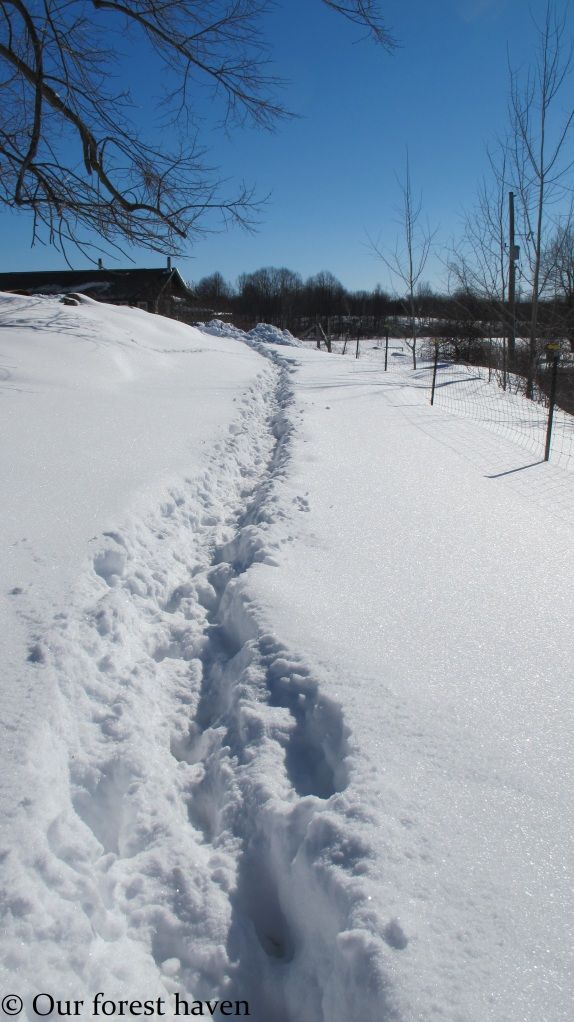 Follow the goatie trail....
Towards the house and to the hay pile...
Notice the Polar bear, I mean, Flavious, sitting up on his rock? He sits up there to soak up the sun, and he can also keep an eye on everyone easily from up there.
Roald was quite happy to just lie in the sun and look at the snow from his comfortable spot on the couch...
But I decided it would be fun to play a little bit in the snow while it was still fluffy. Douglas loves charging through the fluffy snow, he's so hilarious to play with in snow.
As most of you know, all our little dogs are all named after Polar explorers... Sir Douglas Mawson, Colonel Norman Vaughan and Roald Amundsen. Even the Chihuahua's can have fun in the snow, for a short period of time... like five minutes tops. Norman would prefer sunshine and a drink with an umbrella in it, but he toughs if out when he has to.
Rollie catching the sun...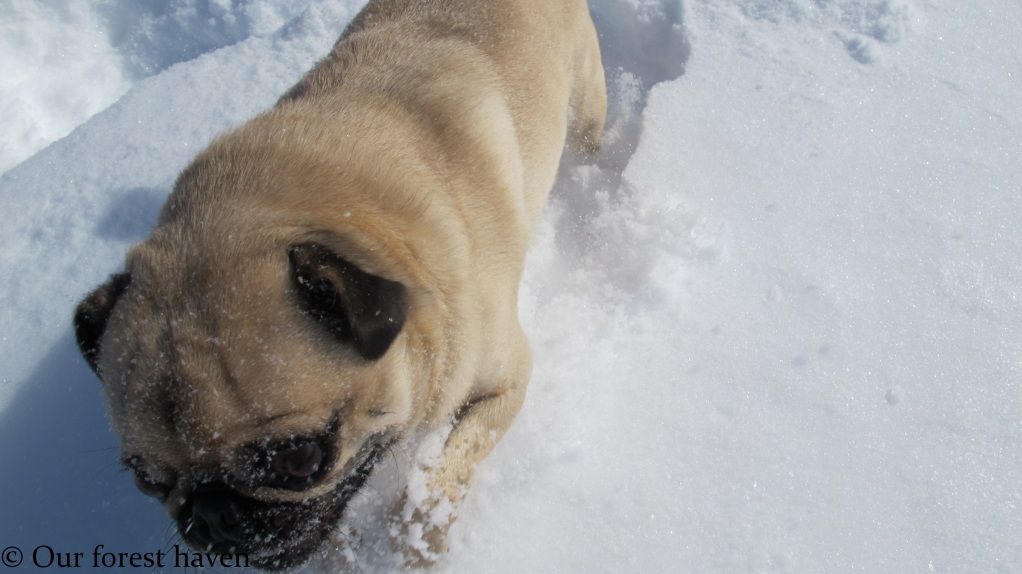 Snow Pug!
Douglas stuck his face in the snow and took a bite to see if tasted like a snow cone or not...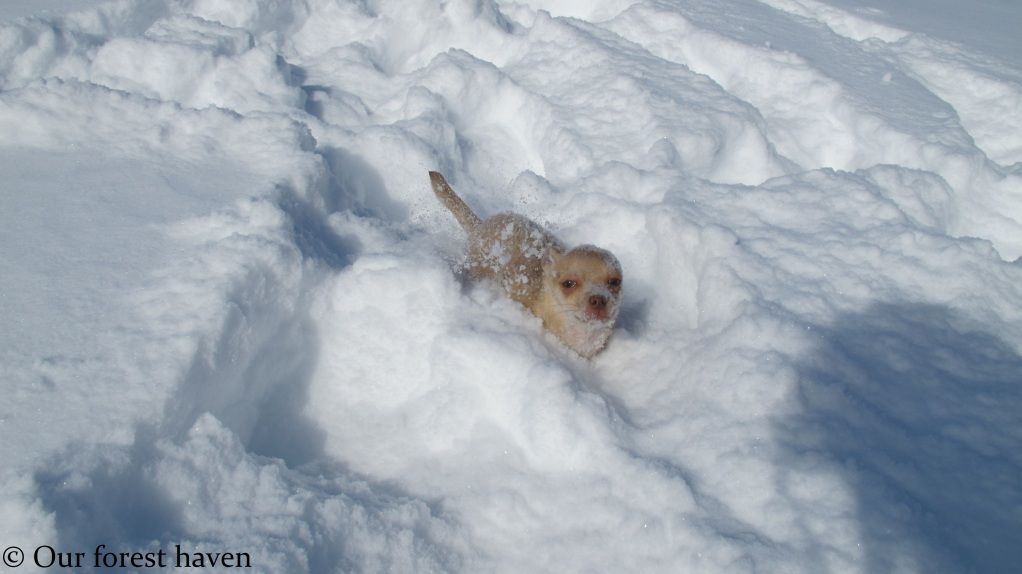 What is that? A weasel? A seal? Nope... it's a Rollie!
Douglas: Oh Rollie, lets run and play!
Roald: It would be a lot more fun to play in this stuff if it wasn't also cold... Why don't they make warm snow?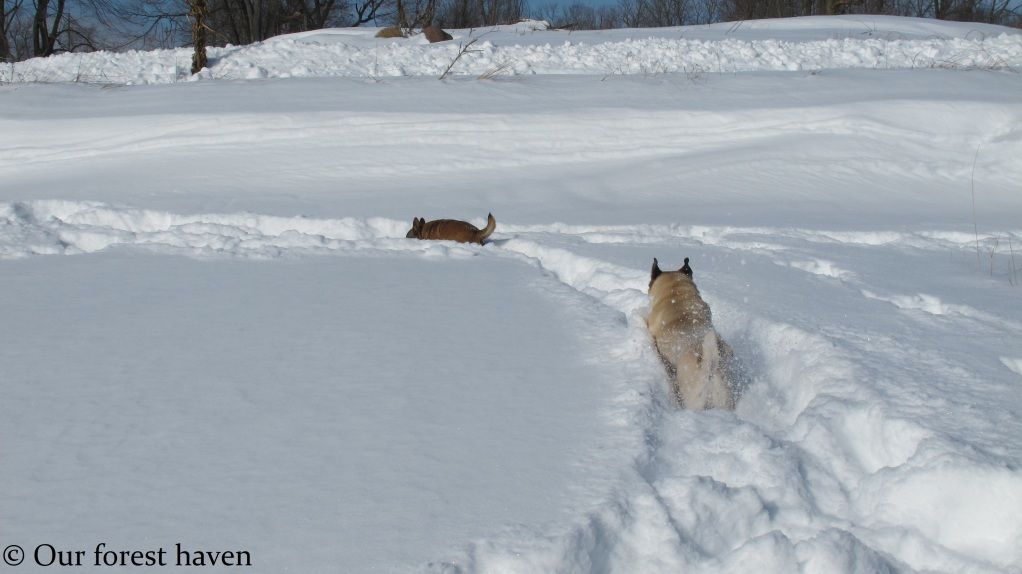 Watch out Norman, there's a quick moving Pug coming up behind you!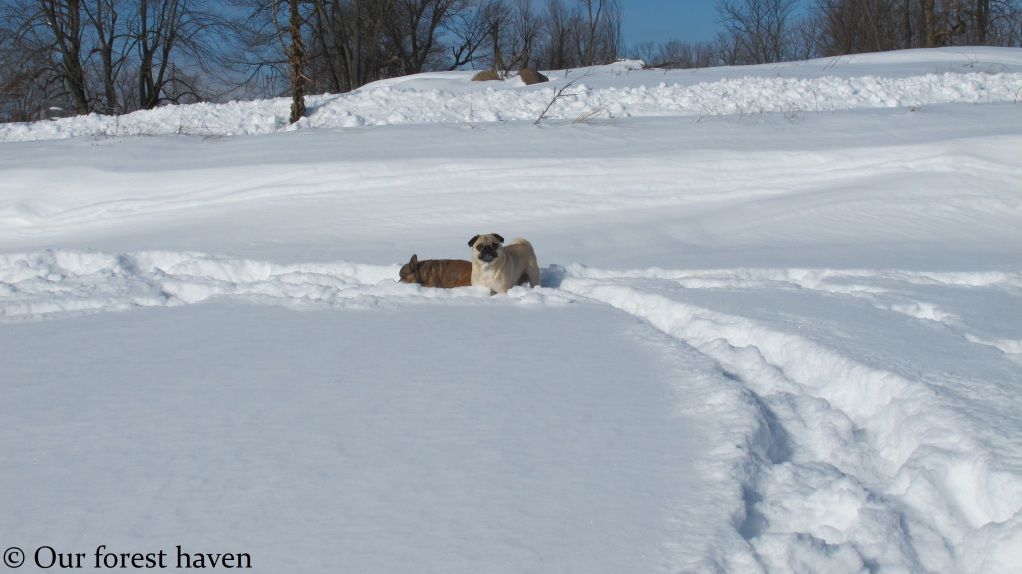 Douglas: Mom, come on! Chase me! Don't just stand there!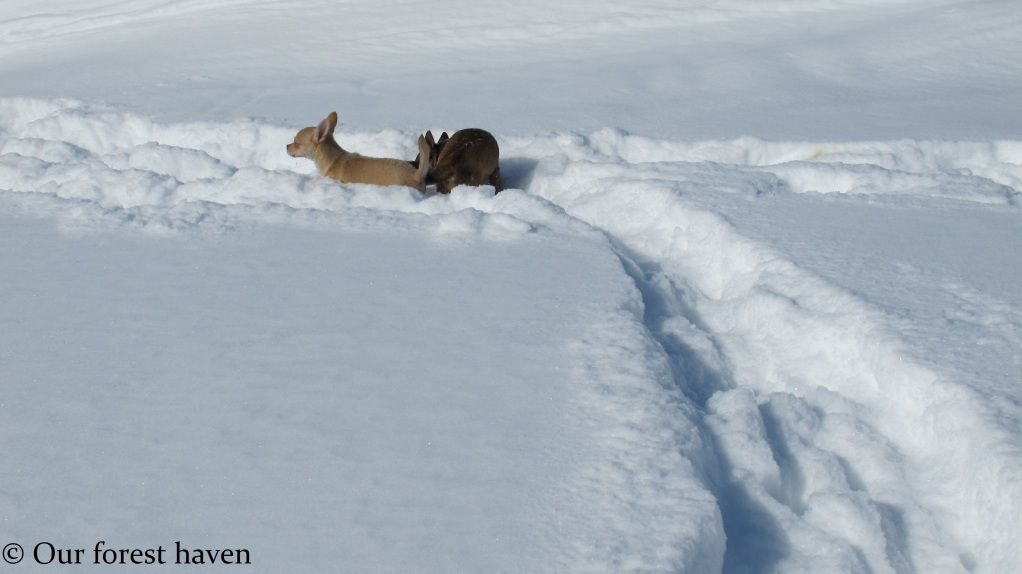 Roald: I don't know about you Norman but I'm heading for home...
Roald: Come on everyone! Back to the couch!
Buckwheat: Well, do you have cookies or not?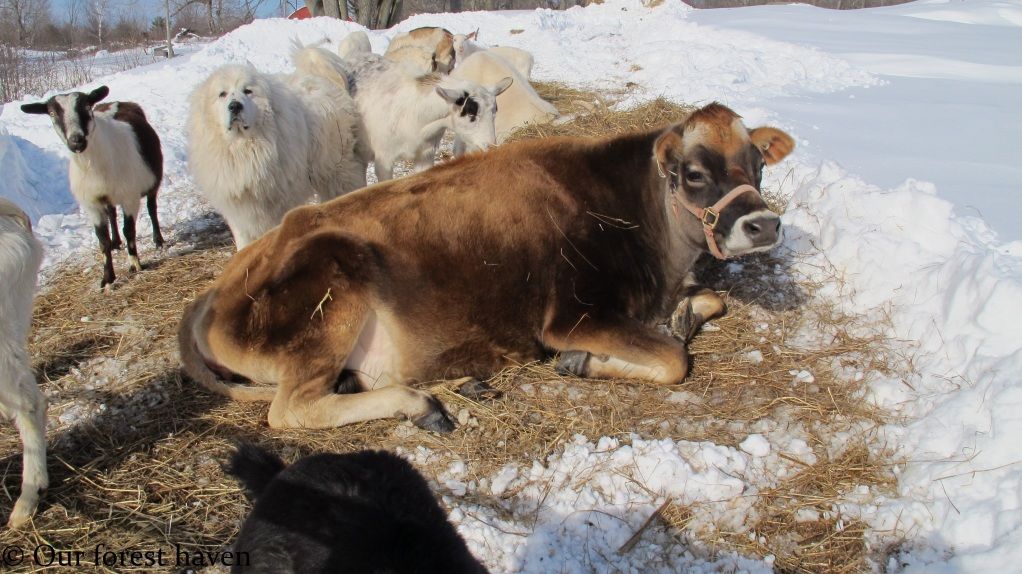 In between eating, the animals have been taking advantage of the sun and just soaking up as many rays as they can...
Next week when Rollie goes to get his last set of puppy shots, Douglas is also going to have that little white growth on his face looked at. He's not acting strangely at all, but it's an unusual little thing. At first I thought it was a pimple - Pugs do get them... but it's never gone away and it's not actually full of anything. So we'll get it checked out along with a mole on his tummy just to make sure.
After playing, the Chihuahua's returned to the couch and to their sunbeam and went back to doing what they do best.