The past few days...
I apologize for not posting for a few days, things just got away from me. Friday morning when I woke up I went up to the barn to find that Bandita, one of my bottle fed rabbits who was just over two years old, had passed away. With rabbits you never know. I have a barn full of 10-14 year old rabbits who just keep on ticking and out of the blue with little warning, Bandita quietly passed.
I also found out my old hard drive cannot be saved - well the hard drive is actually fine but the virus or whatever happened to it, erased everything that was on it. I had been expecting that news but still, I didn't enjoy swallowing it.
Friday afternoon, Rollie met Dr. Greg and got a clean bill of health. He was a perfect sweetheart, he's a real charmer that Rollie...
He didn't even notice he was getting a needle because he was too busy eating a cookie - it completely distracted him. You can tell he's a baby, that's the oldest trick in the book. Doesn't fool Norman one bit and he's a complete chow hound. I'm sure Norman will let Rollie in on this little piece of Chihuahua wisdom in time. He's a big kid as we expected - he's four and half pounds! And he's three months old! He's going to be bigger than Norman - who is only 6 1/2 pounds. It will be interesting. He's such a good boy though. His potty training is coming along nicely (not 100% but that's normal and it's winter) and he even sits now before his meals... Douglas and Norman automatically sit down before they eat and they wait for me to tell them "O.K." before they jump into their food. It makes them calmer - and they are more respectful over treats because of it. It took five nights for Rollie to learn what sit and OK meant - that's all. I was impressed. It's so adorable when he just sits down without me asking him too...
I had to take a quick video to share. He's still working on sitting on command, but he knows before his meal he is supposed to sit down.
Yesterday morning I was laying in bed mentally preparing myself to leave the comfort of the bed and the dream world and listening to Kiwi the Kakariki call down the hall "hello? hellllooooo?" I could hear other noises too. Tarps flapping in the wind, our wind chimes banging away, things snapping. The wind was like the winds of March and early spring - blowing hard and tearing everything up.
After the dogs had their morning pee, got fed, and the coffee was brewed, I set about rolling out the croissant dough I worked on half of Saturday.
I set them aside to rise again once I had shaped them, turned the oven on to preheat, then sat down with a cup of coffee to check emails.
My screen went dark like the computer was running on battery. Without thinking I just started checking the cords thinking something had become unplugged, when it dawned on me. Everything was plugged in just fine, it was the power we had lost. That figures. I should have known with the wind blowing so hard.
Kevin got up and turned the generator on but it cannot handle the load the stove uses, so my poor croissants got covered up and left to just keep on rising. The power outage was a big one, so we had no idea how long it would last.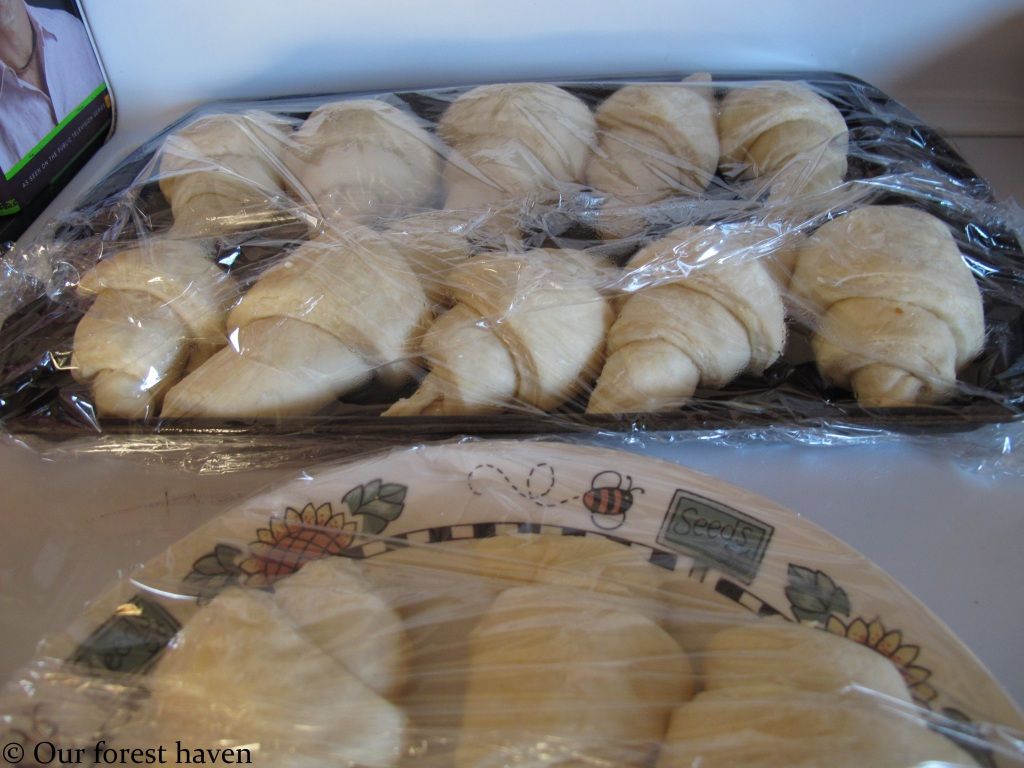 Normally I don't care about a power outage but yesterday I was planning on doing things that require power, like laundry for instance. And baking. But I just set about doing other tasks that I could still do without the power being on.
Norman and Rollie: It's a bad thing you can't do laundry? We thought you hated doing laundry?
We got our power back at midnight. I did consider baking the croissants then, but then I decided I'd rather go to bed. Everyone else was already passed out...
Drunken Rollie
Norman and his moose
This morning I woke up and immediately thought of my poor croissants. I had considered leaving them in the oven overnight, but I ended up putting them in the fridge.... which of course is not good for nicely risen bread.
I opened the fridge, took one sad look at them and pulled them out to let them come to room temperature. I preheated the oven. I couldn't take it any longer so I just brushed them with hot melted butter and tossed them in the oven and set the timer for 15 minutes.
When the timer beeped, I walked over to them and held my breath as I opened the oven. The first thing I noticed was that they were indeed brown and flaky looking. They looked good, but did they taste good and have those flaky layers of butter needed to be considered a delicate croissant?
The answer is YES. I couldn't believe it. I was so excited all that hard work did not go to waste, and I have to tell you, when I pulled that croissant apart and saw how flaky and delicate it was, my whole out look on life changed.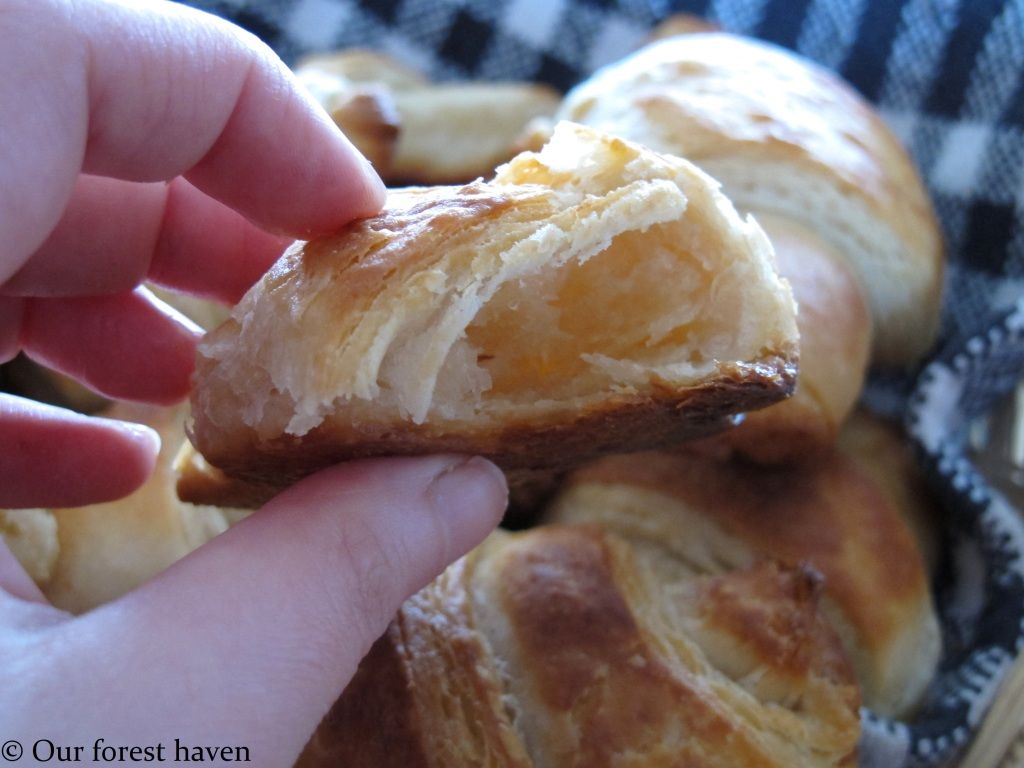 There are some foods that are just beyond the ordinary... in taste, in memory, in the pure luxury of biting into them. Those foods can be a lot of things... usually I think of a really amazing aged cheese from Ireland, or a beautiful dry cured salami... some people like caviar... but for me, the most special thing I can think of eating as a treat is a
good
croissant... and if it's got chocolate on it, all the better. My mom and I used to love to treat ourselves to them once and a while and it was a big deal... I wish she could taste these. In a lot of places, especially rural places, try finding a good croissant that really explodes your taste buds. Good luck with it. If you'd like to try your hand at making some,
here is the recipe
I used. It was great.
These were completely worth the constant rolling and folding, and the insane amount of stress and worry. Of course I added the stress and worry in, you can skip that if you ever try to make them. Baking can be intense for me. If I fail, I'll try again, but I still get myself pretty worked up about it sometimes. One of my goals this year is to be less intense and more forgiving with myself. It's not going to be easy, but I'll try.
Tomorrow I'll bring some croissants to our mail carrier. I have a note ready to give to her to thank her for going out of her way to deliver boxes and packages to us that she could easily make us go into the village to collect... but I don't think she'll mind if I throw in a couple of croissants either.
Otherwise we are busy packing and preparing for a trip to Toronto we'll be making this week. I have an appointment with a specialist right downtown. We decided it would be best to leave our dual wheel long bed pick up truck which does not fit into underground parking - at home, and just take the train. Parking in downtown Toronto is not a pleasant venture with a car, let alone with a truck that takes up so much space. We got a hotel room right across from the Doctors office, so we don't have to run all over the place trying to meet my early morning appointment. I'm excited that we'll also be able to visit my sister on Wednesday night, and on Thursday after my appointment we'll have lunch with another girlfriend. We were planning on coming home Friday, but that left us with only a few hours on Thursday to visit the ROM, which is Canada's largest world culture and natural history museum. I haven't been in years and have been wanting to go back for a long time, but it's a rare (almost nonexistent) event that brings us into downtown Toronto... so we thought we better take advantage of it while we are already there. So we'll also spend Friday in the city visiting the museum, and in the evening we'll have a late dinner with another girlfriend and her husband. I'm nervous about leaving Rollie for the first time but I trust Jim, and I'm really excited about the trip. I'm hoping this Doctor will be a good one, he's had a lot of bad reviews but our experiences with Doctors are all very personal, so I take that with a grain of salt.
It's cold tonight so everyone got extra bedding and extra feed up at the barn. It's -14 C so about 5 F and dropping. The wood stove in the house is burning away.
Tomorrow we have literally 10,000 things to do. A trip away from the farm in the winter is a big deal, especially one we hadn't planned on. There is a lot of ice right now and we need to bring in enough firewood for Jim, and make sure things are in order before we leave early Wed afternoon to catch the train.