Blueberry custard buns
Torn Ear just doesn't look the same with both of his antlers gone, although he's still a handsome looking guy and holding his own this winter. So far none of the deer are looking too adversely affected by the winter. Thank you all for your wonderful comments on his antlers, I was so excited to find that second antler.
It's cold again, finally. The recent melt got rid of a lot of our snow (which is not promising for the upcoming maple syrup season) but it left a lot of ice behind... so we've been laying low. We managed to get out in the bush and haul more wood in once it got a little cooler out - cool enough to freeze the mud. For a couple of days there we were up to our eyeballs in mud, which is not a welcome thing in January.
Apparently the top of the couch is a universal Chihuahua sleeping place. Rollie has already figured out it's a great place to sit, especially with his big brother Norman.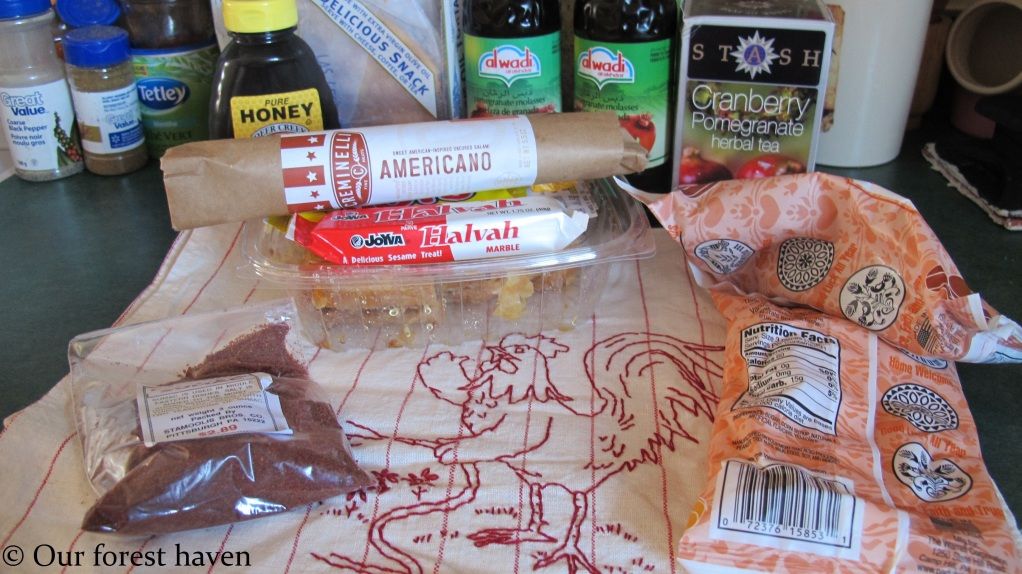 I decided to try and check the mail today. Our mile long lane is an icy mess right now... When I went to start the mule (ATV) it wouldn't start, it was completely dead. We tried to jump the battery, that didn't work. Then Kevin pulled out the battery tester. It was low, but good. We figured it was something I did to it the other day when we were logging... I drove through a very deep puddle (floor level of the machine) four different times and once carrying a very heavy load of wood.... and I haven't used the machine since. So we were pretty sure something got wet and had frozen since the temperature dropped. That's exactly what it turned out to be.
Once we got it running, I slid out the lane to get the mail and was surprised to find a big box in there (I can't believe our mail lady delivered it and didn't just leave me a ticket to come get it in the village). I slid the mile back home so I could open it up.
Inside were all kinds of goodies from
October Farm!
I had been expecting some Sumac and some Pomegranate molasses but there were plenty of unexpected goodies in there. I was pretty excited to be receiving such delicious things in the mail. It was a great surprise and made the two slippery mile trip completely worth it!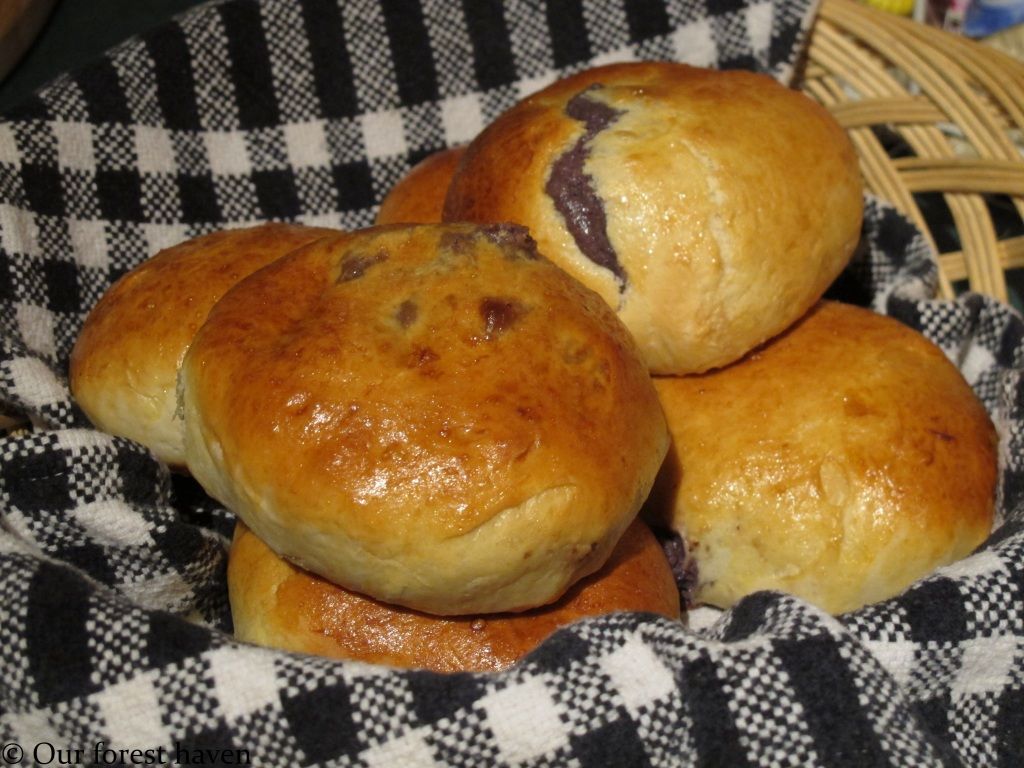 This afternoon I set out to do some baking once chores were through. I had seen a recipe for custard filled buns over at
Adoras box
that I wanted to customize. I have lots of wild blueberries still from our last big pick almost two summers ago. We go up to Northern Ontario about 300 miles from here to pick wild blueberries in old clear cut areas where they grow like crazy. We spend a couple of days in the camper parked in a blueberry patch, picking as much as we can. I'm hoping this summer we'll go get more blueberries, so I'm trying to use up some of my leftovers -
slowly
because I am known to hoard my blueberries.
These buns taste almost like a danish. They are sweet but not too sweet, and darned near perfect with the blueberries. Kevin ate one and then demanded this go to the top of my "must make again very soon" list.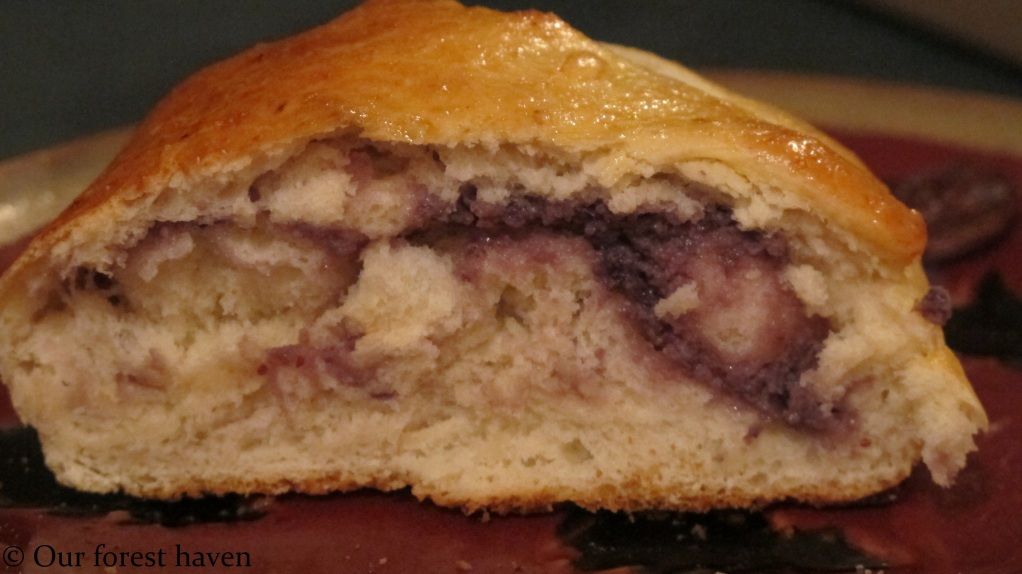 Blueberry custard buns
For the custard filling
5 egg yolks
2 cups sweetened condensed milk
1/4 cup butter
2 tsp vanilla
1 cup blueberries (fresh or frozen)
Over low heat, cook all ingredients together in a medium saucepan, whisking constantly. As the custard just begins to thicken, blend your blueberries with a hand held blender, until you have a smooth custard. Continue whisking over low heat until thick, about 20 minutes. Be very careful not to leave it, or turn the heat up, it burns quickly so you really need to baby it.
Once the custard has thickened, let cool completely before filling the buns.
For the buns:
1 1/4 cup milk
1/3 cup sugar
1/4 cup melted butter
2 tsp active dry yeast
1 egg
1 tsp salt
4 cups all purpose flour
1 beaten egg for brushing the tops of the buns
1/2 cup sugar for sprinkling
Heat the milk until lukewarm and then add the melted butter, sugar, and yeast. Leave for 10 - 15 minutes until bubbly.
Stir in the egg and salt. Gradually add flour while mixing until a soft dough is obtained. Knead dough until smooth and elastic. Place in a greased bowl, cover, and let rise in a warm place until doubled... about 1 hour depending on how warm you house is. My kitchen is right next to the wood stove and we had it hopping today. The house was and still is, about 80 degrees. So it took about 20 minutes for my dough to rise!
Punch down the dough and break off palm sized pieces. Flatten each piece of dough into a disc shape in your hand, and place a Tbsp of filling in the center. Pull all the edges together and pinch shut. This is quite an art, and it might take you a couple of tries to get a system that works for you. Some of the filling will move around and maybe even try to come out - don't worry about it. Just make sure the dough is a sealed ball.
Arrange on a baking tray sprayed with cooking spray. Cover and let rise again, about 1/2 hour.
Beat your egg and brush over the tops of the buns. Sprinkle the tops of the buns with sugar, just about a tsp on each. Bake them in a preheated 350 degree F oven for 20 minutes until puffed up and browned.
Hopefully we can make it out of our lane tomorrow with the truck. I'm not running too low on most supplies but Rollie has his first appointment to meet Dr. Greg, get his second set of puppy shots and just get generally checked over so his mother can sleep well at night. He certainly shows no signs of having any problems except he is a bit of a chow hound, but that's a Chihuahua thing. He also thinks he's pretty special and has a bit of an ego, but that's his mothers fault. She can't help herself.