The dog is decorated and the tree!
Max really enjoys being in the spotlight. He had to get involved in the Christmas decorating and festivities.
As you can see we got a teeny bit of snow last night, which was a melting wet mess today. Lots of mud today... The cow also has the runs, so you can imagine what fun parts of the barnyard were.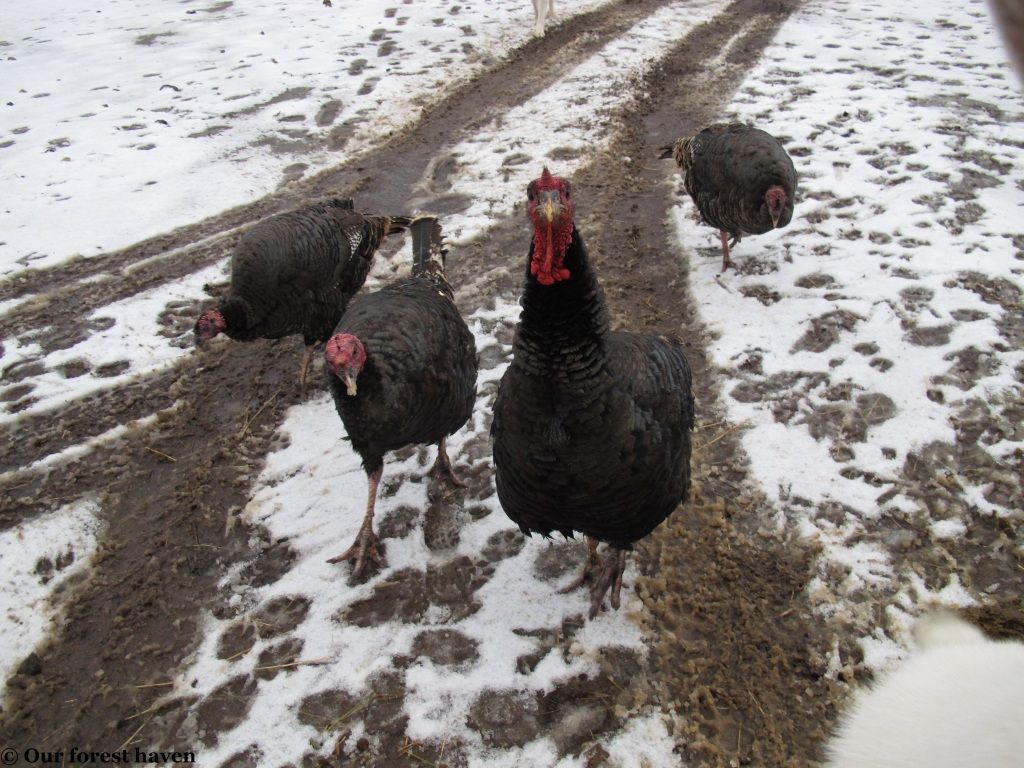 Turkeys: That dog is supposed to keep us safe from wolves and bears? The dog lying on his back covered in garland? You've got to be kidding.
Deer Norman and Leo were in the yard early this afternoon, they had been sleeping in the marsh and woke up when we were banging ladders around on the porch. Leo was injured last winter, showed up with big wounds on his side and neck and shortly thereafter we stopped seeing him... Until about 2 weeks ago, which was a big surprise to us.
When I came back from working in the barn, these two were curled up on my blanket I had left on the couch waiting for the tree decorating to resume.
And resume it did! It took a while but we finished the tree. Since this is the first year we cannot go out and pick our own tree from our nursery on the farm and drag it home (since Kevin went to the hospital a few weeks ago for his allergies to soft woods.) we went all out on the tree. We bought a baby redwood from Balsam Hill, makers of various artificial Christmas trees. It was worth the splurge, it's a beautiful tree and we hardly miss our real one. I thought I'd be pretty heartbroken, but I do love this tree. And it doesn't shed needles!
Usually we have a 12 foot tree, so 9 feet seemed small but it actually fits a lot better than the usual giant tree we drag into the house.