One foot in front of the other
Today was one of those mornings. I started off by falling down all the porch steps and hitting my back on each one while taking the dogs outside for their morning pee. No dogs were harmed during this fall, they all just stood there, one leg in the air, peeing, starring at me... None looked surprised to see me lying on the ground... again. It was my own fault, I've fallen twice in the past few days and it's because I wore the wrong shoes, slippery shoes, shoes that are easy to slip my feet into to take the dogs outside, but also seem to have accepted a contract to kill me.
Then I came inside and drank four cups of coffee and the puppy pooped all over the floor. Sigh.
There are just mornings when you'd give anything to just be able to go back to bed, curl up, close your eyes, and be quiet for a little while. Days when you feel depleted and when you are not quite feeling as strong as you usually do. We all have those days. You know exactly the kind of day I'm talking about.
The truth is, this entire month has been more of a struggle than usual for me. I have a condition, a disease, a constant problem that will not go away. It won't kill me, but it's made me wish it would at times in my life. I've had five surgeries to try and help me feel better, tried a bunch of different medications, and the truth is, nothing has helped. Sometimes the pain is less, and I have more energy. But it's emotionally draining as well as physically and there are times when I have to admit it feels hopeless. This month, the pain has not lessened or gone away for a while like it usually does. It's just been persistent and nagging. And when I fell this morning and hurt my back, my body just wanted to scream.
So many people live every day with chronic illness or pain, and I am not mentioning my problem looking for sympathy. While it is a part of what makes up me, it's a small one. What I want to remind all of you, no matter what issue in your life might be draining your physical or emotional resources at this time is this:
When you feel you are at your weakest, you are really at your strongest.
I can't sit around and feel sorry for myself all the time (maybe sometimes I'd like to) and life is too short to miss out on. There is no time for crawling back into bed and trying to hide for a while, animals need to be fed, bread needs to be baked, things need to be cleaned, water needs to be carried... goats need to be kissed.
As soon as I got over myself and started my day, my spirits lifted so high, nothing else mattered.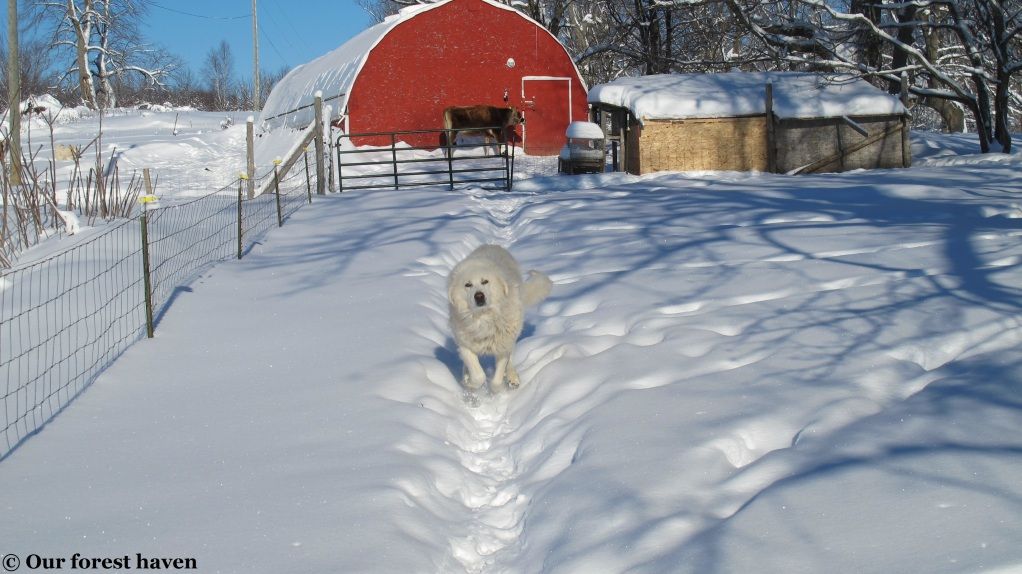 As I trudged, yes,
trudged
through the snow up to the barn, Max came bounding towards me, probably hoping I had a plateful of pumpkin biscuits with me again.
Horace stuck his face in the snow and tasted some of it, just in case it tasted like a snow cone.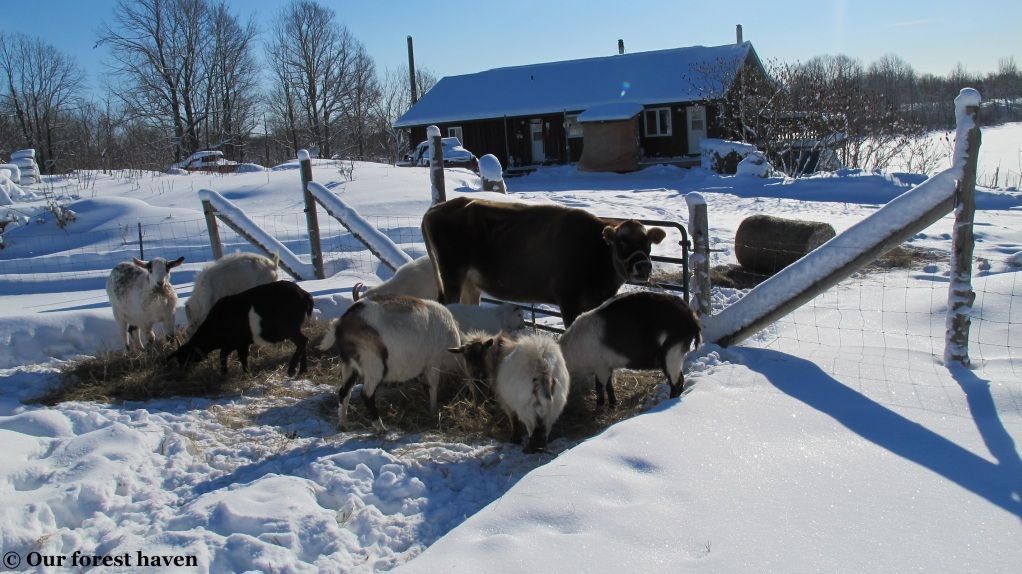 Everyone congregates in the plowed areas of the yards right now.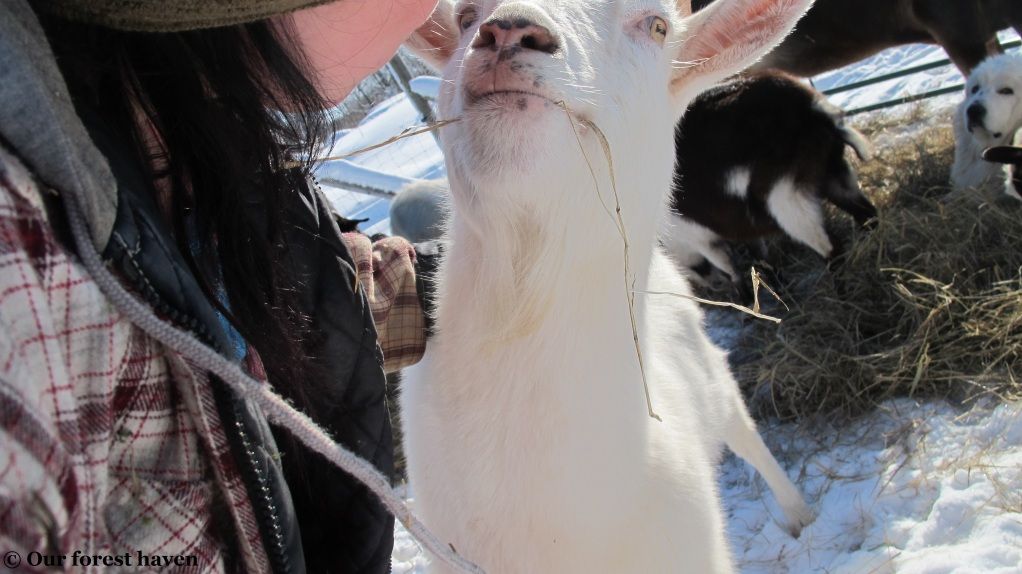 Sammy: You need a kiss ma? I'll make you feel better!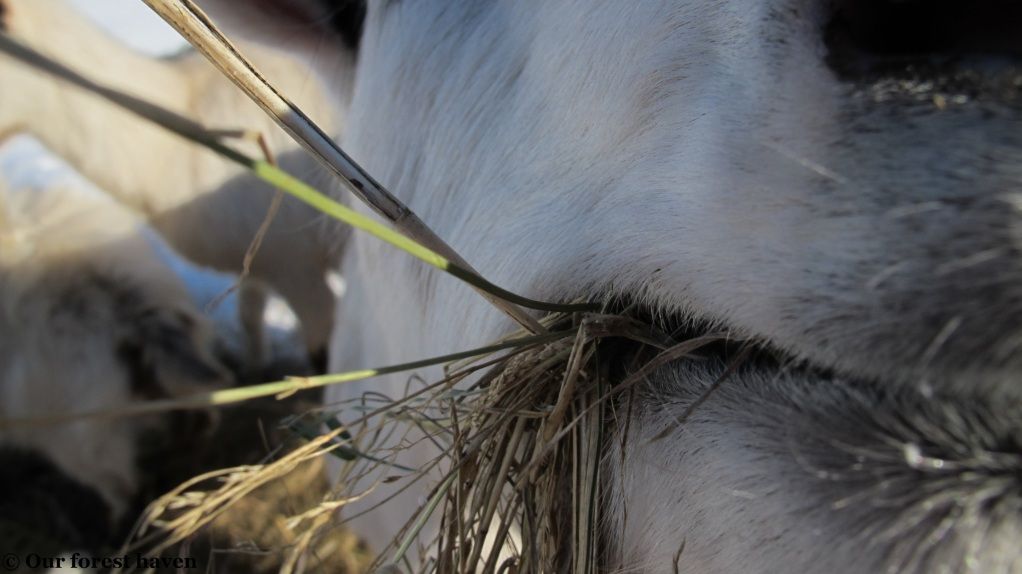 Bulrush: Want some hay? I could give you a few pieces...
Sammy: I'll give you as many kisses as you need, but I'm not sharing my hay. I'm hungry.
Flavious: I'll give you a kiss too! I love kisses....
Lets just sit here and enjoy the sun, it's nice and warm.
I could sing to you, would you like that? "

Look around, leaves are brown
There's a patch of snow on the ground... and the sky is a hazy shade of winter..."
Don't ask me how he knows Simon and Garfunkel but he's actually quite good.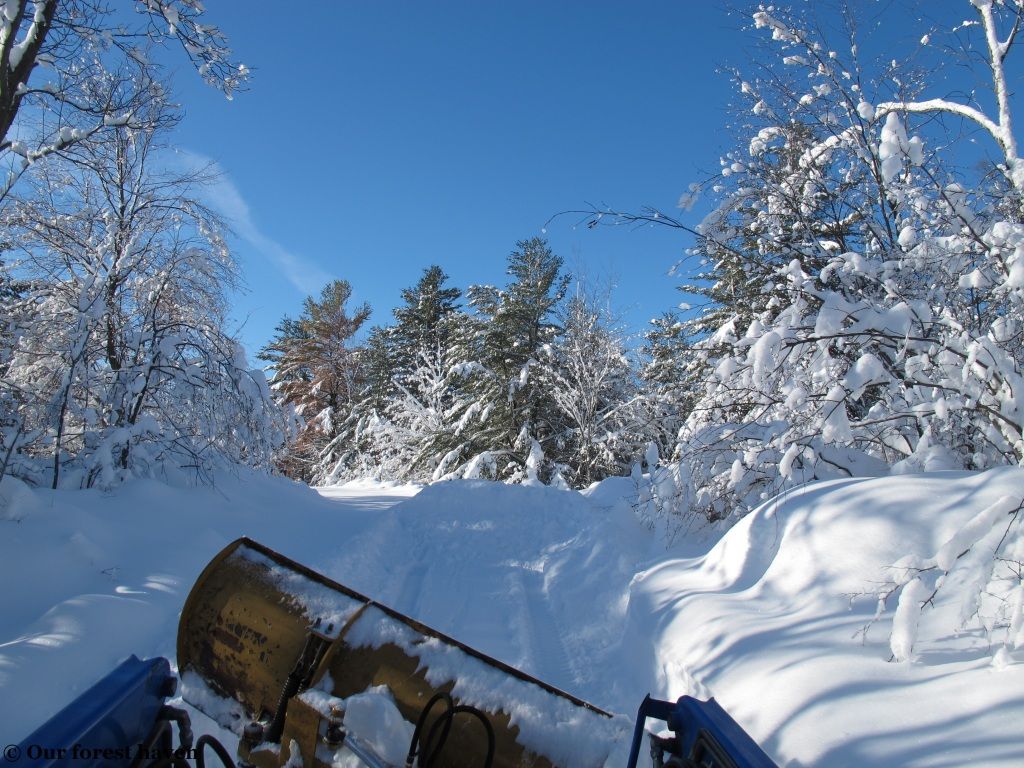 There has been quite a bit of plowing done to get our road back open, so we can actually get out if we need to and more importantly I can get a load of hay in.
The snow is still sitting in the trees and with the blue skies we've been having it's quite beautiful. This is one reason I adore winter, it's like living in a painting.
After morning chores I asked Kevin if we could go out in the Argo, our track vehicle for a ride in the snow. I knew getting out would do me good and I really wanted to check our trail cameras. Kevin got the tracks on the Argo last night. It's the only machine we have that can go through this amount of snow. For us, it's better than a snow machine because it also floats, so if you break through ice you are not immediately oh say...
drowning.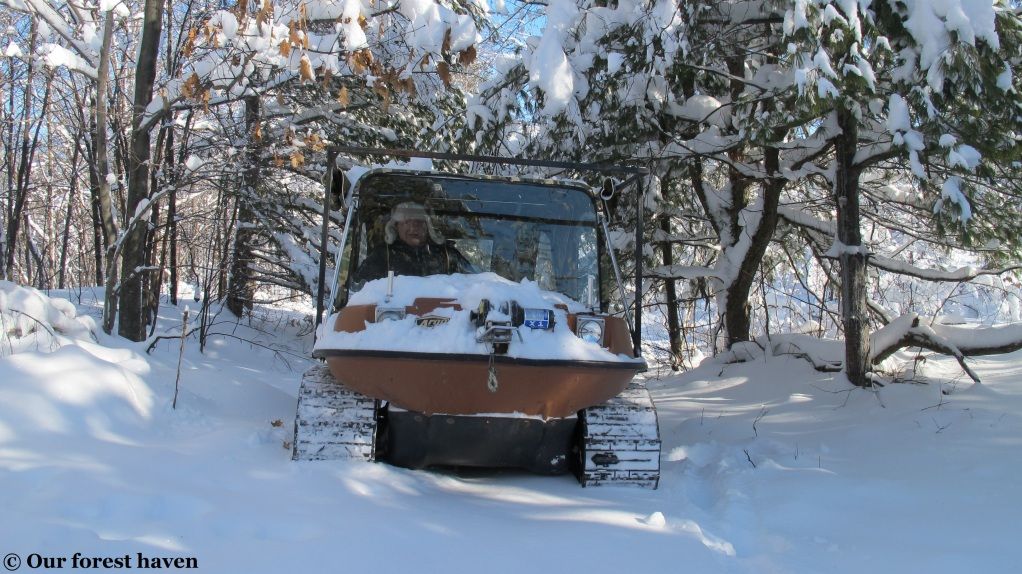 It goes through and up pretty much anything although it did struggle some with the amount of snow in the bush - since we were breaking trail. When I got out of the Argo to check the cameras the snow was up to my knees. I know I'm short, but it's still a lot of snow - more than we had all of last winter combined.
Most of the trees were very heavy with snow.
Across our dry beaver pond I spotted about seven or eight hen turkeys all sitting in the snow, hunched over having a nap.
photo from Government of Alberta website
On our way back towards the house, while we were coming through the area of our farm we call the maples, for obvious reasons, we spotted a weasel, a very surprising thing to see. Usually you just see their tracks. Of course we tried to take a picture but he was on the run, he ran right in front of us, inches from us, but they dive under and over snow like it's not even there. It's rather hilarious to watch. I wish I could move through the snow with that kind of ease.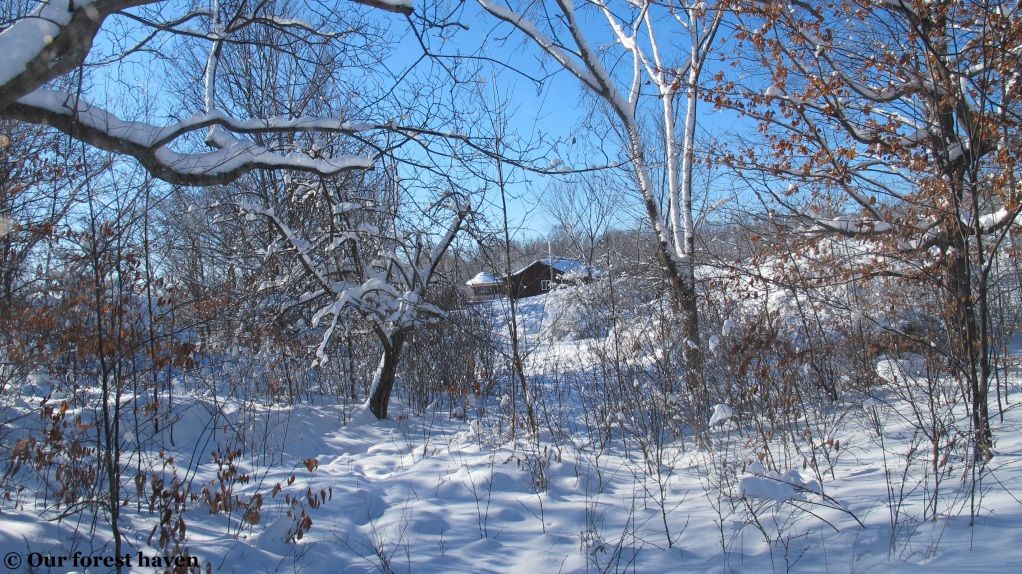 By the time the house was in sight it was early afternoon but we were pretty cold. We only checked two of the three cameras we have out because we started to freeze up... our bodies, not the Argo.
I was very excited to find that on one of the cameras we caught a Snowshoe Hare for the first time ever! It was a real surprise.
Of course we got deer wandering by all our cameras and a few pictures of a coyote heading towards the house.
After I got back in the house and cleaned up a bit, I decided now would be a good time to just take a bit of a break with the dogs and relax for a while. One of the lessons I'm trying to teach myself is to be kinder towards myself. I push myself pretty hard and feel like I should accomplish about 300 things
(at least)
each day, so I'm trying to just let myself sit down and relax. I'm lucky I'm able to do that if I need to, and I really should take advantage of it and not let it go to waste.
The dogs always enjoy a good rest and never once complain or think they should be doing some other chore instead of resting. They know how to really enjoy life.
I did get a huge pot of chili bubbling away on the stove, just what we need to warm us up tonight.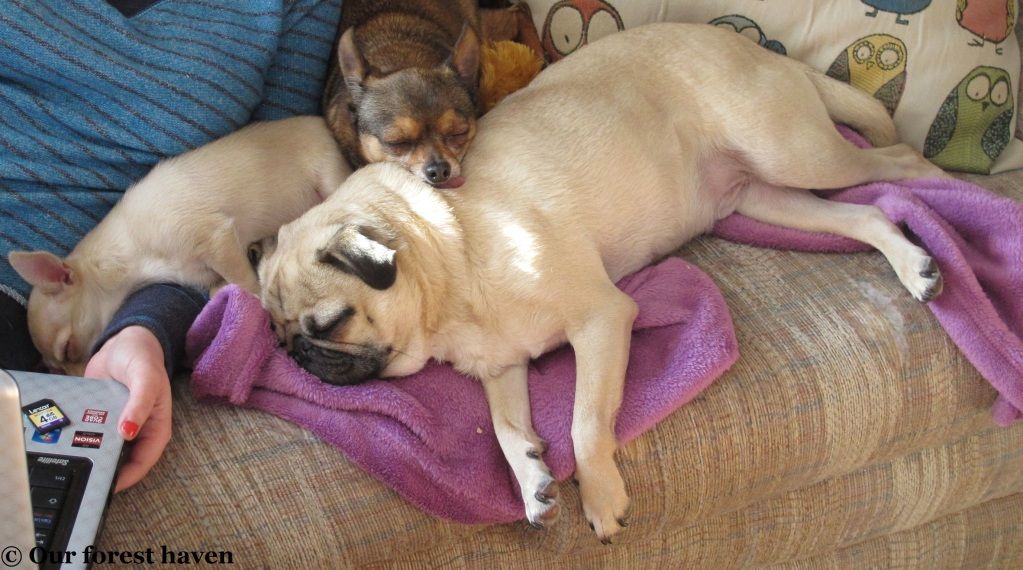 If you've ever wondered what it's like when I update the blog, here's an idea. I use one hand and one arm, because that's all that available to me at any one time.
The sun is starting to go down, and it's time to get the wood stove roaring again and head out to the barn for evening chores before I can enjoy a steaming bowl of that chili and relax some more.
Those evil shoes, their numbers up and I'm on to them. I won't be letting them get anywhere near my feet anymore.