Lambie and Norman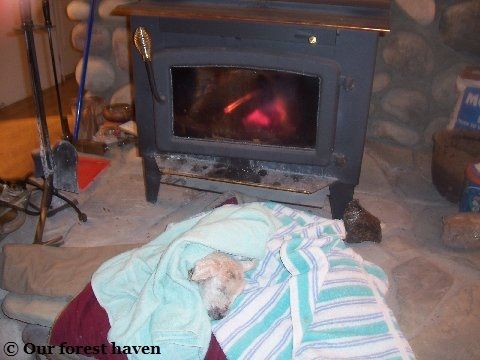 I had planned on sharing another post tonight but after having dental work this afternoon, I'm just not feeling 100%... so instead, I'm going to curl up with the dogs and rest.
However, I have some pictures of baby Lambie to share... Braveheart, AKA Lambie, our blind ram turns six years old tomorrow. A few weeks after he was born, is also when Norman joined our family, so I thought I'd share some baby photos with you :) It's hard to believe my big boy, almost 200 pounds now, was that little tiny sick lamb. It took us about 3 months to get him stable with lots of meds and TLC. He got an infection in his blood which caused him to go blind. There were many, many, sleepless nights then.
I was a lot younger too.
Looking at these pictures, I remind myself this was six years ago but still... I'm still a little sensitive about the fact I found four white hairs on my head the other day.
Good thing I color my hair....
We had only recently got our first sheep when Lambie was born and promptly abandoned by his mother, a Suffolk. She probably abandoned him because he was ill, but we were completely new to this. We were not here when he was born, when we got home he was cold. It was a very cold night and he was alone in our sheep barn.

We brought him inside right away. Of course we didn't have milk replacer - we were completely unprepared. We called the man we got the sheep from right away and he said he had milk replacer but if the kid was unresponsive (which he was) it was unlikely he'd make it anyway.

Kevin right away got in the truck and drove the 20 miles to the mans house to get the milk replacer he had.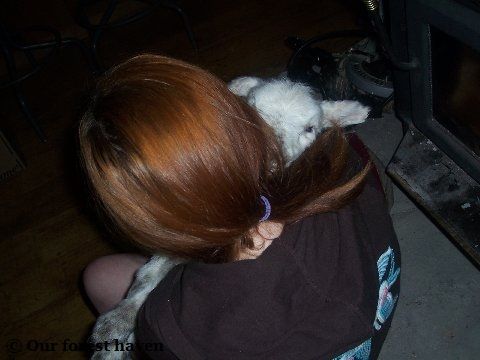 When Kevin got back, we made a bottle, and after some effort I got the unresponsive lamb too start swallowing.... and swallowing, and swallowing... once he got a taste of the food he went for it. He was a fighter right from the beginning.
Very shortly after that first bottle, he perked up, and after a little while he stood for the first time. It was our first miracle.
He slept in a box beside the bed the first night.
That was just the first hump. The next day we went to the Vet - they gave him some shots for his infection, and told us it was pretty unlikely he'd make it. A week later he got the infection in his blood and we went back to the clinic and got another Vet - Doctor Greg... who ended up really saving Lambie. He offered us choices and while he made sure we knew it might not work, we said we'd try anything, what did we have to loose?
His methods of treating Lambie worked and we are forever grateful to him for stepping outside the box for us. We had a couple more rough patches but Lambie came through it.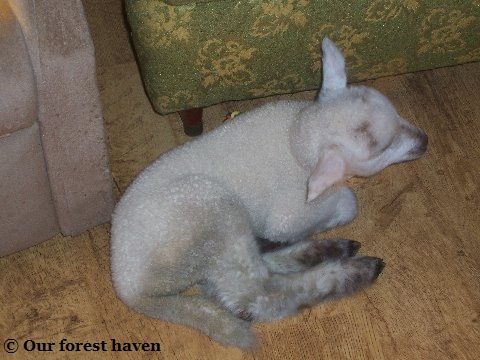 Living in the house for three months and the extra spoiling probably didn't hurt...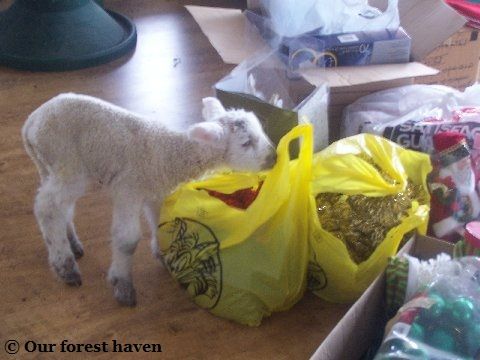 What's this stuff for?
He started to learn quickly how to get around without being able to see, he figured out the layout of the house and almost never bumped into anything.
Hmm... this is a new smell...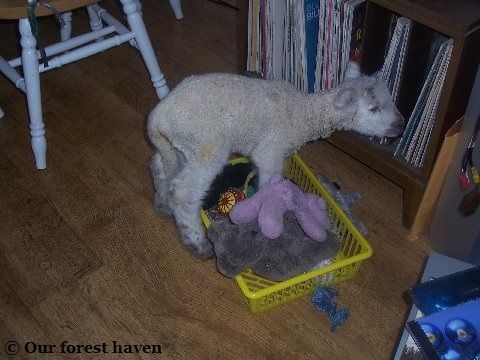 Are these my toys?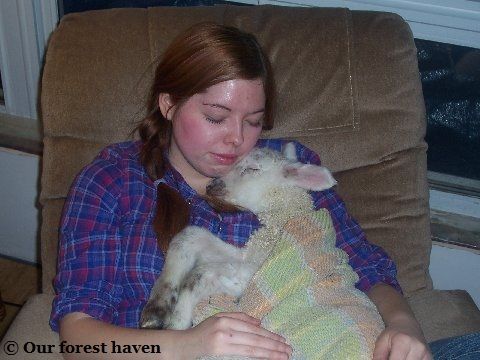 He slept in my lap pretty much every evening, it's the only way I could get him to go to sleep.. and when he'd wake up in the middle of the night for a feeding, he would have to be held in order to go back to sleep. If I just put him in his playpen and went back to bed... he'd cry and not give up for a very long time.
For a long time the playpen was beside the bed at night, until he was about a month and half old, then he stayed by the wood stove in the living room at night, but I'd still get up.
What are we cooking ma?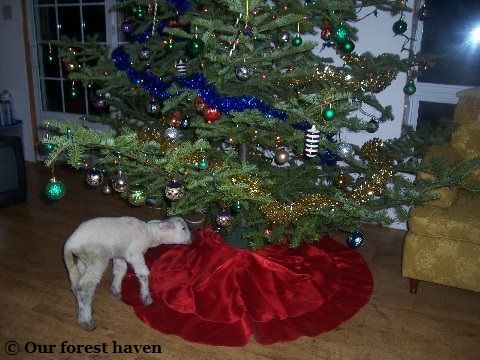 This is the strangest thing I've ever smelled...
My Christmas present that year was Lambie surviving and growing strong.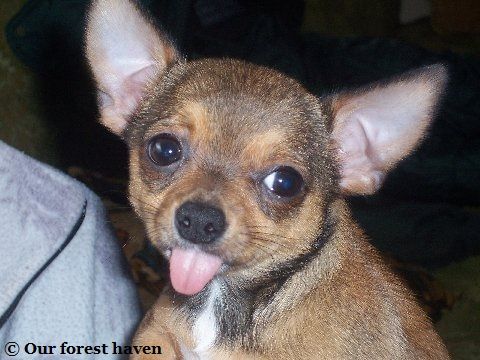 But at Christmas we finally decided we were going to adopt the Chihuahua puppy we'd be considering for a month and a half. Kevin said no at first, so I stuck the picture up on the fridge... apparently that worked because even though it took a while, he finally broke down. A couple of days after Christmas, Jim, our caretaker came to take care of the animals, mainly Lambie who needed constant care, while we drove to Pennsylvania to pick up Norman. At the time we had Llamas, sheep, ducks, geese, and rabbits.
Norman was 3 1/2 months old when we brought him home. Cute as a button. I fell in love with him when I saw his picture, but when I held him for the first time, it was all over... he had my heart. Well part of it, along with every other critter here. He wasn't overly impressed when he got here to find a barnyard animal in the living room.
But he very quickly grew to like Lambie and got used to him being around.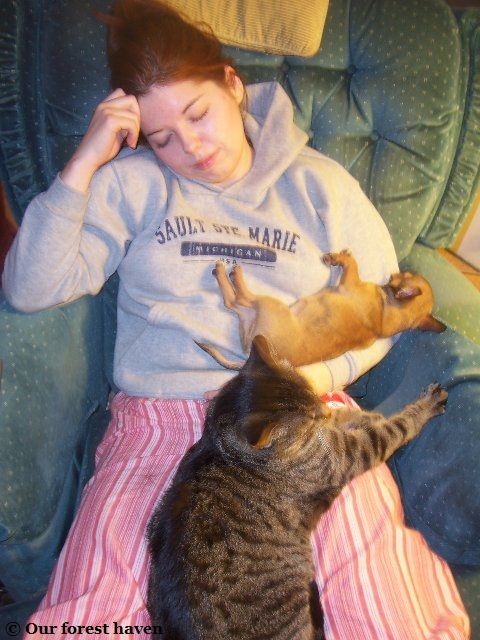 Man he was one cute kid. All puppies are, but you forget after a while just how adorable they are as babies. Even the cat liked him, at first... until his jealousy kicked in as it usually does.
OK... you ready for this last one?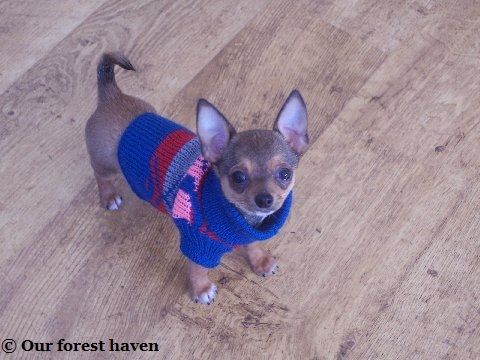 It's hard for me to believe my two boys, Lambie and Norman are six years old now... time sure does fly. So much has happened since then and so many critters have joined our family and passed on. So many memories have been made... and I hope my boys continue to be healthy and happy for a very long time to come...

Even if I do continue to get more white hairs in the process.