Christmas Eve
I have a confession to make. While I have a happy life, and a wonderful family, many times during the month of December, and at Christmas, like a lot of people I do find myself getting the blues. Most of my family has long been gone, and at Christmas you always seem to miss the people you love the most. I want to cook for my mom, I want to share laughs with my dad, and I want to feed my Papa all the homemade kielbasa he can eat.
I want to share my happiness and my love with them. I find myself wishing I had been able to know any of them as an adult, so I could share this wonderful world I live in, our forest haven.... especially at Christmas.
For all of us who have lost people we love or are very far away from our families, it can be an emotional time.
But this year for the first time in my life, it's different. While I do miss my family still, and always will, I don't feel like I want to be sad and cry about it. Instead I want to celebrate. Instead of being sad that I cannot have them in my house by the Christmas tree, drinking spiked eggnog by the fire, I will live as if they were here and I will celebrate my family that is with me.
I have a full house, not full of people, but of animals. I have a loving husband who also enjoys (or at least tolerates) the full house of animals and supports us all, loves us all, and tries to be patient with us...
This Christmas instead of mourning my family, I will celebrate them... for the people I've lost in life, I will cook as if they are here. My Papa's perogies, my Mom's rice pudding, I'll pull out the horseradish for my dad, and the extra cranberry sauce for my Uncle.

This Christmas Eve, There is a puppy hanging off my slipper, a Pug trying to open his presents under the tree, and a Chihuahua with his tongue out hoping I'll drop the fresh bread on the floor so he can eat the entire thing in one setting.
There are Kakarikis birds throwing seed all over my house and laughing as they do it. There are Prairie dogs shredding paper, building nests, and running marathons in their wheel. There are goats munching hay... a three toed cow that has an attitude as big as any beauty queens, but she is alive and she is fat and happy, something she would never have had a chance at it if she wasn't here. There is a blind sheep and a sheep with three good legs dry and happy and warm. There are 24 rabbits eating their holiday treats, and three big Whitetail bucks sleeping in the front yard because they know they are safe here from all the dangers the world has to hold for a little while.
There are six turkeys grateful I love them so much I couldn't possibly serve one of them at our holiday table...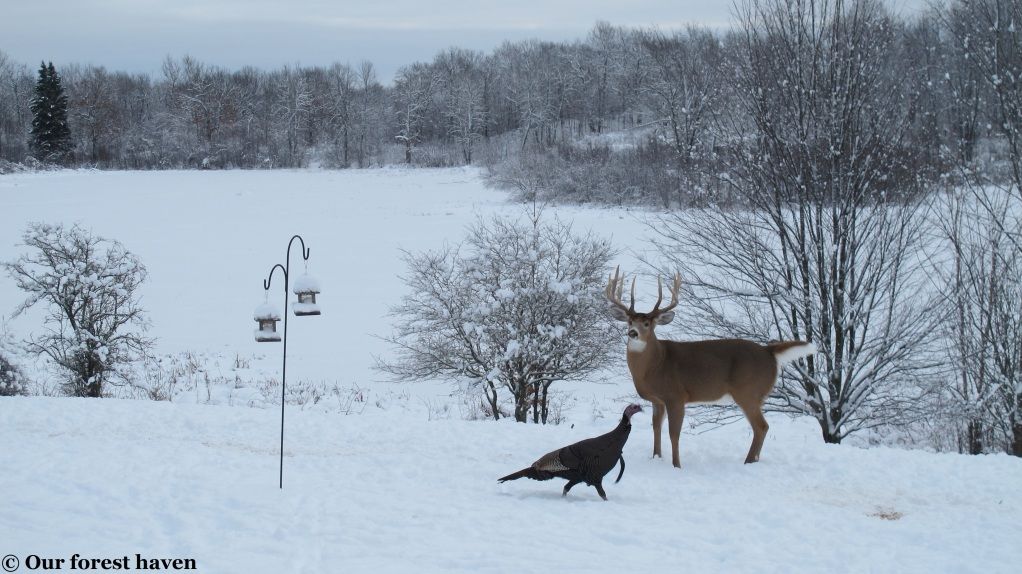 And just when I get carried away thinking this might all be a dream... I step in puppy poop in the middle of the floor and quickly realize... it's all real.
My wish for you this Christmas is that you are all able to celebrate those you love, both living, and in spirit. And that you have many laughs, make many memories, and have that special peace in your heart reserved only for special moments in our lives.

Tonight we'll drink a bourbon by the fire, eat scalloped potatoes and brown sugar baked ham, and hopefully I'll remember to take the turkey for tomorrows meal out of the freezer before I fall asleep.