Our wedding day
It was a beautiful day. Mother nature was very, very, kind to us. Ever since it's been overcast, windy, and cold.
It started off with a bit of stress... but don't they all?
I've never in my life wanted a traditional wedding, the dress, the cake, the venue, the large crowd, the caterer, the stress. I actually never planned on getting married at all, but regardless, when I said yes I knew it had to be very fun and low key. Light hearted.... and no white dress. It's just not me.
But yet... even low key, some stress always sneaks up no matter what.
Kevin ate margarine by accident when we were in Fairbanks last weekend. I've mentioned briefly before that he has an intolerance's for preservatives and certain other foods. His face will swell, turn bright red, burn, and then basically the skin all peels off. It's not very pleasant to say the least. We had asked the waitress in Fairbanks if there was butter or margarine on the toast. She told us it was butter and he ate it.
We ended up making an emergency trip to Fairbanks on Thursday after a major wedding dress malfunction (you could see through the dress completely even with all my under garments on.) We got into town late, after 5 PM so we decided to stop and have some coffee because we needed a major pick me up, and get a bite to eat. We went to the same cafe on purpose, and asked another waitress who was working about the butter/margarine... She asked the cook and it turned out they only use margarine in the kitchen, as a lot of kitchens do, because it's cheaper than using butter. So that explained that.... thankfully. When he gets sick and we are not sure why, I start re examining all the ingredients I've used in meals in the days leading up to him getting sick, and I've got it down to a near science of what he cannot eat, so when he eats meals at home, it's now a rare occasion when he gets sick from food. But when he has a reaction and we are not sure why, poor little innocent ingredients start being threatened, and that's not fair. So now we know and none of our suspects were the culprit and it was indeed just one of the worst things he can eat. Margarine. No one should eat it anyway!
We got home late Friday night from our emergency run. Kevin went to sleep. We had been hoping a lot of our friends could watch the wedding through Skype, but during a test run with about 6 people we quickly discovered Skype group chats are good for about 3, maybe 4 people and then it starts getting super slow and cutting in and out too badly.
So, I was disappointed on that front. I got up early on Saturday and started cooking. I made chocolate cupcakes with wild grape and raspberry frosting, two raspberry cream pies, bacon and bean dip, bread crumbs for my panzenella salad with a balsamic reduction, and marinated tomatoes.

Then I pretended I couldn't see my kitchen and the mess in it for the rest of the morning.
Finally, we threw all our stuff together and headed over to our friends Sharon and Dale's house, where we had the wedding. On the way over, my pie's spilled and my cupcakes fell over.
On the time we got the three miles to Sharon's, I admit, I was ready to cry.
Thank the God's for Champagne. It fixes everything.
After a glass, we were able to get organized, save the pie, and calm down. It was fine. Everything was fine from that moment on, and it turned into the fun, light hearted event I had wanted all along. It all worked out perfectly.
The ceremony I wrote was a little longer than I had planned it to be. Our friend Buddy who was doing the ceremony is not a public speaker. In fact this is one of the rare times he's done something like this (if not the only) and certainly the only wedding he's done. I had offered to make it a bit shorter, but he was ready to go, and he did an amazing job. Looking up at him and hearing him read the words and prayers, made the entire thing so much more special than I could have ever imagined.
Included in our ceremony was a prayer inviting the Great spirits of the four directions to be present during the ceremony. I also wore my Navajo necklace which represents the four directions. We added a few things into our vows... it went like this:
Kevin , will you have this woman, Donna, to be your wife, to live together in the sacred union of marriage? Will you love her, comfort her, honor and keep her, in sickness and in health,
in sorrow and in joy, and pledge to be faithful to her for as long as you both shall live?
Know also before you respond, that in professing these vows, you also accept permanent responsibility for, Norman, Dougie, Sammy, Lambie, Horace, Maximus, Flavious, Isabella Moo, Action Jackson, Kiwi and company, and the four Prairie dogs, Roman, Nervous Nelly, Hector and Olive, and the rest of the extended animal family.
Donna, will you have this man, Kevin, to be your husband, to live together in the sacred union of marriage? Will you love him, comfort him, honor and keep him, in sickness and in health, in sorrow and in joy, and pledge to be faithful to him for as long as you both shall live?
Know also before you respond that Included in these vows is your acceptance of your responsibility for perpetual maintenance of little blue the tractor, the argo, the mule, woodsplitter, the sugar shack, assorted chainsaws, and logging implements.
We accepted.
I had some fun mixing in the spiritual elements and also the funny parts.
Our wedding song is one that has always meant a lot to me,
Bonny Portmore.
, which is a traditional Irish folk song.
On either side of Kevin and I, we had 11 candles lighted to represent some of the important people in our lives who are with us in spirit now. I could feel them all there with us.
some of the candles
my mom's candle
and here we go...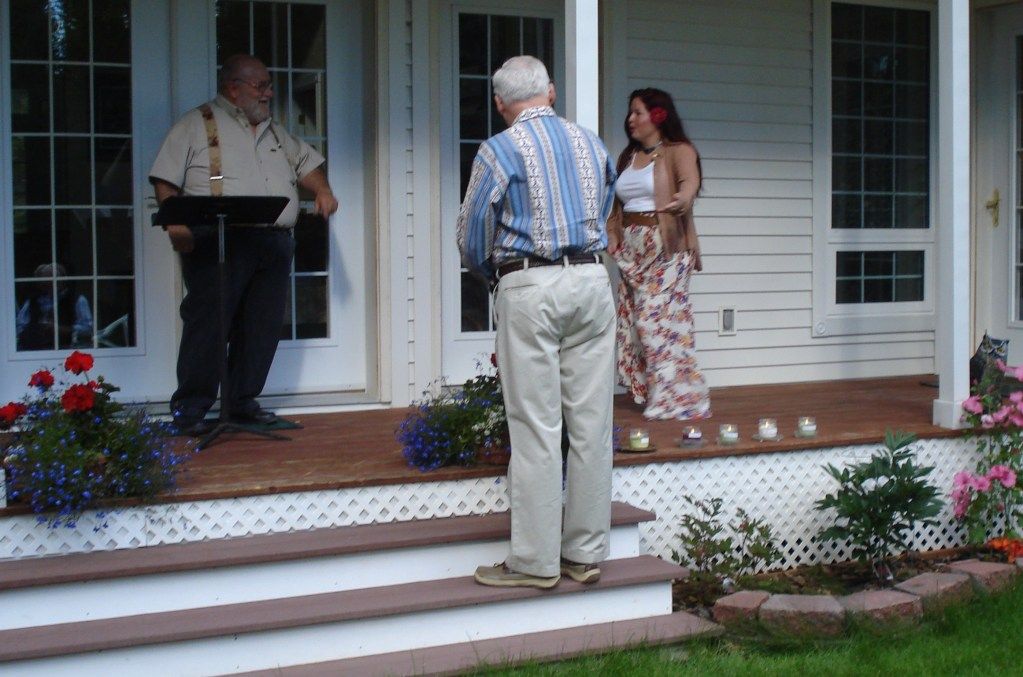 Buddy is saying "where is the here comes the bride music?" We were still on the introduction into Bonny Portmore, which had birds singing.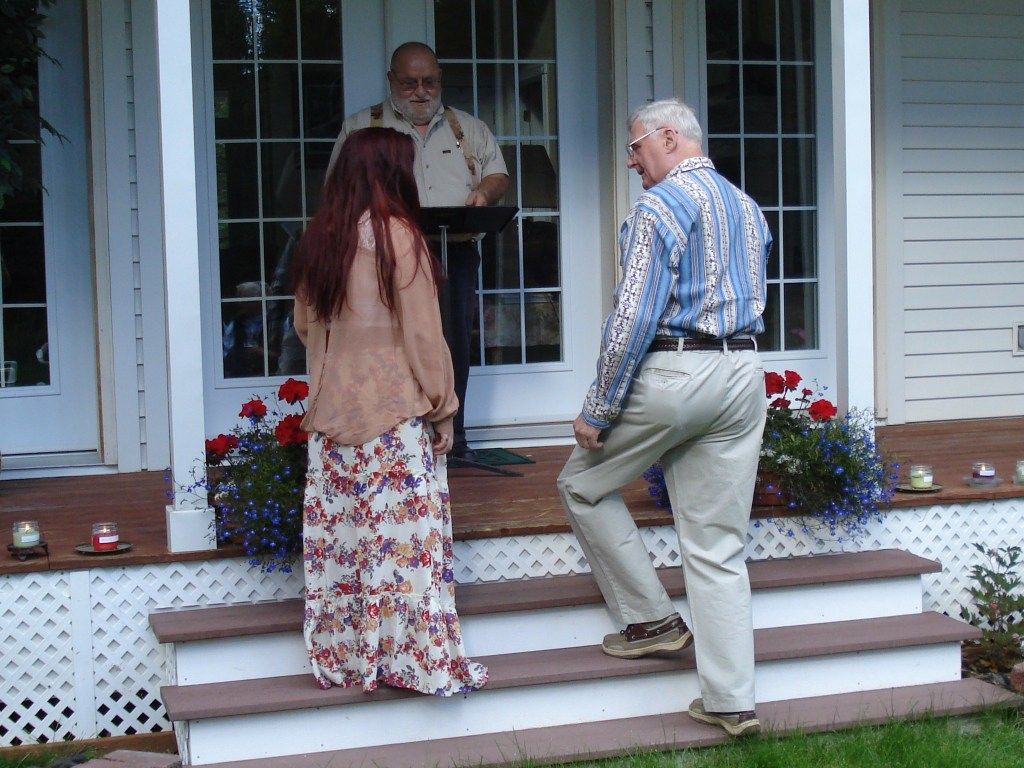 Kevin was trying to figure out to stand...
Because we had my sister and his cousin watching on Skype, so we didn't want to block the computer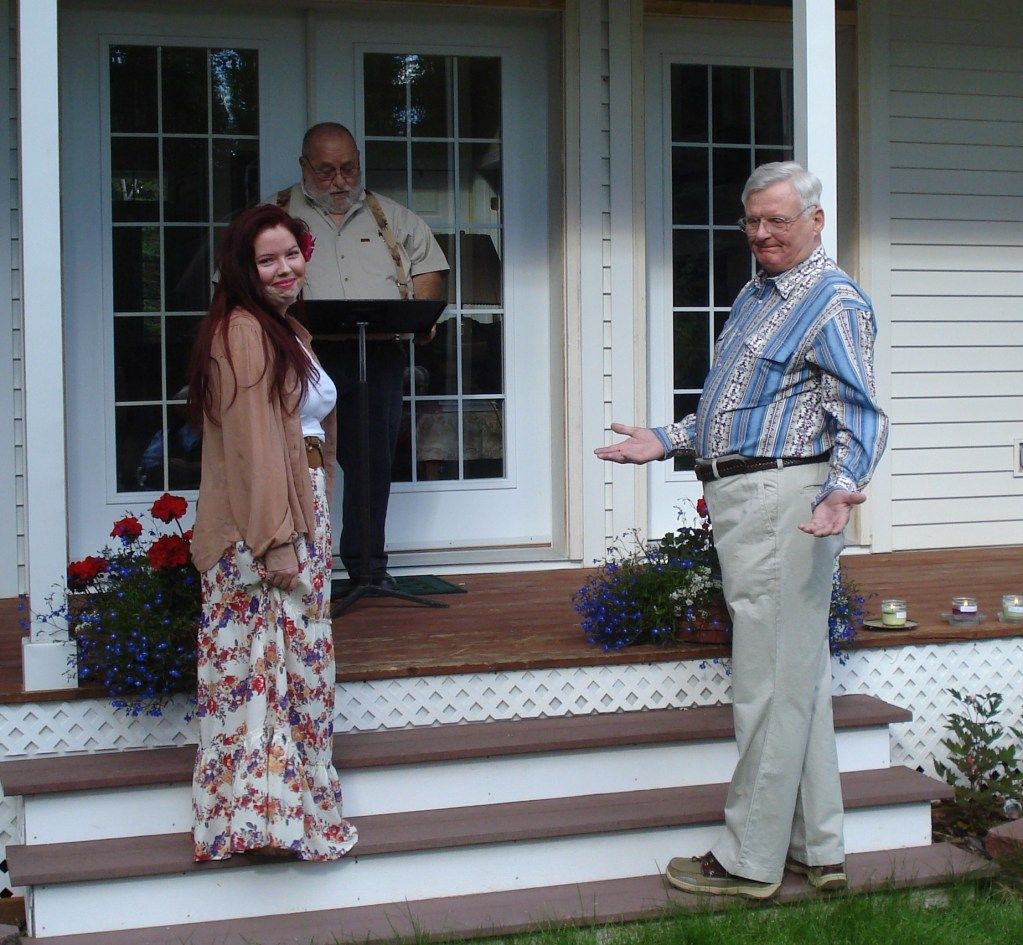 laughing at one of the jokes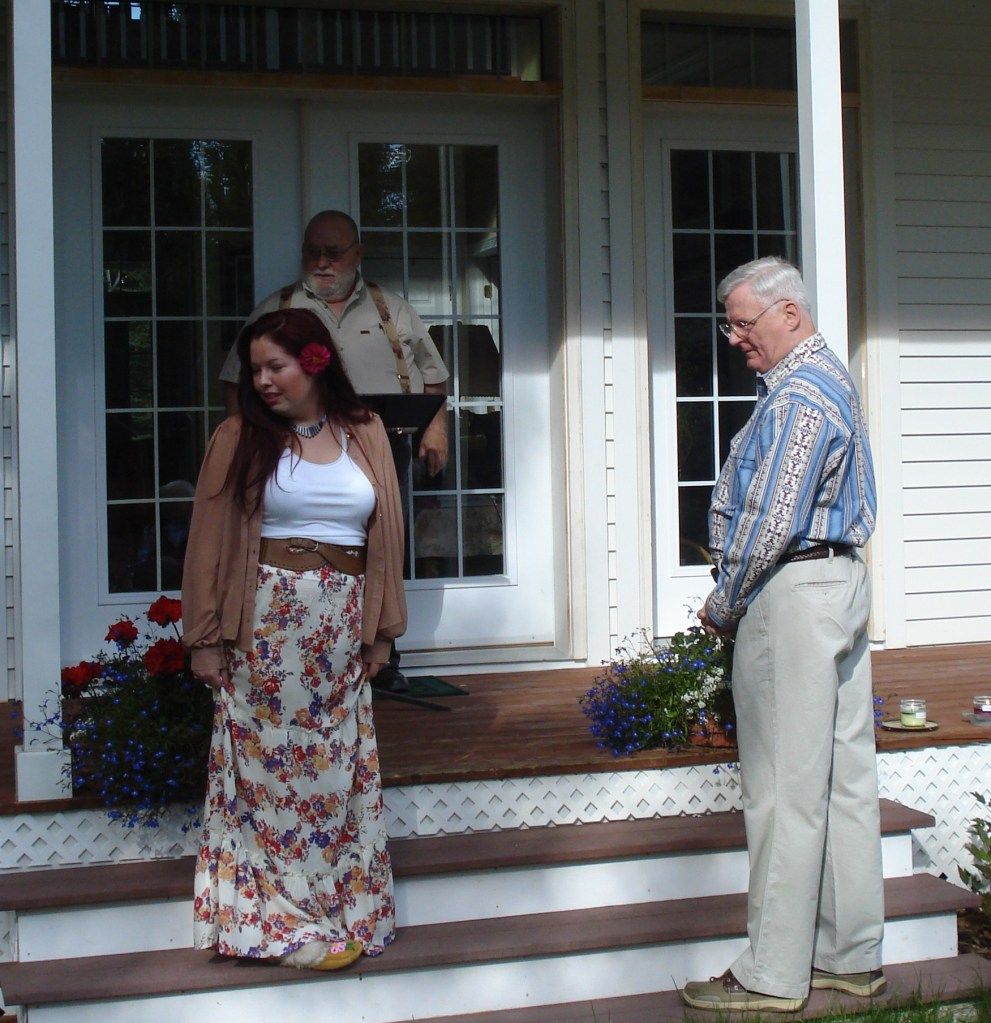 here come the ring bearers...
Norman throws himself up into my arms, so I was catching him
here, Bud was looking for my ring which popped off of Douglas harness!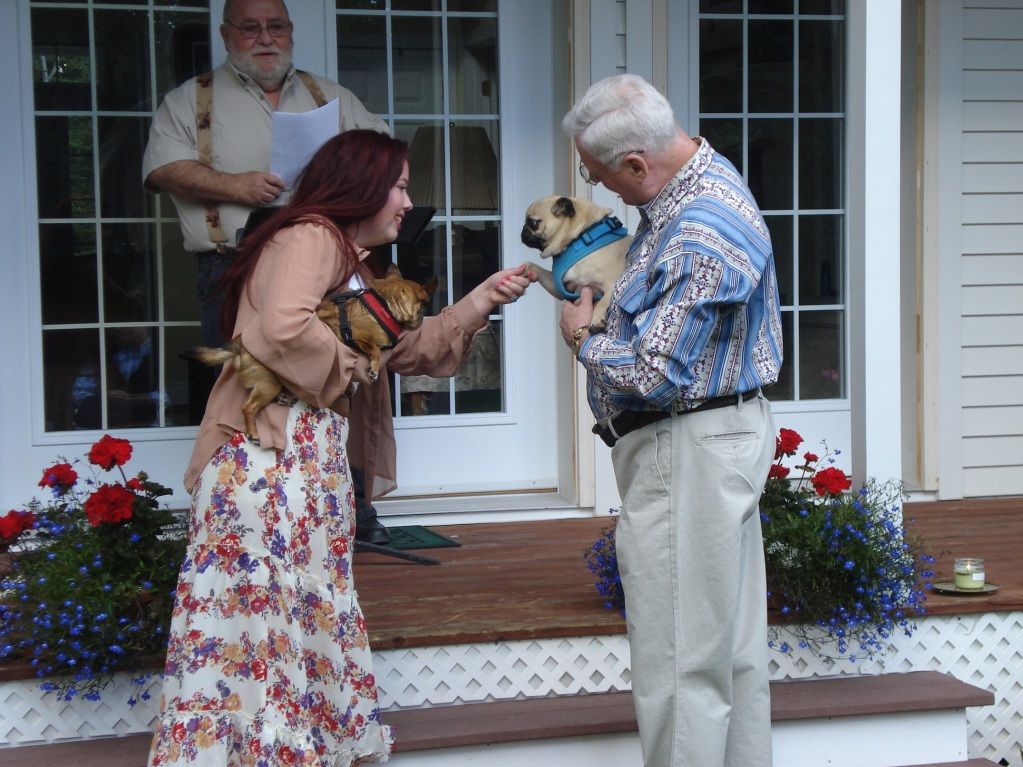 thank you Douglas for bringing the ring...
and there you have it. Thanks to Douglas, we now have this picture with Kevin's shirt unbuttoned! That's one reason I didn't hold him! :) He does things like that when there are crowds and he's excited. It's just too funny. The boys did great, and we wouldn't imagine not having them be a part of it.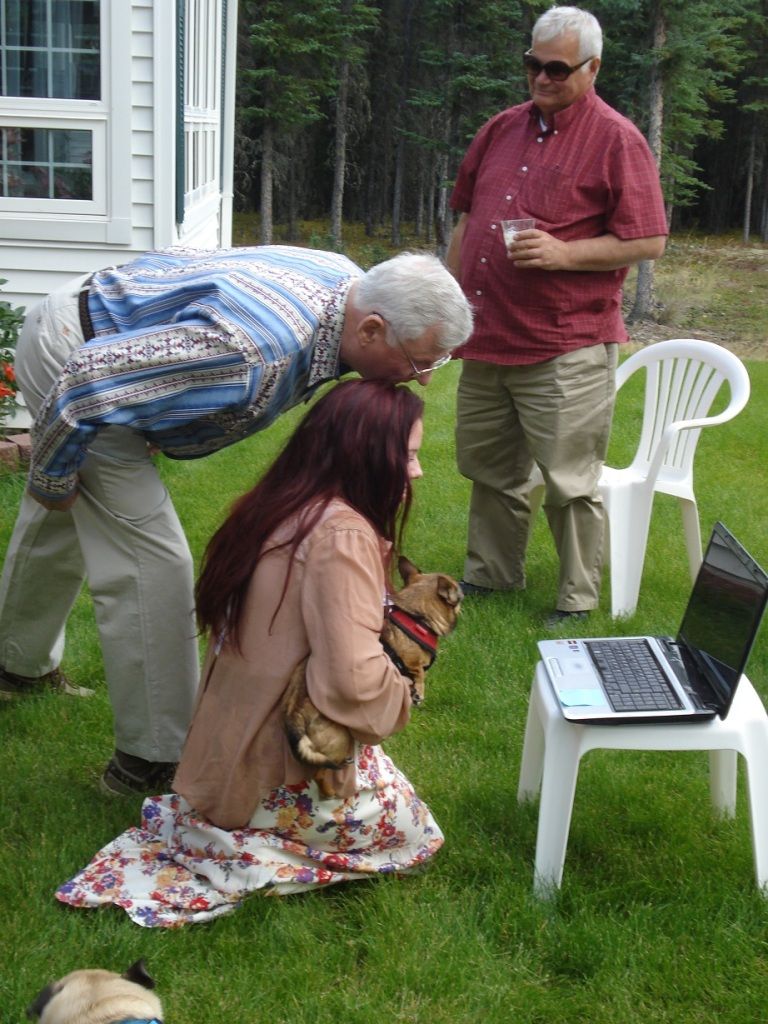 here we are saying goodbye to Cousins Greg and Kathleen and my sister and her family
Kevin and Dale
The one and only, Captain of the Lady J, and preacher for a day
With our officiant
the beautiful ring our friend Bonnie made me! We didn't get a clear picture of Kevin's ring, it's also gorgeous.
After the ceremony, we started into the appetizers. We had tons of fresh shrimp, which Buddy & Pam donated along with the halibut and salmon. To go along with the shrimp we had spanikopita, the bacon bean dip, and marinated tomatoes and hummus with veggies and crackers for dipping.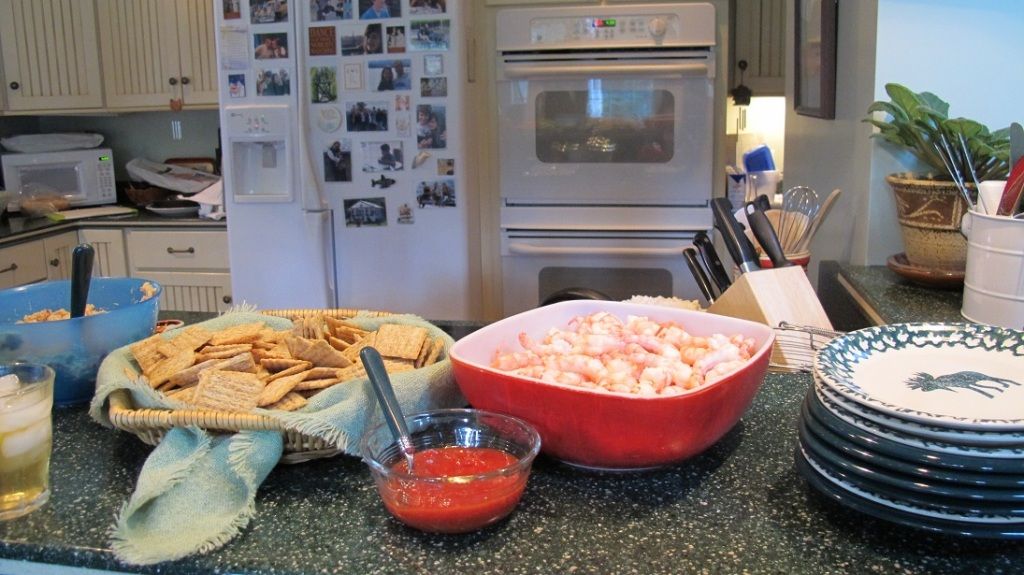 We had plenty to drink, some of everything, but also lots of champagne and we bought some of our favorite wine in Fairbanks. Kevin can only drink sulfite free wine, which is pretty limited. He can drink Frey wine but he's not a big fan. It's good for me to cook with though, since I cannot use any other wine in his food. I enjoyed a bottle of Cab with Nancy, and I cannot wait to try the Pinot. Nancy and her husband Bill own the Burnt Paw gift shop and cabins here in Tok. Bill ran in the very first Iditarod.
Kevin loves wine. So it's pretty sad for him that he cannot enjoy most wine anymore. Here he is explaining to Nancy about the Beringer wine, and also where the grapes come from.
None of us left hungry. We had multiple salads for dinner...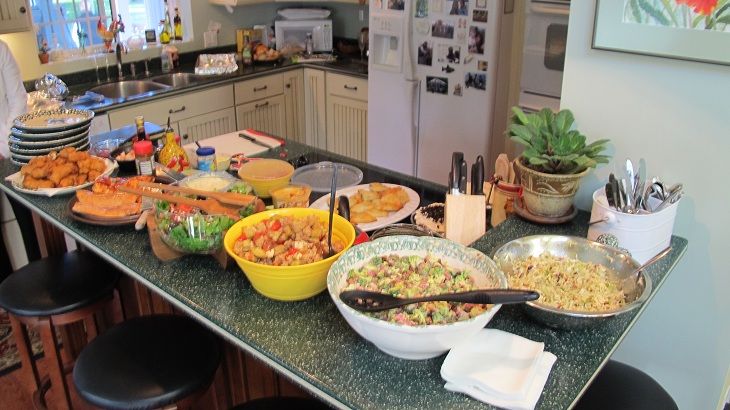 But the main attraction was definitely the fresh halibut and salmon caught just before we ate it.
It was all delicious.
Bill made a fire which we enjoyed while eating dinner and relaxing.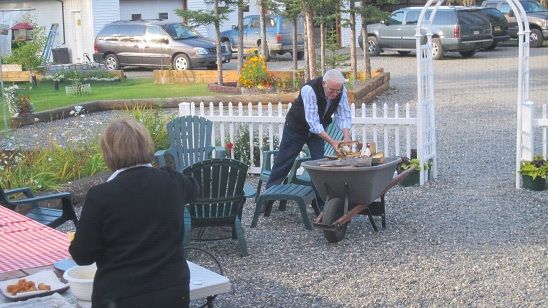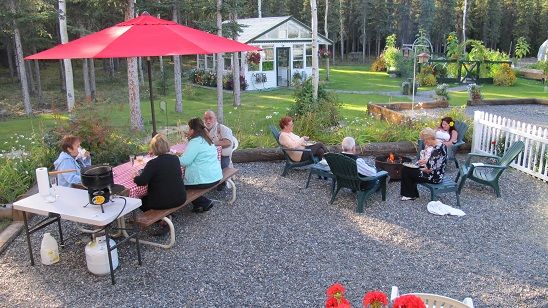 We had four pies for dessert and the cupcakes that survived the fall earlier in the day.
After dinner, we opened up some presents which is always exciting, right?
a moose jar and spoon holder! I loved it.
trying to figure out what this is...
ah! It's a wind chime. A heavy one too which is perfect for the farm where the wind is terrible
Sharon's beautiful greenhouse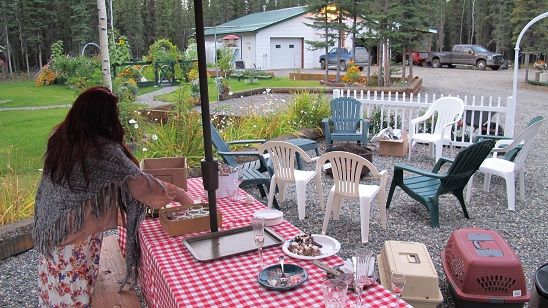 Cleaning up... Sharon's yard and gardens are just beautiful... and in Tok!


and then I had to deal with this, the next morning. Yikes.
I couldn't get any help either, because everyone else was catching up on their zzz's
Despite the mess, and lack of cleaning help, it was a great day. There were a few people who couldn't be here that I wish had been, but otherwise I couldn't think of a single thing to change. Except maybe my cupcakes dropping. Maybe that. But maybe not even that.