Fall is here in Tok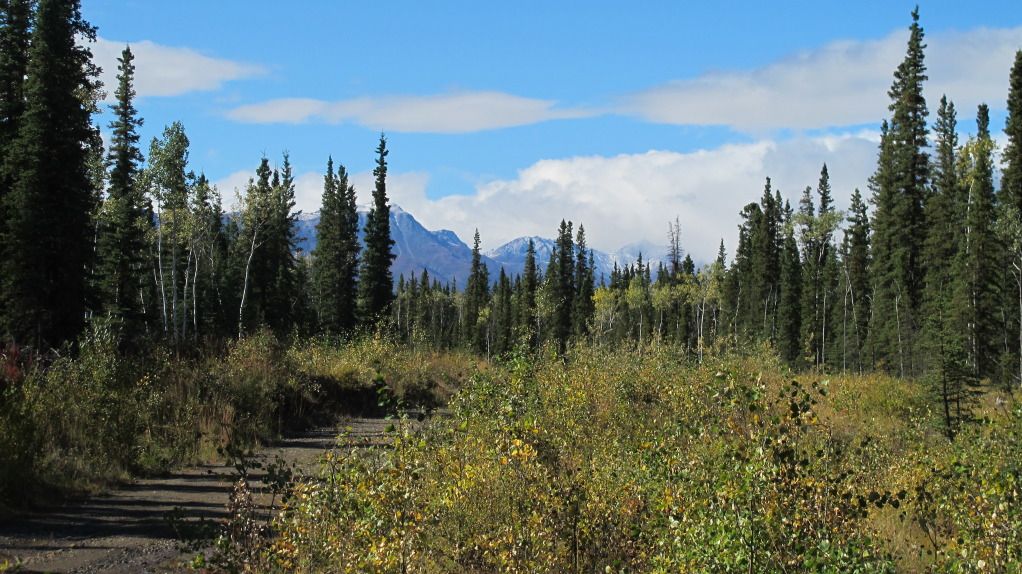 The temperatures have started to cool off. The leaves have started to turn yellow. The leaves have started to fall off the trees.
In the blink of an eye.
I cannot believe how quickly the weather changes here. We had fresh snow on the mountains the other day, but it's gone now. Thankfully. It did drop down to 24 degrees Fahrenheit on Tuesday though. We've been having some very lovely days although cooler.
Tonight I made one my favorites for dinner, to warm us up, and fill us up. Zucchini is one of my absolute favorite vegetables. It's good no matter what you do with it.
Stuffed Zucchini
2 - 3 zucchini, cut lengthwise and the insides scrapped out
4 sausages (any kind you'd like, I used sweet Italian)
1 small onion diced
1 cup sliced mushrooms
2 roasted red peppers diced
1 poblano pepper, diced
1 diced tomato
3 Tbs pesto
1 1/2 - 2 cans marinara sauce, or homemade
3 tsp of canned diced green chilies
salt and pepper to taste
1 cup shredded Monterey jack cheese
Remove your sausage from the casings and cook over medium high heat, breaking it up as it cooks with your spatula. As the sausages start browning, add your diced mushrooms, roasted red peppers, poblano pepper and diced tomato. Let vegetables cook and start to become tender. Then add your diced green chilies, and your pesto. Let that cook for a couple of minutes before adding 1/2 of a can of marinara sauce. Reduce heat to low and let simmer for about 20 minutes. Season with salt and pepper to taste, and add more chilies if you want it hotter.
Preheat your oven to 350 degrees F.
Meanwhile, slice your zucchinis in half, and scrape out the inside to make it like a boat. You want it to be strong enough to stand up and hold the filling, so don't scrape too much out, just the seedy part. In your prepared baking dish, add the rest of your tomato sauce.
Place your cut zucchini, skin side down in the dish over the marinara sauce. Spoon your sausage mixture into the zucchini boats, and top with shredded Monty Jack cheese.
Bake for 40-50 minutes, until zucchini are fork tender.
This is such a filling, and satisfying dish. Perfect for the cooler weather.
Thank you all for your comments on my wedding post and all the good wishes, they all mean a lot to me.
Tomorrow morning we are headed up the Taylor highway to Chicken Alaska, then we'll cross the border and continue on the Top of the world highway and over to the one and only Dawson City in the Yukon for a couple of days.
I was there briefly in 2006, but not since. A lot of our friends go, and a lot of people from Tok in general for an end of the summer party. It should be fun.
I'm off to pack the boys overnight bag and make some sandwiches and fruit salad for our picnic tomorrow.
I won't be forgetting my hat and coat.