Updates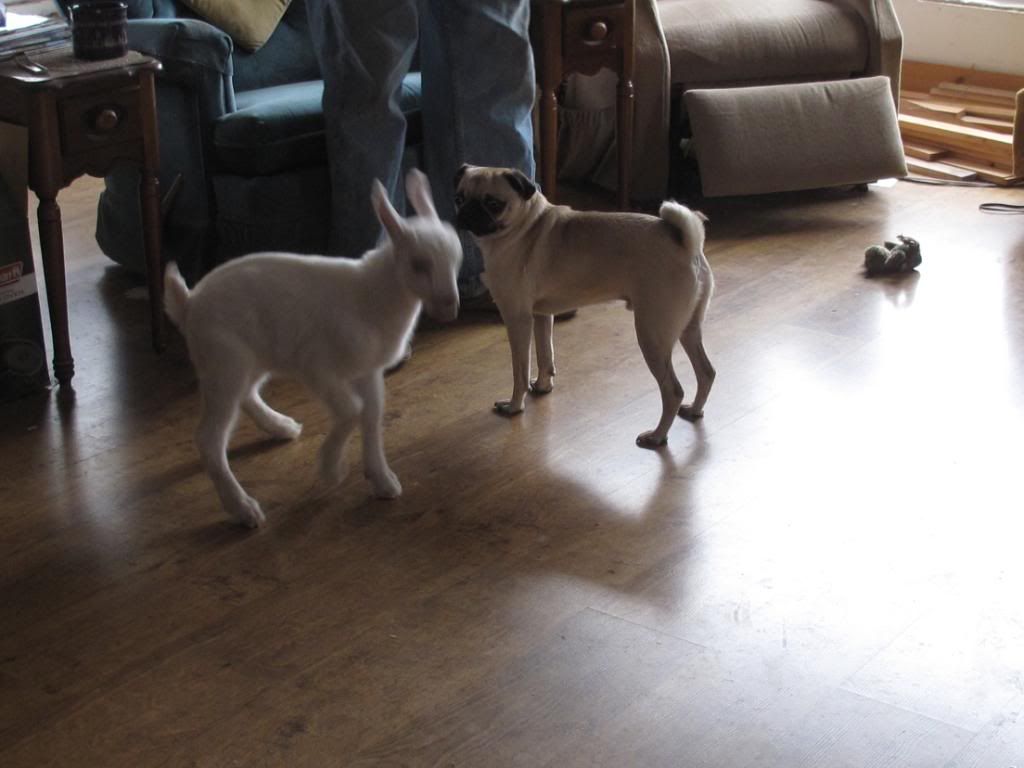 It has been a very, very, busy few days. Lets start by saying the kid who I've been bottle feeding, Bo, is doing wonderfully. He's a bit of a spoiled brat as most (alright, ALL) bottle babies are, and he's been spoiled in the house, sleeping in the chair and having the run of the place. He's enjoying himself.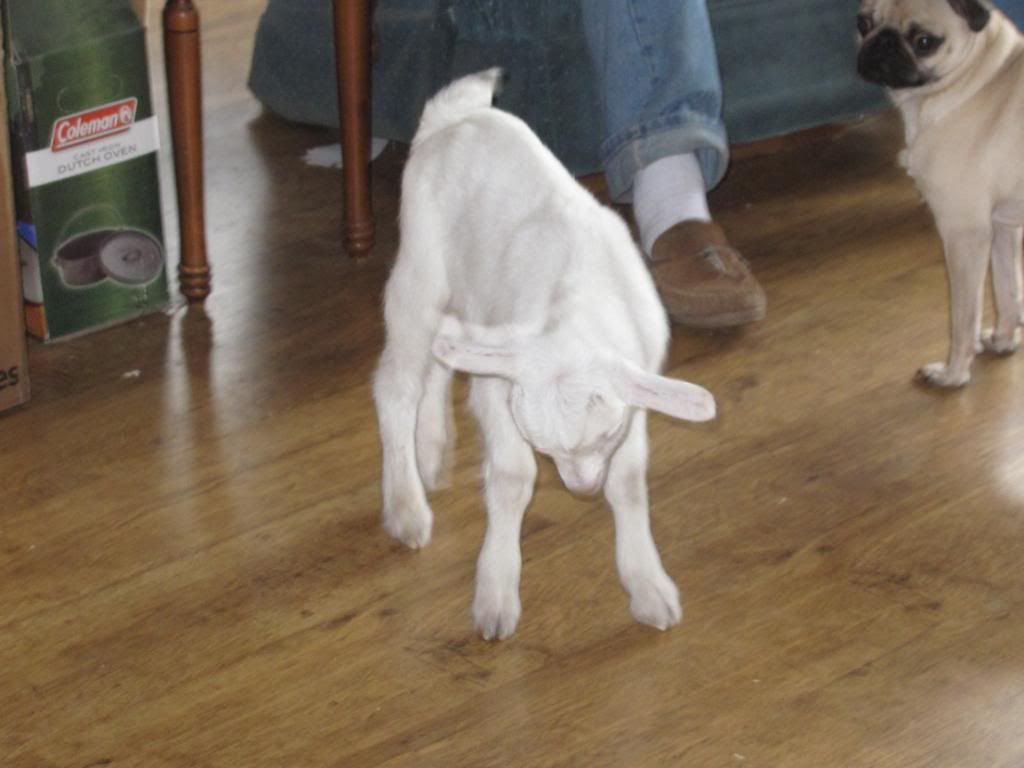 His mama, Biscuit, is a great milker and she's standing well for me. Milking is hard work, but I do enjoy the quiet, peacefulness of it in the morning and especially at the end of the day, when everyone around is munching hay and the day is coming to a close, and you can just get lost in your thoughts and watching your bucket fill up with all that beautiful milk.
Three days ago, we finished the maple syrup. We finished it to the right temperature, and then strained it, and bottled it. We finished with two and half gallons, which was pretty good for us considering our work got broken up while we were sick.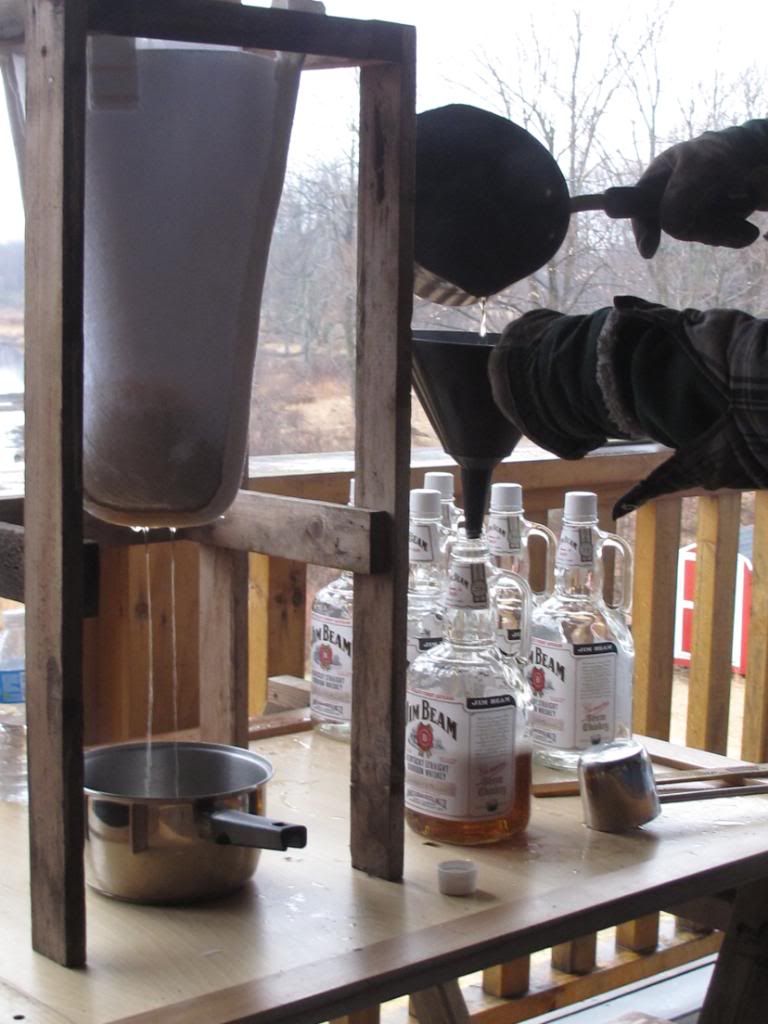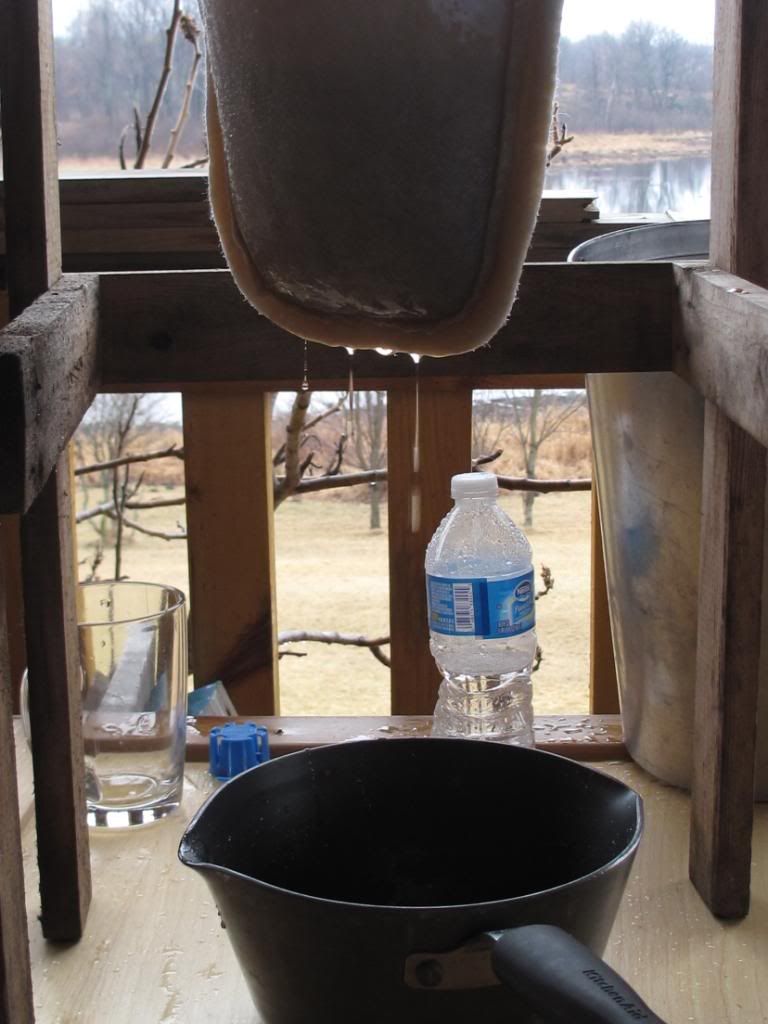 Someone wanted to come out on the porch to help... and looked with that sad face through the screen door at us.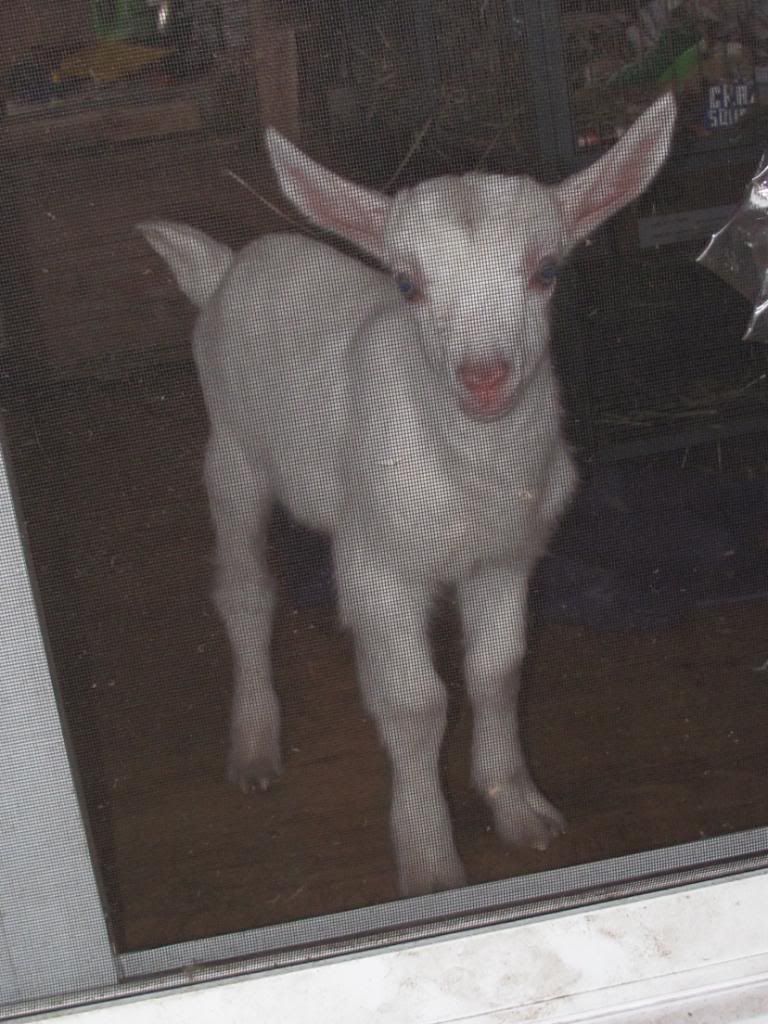 One of our finished bottles...
The syrup came out good. It's just how we like it, we like a darker syrup, not the lighter stuff, which is mostly personal taste.
Yesterday we collected all of our buckets, removed all our taps, and cleaned them all. Our maple syrup season is officially closed. The sap is still running quite well thanks to the weather and some people are still working, but we are tired, we have enough syrup for this year, and we've got too many other projects needing tending now.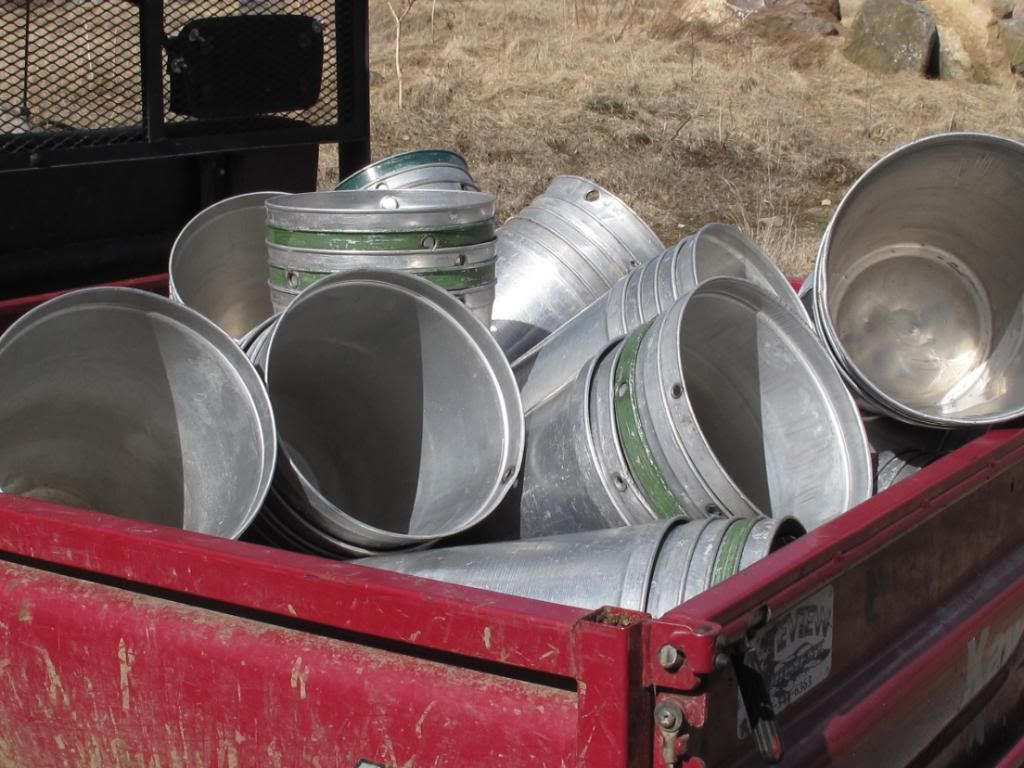 We caught some Mallards in our marsh by the goat yard...
We have many ducks returning now, even to our pond. I love this time of year for getting up early and looking out at our pond with the binoculars while drinking coffee, especially when the turtles start coming out.
Another one of our resident groundhogs, this one lives in our rock garden right outside our house, made herself known the other day.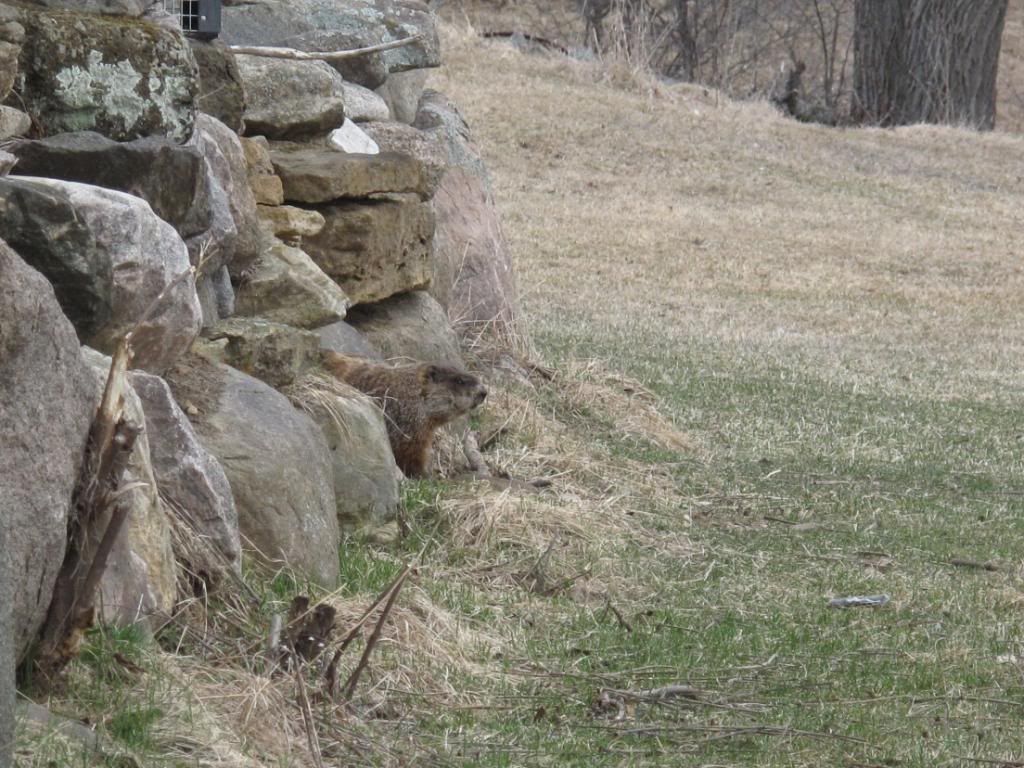 She is not in the least bit worried about us, or even the small dogs. She will however be a problem when it's gardening time, along with the one who lives near my chicken coop.
Yesterday morning I went to the barn to find Mini Nut had dropped her kid, her first. She was not interested in him, and he had not had anything to drink. I went in and got him to nurse which was difficult because he had a terrible time finding the teat, and he was weak, unlike Bo who was strong and determined. Mini's buckling was weak, small, and holding his head and ears down. I got some colostrum into him but she kept kicking him away from her.
So I warmed him up, milked her and put some more milk in a bottle which I tried to feed to him. He refused. Some of them just will not take the bottle. I know you can struggle with them sometimes, but I find if they don't want it it's pretty hard to persuade them to take it. I decided I needed to get Mini Nut to understand this was her kid and to take him.
So I got her into a smaller pen, with less room for her to be away from him. While I was trying to get her out of her other pen (she didn't want to go, even with the grain) I slipped and whacked the side of my face off one of the gates, which was not the smartest thing I've ever done. She wasn't fighting me, I just lost balance and happened to be in a bad spot. I gave myself a nice shiner, my first ever!
Once I got myself sorted out and her in her new pen, with her kid, I fed her lots of food to keep her occupied and I sat down and had a good talk with her. She is a sweet doe and likes a good cuddle. Seconds later the buckling tried to nurse and she started kicking him in the head. Sigh. So back to the house I went to get a bottle to try again.
When I returned to the barn I right away heard Mini Nut talking softly, I knew the voice she was using and that she must be talking to her baby. Sure enough when I arrived at her pen, the buckling was nursing and she was talking to him in a loving way.
ALL day she fussed, kicked, ran away from him, stepped on him. Now, all of a sudden she stopped that. Maybe my talk with her really helped? Whatever it was I went back to the barn at midnight to make sure all was still well and he had a tummy full and was sleeping.
Also last night at 7 PM while I was bringing everyone else inside in the middle of all the other chaos, I put the sheep away and turned to go outside to put the turkeys in. Well Lila, one of my ewes was standing in the turkey house and she just looked at me and said gently "baaaaa." I dropped my shoulders, stopped walking, and just sighed. I knew her lamb had arrived. The lamb that was a month late from her usual lambing time, the one I've been waiting on. She decided yesterday was a good day. I put the turkey food down and went outside to her. Sure enough the lamb was there nursing. When the lamb finished I picked her up and brought her to the barn, Lila followed. Lila is always a good mother, always takes exceptional care of her lambs, and for the third year in a row she had a ewe lamb! It's just amazing. A cute little girl too!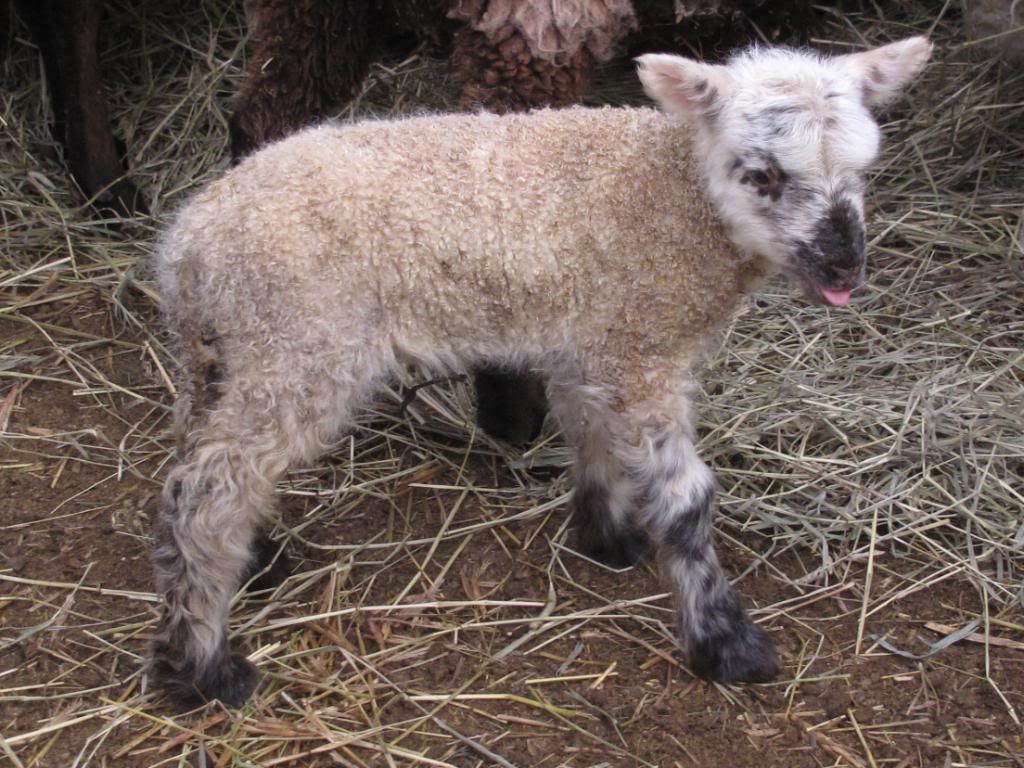 I was up early this morning because we had an appointment in the city to get to and I needed to see what was going on with the babies in the barn. It was cold and there was frost.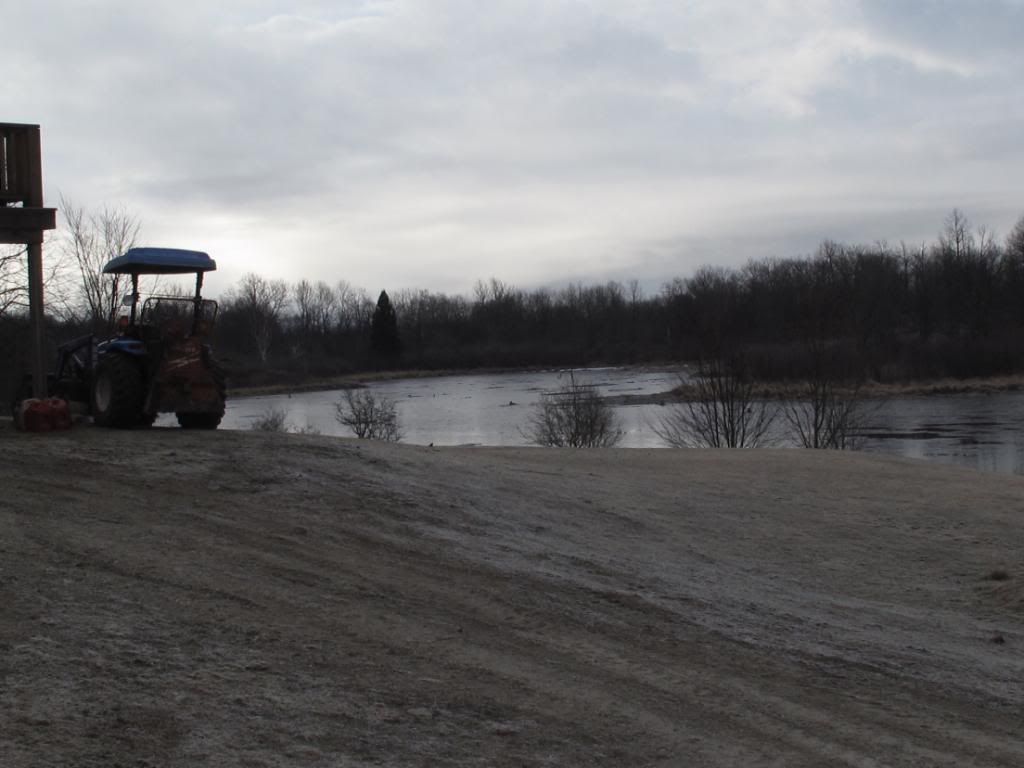 When I got up there every thing was just fine. Mini Nut's buckling was nursing, the lambie was well, and everyone else was fine. After chores we went to our appointment. Today has been circled as Buckets due date on the calender since November. When I checked her this morning I noticed the changes in her but knew she was not ready at the time.
Well this afternoon she was ready. As soon as I got home and fed Bo his bottle, I ran up to the barn. Buckets pen is the first of the goat pens and she was standing there talking to me. Beside her a little white kid just dropped. I said "where is the other one?" Because Bucket was too big to only have one and she always has twins or triplets. It was so funny because as I said it out loud, she looked to her left and mumbled and I walked over and looked and there was the other kid lying down!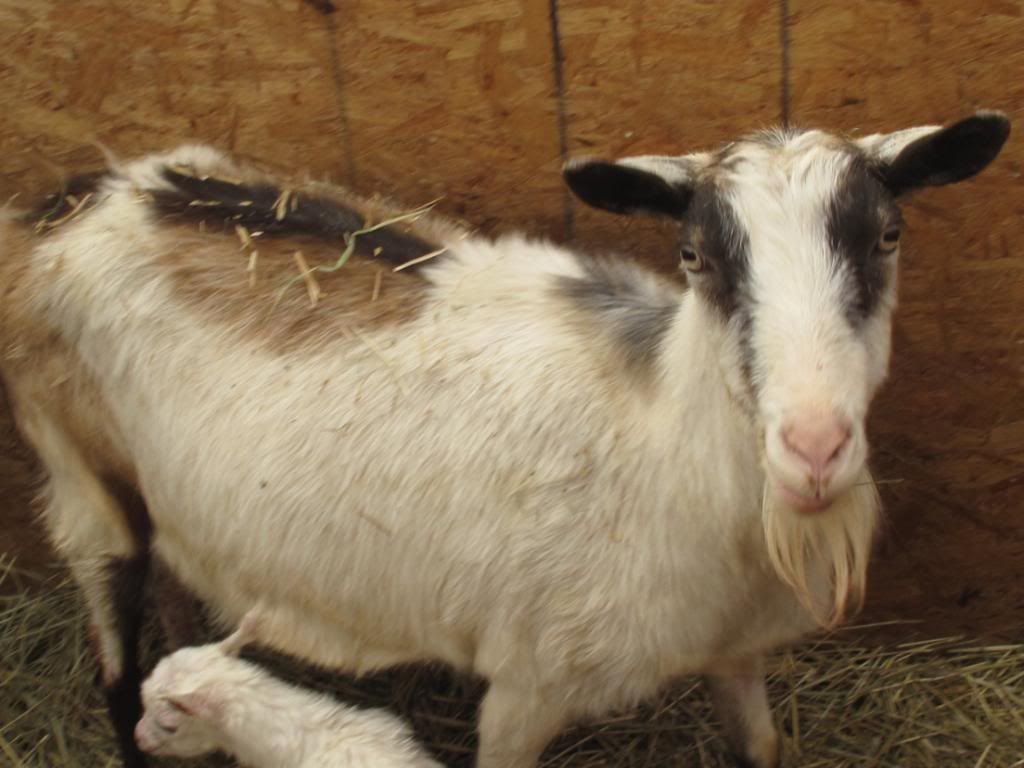 She is always a good mother, always takes care of her kids. Bucket and I have always shared a special bond and she was one of my first goats. She gave me a lovely gift today, two beautiful little doelings! I had to check twice. I couldn't believe my luck. She often has bucklings, last year she gave me a doeling finally, but also a buckling. This time two healthy adorable little doelings.
I came home to share the good news with Kevin. When I returned to the barn a few minutes later to do all my evening chores, milk Biscuit, tend the other animals, and visit with Bucket and her kids, I brought a margarita with me to end a long day. Flavious was pretty interested in that!
It was a nice evening. It's been a lot of work. My body is sore and I have more bruises on me than I would like to admit to but where they came from, I haven't a clue. Thankfully Bo sleeps wonderfully through the night so we can all get some rest. And in other good news from today, we went to the city to visit a heart doctor for Kevin, and he got a clean bill of health!
All is right in the world here tonight on our farm. Douglas and Norman are chewing on new bones, Bo is sleeping, and the birds, Prairie dogs, and, rabbits are also sleeping. I'm so tired I'm starting to fall asleep while typing. So I'll say goodnight for now. Tomorrow, a new day begins full of new life on the farm :)
We are linking up with Verde Farm and Dandelion house for Farm Friends/Farmgirl Friday :)