Long day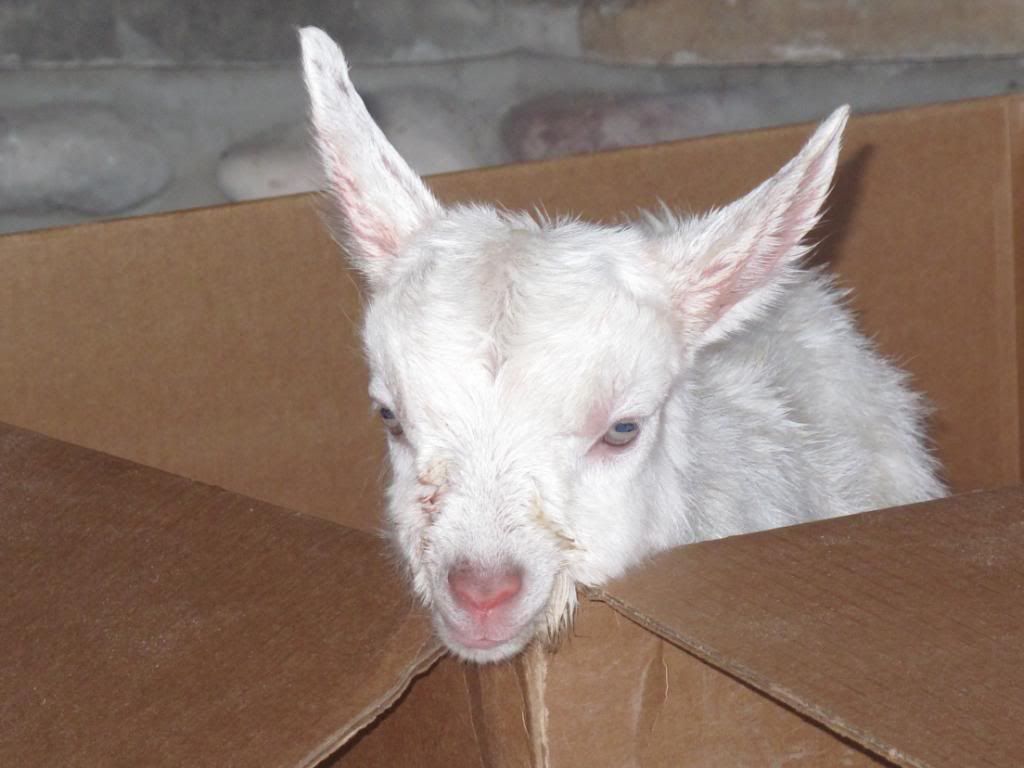 Sorry for keeping you all in suspense like that! But it's been quite a day on the farm. I woke up this morning and sleepily (although I got the best sleep I've had in a week last night) took the dogs outside for their morning pee. As I was standing there listening to the birds, geese, horses, and usual sounds of the morning, I heard a different sound. A very loud, BAAAAAAAAAA. The dogs finished their business, and I rushed them inside and ran to the barn. As I suspected it was Biscuit who had kidded, probably about an 1/2 hour before I got there. She had broken out of her pen and was in with Bulrush and Baby, and had left the kid by itself, crying.
I've had both Biscuit and Bucket in their stalls 24/7 for the past two days, because they are both close to kidding. I've mentioned before Biscuit tried to kill her first kid. She's a good milker and lets me milk her, but she hates kids, be they her kids or any of the other does kids. I'm glad she got out of her pen because I think getting away from the kid caused her to leave it alone. And alone it was, not cleaned, but standing and crying.
I quickly let everyone outside and then tried to get the kid to nurse from Biscuit. She threw her usual fit, lying down, trying to stomp the kid, butting me, kicking. Last time I argued with her forever, this time I just picked the kid up and brought it home. Kevin who had just got up and was trying to drink his coffee was surprised when I came in yelling "get a box" and just as he was asking me why, he saw the baby. So off he went.
Once we got him set up I went back to the barn and milked Biscuit right away. She stands very well for me and doesn't mind me milking her in the least. I rushed home and fed the baby since he clearly had not eaten anything.
Then I dried him off a bit and while I was trying to get a cup of coffee he was crying in his box, so I picked him up and put him on my lap where he quickly went to sleep for over an hour while I had coffee.

This is me first thing in the morning, just rolled out of bed, and kissing goodbye any hope of having five minutes to myself for a while: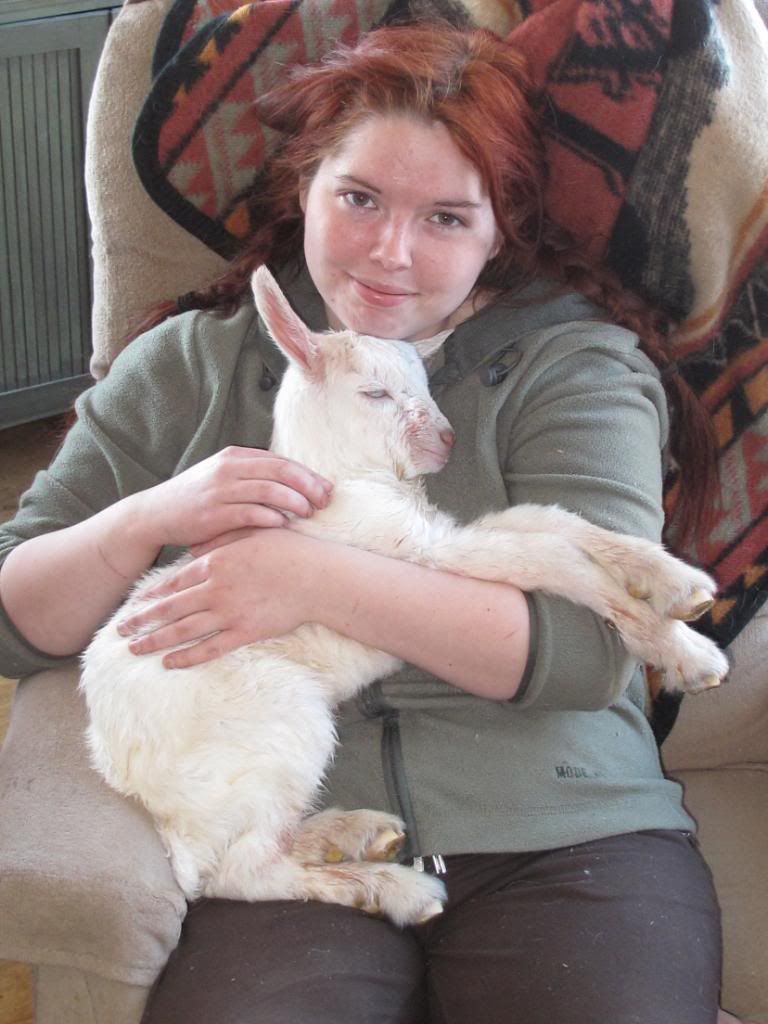 Douglas loves goats. He thinks he is one. When he was only a couple months old last year, we had Sammy in the house, Sammy was our sickly little buckling from last year we got from a dairy farm. He lived inside for nearly 3 months. So Douglas was very excited. Norman just gets annoyed, he's very jealous and just ignores any new animals, especially goats.
After his nap, he got up and played with the dogs for a bit, he isn't the least bit afraid of them. He's full of life and a healthy buckling. It's funny, this is the first kid off our new buck, Buckwheat, who is a purebred Saanen. Biscuit is an Alpine. Amazing how he looks exactly like a Saanen kid.

The stuff on the floor is shavings.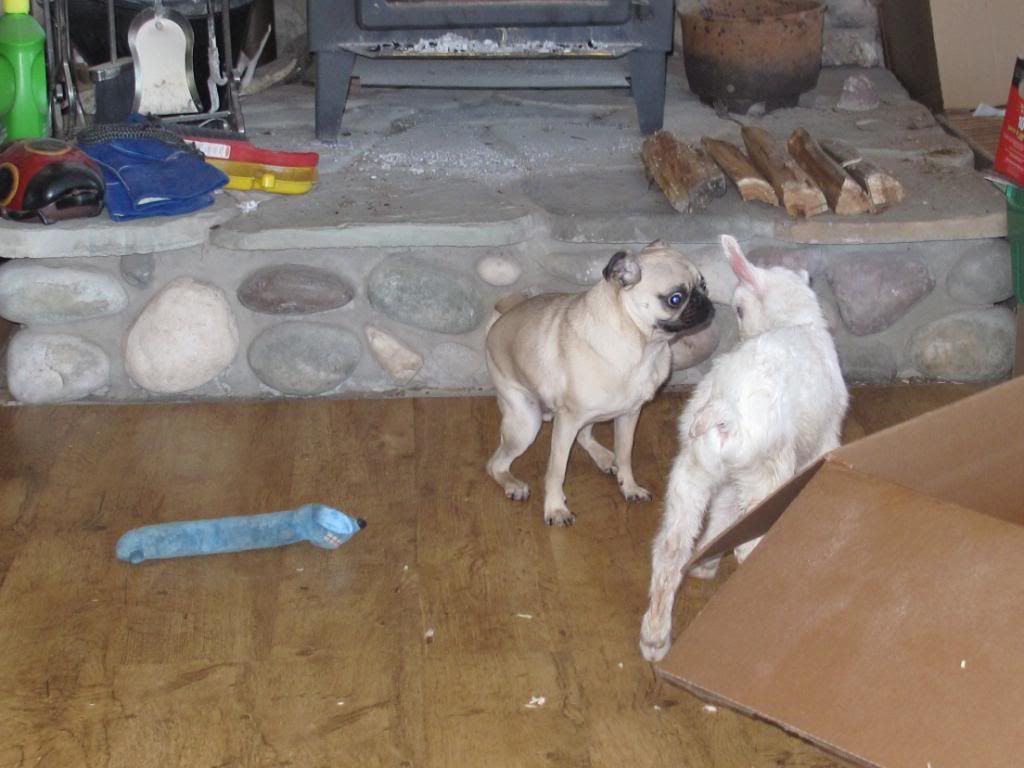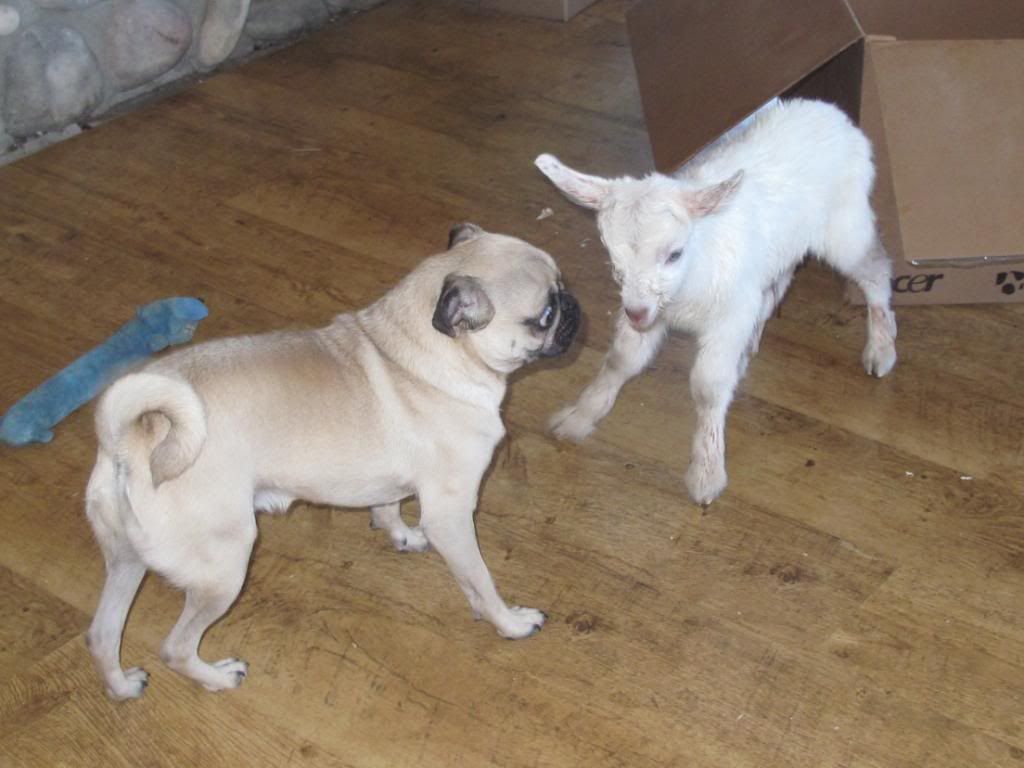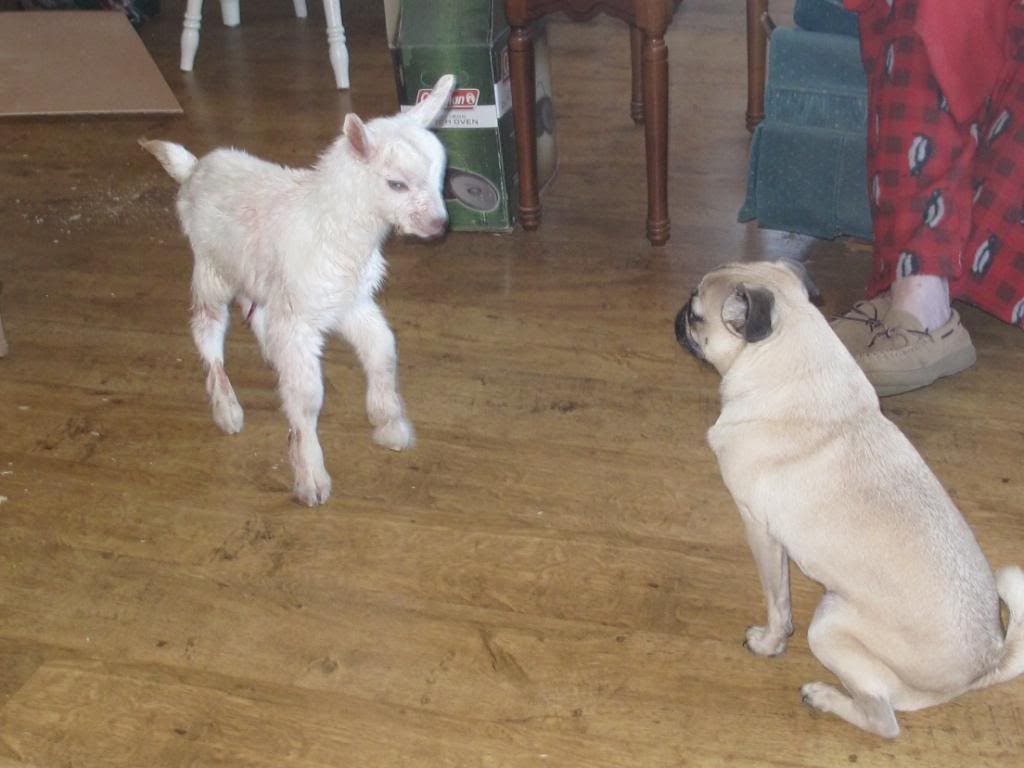 Kevin spent all afternoon finishing the maple syrup. It's all syrup now and ready to be filtered and properly bottled tomorrow. I will share pictures of the finishing process tomorrow. I had hoped to do that tonight but I'm just too tired.
While I was working in the barn this afternoon and monitoring Bucket, who is very close to kidding, the new kid made himself at home and I found him sleeping under the table.
And so it begins! Kidding season has started. My heart is happy this little guy is safe, healthy, and warm. One down. Four to go.
Time for his bottle and for me to try and get a little sleep in between barn checks. Good night all!
We are linking up with the homestead Barnhop, please stop by and visit them :)