Cold and cupcakes
The girls are anxiously waiting for warmer weather, they want bugs! Let me just tell you how happy I am to be inside tonight. It's cold outside.We worked outside all afternoon. We put out more buckets today, bringing our total number of taps up to 53. Tomorrow we'll put about 10 more out. Hopefully the run will be good... It's hard to say right now. Tuesday is supposed to be near perfect, well above freezing in the day and below at night, but we won't know if the weather man is right until then.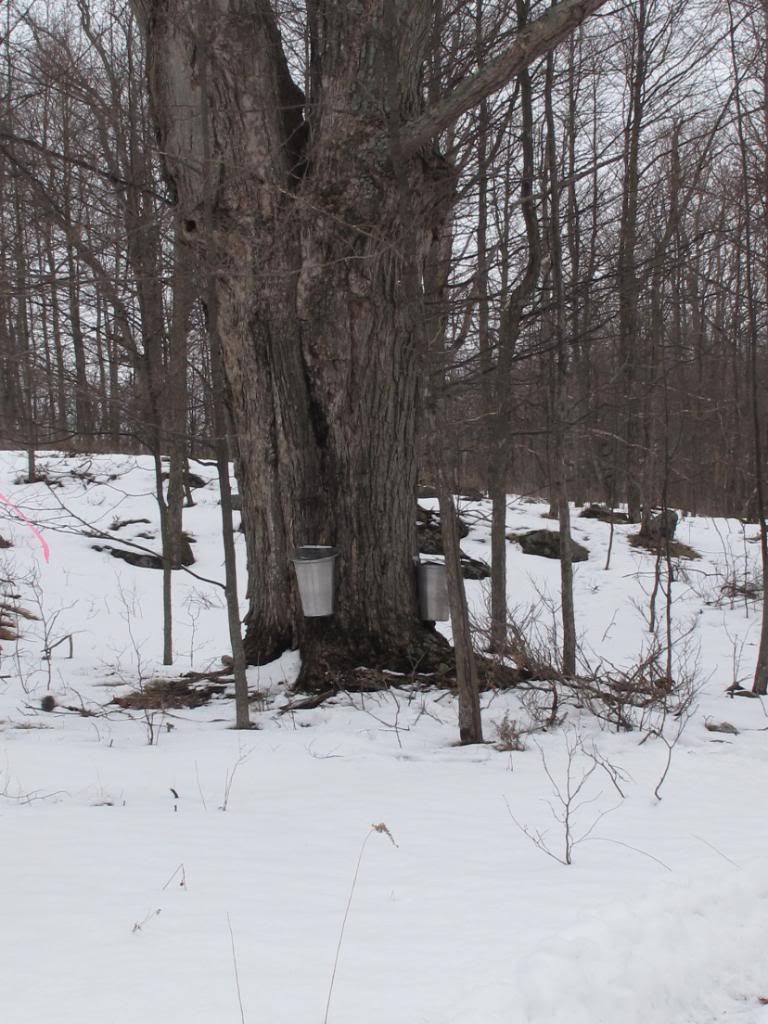 The sap was running this morning when we were out, however by 5 PM when we were still hanging buckets, it had frozen mid drip...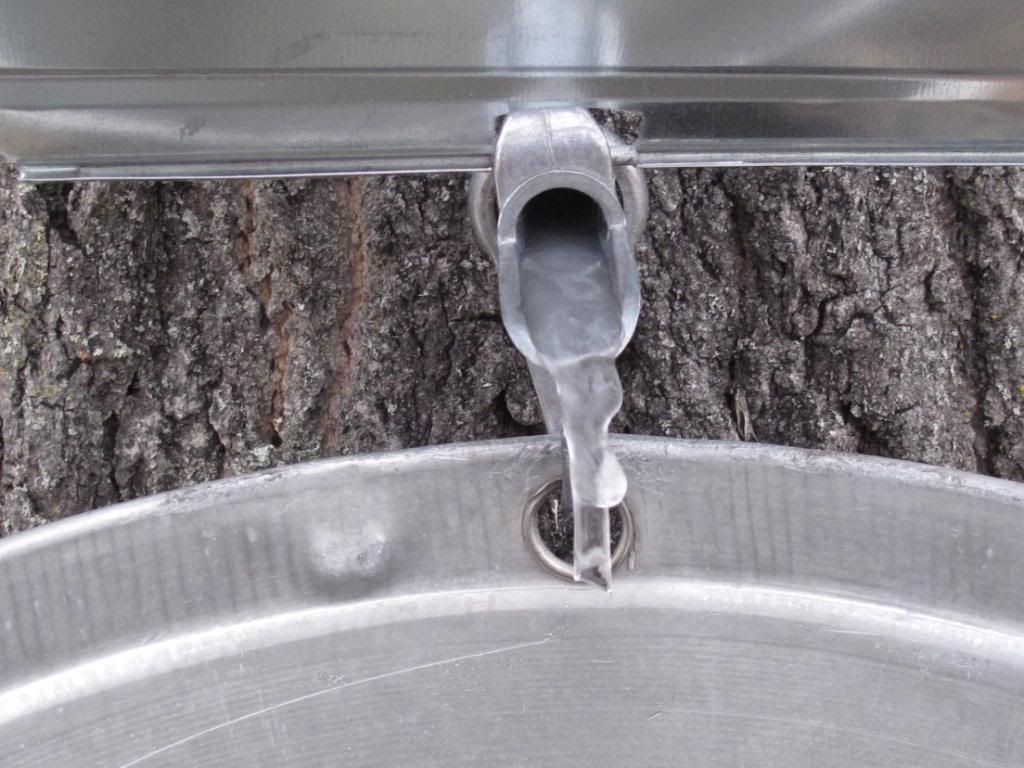 and ice was forming in the buckets too...
We have hundreds of Maple trees but they are not in one central sugar bush, so we have to travel around the property to get to each of them. On the way to look at some of the buckets, we found a fresh Otter slide and tracks...
In what we call our apple tree field (it's where our best producing apple tree lives) which is behind our goat pasture, we spotted this guy:
Look closely, do you see the little faces in the background? Both the doe and fawn are there!
I got out to take a picture of him, which he let me do. Then suddenly a doe and a fawn jumped up. They were lying right behind him in some bushes and I never saw them until they got up. They didn't run off, just kind of gave me a dirty look for ruining their nap and moved away to put some space between us.
So tonight even though it was late, 8 PM because of daylight savings time, I cooked dinner, a nice healthy one, Korean style chicken and vegetable pasta bowls and because we've been working so hard in the cold, I figured we really needed a treat, so I made these cookies and cream cupcakes... and boy are they good! Too good actually, like you want to eat them all but know that's a bad idea, kinda good.
Cookies n' Cream Cupcakes
you can find the original recipe here
12 Oreo cookies
Milk Chocolate Cupcakes
½ cup butter
2/3 cup sugar
3 eggs
1 cup flour
2/3 cup cocoa powder
1 ½ tsp baking powder
½ tsp salt
¼ cup milk
Preheat the oven to 350 degrees.
Prepare a muffin tin with cupcake liners.
Twist 12 Oreo cookies in half, placing the side with the icing on the bottom of the paper liners.
Set the tops of the Oreos aside in a bowl.
Cream together the butter and sugar, and eggs. Then add the rest of the ingredients
Spoon the batter into the paper liners with the Oreo in the bottom. Bake 20 minutes or until just baked through.
Let the cupcakes cool before frosting them.
For the frosting:
½ cup butter (I used less)
4 cups powdered sugar
¼ cup plus 2 Tbs milk
2 tsp vanilla
12 oreo cookie half crumbs (food processor) (I didn't use a food processor, I put my cookies in a plastic baggie and then I beat the heck out of them with my rolling pin, does the same thing and saves a lot of clean up!)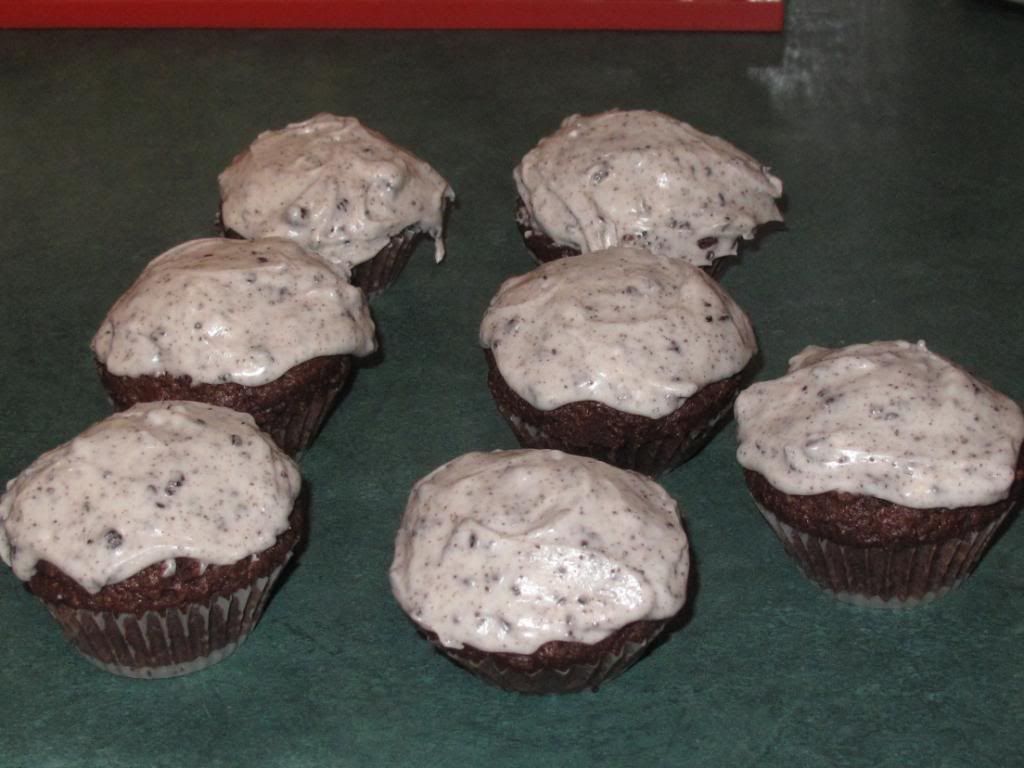 The does reminded me they are getting close to kidding by shocking me with the size of their udders today. I've been watching them closely, but Biscuit and Butternut just kind of filled up overnight. Bucket always starts bagging up super early. Biscuit is my best milker but she has not yet accepted a kid she has had, she tried to kill Baby her last doe kid two years ago. Last year she never got bred. So we'll see how it goes this year.
Last night I got three whole pages of my book in! And that's it, but better than usual. I long for a lazy summer afternoon when it's too hot to work and the chores were done early in the morning so I can lay about for an hour or two and indulge in my books. Ah, a girl can dream. Or maybe I just need another cupcake?