What to do on a blowy, snowy day?
Catch up on housework.... Bookwork.... Laundry....
Or
make sticky buns!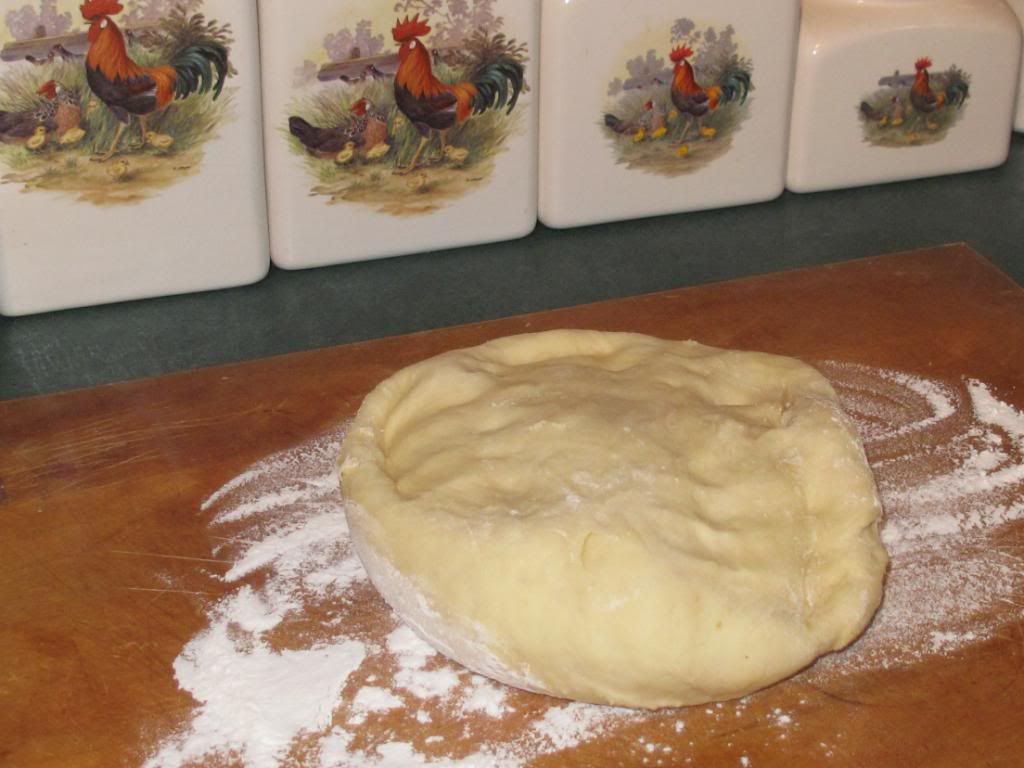 This recipe is from
simplyrecipes.com
a great recipe blog. They turned out really yummy. They make a huge mess which is why I don't make sticky buns very often, but they are worth the ooey gooey mess in the end. I did not put pecans on mine because the boys (the human ones) don't like them.
Cinnamon Sticky Buns Recipe
Dough:
1/4 cup warm water (105° to 115°)
1 (1/4-ounce) package active dry yeast
1/3 cup sugar
3/4 cup milk
4 Tbsp. unsalted butter, plus more for greasing
3 large egg yolks
1 Tbsp. finely grated orange zest
1 1/4 teaspoon. salt
4 to 4 1/4 cups all-purpose flour, plus more for dusting
Filling:
1/2 cup firmly packed light brown sugar
1 Tbsp. ground cinnamon
4 Tbsp. unsalted butter
Topping:
3/4 cup firmly packed light brown sugar
4 Tbsp. unsalted butter
3 Tbsp. honey
1 Tbsp. light corn syrup
1 1/2 cups (6 ounces) coarsely chopped pecans
Make the dough. In the bowl of an electric mixer, combine warm water, yeast and 1 tsp. sugar. Stir to dissolve and let sit until foamy, about 5 minutes.
Add milk, butter, remaining sugar, egg yolks, orange zest, salt and 3 cups flour. Mix on low speed until blended. Switch to a dough hook and then, again on low speed, slowly incorporate the remaining 1 cup of flour. Increase speed to medium, kneading dough until smooth and slightly sticky (adding a little more flour if too wet), 3 to 5 minutes. Shape the dough into a ball and place in a large, buttered bowl.
Note: I found this worked way better when I hand kneaded it so I did not use my mixer or my bread hook, I tried but it just wasn't giving me the consistency I needed. You can do it either by hand or with your mixer.
Turn dough over in bowl to coat with the butter from the bowl. Cover the bowl with a clean towel. Let rise in a warm place until doubled in volume, about 1 hour. After the dough has risen, punch down. Turn out onto a lightly floured cutting board and let sit 20 minutes.
Make the filling. Combine brown sugar and cinnamon in a small bowl. Melt butter; keep separate.
Roll dough out into a 12" x 18" rectangle. Brush with melted butter and sprinkle with cinnamon-sugar mixture. Starting with the long side, roll dough into a cylinder. Place seam side down on a flat surface and cut crosswise into 15 slices.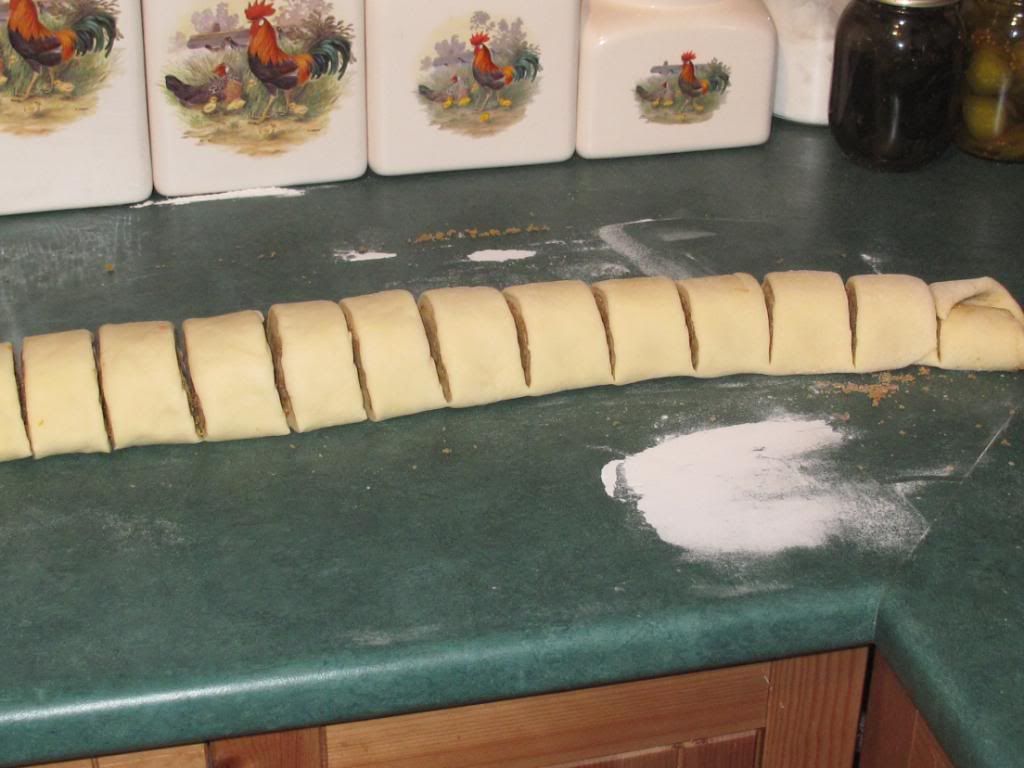 Make the topping. In a saucepan, combine brown sugar, butter, honey and corn syrup over low heat; stir until sugar and butter are melted. Pour mixture into a greased 9" x 13" pan and sprinkle pecans on top.
Place dough slices, flat side down, on top of prepared topping. Crowd them so they touch. OK now the recipe then calls for you to cover these with plastic wrap and put in the fridge overnight. I didn't have that kind of time. I covered them with a clean towel, let them rise for 2 hours and then cooked them, and then, well, ate them of course.
Remove the rolls from the refrigerator and let stand at room temperature while the oven pre-heats. Preheat oven to 375°. Bake buns until golden, 30 to 35 minutes. Remove pan from oven and immediately (and carefully as not to spill hot topping on your toes!) invert onto a serving tray or baking dish. Let buns cool slightly and serve warm.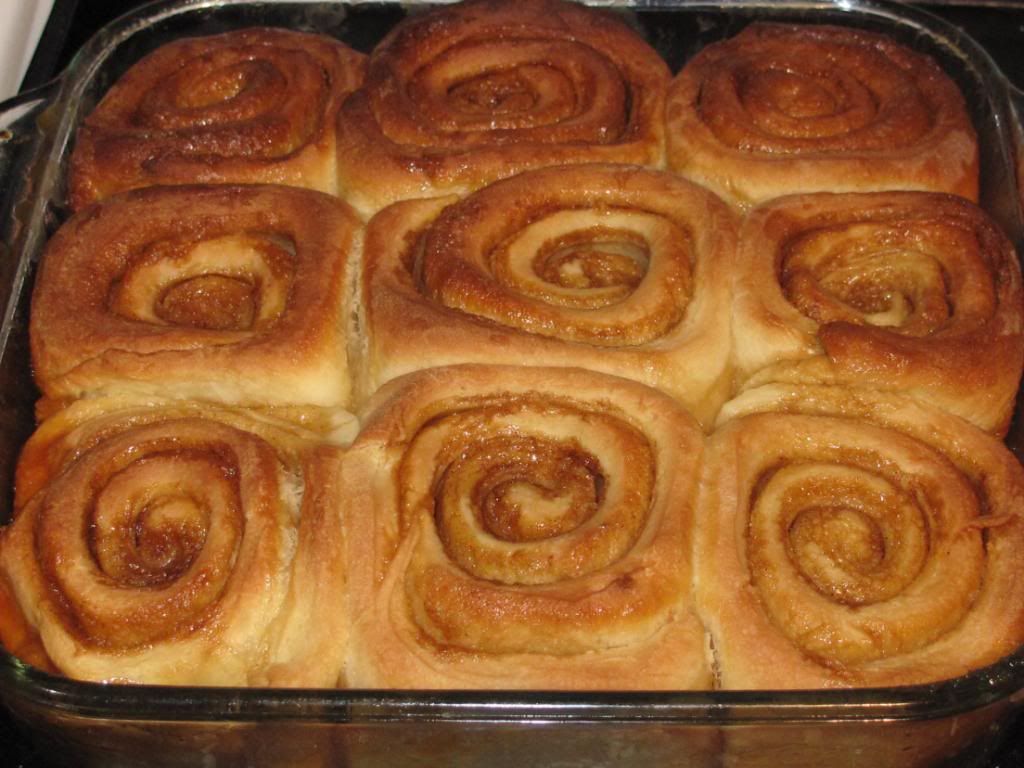 Kevin started plowing tonight at 8:30 PM when the snow slowed down. Normally we wouldn't care, we can stay back here in the bush for weeks on end and if we get buried there is no hurry to get plowed out. But tomorrow of course, we have to go out. I have my doctors appointment I've been waiting forever for, and Norman needs his heart meds refilled.
We've had worse storms than this, but we did get enough snow to warrant Kevin spending likely until midnight on the plow. We have over a mile of lane to plow through the forest. We got a lot of drifting which is always the main problem in storms like the one we got today. And of course as soon as he started plowing a fuse blew in the tractor setting him back 1/2 hour in the plowing time.
It was hard to get pictures of the snow earlier today, I went out with the dogs once and got in snow up to my knees in a drift. The animals all stayed inside the barn today.
Here's the little path Jim started shoveling so he could get to the wood pile and let the dogs out:
This is off our deck with Deer Norman wandering about the yard...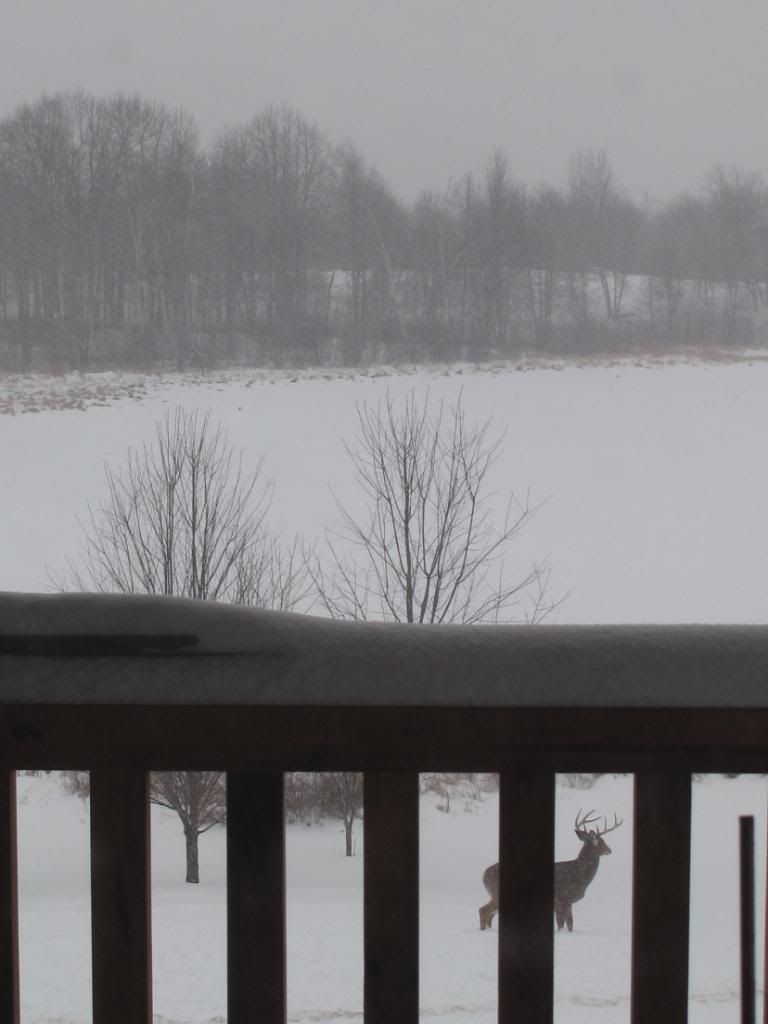 And here is the little antler the little buck dropped in the yard the other day. I've used Deer Norman's antler from last year just to compare size: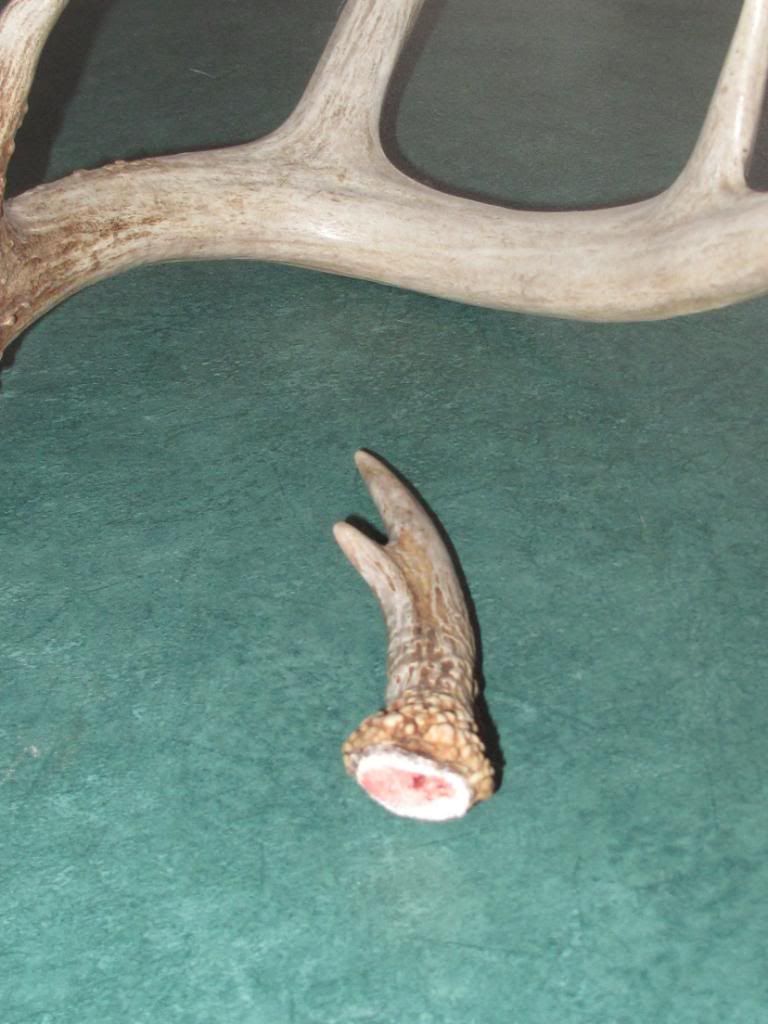 Now I'm off to make hot chocolate and put it in a thermos for Kevin. It's going to be a long night, but the stars are out now, so he'll have a beautiful night to be out and we should be safe from any further snow for the night.