Baked doughnuts and egg rolls
It's sunny today but the cold is bitter. Everyone is enjoying the sunshine however, the deer, the goats, sheep, horses, and Izzie. Even the dogs. Norman loves it when the sun comes in strong through the window so he can bask in it.
A neighbour came by the other day and brought us some pickerel which was a real treat. I haven't cooked it up yet. I've been wanting to get down to the lake to go fishing but since my surgery I still cannot ride in the mule. My doctor told me yesterday as it is I'm overdoing it. So it was nice we can at least enjoy a little bit of fish without me going out yet.
Things have been relatively quiet here with just the usual daily chores going on, and me trying to recover. Kevin got the machines fixed for the most part and is waiting on a bit warmer weather before going out to haul in more logs.
I hiked out onto the pond yesterday to check on a spot that was torn up on the ice. It turned out to be a Muskrat hole. The pond is almost empty right now because of the Otters draining it, I was surprised while I was out there how low the water is. We'll get it back in the spring hopefully.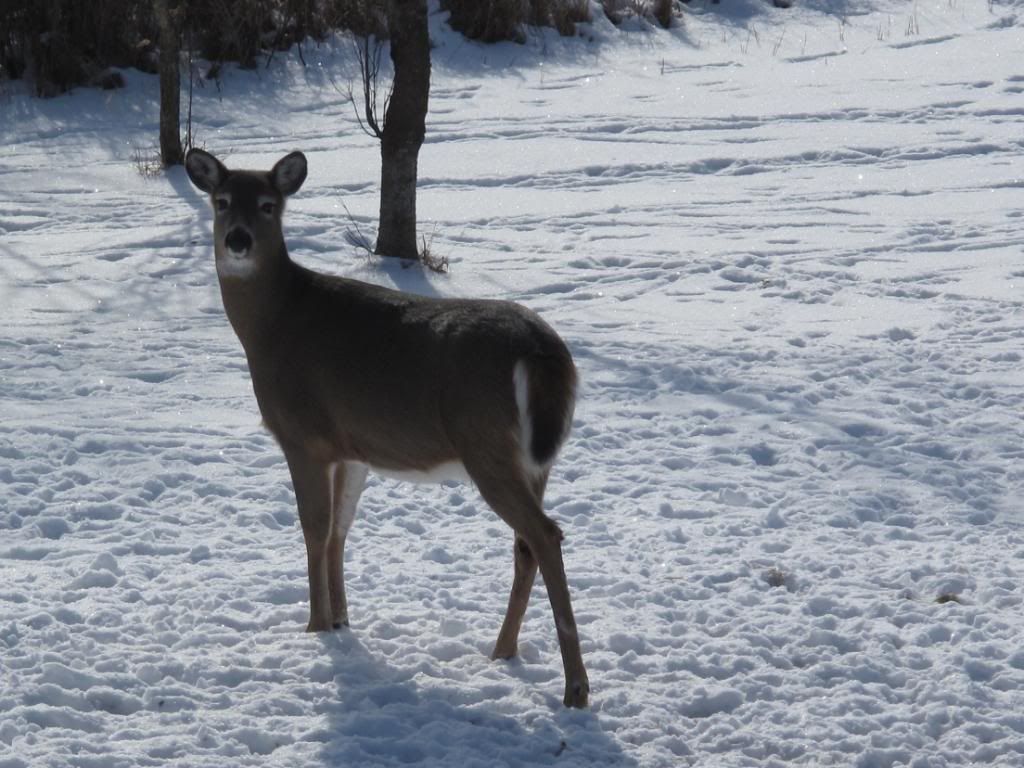 Doe in the yard
Mess outside the hole in the ice, mud, and droppings
Hole in the ice
The tracks from the critter who came out of there, like a muskrat, see the tail drags?
Coyote tracks next to the hole too
I've been cooking up a small storm as usual. The 12th was Jim's (our helpers) Birthday so he had to have a treat. I found a recipe for baked doughnuts... it had mixed reviews but sounded good so I gave it a try.
Really they came out as little sweet breads - of course they are going to taste different being baked rather than fried, so I kept that in mind. I just made mine into little balls. The recipe said to roll them in cinnamon sugar so I did and they were really tasty.
The second batch I injected home blueberry jam into, and then rolled some in powdered sugar and some in cinnamon sugar - the powdered sugar jelly filled ones were the best. You could do a lot of your other favorite toppings too. I think they were worth the effort and you can feel a lot less guilty with them being baked.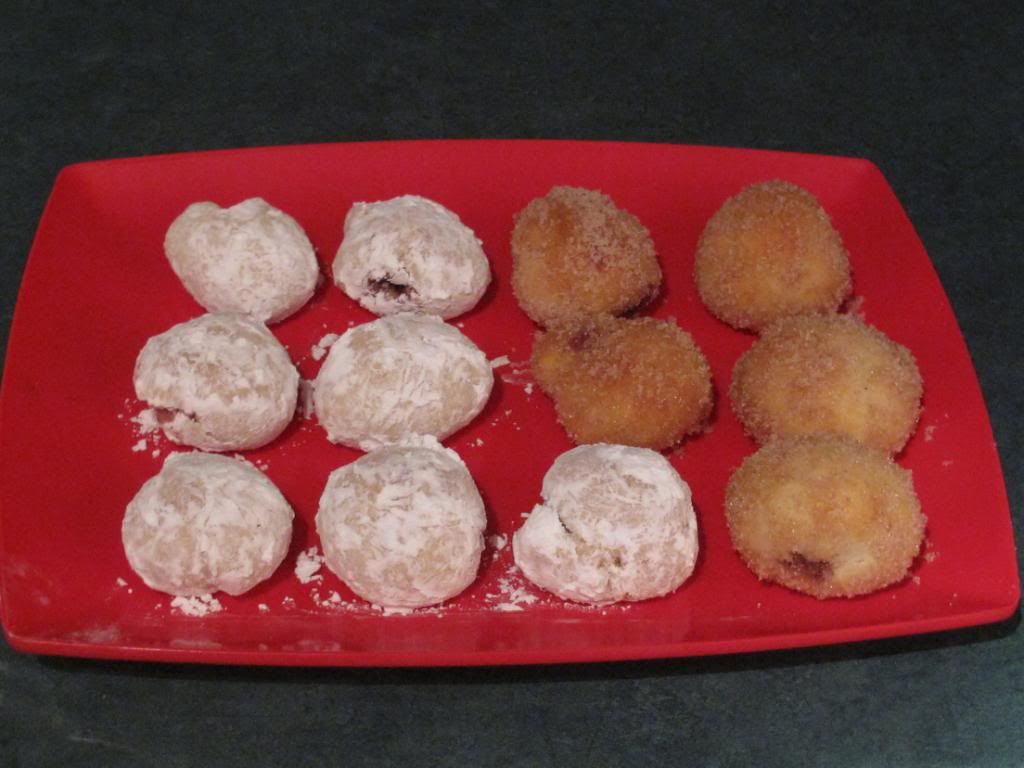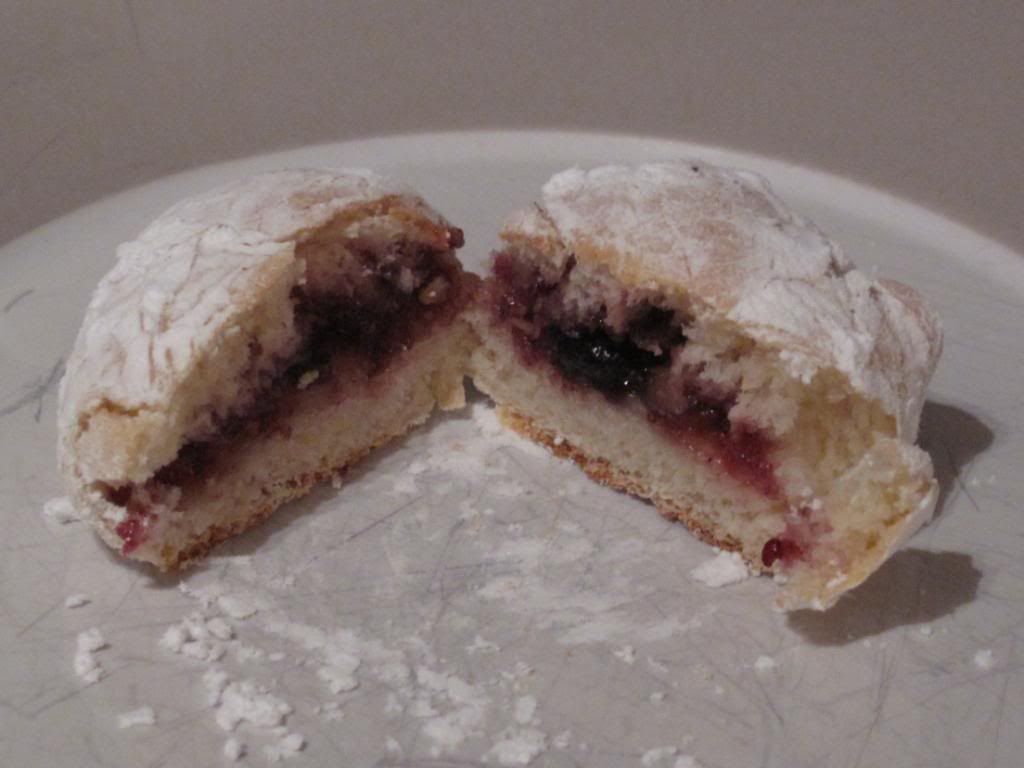 Baked Doughnuts
from this recipe.
1 1/3 cups warm milk, 95-105 degrees (divided)
2 1/4 tsp active dry yeast
2 tbs butter
2/3 cup sugar
2 eggs
5 cups all purpose flour
a pinch of nutmeg
1 tsp salt
1/2 cup melted butter
1 1/2 cups sugar
1 tbs cinnamon
Place 1/3 cup of the warm milk in the bowl of an electric mixer. Stir in the yeast and sugar and set aside for 5-10 minutes and let it proof. Stir the butter into the remaining cup of warm milk and add it to the yeast mixture. With a fork, stir in the eggs, flour, nutmeg, and, salt - just until the flour is incorporated. With the dough hook attachment of your mixer, beat the dough for a few minutes at medium speed. Adjust the dough texture by adding flour a few tablespoons at a time or more milk. You want the dough to pull away from the sides of the mixing bowl and eventually become supple and smooth. Turn it out onto a floured counter-top, knead a few times (the dough should be barely sticky) and shape into a ball. Transfer the dough to an oiled bowl, cover, and leave to rise in a warm place for an hour or until the dough has doubled in size.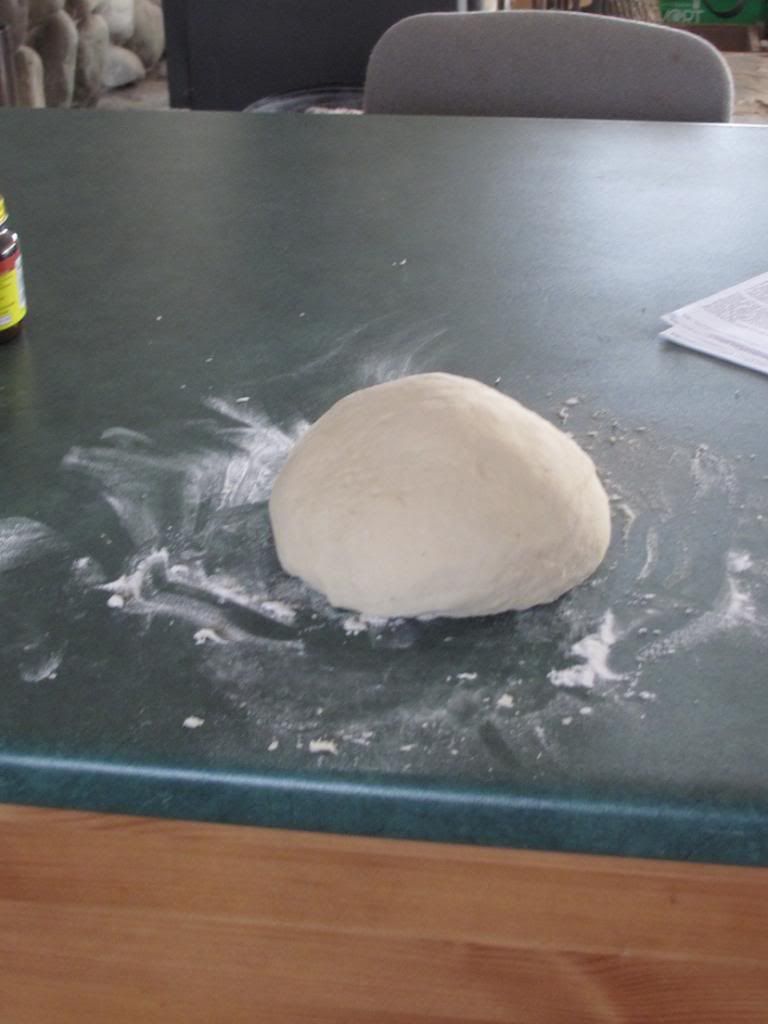 Punch down the dough and roll it out 1/2 inch thick on your floured counter top. The original recipe says to cut out 2-3 inch circles and transfer to a parchment lined baking sheet and stamp out smaller inner circles using a smaller cutter. I just made my dough into little round balls, like Timbits (for everyone who's not Canadians those are little round doughnuts that are popular here) so you can do it whichever way you like.
Either way cover them with a clean cloth and let them rise on the baking sheet for another 45 minutes.
Bake them in a 375 degree F oven for 10 minutes, when they are lightly browned remove them - do not cook them over 10 minutes. Let them cool slightly and then roll them in the melted butter and cinnamon sugar. Just mix your sugar and cinnamon together and voila.
If you want to put jelly in them, an icing bag would be handy, but I didn't have one, so I made a small hole in the middle of the cooked doughnut with the end of a spoon, then using a plastic baggie with the tip cut off, piped in some jam. Then I rolled them in the icing sugar. You could also dip them into melted chocolate, nuts, sprinkles, whatever you'd like.
The recipe said "eat them immediately if not sooner" which I thought was funny - and I was worried once they cooled a bit maybe they'd taste bad. But they did not - they taste good warm, but don't loose their good taste if they sit for a few minutes. Everyone gave them the thumbs up here.
The other really delicious thing I made was egg rolls. I found a recipe for baked egg rolls which sounded great, and a lot healthier because they are not fried. My major problem was Kevin cannot eat ready made egg roll wrappers you buy at the grocery store because they are always full of preservatives. So it dawned on me, why not make my own?
I found a great recipe for them and they couldn't be any easier. Mine turned out a little thicker the first time around, which I expected, but that's easy to fix, it just takes practice, and these smell delicious, and taste delicious.
All you need is 2 cups of flour, 2 eggs, and 1 1/2 cups of water - or more. You want this to be very runny, if it's not it won't work, but don't over do it on the batter, you want it like pancake batter, maybe just a tad runnier.
Pour a little bit of the batter into a frying pan on high heat, and let cook until just done, don't brown, and don't flip, as soon as it's set, slide it off onto a plate, and just repeat. I used parchment paper to keep my egg roll wrappers apart, do not stack them directly onto one another.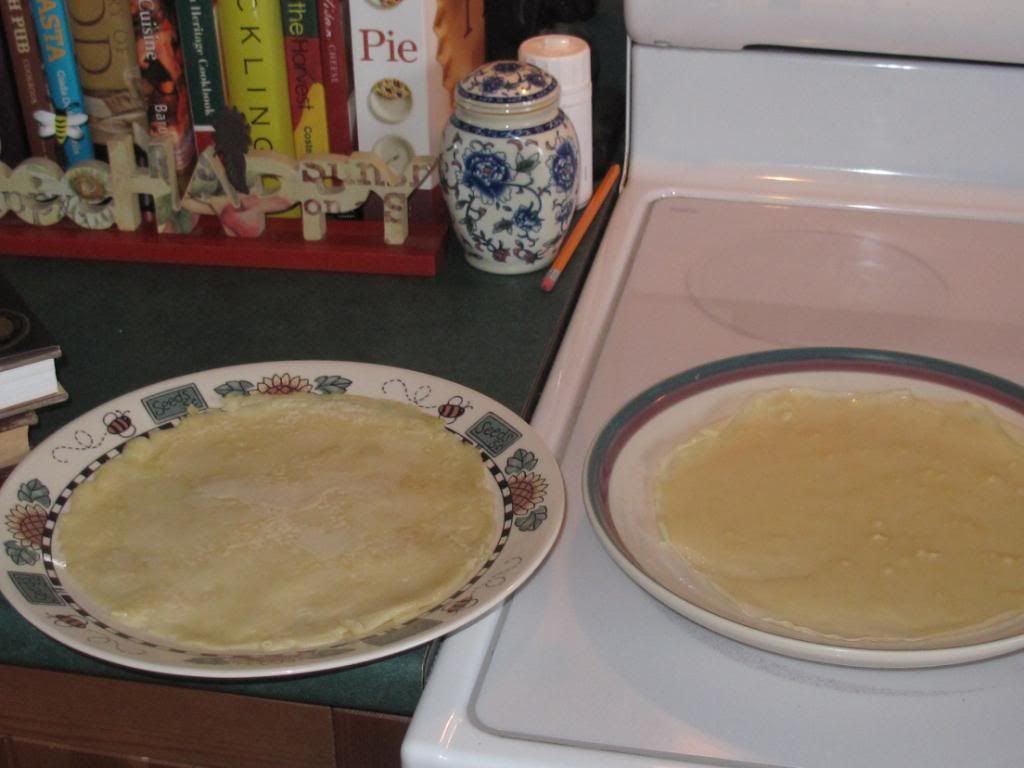 Then just let them cool for about an hour or so.
For the filling for the baked egg rolls which is adapted from the Canadian Living magazine you need:
1 lb lean ground pork
3 green onions chopped
2 minced cloves of garlic
1 carrot - grated
2 tbs soy sauce - I always use Tamari
1 tbs corn starch
1 tsp sesame oil
12 large egg roll wrappers
1 tsp vegetable oil
In a nonstick skillet, cook pork over medium high, breaking up with a spoon until no longer pink. Drain off fat. I let mine brown. Add onions, garlic, and, carrot, and cook over medium heat until vegetables are softened about 3-5 minutes.
In a small bowl whisk together your cornstarch with 1 tbs water, sesame oil, and, soy sauce. Pour into pan and toss well.
Now for the egg roll, I did not form them like a normal egg roll, I put my filling in the middle and then picked up the ends and rolled them kind of like a tortilla. It was just easier, and because they were a little thicker, it worked so much better. You could of course roll them like a traditional egg roll. Place wrapper on work surface and brush with water, spoon scant 3 tbs of filling on bottom third leaving a 1/2 inch borders on bottom and sides. Push bottom edges over filling and roll up, pinch ends to seal.
Place seam side down, on rimmed baking sheet and brush with oil. Bake at 375 degrees F until golden and crisp about 20 minutes. This took me longer than 20 minutes, I'd say 35-40, but watch them. They brown up quite nicely and get nice and crispy and you do not miss the frying at all - I actually much prefer them this way. These went over really well too and the next day I re-heated them in the oven to get them crispy again and they were just as good as the night before. Everyone is still looking for more of these, so I'll do another batch soon.
Who knew an Irish, Ukrainian, Polish, farm, girl, could actually make egg rolls and have them taste good? It surprised me.
Tonight we have leftover sausage kale soup and I need to use up some zucchini and peppers I have so I'm going to put them into a homemade tomato sauce using a few jars I canned last summer.
and last time, I promised I'd share the stuffed portobello recipe, so here it is...I make my stuffed portobellos by removing the stems and then cleaning them out so I'd have somewhere to stuff them. Then I salted them and baked them at 450 degrees F for 35 minutes, or until tender.
You need to dump out the liquid that accumulates.
I put some tomato sauce in each of them, then a big handful of diced fresh spinach, then a palmful of mozzarella cheese. I put them back in the oven for 15 minutes or until brown and bubbly.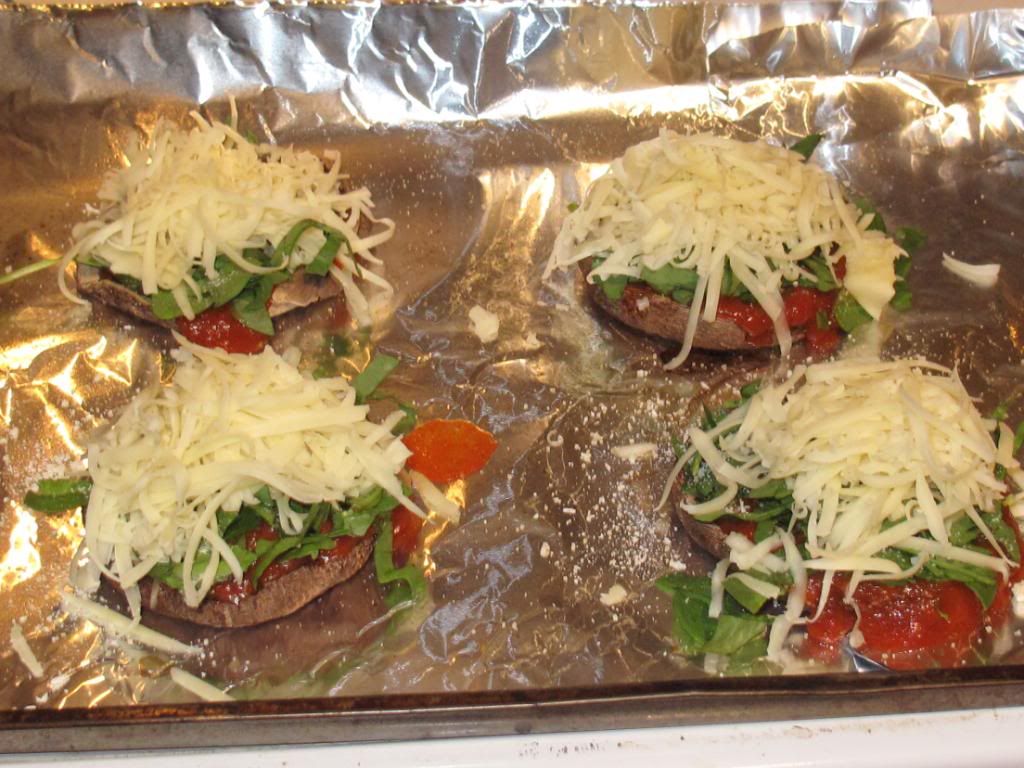 They are delish. You could also add breadcrumbs, onion, whatever you'd like. This makes a nice meal, with a side salad. They make a super fast supper.
Last night while we were watching T.V. Douglas suddenly shocked everyone by lying down and going to sleep. He actually passed right out and it was too funny the way he chose to sleep with me on the couch.
He started off with his dad... (we took the tree down today by the way!)
Then moved over to my leg...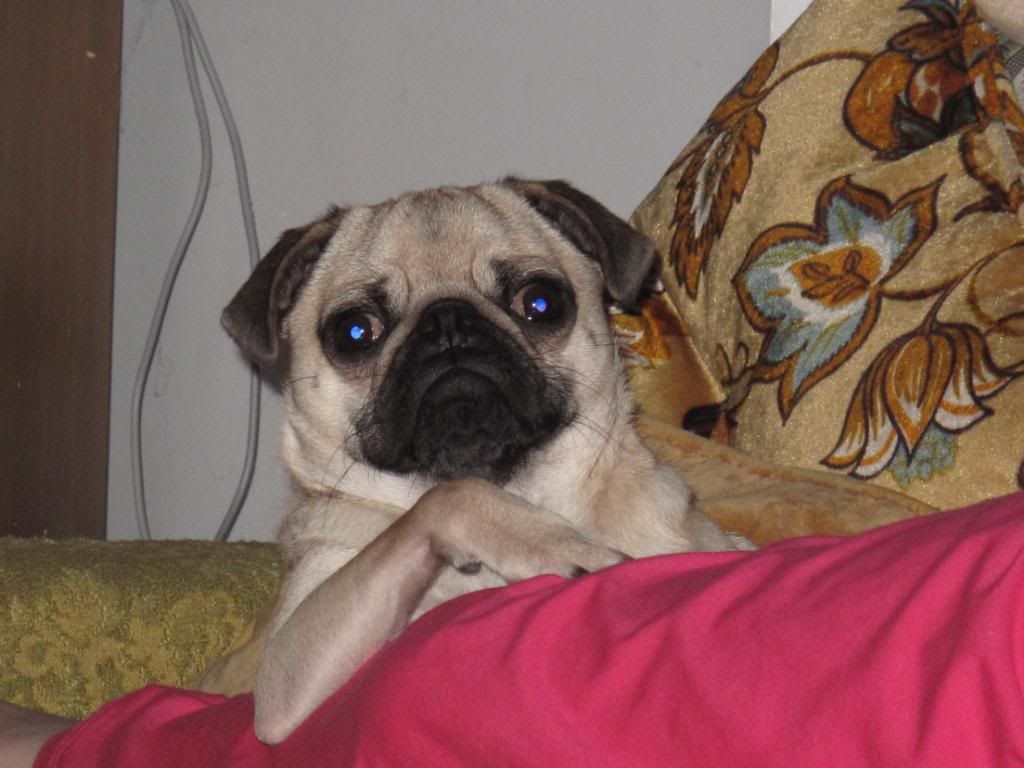 and then, passed out...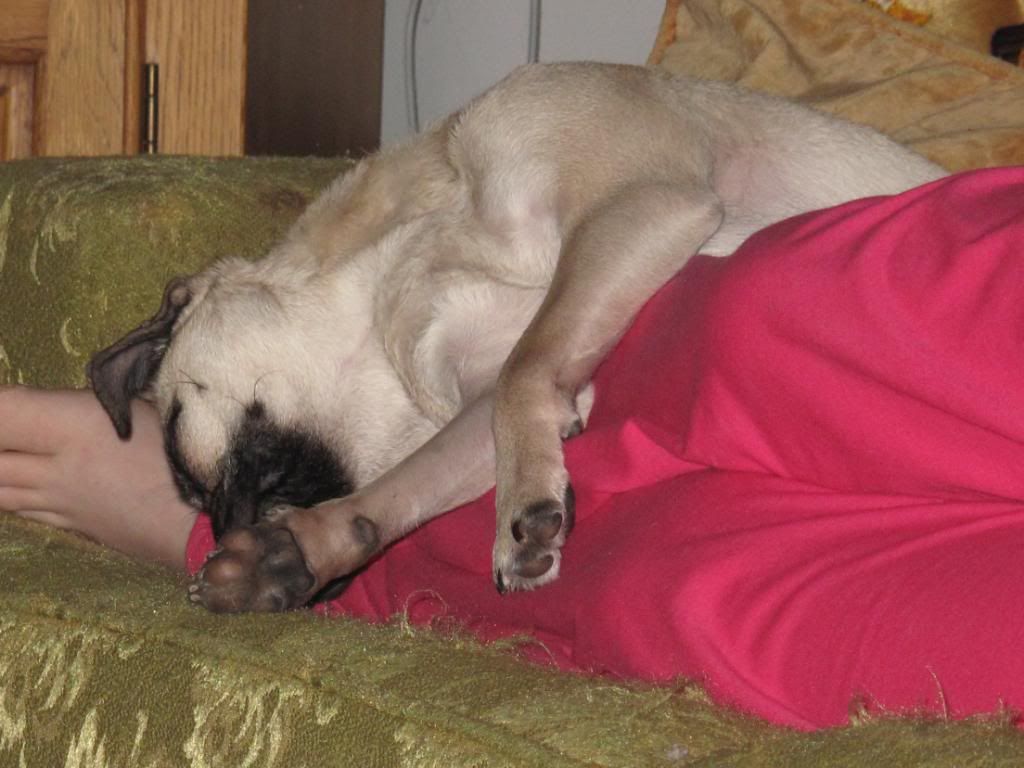 He is such a goof. Him and Norman were so excited this afternoon, with the tree gone, the furniture is back out of the way where it belongs and they have more room to run around, so the two of them were playing...
This ones my favorite...
Oh and the bucks are still holding their antlers, our little spike dropped one, but the big boys still have their antlers. We've been watching everyday.