a horse and his dog
Wrambler, our Haflinger, adores both of our Great Pyrenees. He of course loves Norman the Chihuahua too, because without Norman, we would not have Wrambler. They both came from the same farm in Pennsylvania. I'm not sure what he thinks about the Pug yet.
But no one loves Wrambler as much as Flavious. Flavious adores Wrambler, more than any other animal, and more than the goats he's suppose to be guarding. He showers his horse in kisses, sleeps with him, shows him endless amounts of affection. I'm sure Flavious loves Wrambler more than Wrambler loves him but I don't think he's worried about it.
It has been really sunny, warm, blue skies... so not typical November weather but who is worried about it? Certainly not me! Or Max. Both dogs have been loving the bright warm sunshine in the cool mornings.
After chores today I decided to sit in the barnyard and knit for a little bit. A luxury I often forget to allow myself, just to take some time and relax and enjoy my wonderful family.
Max and Sammy were in my lap, Bea was giving kisses, even Izzie gave me a big, wet, slobbery, cow kiss! Sometimes I do feel like the luckiest girl in the world. So much work goes into this farm and these animals, but I could not be more fortunate because of it. I got some really great pictures while I was with them, ones that are for sure getting framed.
Happy Max and Lambie
Izzie trying to catch a piece of hay that was trying to get away


. I was going out to check on Kevin and Joe when I found them parked in the argo in front of the big arm tree. They signaled for me to stop. So I did and I saw that Deer Norman was there. I was relieved to know he is OK because it has been several days since we have seen him. He was after a doe who had crossed the road behind Kevin and Joe and the machine.
I took a couple pictures of Deer Norman.
Then Deer Norman decided to cross the road to get to his doe, and cross he did, right behind the argo.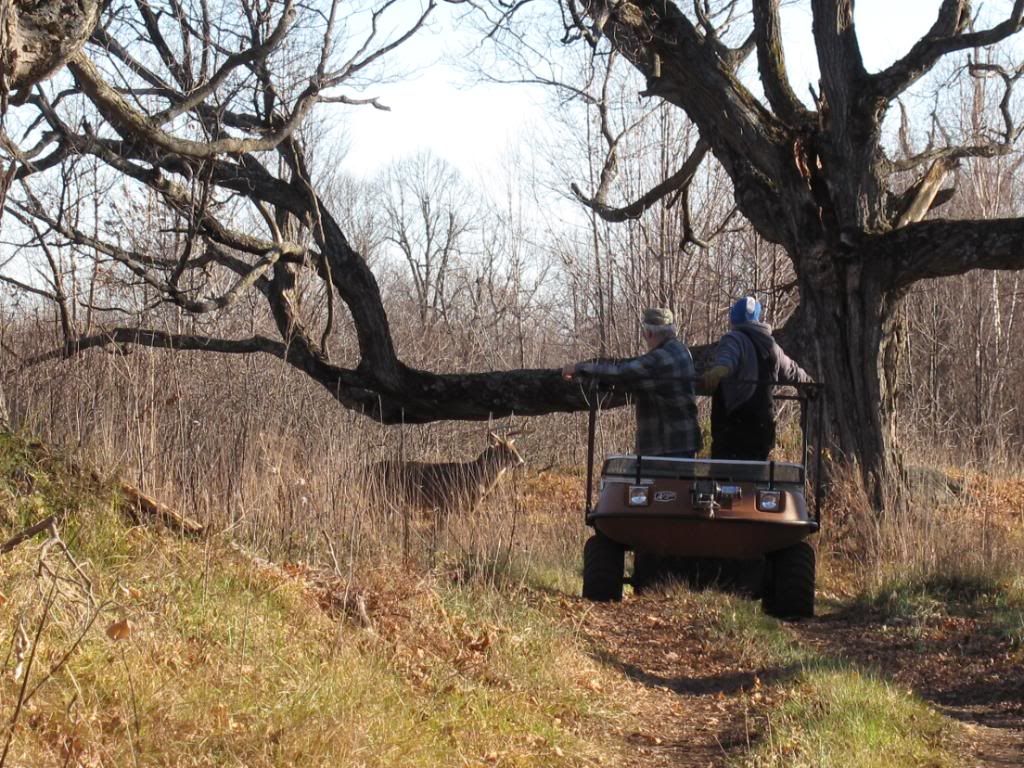 I bet they were glad I showed up with my camera!
This is how things are in our forest. There is no chaos here and there is no threat. These animals are not tame, but they are not afraid of us in our forest. They do not come out to strangers, they know the difference and it's amazing how smart they are. It's amazing when there is no threat how much they will share with you. Amazing things they will share with you, if you just show them respect, kindness, and calm.
I made
these sloppy joes
last night and I recommend this recipe, it was a pretty good sloppy joe recipe. The hardest part was making the buns in the afternoon. I cannot run to the store to get some, so I have to think ahead and make fresh ones.
I tried this recipe I found on cooking light for dinner tonight.
Roasted butternut squash and bacon pasta
. It was put simply, the best pasta dish I've ever eaten. Of course I'm not sure what is light about this dish and I must warn you, once you start eating this, you will not want to stop. It will be difficult, more likely impossible.
Here is the original recipe here
This is pretty much the same recipe but with my alterations to it.
Ingredients
3/4 teaspoon salt, divided
1/2 teaspoon dried thyme
1/4 teaspoon freshly ground black pepper
3 cups (1-inch) cubed peeled butternut squash
Cooking spray
6 nitrate free bacon slices (raw)
1 cup thinly sliced shallots
8 ounces uncooked mini penne pasta
1/4 cup all-purpose flour
2 cups 2% reduced-fat milk
1/4 tsp nutmeg
3/4 cup (3 ounces) shredded Havarti cheese
1/3 cup (1 1/2 ounces) shredded mixed cheese
Preparation
Preheat oven to 425°.
Combine 1/4 teaspoon salt, thyme, and pepper. Place squash on a foil-lined baking sheet coated with cooking spray; sprinkle with salt mixture. Bake at 425° for 45 minutes or until tender and lightly browned. Increase oven temperature to 450°.
Cook the bacon in a large nonstick skillet over medium heat until crisp. Remove bacon from pan, crumble bacon. Increase heat to medium-high. Add a small amount of olive oil and shallots to a pan; saute 8 minutes or until tender. Combine squash mixture, bacon, and shallots; set aside.
Cook pasta according to the package directions, omitting salt. Drain well.
Combine flour and 1/2 teaspoon salt in a Dutch oven over medium-high heat. Gradually add milk, stirring constantly with a whisk; bring to a boil. Cook 1 minute or until slightly thick, stirring constantly. Remove from heat. Add Havarti, stirring until cheese melts. Season well with salt, pepper and nutmeg. Add pasta to cheese mixture, tossing well to combine. Spoon pasta mixture into an 11 x 7-inch baking dish lightly coated with cooking spray; and mix in squash mixture. Sprinkle evenly with a blend of your favorite cheeses. Bake at 450° for 10 minutes or until cheese melts and begins to brown.
You have to try this recipe.
Kevin took me out for a quick ride to show me some of the work he and Joe have been doing and also to show me what Charlie accomplished today. Charlie works here every fall putting in new trails on the farm.
We found another buck scrape, likely Deer Norman's since it's in his general territory
One of the new trails we put in provides us access to a beaver flood we could not get to before. The beaver has been flooding a bigger and bigger area, and this is what part of it looks like now: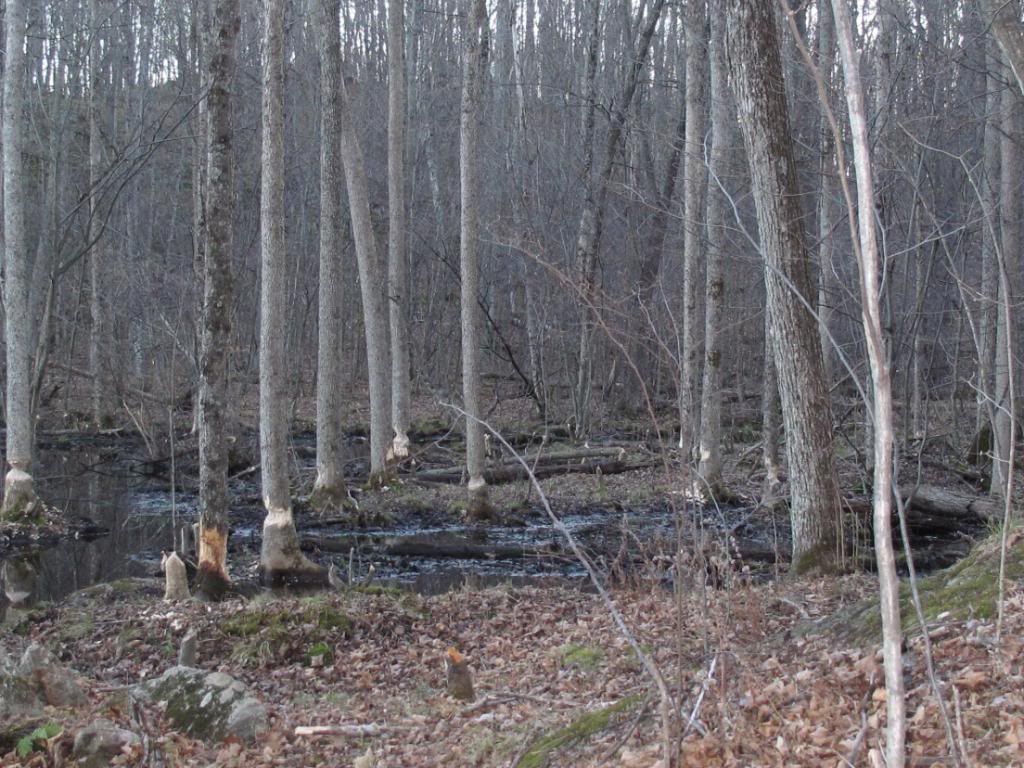 And that's just part of it. They have really been getting busy cutting down trees.
Charlie got a few roads in but then he lost a track again, something that happened last year. It looks worst than it is, it proved last year to be easier to fix, but still enough of a problem to make work stop for the day.
Our one beaver pond where Kevin's road is, the road that we use to access the other half of our property still has some ice on it since it is in the shade. It's surprising in this warm weather to see some ice left from the cold at the beginning of the month.
Sunday it will be Thanksgiving in our house so I'll be making turkey and all the trimmings.
Next week, on Wednesday Ferd the bottle raised bunny will be neutered. I'm nervous, as I am when any of my animals needs to go under anesthetic but he's healthy and young. And once he's neutered he'll be able to be loose with Noel inside the house, and I'm sure he'll be thrilled to be back with his lady friend. And I'll be thrilled as he continues to grow up we won't have any spraying going on.
For now it's time to curl up by the fire before bed.