In the beginning...
I thought it might be fun to share some old pictures from when Kevin and I first started with our lives together and projects. We met in 2004, when I was living at, and care taking full time a Non-profit animal sanctuary for special needs dogs which also had farm animals who had been rescued. And he was still building and finishing his house. Buddy had run away from home and had been living with me, since he showed up about 10 miles away from the farm, at the sanctuary. After we reunited him with Kevin, I continued to babysit Buddy when Kevin went away and Kevin supplied me with wood over the winter. Anyone who knows about that, knows what a laugh that was. The old farm house I lived in had a broken wood furnace and no matter how much wood I put in it, it didn't heat anything. Poor Kevin cut more firewood than he ever imagined he would that winter, and I still froze. Thank heavens I had dogs to keep me warm.
He still says it was just easier to move me in here than to keep cutting wood for me in that old farm house!
When we moved in together, he had one dog, and one cat. I had two dogs and a rabbit. Then in September of 2005 we went to our first farm auction... and then it all began.
Kevin says "this is where we are going!"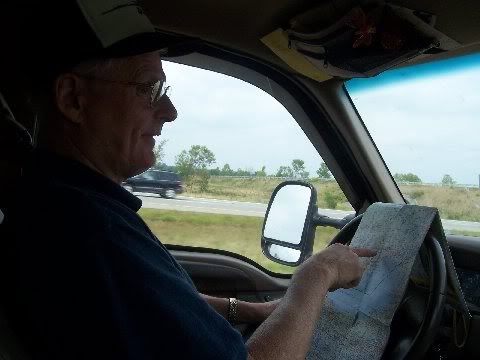 We went to look around, and found out that it wasn't just an auction, it was also a farmers market and people were selling animals. We only made it to the first stand. I saw Fortune, a Flemish Giant rabbit and asked to hold her. While I was holding her and Kevin was watching me from across the isle of the cages, a man came and bought the other two rabbits that were in the same cage as Fortune for meat. The man selling them wanted me to give Fortune to the man who wanted them for meat, that is, unless I was buying her. I looked at Kevin, he looked at me, and that was that, Fortune was mine.
Me and Fortune on the ride home
Because I had Fortune, the man wanted three does to breed so he took one from the other cage. That doe had three babies in her cage with her, but he didn't want those. So we ended up with three babies too, Clover, Crabapple, and Snugglebunny.
Then we ended up with 12 ducklings, two turkey poults, and 2 Chinese geese. A few chickens. and some Guinea hens.
It was quite the ride home.
We didn't have barns or sheds, or anything at that point, so Kevin had to quickly build a shelter for all the birds and hutches for the rabbits. We had an old pig house that Kevin had used years ago so we put the birds there temporarily until we could build the new shed.
Since then we've had (and still have, this includes critters past and present) 8 dogs, 3 pigs, 5 horses, 15 goats, about 18 sheep, 7 Llamas, five turkeys, dozens of chickens, 1 donkey, 1 cow, 7 Prairie dogs, 7 Kakarikis (don't know what's up with the number 7 by the way!) and Over 100 rabbits. Yes, over 100 rabbits. Since the day Fortune came home we have been taking in and caring for special needs, sick, old, and homeless rabbits. We've had over 100 come through our farm since the fall of 2005. Many have been adopted, many have passed on since they were often over 10 when they arrived, and some still live with us. I'm sure I've missed some critters as well.
In other words, we haven't had a moments peace since!
There are so many stories to tell from this farm and from each animal over the years. Here is just some pictures and a few small stories along that road that led us to where we are now...
The three bunnies. Snugglebunny passed away in '06, Clover in '09 and Crabapple is still with us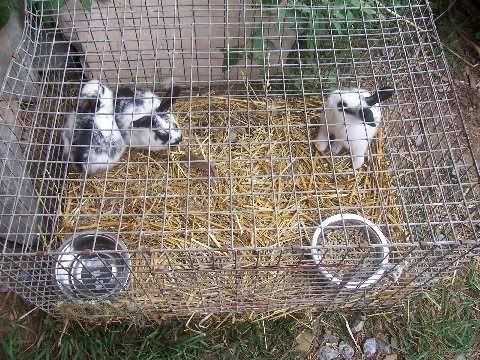 Hickory not happy with his ride home!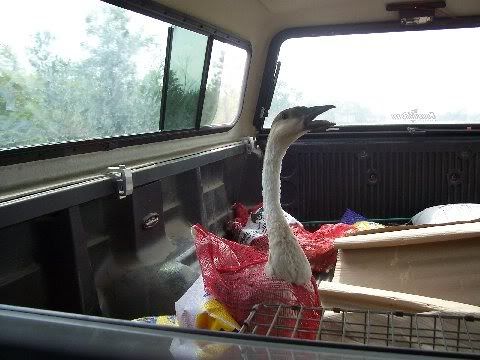 ducklings
My first hens! early winter 2005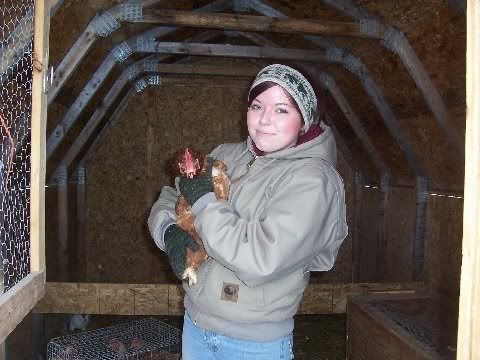 Kevin building Fortune's first hutch
building our chicken/duck/rabbit shed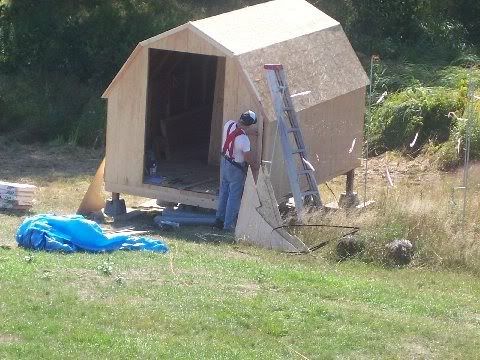 Building the llama run in shed - you'll notice there has been a lot of building, and there was a lot more after this and still to come! The Llamas came in November.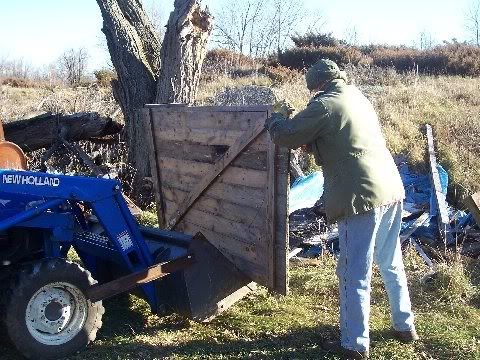 Evil Sherman. Long story. He happily still lives with a friend near Toronto.
and Larry llama. Larry was and still is to this day, the one animal that impacted both our lives the absolute most on this farm. He changed us forever and we still grieve over the loss of him. He was one of a kind. One day I will share his story on the blog.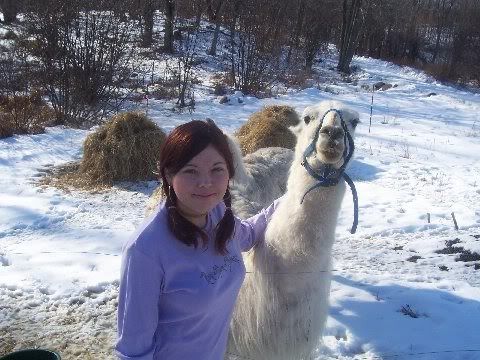 and this is what our front room looked like in 2005, no kitchen, no stone work around the woodstove, no floor, no nothing!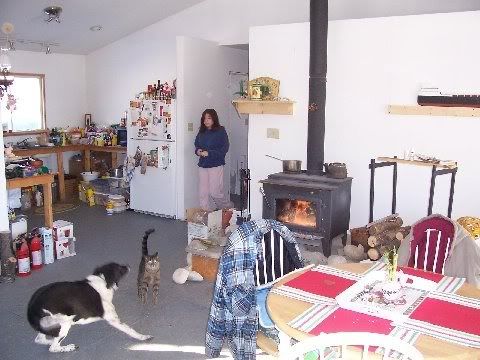 This picture was taken on the lake November 2005 as well, it was too pretty not to share.
and just a few more from '05
snow ducks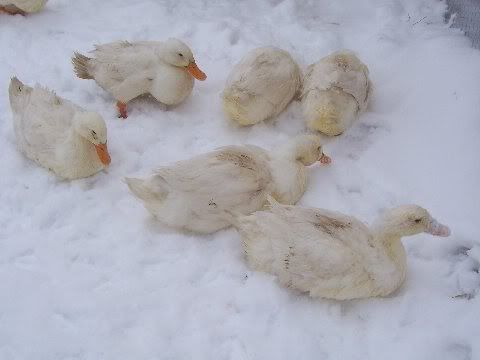 rainbow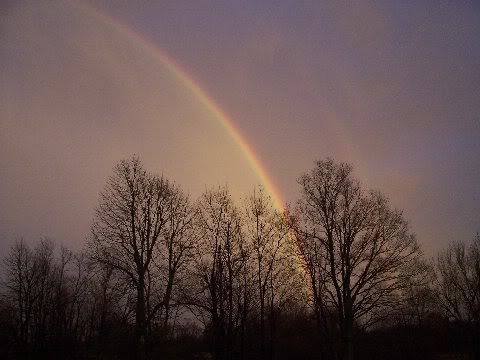 swimming in the lake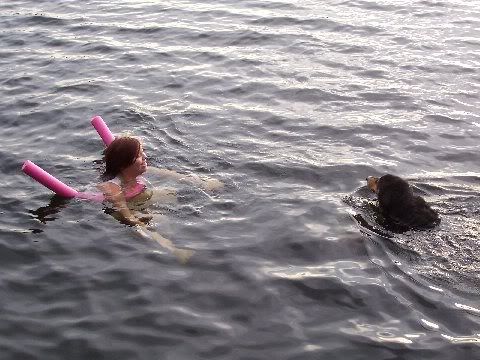 Dublin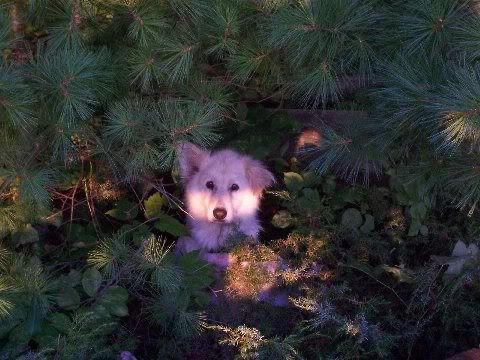 I'm going with you!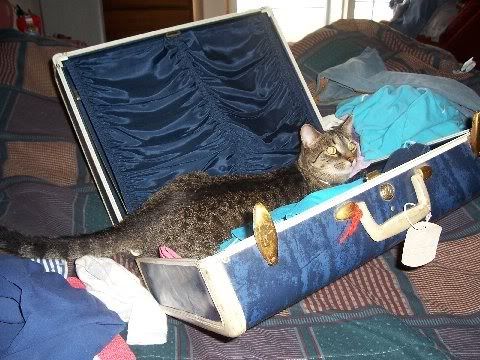 Kevin's first handmade rocking chair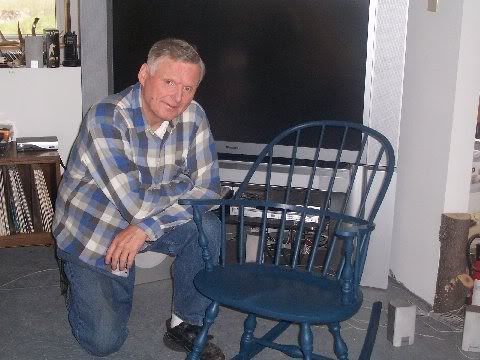 Buddy on the docks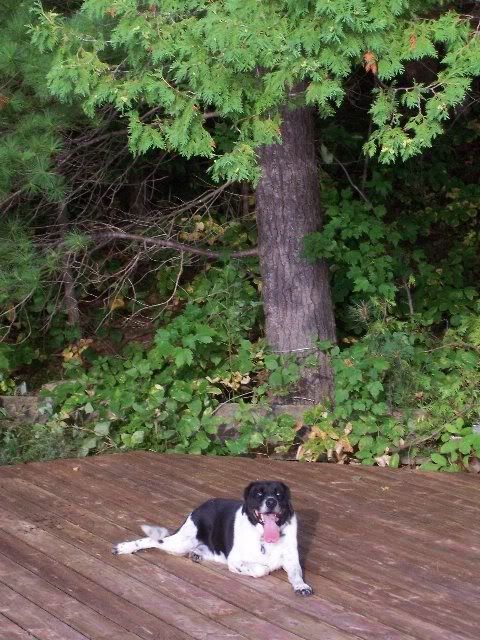 I'm going to try and remember to share older pictures more often, we have so many great pictures, it's been fun digging around some of our old ones! And also share some of the stories of some our animals, especially ones past who aren't on the blog now.
Hope you had fun looking at some of the old pictures :) I had fun sharing them!