Evening storm and can dogs really swim?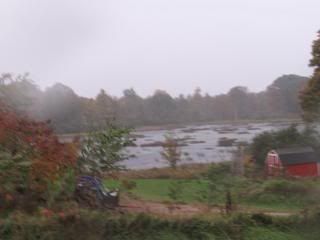 We had a bad storm last night, but only for about an hour. The hour while I was outside putting the animals away, letting the dogs out, getting ready for the night. Then as soon as I was in the house and done, it stopped raining. I'm not even exaggerating. The sky cleared and the stars came out. I was glad to see the stars come out because I was expecting a load of hay to be delivered this morning and if it was raining we'd have to delay.
We've been getting way too much heavy winds this past week. We've lost a lot of leaves, but the trees are still fairly full. We will miss most of the color here since we'll be traveling, but it will be interesting seeing the colors in the different places we travel to. And I'm sure the Rockies will be beautiful this time of year. I've only ever been out there in the late spring and summer.
This afternoon I needed to clear my head, and more importantly, my heart. So I went out to look at some of the color that is quite quickly showing up over the past couple days. I got some nice pictures of a few of our favorite spots.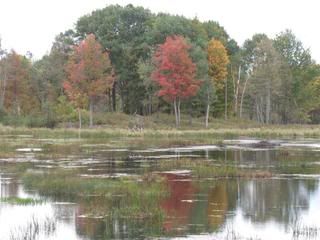 part of our lane
and this is Chester, one of our resident chipmunks that frequently breaks into the house through the screens.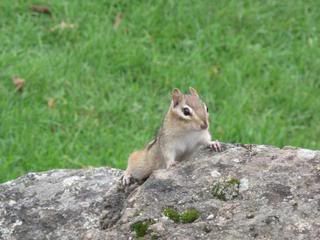 then I tucked the animals into the barn for the night, safe, sound, cozy, and with lots of food to keep them busy and full.
This is one of my favorite pictures of the sheep flock ever. I would like to frame this one. All of them, all spread out and lined up, calling to me to put them to bed. Horace, my wether (neutered male) is turning white. I cannot believe it. Every year his wool comes in black. This year, it's coming in white. It is the strangest thing I've ever seen. This is his third year getting sheared. He'll be four years old in March.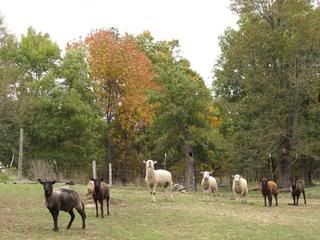 Braveheart AKA Lambie always takes the cutest pictures. Because he is blind, he holds his head up like this when he's listening
and here is old Billy goat gruff, looking the part
When I got in from putting everyone in the barn to bed, I decided to take a short walk with the dogs, since there was a nice cool breeze. We walked out to one of our first ponds, the turtle pond. It's a green pond covered in small lily pads with lots of frogs, turtles, wood ducks, and there is almost always a Great Blue Heron in the pond fishing. She flew away as soon as she saw Douglas coming. The dogs had a blast on the walk.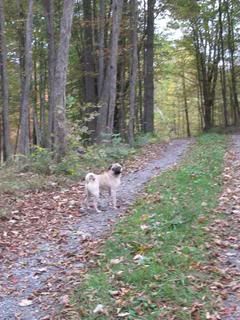 When we got to the pond, I was looking around, watching Norman, taking pictures. I saw Douglas go over to the edge of the pond but figured he would just smell it. Nope. Seconds later I heard "Splash!" and Doug was in the pond. Sinking. He was nearly underwater when I tossed the camera in the grass and started into the pond, scared half to death he would drown, just his nose was left above water when he started slapping his paws in the water, and then voila.... he figured out how to doggy paddle. I was standing in the water, on the edge calling him to me with my arms out. He just kept swimming around, further out, and around in circles. I thought he was afraid but soon realized he wasn't afraid, he was having fun.
I finally got him to come to me, and out of the pond he jumped. He quickly started running around like a crazy thing, as usual, and then shook off a few dozen times. After I was done panicking and realized he could swim, it was quite hilarious and I laughed and laughed at him paddling around. He was so proud of himself. When he realized he could swim you could almost hear him yelling "I can swim, I can swim!"
Of course the pond is yucky. It stinks. And as soon as we got home, he had a very thorough bath with lots of shampoo. Which he hated. I always thought he hated water since he hates getting baths, but that's different than getting to swim on your own in stinky ponds I suppose! It's too bad it's fall, otherwise I would take him to the lake to swim with me. I will take him for a quick dip before we go if I can, otherwise he'll have to wait because the water will be too cold.
The only picture I got was him right after he got out, all wet
Tomorrow our friend and local appliance guy will come and help us figure out what's wrong with the washing machine and see if we can fix it before we go away. I have to finish cleaning and re packing the camper. A lot of stuff from our trip to Alaska is still in there that does not need to be. I wasn't sure if the boys would be coming with us because we will be staying in a hotel room in Colorado for several nights and be busy there. But we'll also have the camper and the hotel accepts pets. I'd find it hard to leave them at home. Logic tells me it will be easier without them, but it might also be less enjoyable. Especially while on the road. We'll have the camper and be seeing all kinds of new and exciting things and I'd hate to leave them at home. So I'll have to pack their bags too!
For dinner tonight I needed something not labor intensive since I am exhausted. Something comforting sounded good too. So cabbage roll soup seemed to fit the bill. Basically it's cabbage roll ingredients, tossed in a soup pot. I really wish I could give you a real recipe, but I didn't measure anything. I really just tossed it all into a soup pot.
I boiled a head of cabbage, then browned some beef and onions, and drained that. I cut up the cabbage into little pieces and put it in a pot with the beef/onion mixture. Then I poured in a mixture of tomato sauce, tomato juice, water, salt, and, pepper. Seasoned it to taste.
Then I added in some minute rice and put a lid on it and waited to see what happened. It's really one of those "just eyeball it" recipes. It would be hard to mess up. Just make sure you have enough liquid, but not too much. I used 1 cup of water to thin it out. 1/2 can tomato sauce, and 1/2 can tomato juice, give or take.
It turned out good though! Which was a good thing since we were starving and I was too tired to cook anything else. Sometimes the best meals come of out you just throwing things into a pot and seeing what happens!