bath day and maple syrup pie OH MY
I hope everyone likes the new look of the blog and that it's easy to use.
Today the small boys got bathed, nails clipped, teeth brushed, ears cleaned.... no, it wasn't a good day for them or me. Norman is pretty good although I know he secretly wishes I'd disappear from planet earth temporarily and return later forgetting that he needed his teeth brushed and ears cleaned.
(no Norman doesn't get bathed in the sink anymore, he was just there to get his teeth and ears done, there was a time he'd fit!)
Douglas doesn't enjoy the bath, ear cleaning, teeth cleaning, nail cleaning, and he makes it well known that I'm a horrible mother and he'll never forgive me.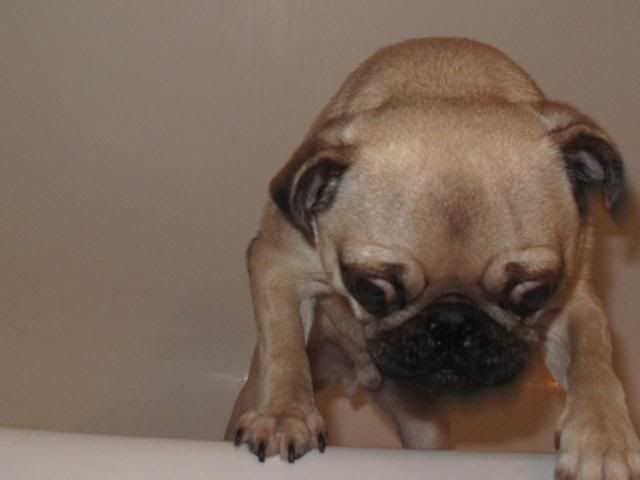 Thankfully, all three of us have short memories and soon forget it even happened, and then move forward, onto happier times...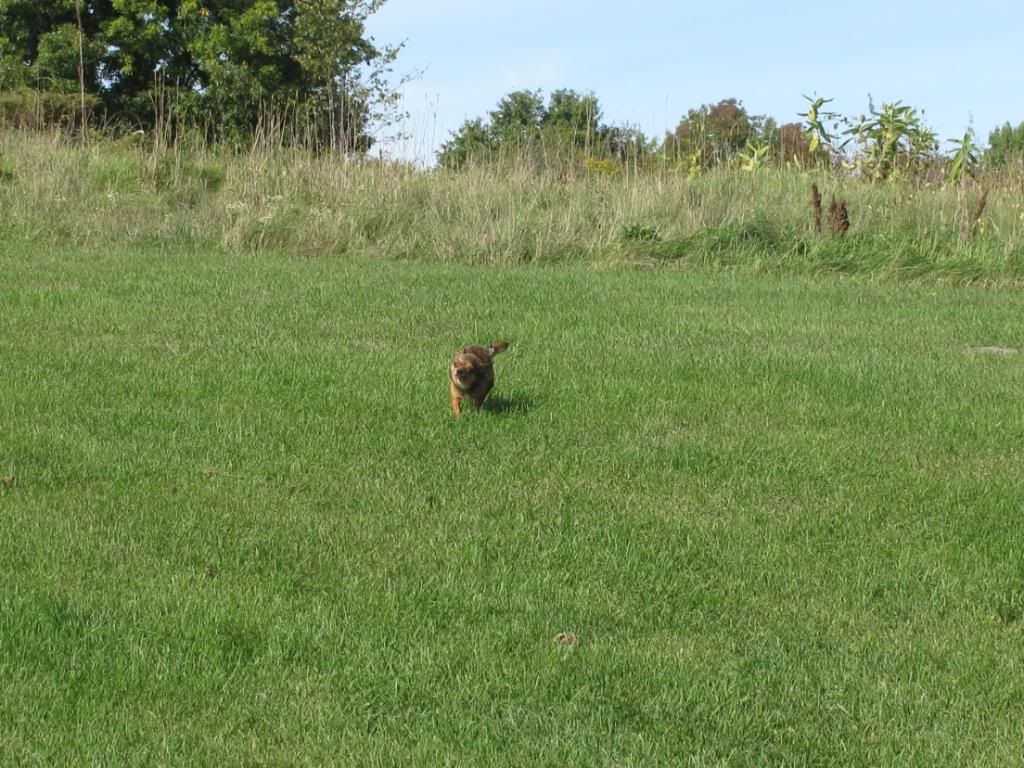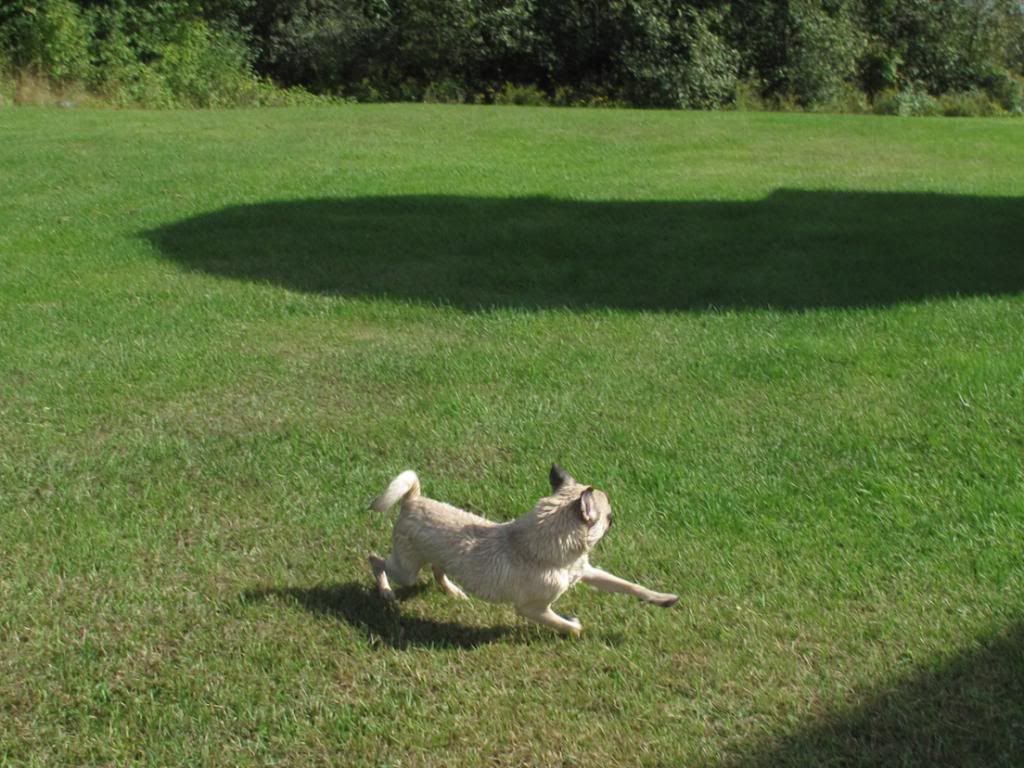 We went out counting maple syrup trees last night. We are debating whether to invest in a large arch/pan set up to produce about 20 gallons of maple syrup, to sell, to start with. We have enough for about double the amount of taps we planning on doing this coming spring if we go ahead with the new arch and sugar shack idea's we have. We are just still trying to figure out how big our maket is and who we could sell to.
The marshes are starting to turn red, and it's just gorgeous, the prettiest time of year is arriving...
I caught the funniest picture from our turtle pond, I was trying to capture the wood duck before he flew away, and I also caught the heron trying to fly away! It made me laugh because I didn't even notice the heron there when I quickly snapped the picture!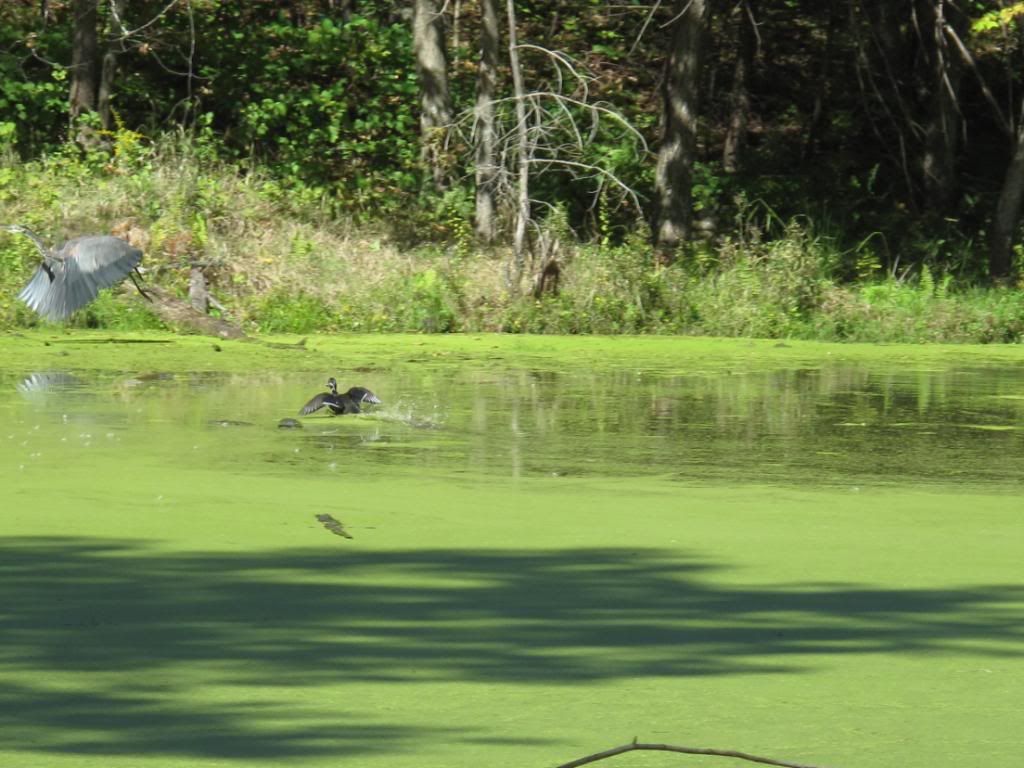 Dinner tonight was chickpea, tomato, and tofu stew. Simply, filling, satisfying. For dessert I whipped up something I've been thinking about trying for a while but haven't had the time. It 's a recipe from a local cookbook which was done to support a local plowing match. Local ladies, Queen of the fair's from years past, and country women alike put together some of their go to recipes. Although this is so quick and so easy, it's almost too easy. That's one reason I hesitated making it, I thought no way is that going to work.
But lesson learned. Never doubt a local county fair queen.
It worked almost as written although the recipe doesn't tell you to whisk. You'll need to whisk. It's impossible not to.
So here you go folks, the one and only, Maple Syrup Pie. Don't think I won't be making this again... and again... and...
OK. So you need a baked pie shell. You can make one, buy one, whatever.
Then for the filling you need to melt 1/4 cups of butter in the MICROWAVE. Yep. Then stir in 1/2 cup of flour. Mix. Add 1 1/2 cups of maple syrup and 1 1/2 cups of cream. I didn't have any, so I used milk. Then you need to cook it in the MICROWAVE (I know I still can't believe it.) for 5 minutes. Then take it out, whisk it with 3 egg yolks - well. You think this is a mess, but trust me.
Then microwave it for 5 more minutes, actually mine only took 3 1/2 to get thick, so watch it. Take it out, whisk it good again, and voila. Put it in the shell.
Make some meringue, just the usual, beat three egg whites and 3 tbs sugar until you get soft peaks. Cover the pie with the meringue. Bake at 400 degrees F until browned.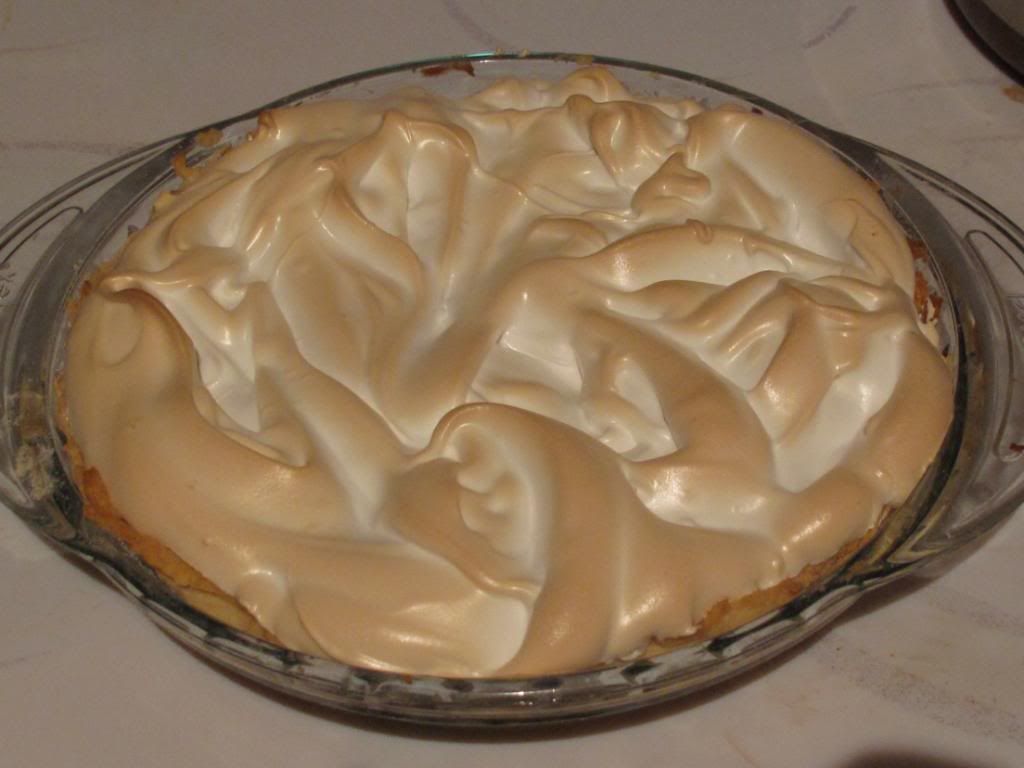 Could not be easier. The only trouble was, every time I make meringue I make myself sick eating so much of it as I'm making it. Every time. You'd think a girl would learn.
This pie is good, easy, and as I said.... good. You know you want a piece!