Work, work, work
Ah the busy days of summer... between farm work and appointments off the farm, we haven't had much time to just enjoy being home... yet. And now next week is filled up too.


We went to the city on Tuesday, to get supplies, but also because it was my Birthday, we went to dinner and a movie as a treat. We bought more blueberries to make into jam, so I can save my wild ones for eating on hot cereal and in muffins over the winter. For my Birthday treat I made blueberry crumb bars. It was almost 11 PM at night when I decided I needed them, and even though it was late, you just can't fight such a craving. They turned out really good - and they are pretty painless to make too... I used this recipe:
http://smittenkitchen.com/2008/07/blueberry-crumb-bars/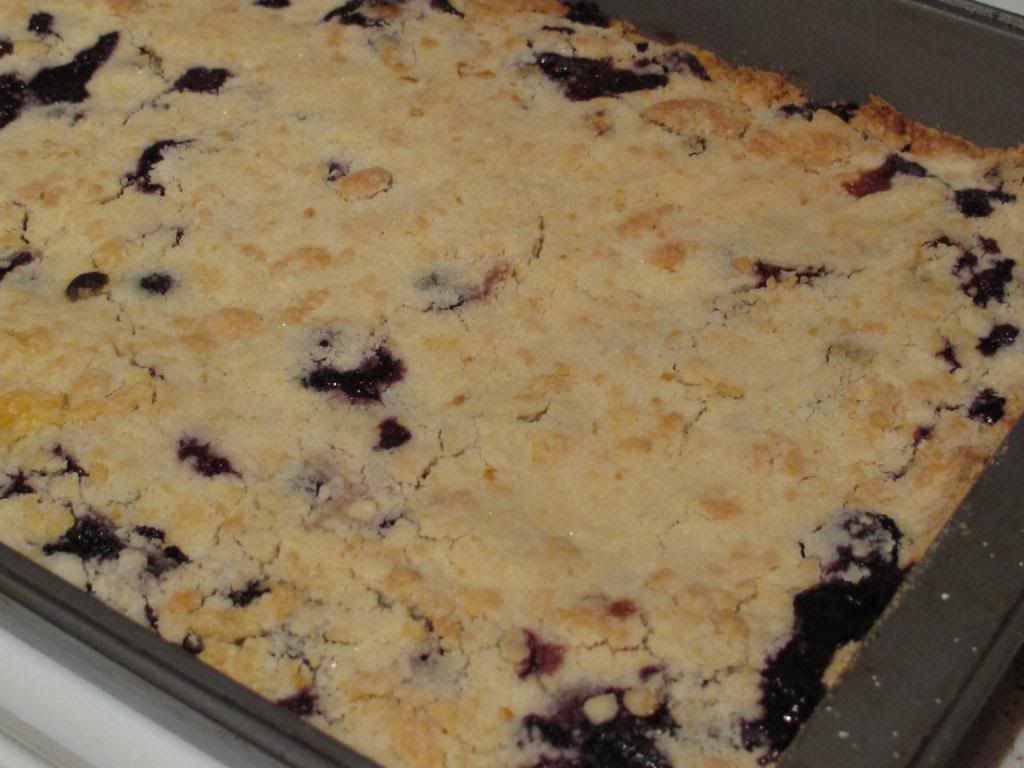 Yesterday we got the hallway painted and I finally got to put up some of my switchplates I've had for four years!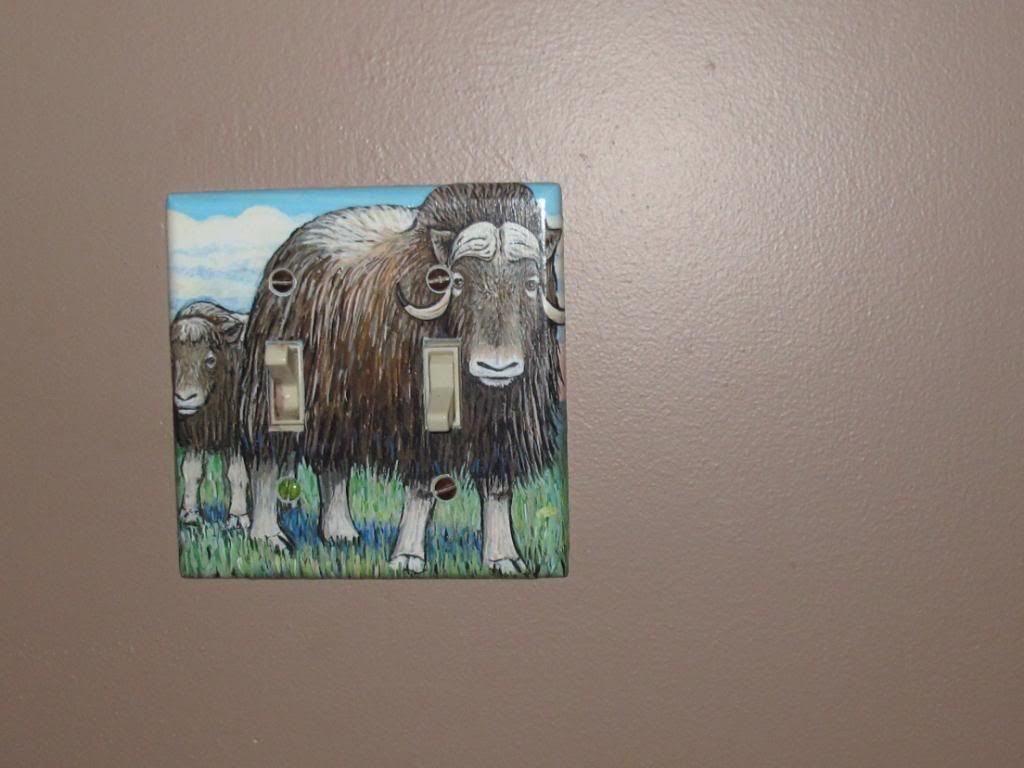 Today Kevin is working on the bathroom, getting it started. Bless his heart. I suppose it's not so bad once you get started, it's just getting there that is terrible! I had to pickle my peppers ;) Since they have been waiting on me for a couple days. I just use a basic vinegar/water/salt/garlic recipe for them since I don't want much added flavor but want to be able to use them on pizza and in recipes throughout the winter. I've had an abundance of Banana peppers this year.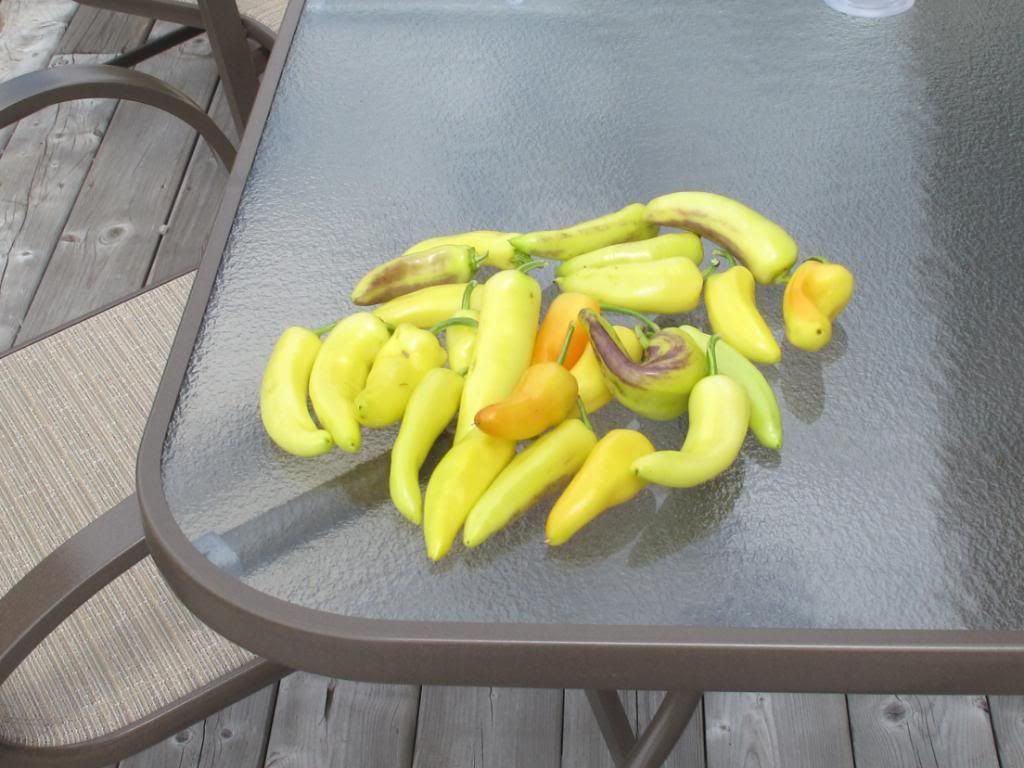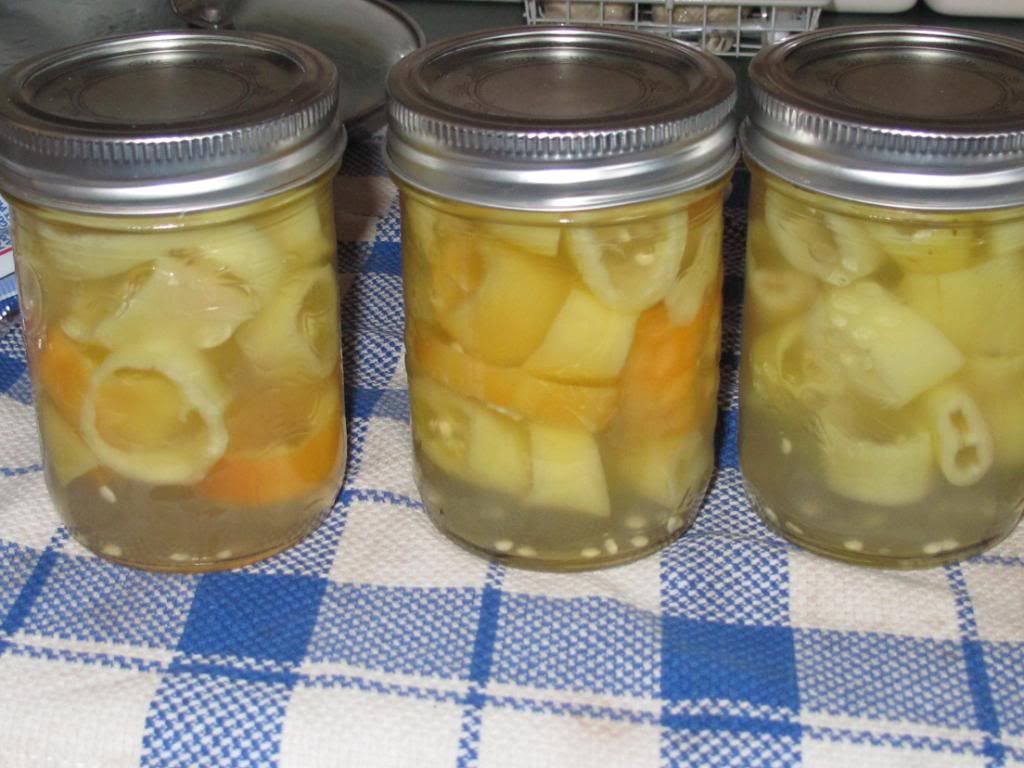 The goats had a watermelon feast today which made them, and me, really happy. It's hysterical watching the juice fly everywhere. They love watermelon more than anything. They had some corn on the cob the other day and that gets them pretty excited too, as do carrots, lettuce, and other veg. Apples go over OK. But nothing gets them as excited as watermelon. They were happy yesterday because it was pretty windy outside and some of the leaves were falling from the trees, which is like candy to them. So they fanned out and picked up the leaves like a vaccum cleaner going over a rug.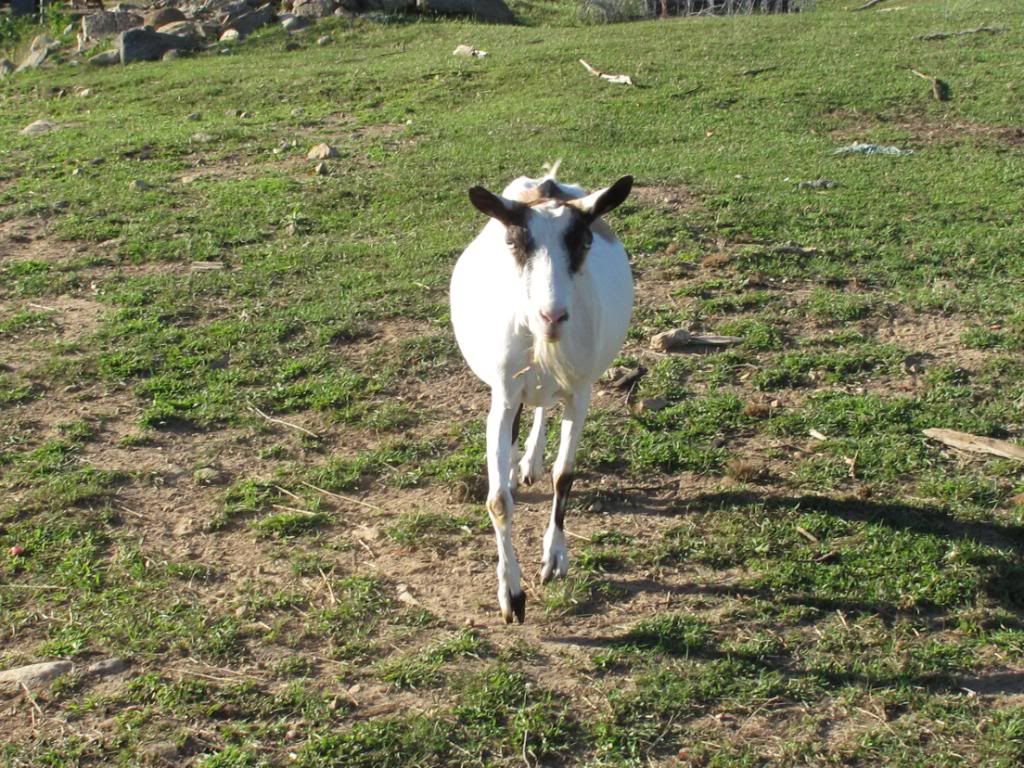 Bucket says "I'm coming!"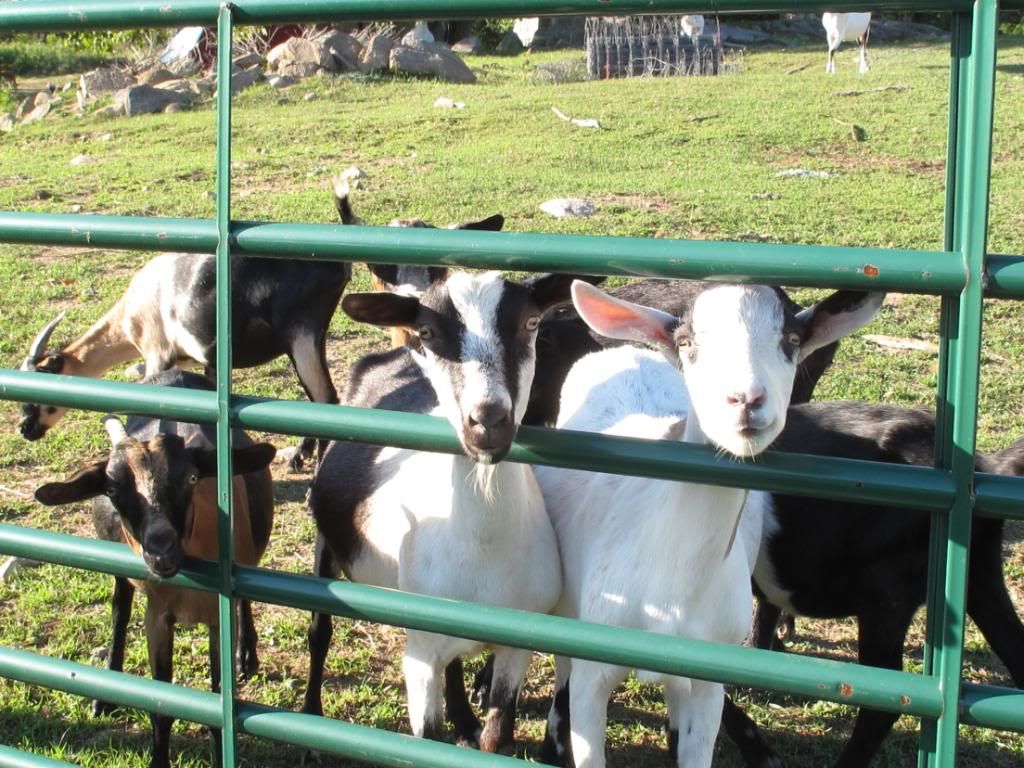 More??? More???
Oh and in other news, we got our little red truck fixed, to beat around the farm in. Joe (Kevin's son) brought it up years and years, and years, ago to see if we could fix it to use. It actually didn't turn out to be quite as bad as we thought. It will be great for hauling stuff around in, especially firewood.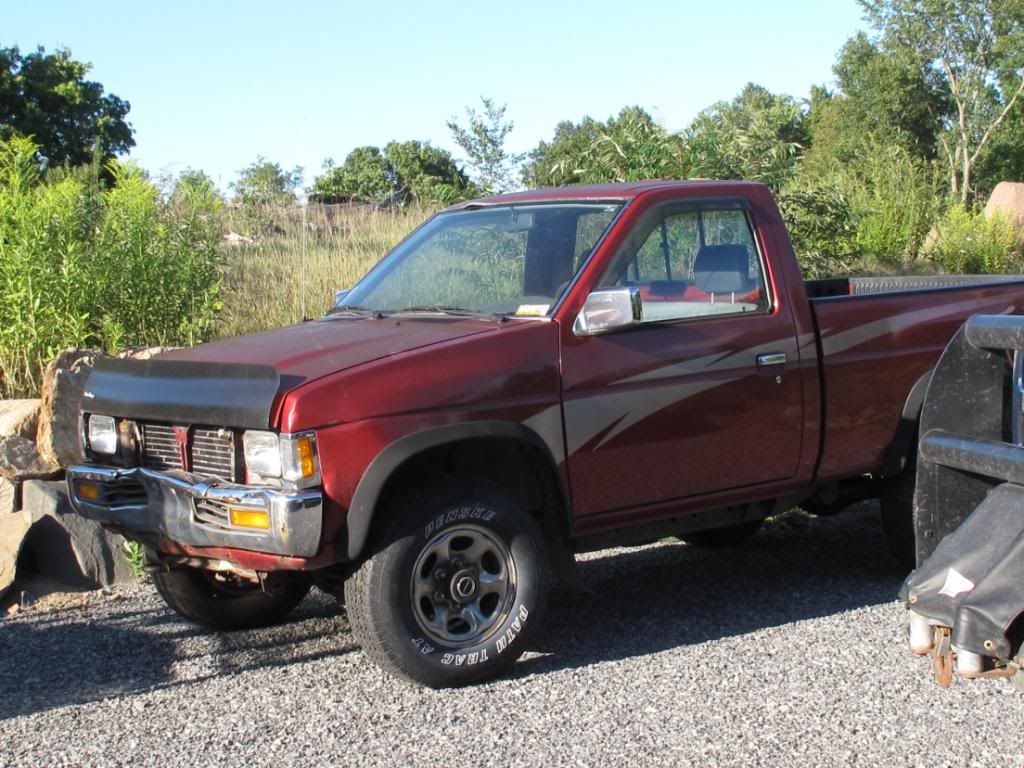 Dinner tonight was a recipe I've been wanting to try: curry chicken with grapes. Yes grapes. I saw this recipe on the food network. It's Sunny Anderson's recipe from cooking for real... and it sounded really good, but it's not a pretty recipe. All the reviews I read for it said the same thing, it looks terrible and there really isn't any way to make it look any better. But getting past that, it doesn't taste anything like it looks, it's actually quite good. We are not big curry eaters but Kevin ate his portion too. I used a teaspoon of curry instead of a tablespoon, but if I make it again, I would use less. I also couldn't use the Brandy it calls for which I'm sure would add to the flavor. There are sulfties in Brandy which Kevin can't have, so I used stock instead. But if you like curry this really is worth a try. The grapes taste really good in it and not like you think they will.
Brandied curry chicken with grapes
Ingredients

3 tablespoons vegetable oil
2 skinless chicken legs and 2 skinless chicken breasts, cut in 1/2
Salt and freshly ground black pepper
2 tablespoons minced shallot
2 cloves garlic, minced
1 rounded tablespoon curry powder
3 tablespoons brandy
3 cups heavy cream
2 1/2 cups seedless green grapes
5 ounces egg noodles
3 tablespoons Dijon mustard
1 tablespoon chopped fresh dill leaves

Directions

In a large skillet, heat 2 tablespoons of the oil over medium-high heat. Season chicken with salt and pepper and sear on both sides until golden. Remove from pan. In the same pan, add the remaining 1 tablespoon of oil, if needed, and saute shallots, garlic and curry. Deglaze with brandy, scraping up brown bits from the bottom of the pan. Add chicken back to pan and stir in heavy cream. Cover and bring to a simmer for 15 minutes. Add the grapes and noodles, return to a simmer, cover and cook for 15 to 20 minutes or until chicken juices run clear when poked with a fork. Stir in mustard and dill. Season, to taste, with salt and pepper and serve immediately.

It's a beautiful cool late summer evening out. Even though we are in the middle of a mess of work, cleaning, painting, putting up trim... I think Kevin and I should take a break and go for a ride to the creek. Even if just for a few minutes. The work will wait for us to come back.