Who doesn't love watermelon?
Miss Izzie, the Jersey calf, is growing like a weed. She has healed famously from having her horns removed, which only took a day really to heal up. She's still very sweet, very calm, and she's also very shy. She doesn't do well around any strangers or newcomers, but she is fine with us. She's the one of the quietest animals we have here. With Douglas the Pug taking the lead at the moment as the most active, and ah... into trouble.
It's been cloudy, overcast, and raining on and off for the past few days in a row. Yesterday we were in New York State for some doctors appointments for Kevin, which is a 300 mile round trip for us, but we got to stop at Cracker Barrel which we don't have here, and get some chicken and dumplings, and strawberry lemonade, so that makes it better.
The day before that we went into the city to pick up a few things from the Auto supply store. Kevin got me the best thing ever there....
YES! A PINK toolbelt! Now not only do I have a place for all my tools.... It's pink leather to boot! I couldn't be more thrilled with it.
Today we have more errands to run, now it's my turn for doctor's appointments and tomorrow we have to go all the way to Ottawa. So it's a crockpot day today, a nice roast with gravy, which we'll have sweet potatoes with and asparagus.
The goats had another watermelon feed today, have to get as many of those in as you can this time of year. I'm not sure who enjoys it more, them, or me. I love watching them chomping away, juice spraying everywhere, pink lips on all. It's really adorable.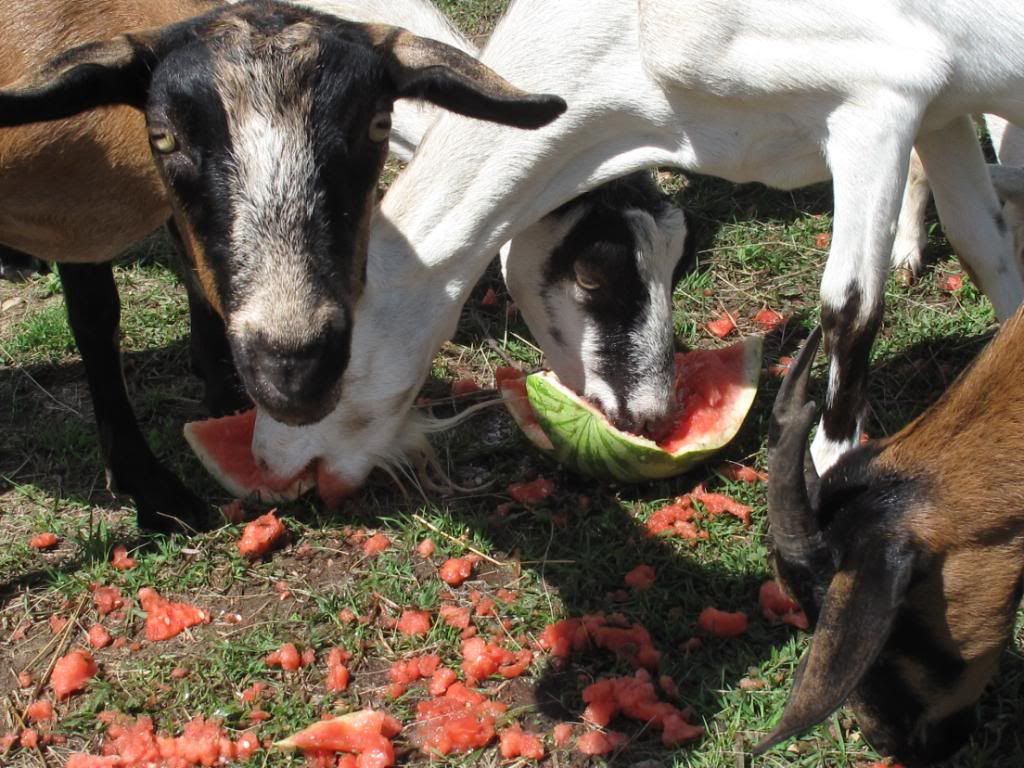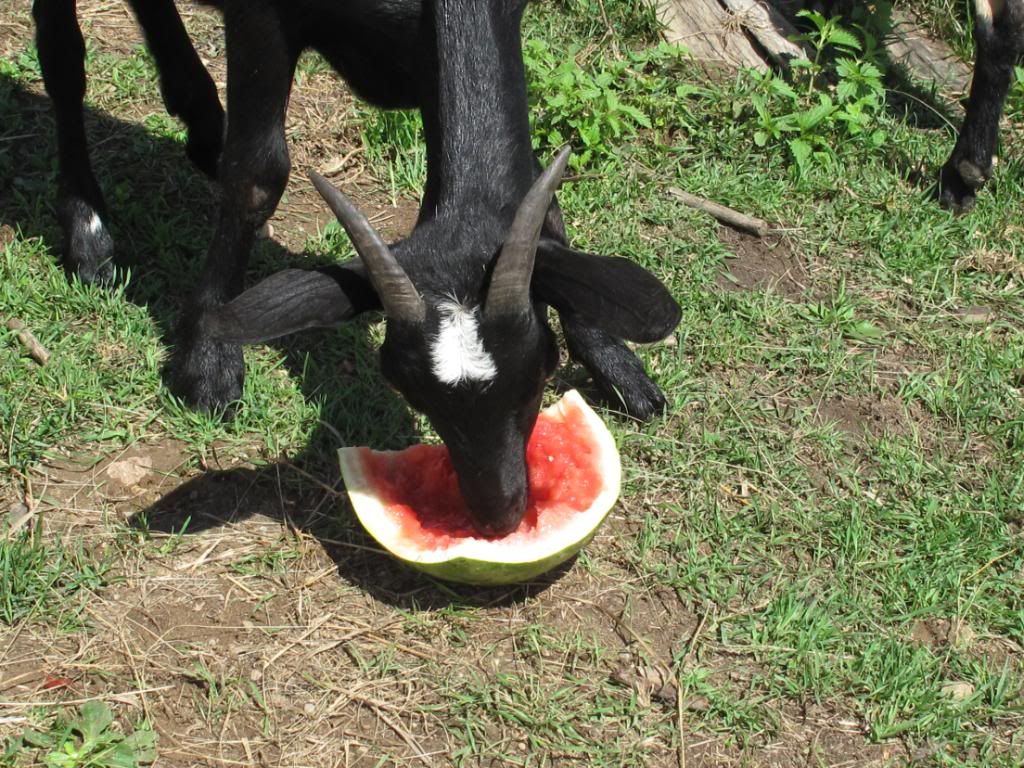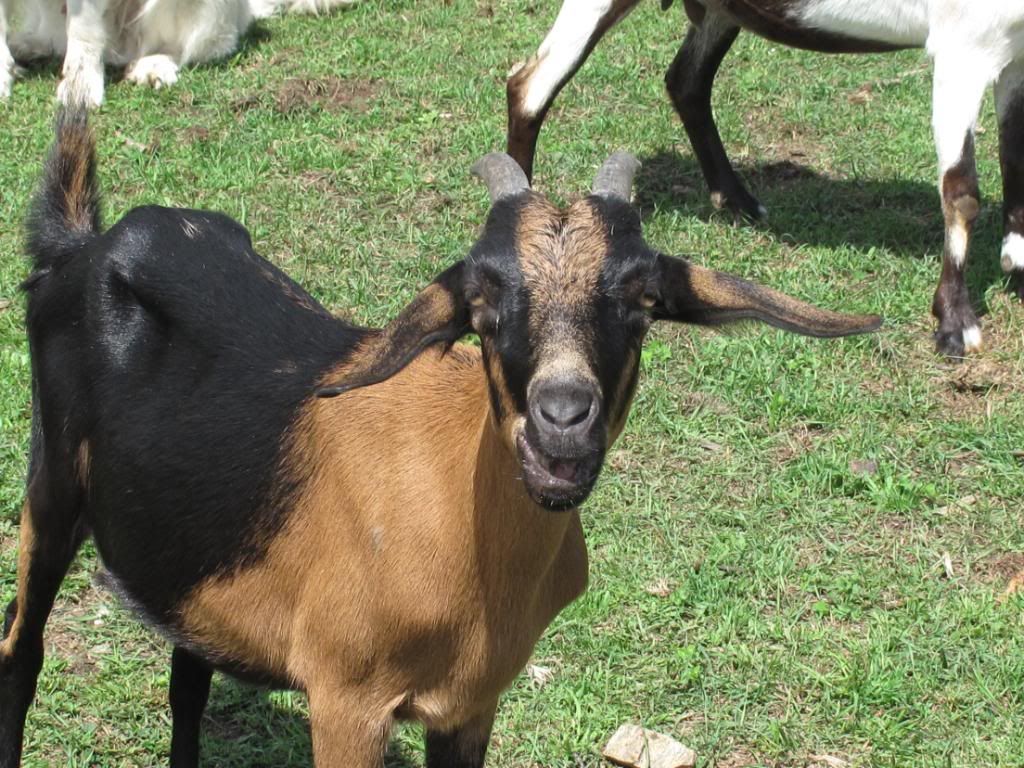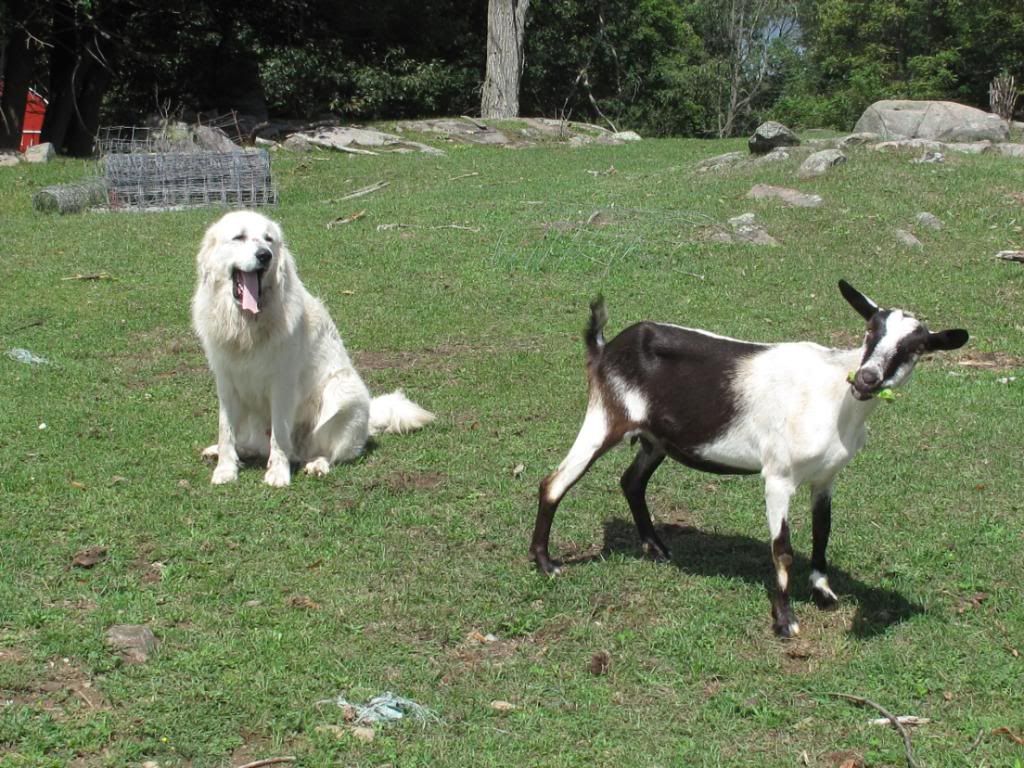 Even Kiwi loves it!
I sexed Ferd the bunny today, and it looks like Ferd is a girl. Which may explain why Noel, our house rabbit is so annoyed. But she's super jealous of all other rabbits, so it's hard to say with her. Ferd is still young to be sexed, but it looks very likely, Ferd, is a she.
I read a really fantastic book yesterday. I got it for a dollar at a used book store (my favorite place) and since we were at the hospital for a while I read most of it yesterday while waiting and during our drive. The rest I read in the dark with my book light in bed, and the last few pages I could not fit in last night before I finally fell asleep, I read this morning as soon as I opened my eyes. It is called "Round trip from Poptun" by Albert Lisi. As soon as I read it I thought to myself "I must write this man and thank him for such a wonderful book about such an adventure!" This morning I read that he passed away this past December of 2009.
I was a little sad to read that, because I wish I could have written him to thank him for his book. The book is a wonderful story. Albert Lisi was an artist from New York city who in 1965 went to Guatemala (drove!) and went out to look for the ancient Maya site of Machaquila, along the Machaquila rio (river) which had never been traveled by anyone who lived. Such an adventure they had and his story telling is very good, I felt like I was traveling the jungles with him and his companion. To anyone who enjoy's such books, my absolute favorite kind, I would absolutely recommend it. He wrote two more, which I am trying to find now since they are terribly difficult to locate. I am also almost finished Peter Matthiessen's book about his travel's in Nepal climbing the mountains in winter to watch the Blue Sheep rut. But it has taken me longer than one day to get through. I devoured Albert's book and adventure.
I made three batches of blueberry Jam, Tuesday night. A messy ordeal, but so worth it.
Our kitchen is finally almost finished, just the window trim and some touch up painting to do now. I'm really proud of all we've accomplished so far.
considering where we came from!
I hope our friends from Germany are having nicer weather on the rest of their trip through Ontario and Quebec. The trees are starting to turn color already and the wind and rain has been fairly steady. I think August and summer are coming to a close.
The dogs are napping now and I need to get ready to go into town, so that's all for now folks.... the sun is peeking out! That's a great sign!