Beatrice and on the road
Here it is July 15
th
. My how time flies. We left home on the 28
th
of May for our summer travels. We are in Tok Alaska, our second home, right now.
May was a very stressful and busy month at home on the farm. My newest
Saanen
kid, Beatrice, got Polio, she was very ill and could not walk. My Vet's could not tell me what was happening, or what to do after several attemps at trying to figure it out. I was beyond frantic, here is this beautiful little
doeling
suddenly not able to stand, bringing up her cud, and
extremely
depressed. Then she went down and could not stand. We did our own research and found out that a lot of her symptoms sounded like a
Thiamine
deficiency, or goat Polio. So we started giving her
Thiamine
, and voila, she started eating again, stopped bringing up her cud, and her depression lifted, her ears perked up and she was the happy, sweet, little girl I knew before. But she still could not walk below the knees down. So we started physical therapy, making her walk with a t-shirt sling under her to hold her up. Jim continued this after we left and within 5 days of us heading out, she was walking on her own again. It was truly a miracle. I thought I'd had my share of miracles this winter with Sammy,
Izzie
, and several other critters, but apparently we had one more left.
We were almost sure she would not walk again, she had no strength in her front legs below the knee. We started plans to build her a wheel chair so she would be able to get around. I spent many, many sleepless nights, and cried a lot worrying over that beautiful little girl. I felt better once she recovered enough that I knew she was not going to die, but then I worried how she would grow with her legs being like that. Lila, Queen of our sheep flock, has one leg that is no good below the knee, and that happened apparently when she was a lamb, she does really well. But I worried. Then just a few days after we left home and went to
Sault
Ste. Marie and
Munising
Michigan to visit family and friends, Jim sent me a picture of Beatrice standing, and then walking, and then playing. I cried a lot more when I saw those pictures. I am so grateful for her full recovery and that I'll be able to have that precious little girl in my life for many years to come. Kevin is relieved we can sleep at night again too!
We've been in Alaska for a month now. It's rained almost the entire time, and it's pouring rain right now as I type. We've had about 3 total days of sunshine since we left home, not just in Alaska. It snowed at Summit Lake in British Columbia and it was so windy we thought we'd blow away, but since I had waited and waited to get there since it is one of my favorite spots on the
Alcan
highway, I sat outside in my chair, with my coat on, hood up, mittens on, and ate my broccoli soup for as long as I could stand it. Stone Mountain is a place I think everyone should see, it is magnificent, and the only place in the world to find the Stone Sheep, they only live there. They are remarkable animals. Scientists need not to tag the sheep because not one stone sheep looks a like, they all have their own markings, an eye patch, a nose patch, little
tufts
of hair. It's quite remarkable.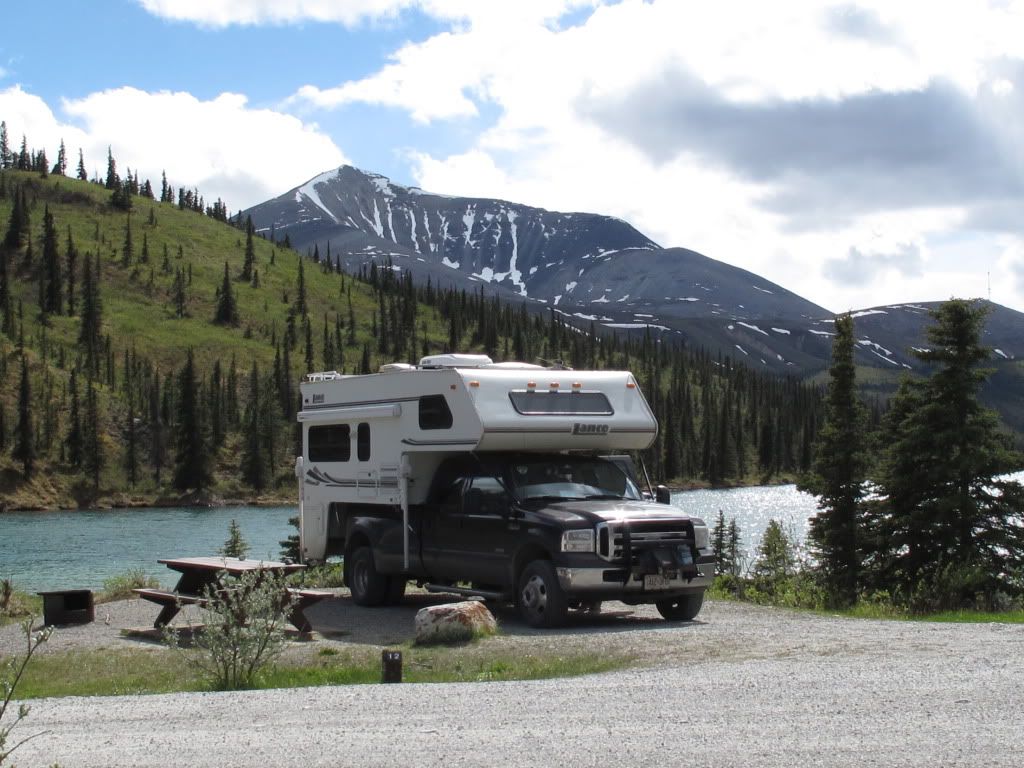 Stone Sheep ewe
We've spend most of our time in
Tok
, but we have traveled to Anchorage to see a good friend and also to Fairbanks for a night just for supplies. In Palmer we visited the Muskox farm where we have never been. That was a great deal of fun, especially when I got to scratch a Muskox! The farm raises them for their
qiviut
, which is a very valuable and amazing fiber. We also went back and saw the Reindeer farm, which we have been to several times before, but is always fun. It's a great place to visit while in Alaska. You can feed and touch the Reindeer, and it's very educational. They also have Elk, and a couple moose and a Buffalo named Dolly.
Otherwise we have been spending time on our land, the dogs love being able to run in this forest, it's much different than home since the forest floor is covered with moss here and is soft and they sink when they run like they are running on pillows in places where the ground is low. Both Norman and Douglas are with us and behaving quite well. Norman had an allergic reaction last night, we found him suddenly with his head swollen up like a balloon, which scared us half to death. He was acting OK but was badly swollen, and scratching like crazy. We gave him Benadryl and I checked him every hour throughout the night. About 3 AM his face calmed down but even at seven this morning he still had two large bumps swollen up on his head and check, which were almost completely gone by 10 AM. We have no idea what got him but it was a quick reaction, one he's never had before. It was quite obviously an allergic reaction and thankfully we always have benadryl with us.
We saw a lot of animals this trip, 6 bears, all black bears so far... 4 moose, a lot of Buffalo as usual but this is the first year we've ever seen the wild baby buffalo, which was adorable. And for the first time ever we saw baby Swans too! We've also seen a lot of wild Hares, foxes, coyotoes, deer. So far we have not seen any Caribou, which is a first, but I imagine on the way back down the Alcan we will, since it will be later in the season.
Black bear on the Alcan

We've been having a lot of fun which our friends, which is why we come to Tok in the first place.

I have many pictures to share and will do so when I am able to and I will update more.