May flowers...

This past month has been pretty busy and stressful on the farm. Kevin has been sick for most of it, I had a reaction to the medication I was on with my blood pressure, and we've sadly lost several of our friends on the farm. Jay Jay, one of our rescue rabbits, she was an owner surrender who was about 9-10 years old, passed from cancer. She was such a sweetheart. Our old Tom turkey, Gobbles, who was about 7 years old, which for a turkey I suppose is pretty good, passed very suddenly as well. He has been here for nearly 5 years. Maggie, his hen, is grieving. He was a fixture on our farm for all this time and it's sad to go to the barnyard and not see him strutting around, even if he did attack me twice this spring.

It's very difficult to loose our animals. It's hard on my heart, but there is no way around it. We have a big animal family and most of them are quite old, especially the rabbits and Prairie dogs who were taken into our home in their old age. So it's part of life here. We must take the good with the bad, just like we take the easy seasons with the hard ones.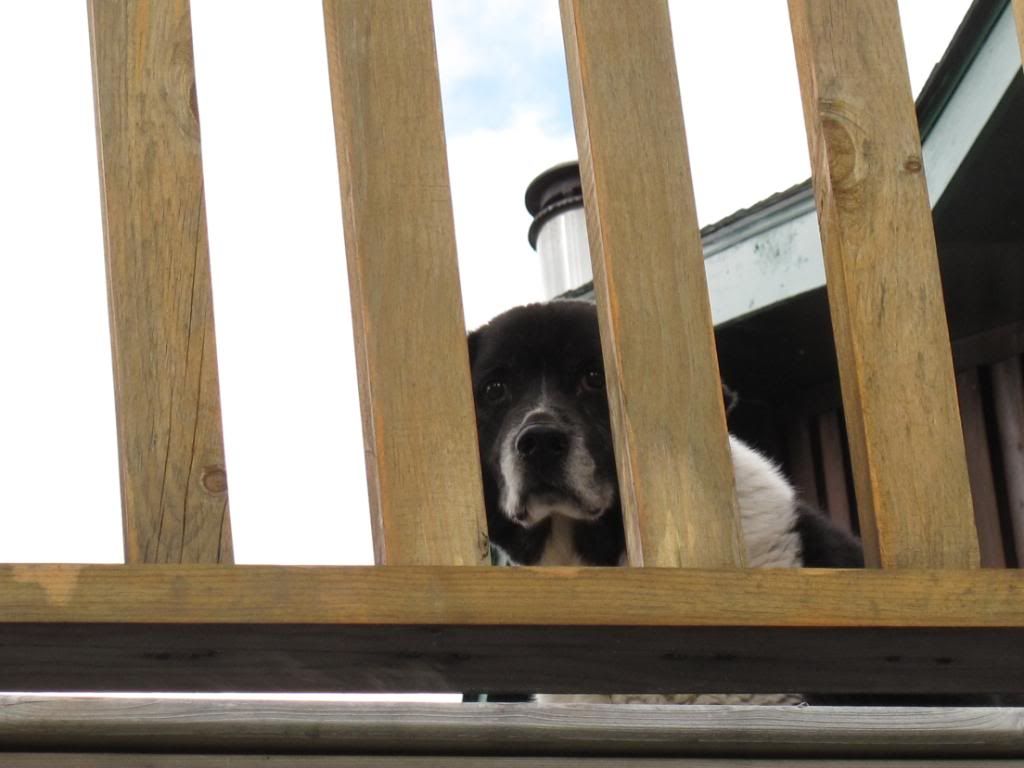 We found out recently that Buddy dog has a very large tumor that they can not operate on because of it's location, size, and his age and condition. He is somewhere around 12 years old but we don't know for sure since he was left here by his former owner. He is home with us now for a few days on pain medication. We are trying to spoil him a little, and let him enjoy a few more days of warm sunshine, steak and mashed potato dinners. He is an old dog, and he's lived a good life, and he's caused a lot of trouble in his days, running away, trying to eat little animals, and eating little animals, biting. But overall he's been a good boy and it's hard for both of us to see him off because he did bring our family together. Had it not been for Buddy, Kevin & I would not have met, and we wouldn't be together or have the animal family we do now. So in a way, he started it all, and we owe him quite a bit for that. He has been a good companion to Kevin for many years. He has been doing well on his pain meds this past week so tomorrow I will call the Vet and tell them I'd like some more. They gave me enough for only a week. He's running about, and even playing today. So it will be time soon. But not quite yet.


Douglas still on morphine after his surgery

Both of our computers went down, at the same time, which is never a good thing. But both are up and running about 80% right now and Kevin is working on getting the glitches out. Douglas the Pug puppy got neutered and that only slowed him down for a few seconds. As soon as the morphine wore off he was back to his rambunctious self! Norman the Chihuahua got his needles and a checkup and his weight is good, his heart sounds great (he has an enlarged heart and takes daily medication for it) and everything is well with him. He had a lot of pain from the needles and needed pain medication for it the next day. Poor Norman got both needles in the bum and on a tiny 5 pound Chihuahua there isn't a lot there to cushion the blow!




Spring is in full bloom here. The apple blossoms are out, the wild flowers... it's gorgeous. The best time of year, a rebirth. We didn't have a bad winter this year so it wasn't it's usual slow transition, it was quite quick this year with no frost and hardly any snow to melt. The Whip poor wil has returned and sat outside our window this morning at 5 AM and woke us up like he does every year. He never fails us. Kevin was really hoping he wouldn't sit outside the window like that this year and maybe forget, but he always returns. The pastures are greening up nicely and the animals are getting anxious to be let out onto them and that lush green grass. My little goats are all doing wonderful.


Silly Sammy - with lipstick on his face!
Beatrice following Kevin home

My little Sammy is growing into a fat young man, spoiled rotten. He is the sweetest thing ever and I can't imagine what I'd do without him now. Beatrice is growing well, got over her recent bout of scours and is a sweet, quiet little girl. Her breeding is excellent, the long body, the ears. I look at her and can't believe how lovely she is, she is adorable now and will grow into a beautiful doe, and I'm sure be as sweet as she is now.

We had some exciting news as well. We finally were able to purchase 10 acres in Tok Alaska, our second home. For about five years now we've been debating whether to buy land, a house, a cabin, a bigger trailer to travel with. Finally the right thing came along and things worked out, which to us means it was meant to be since so many things we were hoping would work out, did not. This was finally the right thing. We love Tok. Alaska is beautiful, beyond words and unless you have been, it's hard to describe. I've dreamed about Alaska since I was a little girl, and I can't tell you why. No one I knew before Kevin had ever been there, told me about it, or thought about it. But I dreamed of it from as far back as I can remember. When I was sixteen and seeing my mother off to whatever lies ahead of us when we die, she told me no matter what happens in life, to get to Alaska. When you have a dream that is very important to you, it's important to accomplish it. Life is shorter than we think sometimes, and that is an important lesson to learn while there is still time.

But the main reason we travel 8,000 miles every summer and have bought land there is because of our friends. We have friends there like we have no where else on earth. Here where our farm is we have no connections and after a long fall, winter, and spring of much hard work, it's nice to be able to sit and have fun with good friends, and of course, good beer. So we are looking forward to hitting the road again this summer, hopefully the first week of June. Our farm helper Jim will stay with the animals. Douglas and Norman will go with us, in the camper, which should be fun. Norman is a wonderful traveler and this will be his third trip to Alaska. But Douglas has never been anywhere further than an hour away, and he is hyper, hyper, hyper, unlike the mostly quiet, Norman. So it should be fun for me and Douglas and hopefully we'll both survive! :) After this past stressful month and the stressful month ahead, I look forward to getting on the road and getting to our first stop in Sault Ste. Marie to see Kevin's brother Bill and his wife Joanne, so we can have whitefish and beer! I cannot wait.
I'll have to plant a smaller garden here however. I'll use my pots on the porch and plant things that will be ready in August when I return, which should work out well. I can come home and pick ripe tomatoes to eat!

We've had a trail camera set up on our dam road ;) for about a month now I guess. We haven't caught anything too exciting, but it's fun to check the pictures and see who's been crossing the road. When we return home from our trip, it will be fun to see who has been around! The turkeys I think love getting their picture taken, we've got dozens of pictures of them. A few of the deer, our deer, not strangers... a raccoon, turkey vultures, ravens, a fox.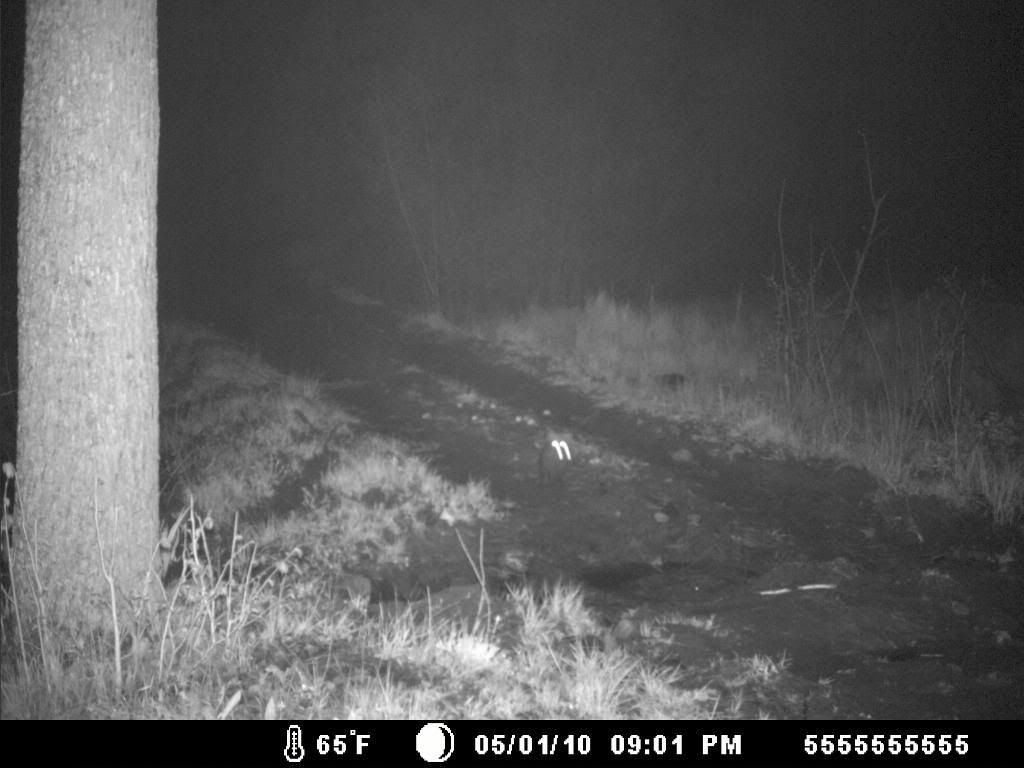 the demon of Cedar Bridge farm? We are not sure if this is an owl, fox, raccoon...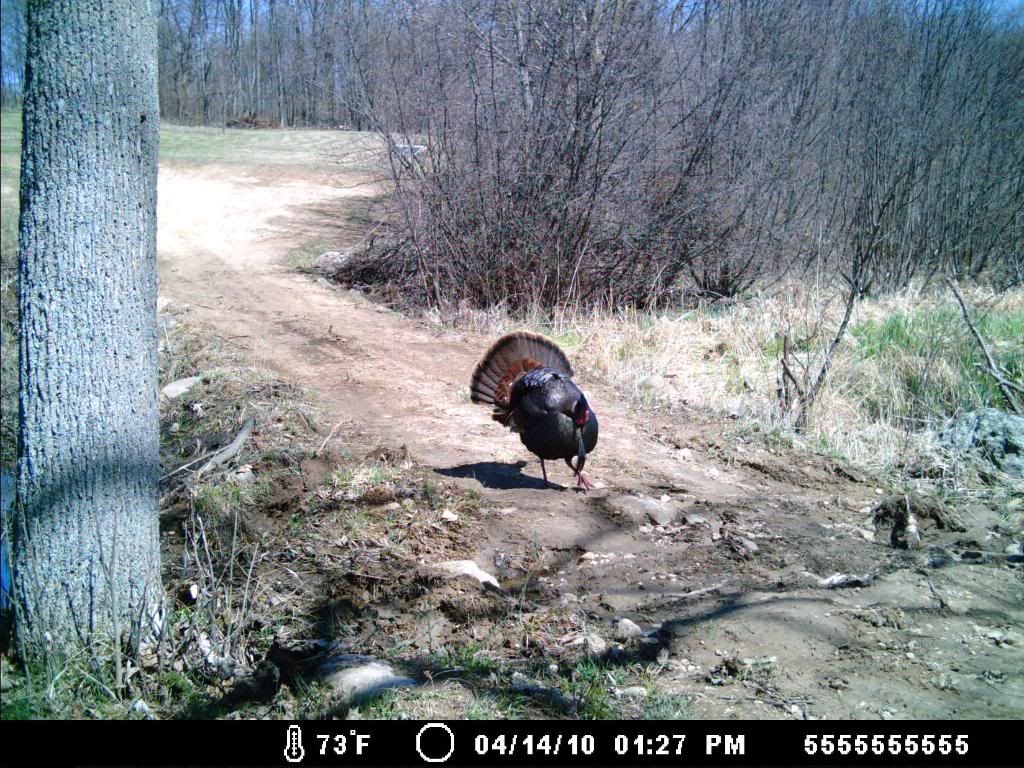 tom turkey

I made some maple baked beans from scratch the other day and now we are spoiled yet again. There was a time when a simple can of a good brand of maple baked beans would make me happy. Not anymore. These beans were so easy to cook, and so delicious. I put loads of brown sugar in and some of our maple syrup from our own farm, lots of bacon, and boy are they good.
Last week my first ever bunny boarder left. I've never been asked to pet sit before, usually when someone calls me about a rabbit it's because they don't want it anymore and want me to take it. This time they just needed a vacation home for their rabbit while they went to a warmer climate for a week. It worked out great. Lincoln did great in house even though she has never been around other animals before. She handled the dogs, rabbits, birds, and Prairie dogs quite well and seemed to be quite content.
The rest of this month will be busy preparing the farm and animals for summer, and getting ready for our trip. There is so much to be done and not a lot of time to do it in, as usual. But I have hope we'll accomplish all our chores. We have been hunting for Morel mushrooms since they may pop up anytime now. We've had a few days that seemed like the weather might be right, wet, warm. But so far we haven't seen a single Morel. I take that back, we did find one, but we knew something was wrong with it, left it and came inside and looked it up. It turned out to be a false morel, which can kill you! So we'll keep looking for a few of the tasty little mushrooms so I can fry them up in butter and we can savour them. We watched a show on TV a few nights ago where in Michigan and Minnesota they were getting fistsized ones and pounds of them! I wish we could find that many. One can dream anyway....
But for now, I'm off to bake some bread.