Catch up
I went out to check our trail camera a couple days ago in the early evening, and the sun broke out for just a few seconds, it was like the heavens were opening up, and on the time it took me to take a few pictures, it was gone.
Last night we went for a quick ride because it was late, and the wind was very cold. The soft maples are budding out and there are leaves out! And wildflowers! It is early this year, but that very warm weather we got late in March did it. The temperatures are much more normal now, which is just fine. The frogs are still singing, the birds are all back, and the wild turkeys are marching around showing off their colors. Gobbles, our tom, is really ticked off because the wild toms are coming around looking at his hen, Maggie. Gobbles attacked me the other day while I was cuddling with Lambie and Horace, and I must say, Gobbles is very lucky he is not going to be Sunday turkey dinner... yet. If he does it again, his days of being just a nice barnyard turkey might be over.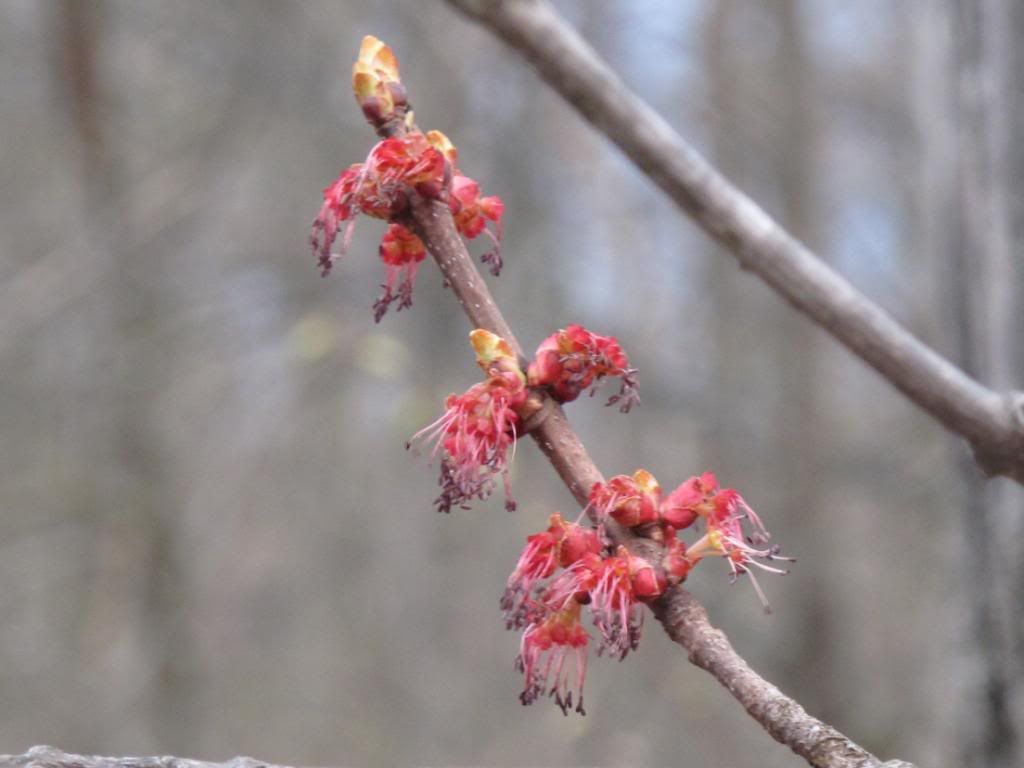 It's been a busy few weeks. Along with all the bottle babies I'm feeding, we took a quick trip to Ohio and Michigan. We were going to Lansing Michigan and decided we might as well go see Kevin's son if we are that close, so we went to see him in Ohio first. It was a really nice and much needed break. Aside from all the driving (10 hours) it was nice to get away after a long winter here. And it was nice to visit Joe and get to do some things there. We went to the Bass Pro shop there which is huge, and was a lot of fun. We went to Lansing to look at a really nice used Titanium 5th wheel. It looked a lot nicer in it's pictures than in reality - although it was a really nice machine. It just happened to have a wall seperating the living area from the kitchen, and it made it feel so confining even though it was 40' 5th wheel! Aside from that the owner of the dealership would not deal at all, so it wasn't worth our time in that regard, which was unfortunate.
Several days we hiked all day when the weather was good, in search of Torn Ear's antler. We found 6 antlers, and we sadly found his set from 2 years ago almost completely chewed up by Porcupines. It wasn't far from Wramber's paddock and we really wish we hadn't found them at all since it was so close, and they have been destroyed. We've spend hours, upon hours, and miles, looking for that antler. And we've had dozens of wounds to clean from hiking through the juniper tangles and prickly ash bushes.
Both my bottle baby Saanen's I bought in Feb, to bottle raise and find homes for, went together to a pet home this week! I am so excited. I took those four bucklings to give them a shot at life. The first little guy who died within the first 24 hours didn't have a shot, but Sammy, and Dozer and Waddles made it and now will all have good lives. Dozer & Waddles will be neutered and kept as pets. They have a lovely little girl to help take care of them and I trust they will have good lives, and be well loved. So I can sleep at night. I worry so much about how any animal that leaves here will be treated, and in this case, I have absolutely none which is such a nice feeling.
Sammy of course, will stay here. Sammy moved to the barn 2 weeks ago and his cough is completely gone. I have to sit up there in the evening and hold him before he's able to go to sleep still though. He will be neutered and he is going to become my first pack goat project. Both of us will try to learn together and see if it's worth it.
The lady who came to adopt Waddles asked me how I handled the solitude out here. When I told them sometimes we don't leave but once a month or not at all, her daughter gasped. She didn't mean to, but she was shocked! She asked if you ever get used to it. I told her, I don't think you do ever get used to it, you are either built for it, or you are not. I for one cannot imagine any other kind of life. Everytime we go away, I enjoy being out in the world, meeting people, doing things, but I miss it here, the quiet, the solitude and I am always more than happy to be home. The first year I spent alone on a farm, not being able to leave or have contact with civilization was 8 years ago now, and it was a big change, a hard change. Of course, I had no real choice then, now I can leave the bush if I want to, but now, I choose not to more often than not.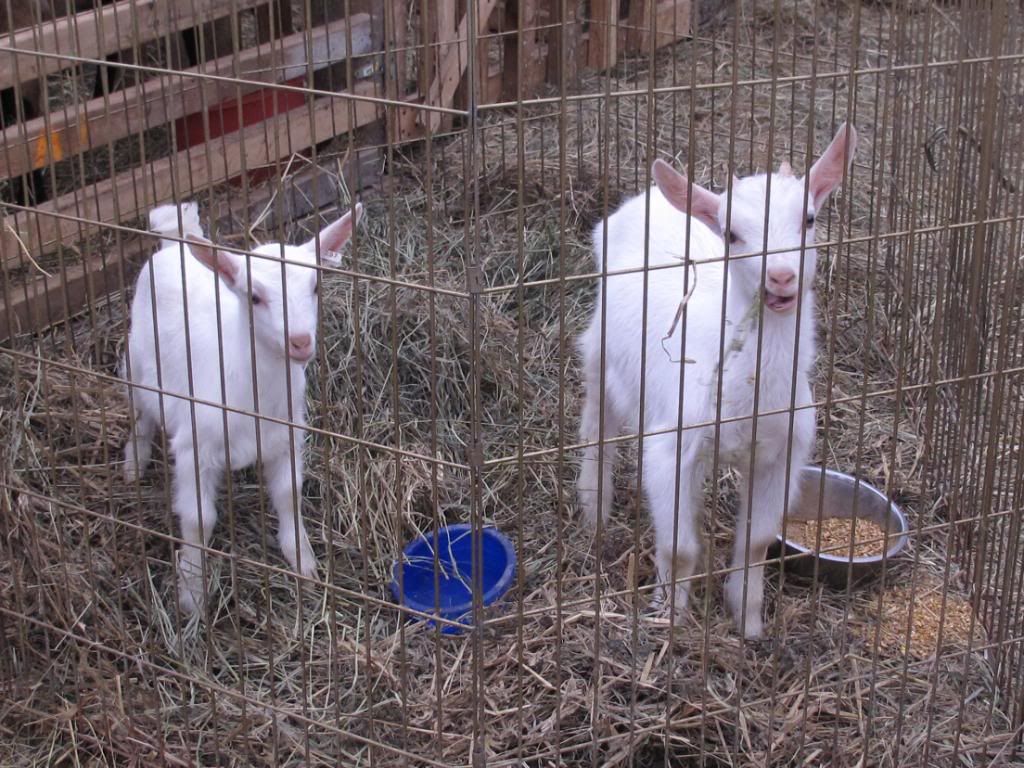 Beatrice & Sammy in their nighttime pen
Beatrice, my last bottle baby of this season, was picked up a week ago. I've had her on order since January. She's a lovely little Saanen doeling. Her and Sammy bonded right away, which makes me feel so much better they have each other at night up in the barn and they are not lonely. She comes from a big dairy as well, a really nice operation. The lady had dozens of Nubian kids there, with all their little spots. We wanted one so badly, but she is keeping most of her doelings and what she is not, were already spoken for, so I am going to reserve one of her 2011 Nubian doelings, and possibly a buckling. A guy comes and picks all her bucklings up but she said with a deposit she'd hold some for me. I might do the same thing with them as with Dozer, Waddles, and Sammy, bottle raise them and try to find good homes.
Buckets twins are growing like weeds, as are Levi, and Lilac, the lambs. Everyone is doing really well. Izzie the Jersey calf is also growing and gaining more confidence... she's really starting to darken up in the face and is a beautiful little girl. Max & Flavious really impressed me the other day when the people came to pick up the little goats. I brought the goats out of the barnyard because the dogs were acting really scary. They calmed down as I stood and talked with the people and they became quiet. Izzie came over to the fence a little way's up from the dogs. The woman went over and put her hand through the fence, out for Izzie to sniff. Max freaked, he snapped, and barked. He didn't run and snap at her, just where he stood near me. He didn't want a stranger touching his cow. I was shocked to see his show guarding instinct like that. He never showed any instinct to guard in regards to people before Flavious came. Now with the two of them, they are more leary of people and while they are not mean, they will not tolerate people touching their animals.

Bean & Bing

We had Whistling Swans in the pond the end of March, four of them. It was amazing, I can't even say how excited I was. They are just absolutely stunning. I'm so glad they decided to stop here for a visit! It was a real gift to be able to watch them, but it really ticked the Canadian geese who claimed the pond and are nesting there off. They did not welcome the company like we did, but they tolerated them, although they yelled at them quite a bit.
The other day driving by our "turtle" pond where we released all the eggs we hatched last fall, there were dozens of little turtles on the logs. It was great. I wonder if those are our babies?
Norman & Douglas got their new Puppia harnesses the other day, to try out. I'm not sure if we'll like them yet or not. Douglas has to start learning how to be on a lead for traveling and how to have manners, which I'm sure he would rather not learn, but he must. I've heard mixed things about these harnesses but I really like the one for Norman, and so does he, it's very comfortable. Douglas halter is a little different since it's adjustable in the neck and chest because he's growing, but it seems like a good fit and like it's comfortable on him, he actually didn't mind it being on at all, so that was a good sign.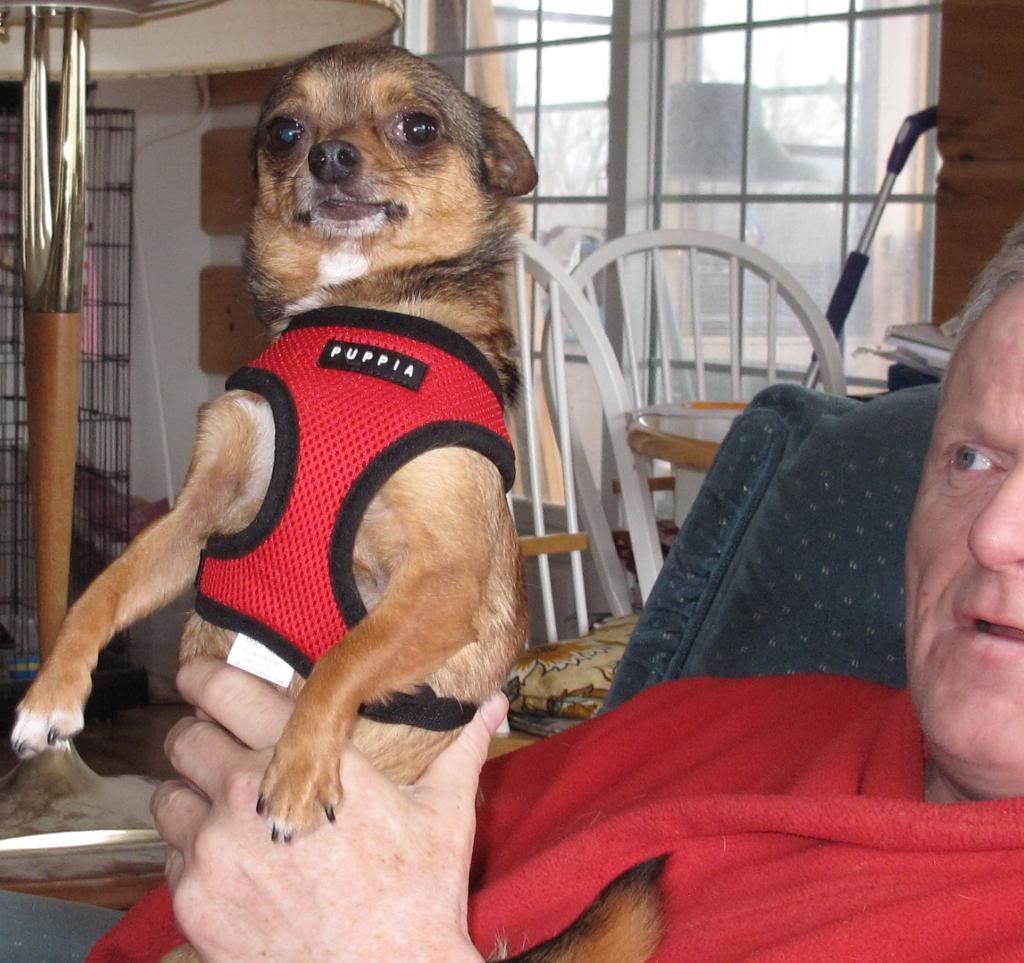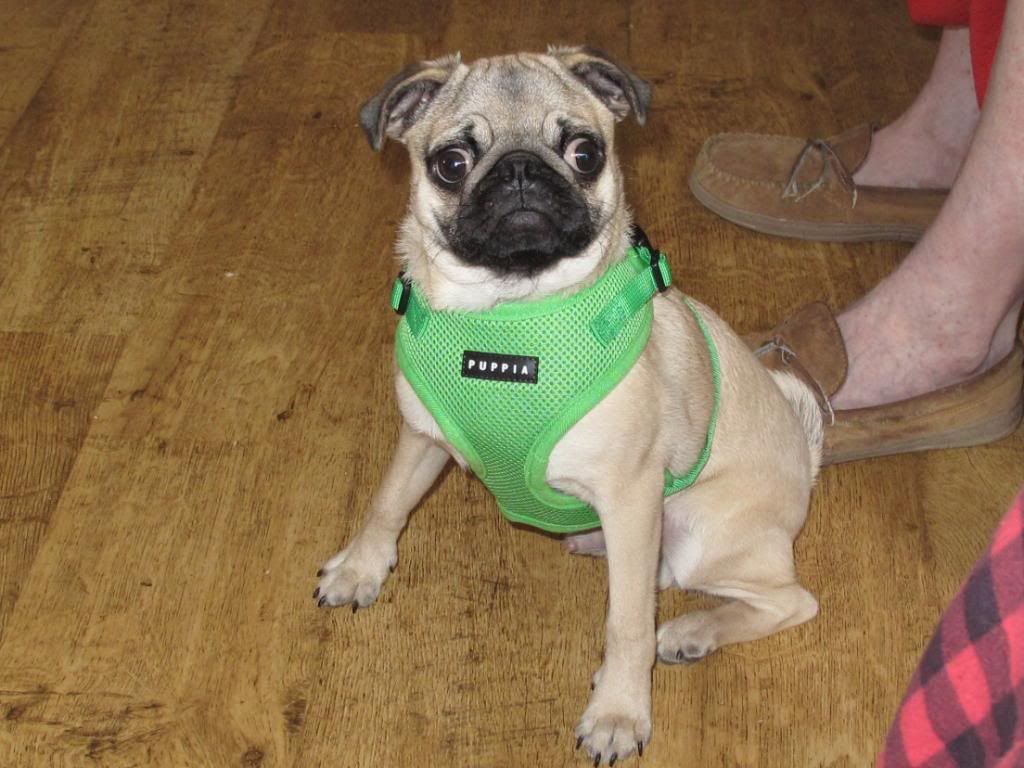 They had a lot of fun out in the front yard the other day while the sun was shining.
I've been doing a little research and we always thought Larry, one of the rabbits we took in, in the fall, was a big Flemish Giant. We have several Flemmies here. But of course he's way bigger than our biggest Flemmie, Fortune who is 15 pounds. The rest of my Flemmies are 12-13 pounds. Larry is much, much larger. I think he may be a German Giant, or a British, which are more about 18 or so pounds, a lot closer to him. Flemmies can get very heavy too, but he doesn't totally fit a Flemmie breed. It's hard to say. Either way, he's a big boy, but gentle as can be. Even when I'm trimming his nails, or carrying him around, he never fuses or tries to bite or scratch, he's a really big sweetheart.
Deer Norman showed up a couple weeks ago pretty beat up, he had several bare spots on his neck and three scratches, that look like claw marks on his face. We are not sure what happened to him, but I'm glad he survived it. Torn Ear hasn't been around for a few nights, and the deer are thining out, although we see them a lot when we are out in the bush.
I caught one of Greg the groundhogs kids from last year, who moved into the garden when he was kicked out of his mama's house, foraging in the yard the other evening. Greg, who lives in the rock garden in front of the house, has new babies in there this year. Junior Greg didn't like it when I caught him out....
Since I fell down this evening and caught my finger between two rocks, and then bent it all the way backwards, no, it wasn't pretty... I'm consoling myself by making hot fudge pudding cake, which should be done any moment.
So.... goodnight!