Snow and waiting for lambs and kids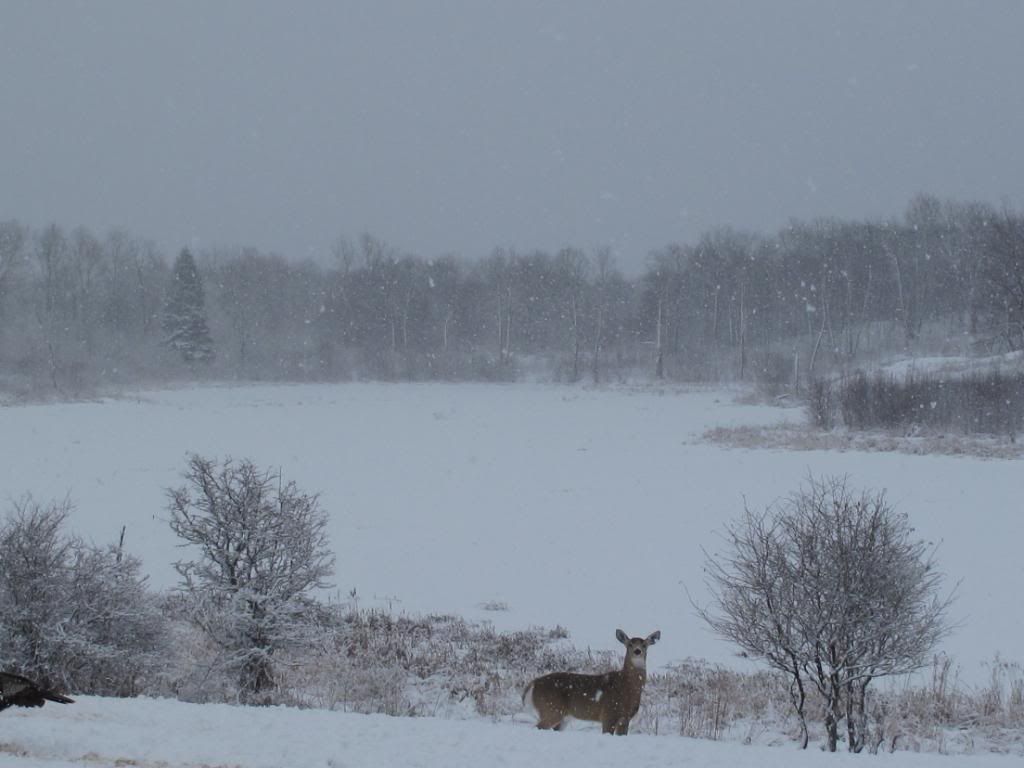 Torn Ear by the pond
We got some heavy wet snow yesterday and it's been snowing pretty consistently since. It's very heavy and very wet. If this freezes, it is going to be a nightmare. Hopefully it just stays warm.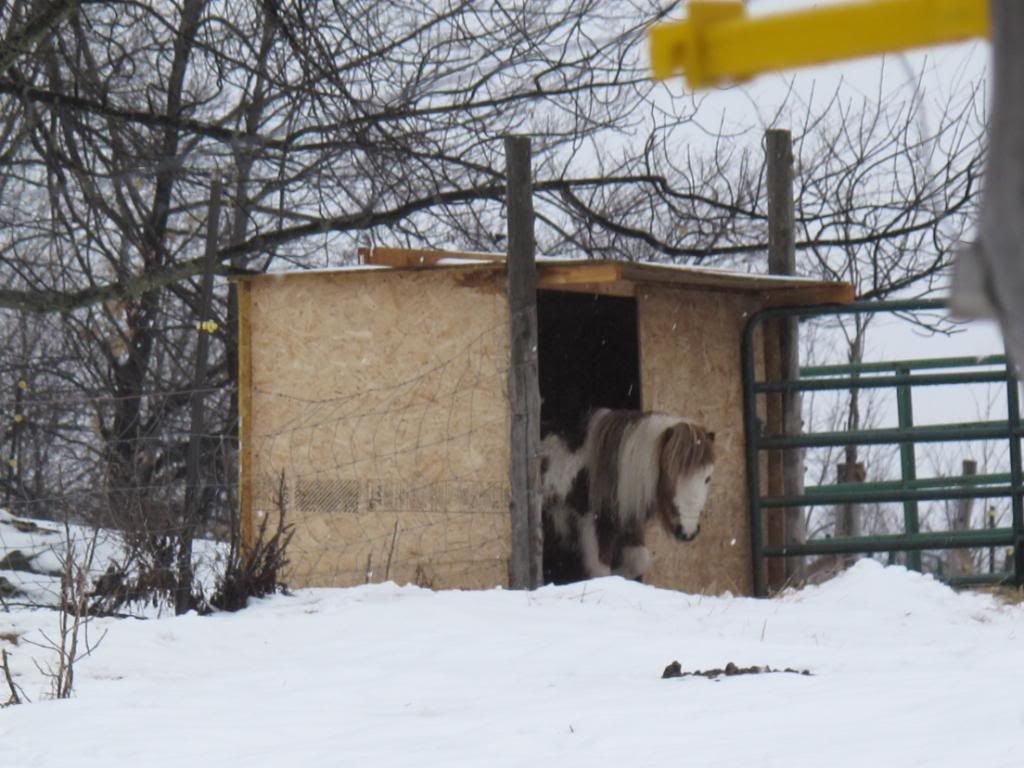 The boys
But by the looks of things, we've got a very wet spring to look forward to. We have to go out next week for a few appointments and we'll stock up on supplies then. When our road breaks up in the spring, we often get stuck back here, which is just fine since we usually have all we need. Last year the guys at the feed store had to bring us some bags of feed and leave them at the gate (a mile away from the house) and the driver was kind enough to bring us a bag of milk since we were out and there was no hope of getting out of the lane.
Deer Norman this morning
Lila, my ewe, bagged up yesterday. Usually she does that within a day of lambing, although they can do it a week before. This morning nothing had changed but she's even fuller than yesterday. Bucket is bagging up more and more, but nothing else has changed yet. Oh the stress of waiting! Everyone has dry straw, and are tucked away in the barn nice and warm. It's too wet outside. The goats hate being wet and the sheep don't appreciate it either despite their protective coats. Since Bucket has been in the barn for a few days, her, Izzie, Buckwheat, and Dozer & Waddles, have been playing while I've been cleaning pens and working on rabbits. They all get along really well and Bucket even tolerates the two kids that are not hers. They tried to nurse from her the first time they were loose with her and she told them very nicely "no" and they listened right away.
All the dogs, except for Norman the Chihuahua love this weather. Even Douglas the Pug. Flavious is just covered in manure. He loves rolling it worse than Max ever thought of. So my beautiful, handsome boy is... black...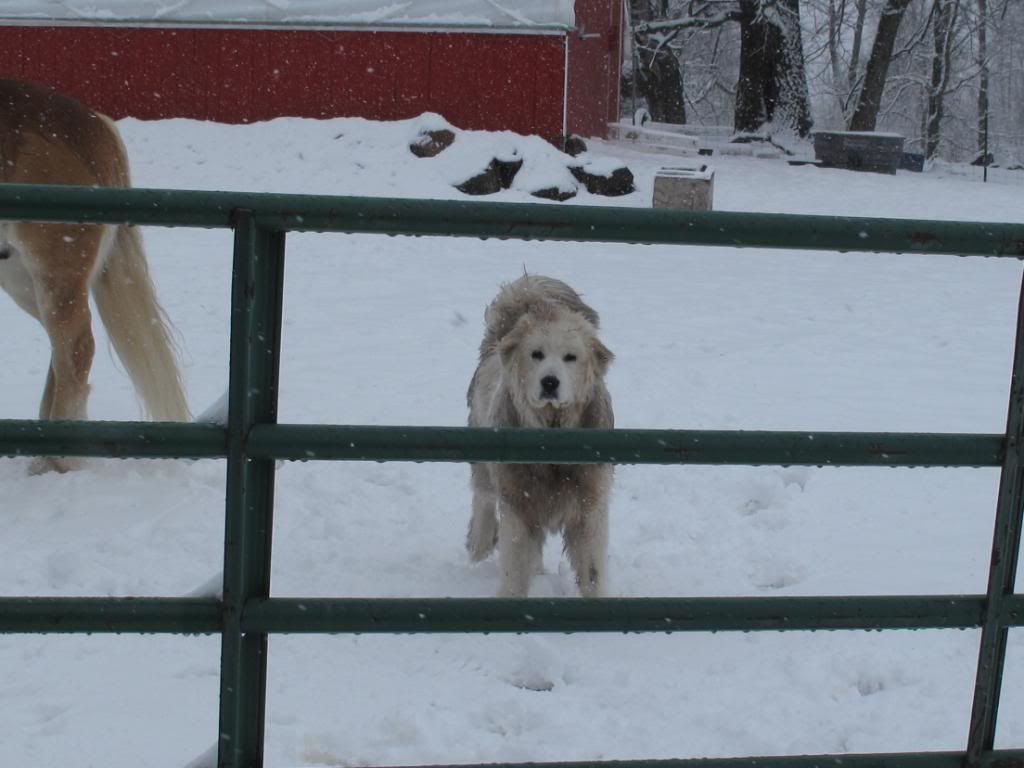 A very dirty Flavious
We spent two and half hours at the feed store the other day getting seeds, working out what plants we needed and when they would come, pricing out strawberries and raspberries and grapes... and ordering chickens. I would love to have grapes. We really would like to make our own wine, especially since Kevin cannot drink any wine with sulfites, which is all wine. We don't need to add preservatives to our wine. I'm going to try my hand at it this spring, but having our own grapes would be wonderful.
Sammy Saanen continues to do better, but not great. He's still weak but improving everyday. Douglas the puppy is about 95% house trained now but I still leave papers down in the evening, and Sammy has been peeing on them! It seems he's training himself to be a house goat. He adores the dogs and wants nothing more than to play with them all day long. And he loves playing with the dog toys and even picks them up and carries them! He's started to butt a little bit which is so cute.
Sammy finds the milk replacer
I decided instead of sharing recipes here, I'd put them on a seperate blog. I'll still share about canning and some of my experiments but as for recipes, you can find those at
http://www.backwoodskitchen.blogspot.com/
there is a link under our blog intro too. I'll put most of my cooking stuff there for anyone who is interested in that.
I rearranged everyone for the hopefully nicer weather that is coming, so the Prairie dogs can all look out the windows. They are just so happy. They love watching the other squirrels outside and the snow, and birds. Here they are last night while we were watching the hockey games
Who's winning?

Back to the barn I go to check on everyone.