I took this picture of Izzie the other night when I was up at the barn for the late night (10 PM) feeding. She is coming along really well. She's so adorable. She's really loving playing with all the other animals, she plays with Max, the rabbits, the goats, me. Mostly she spends her time trying to figure out where the milk comes from on me, just like the goats. She's love being able to run and hop around. She is coming well to me, and doesn't run from me at all.

Flavious is doing an amazing job guarding, he has just started barking at strangers or when things are where they shouldn't be. He was downright upset about the ferrier coming the other day and I was surprised he didn't run over to say hi like he usually does. But Max was also not sure of him, so I think he had been around an animal they could smell and didn't like. Max was barking last night around 5:30 and I figured it must be the deer running he was barking at, but I thought I'd look just in case. It turned out there was a baby raccoon running across the driveway and he was barking at that. The raccoon was up at the house, and the barn is 300 feet from the house, so I know for sure Max is keeping a close eye on things.

I took pictures just the other day of raccoon tracks by the house, so I'm sure they were this little guys. We had 5 bucks in the yard last night and three of them were strangers. Although they didn't seem to afraid of us, just a little jumpy so I'm sure they've been here before at some point, but we couldn't tell who any of them were for sure. One looked like Triangle nose Kevin said, which is one of his old friends.

It was such a riot today when the hay guys came. Izzie was running around and Buckwheat was loose, Max was playing with Izzie and the little goaties were looking for milk. The sheep wanted in the barn to go to bed, because it was close to 5 and they figured they should be put away now. Horace came to check them out and see what was going on, he thinks it's important he keeps an eye on all activities in the barn that might have to do with food. It's so much fun having the animals and watching their own little unique personalities stand out. I can tell all their voices apart, be it sheep, goat, dog.... I can read most of their expressions, predict a lot of their behaviors... They are our family.

The moose stew went over pretty good and we'll have more for dinner tonight. I haven't been feeling great today so I'm glad I have leftovers for Kevin. We really have to get out and get some wood in, the Ash we took recently burns really fast so we've gone through it a lot quicker than we expected. So we'll go collect some more ironwood and another ash we had our sights on earlier in the week. It's been cold, but we've been lucky and avoided any further snow so far. The black squirrels are out every day chasing each other around and it feels nice knowing spring is drawing nearer.




The other day when the ferrier was here, we were working on Jack and he stopped and said "listen to that...." I was listening for an animal or something, and he said "complete silence, amazing." He was right, there wasn't a single sound to be heard. No ice moving, no birds singing. Definitely no traffic, dogs barking, people yelling. He was right, it was amazing. Sometimes I forget what it's like to be in the silence out here because I am so used to it now, I do take it for granted. It's spoiled me. Whenever I go even into town, I really want to get back home as soon as I can. I love being here, and I love the isolation, and the quiet we have here. Of course sometimes it's not quiet at all. Sometimes the animals are making noise, or the birds, or the bullfrogs, coyotoes, owls. But that's not noise. That's just the sounds of home.




The little baby goat that was not doing well is eating really good and improving each day. He's still weak and has a long way to go, but he's getting stronger and he's drinking his milk. He is so curious and stands up to look out of his box at the T.V. and the dogs. He loves being out and about, but he's not thrilled about the diapers. His poop is good now, it's all cleared up and he's having normal baby goat poops! The things that really make me happy nowadays, who knew?

Here are some pictures I took at bedtime the other night.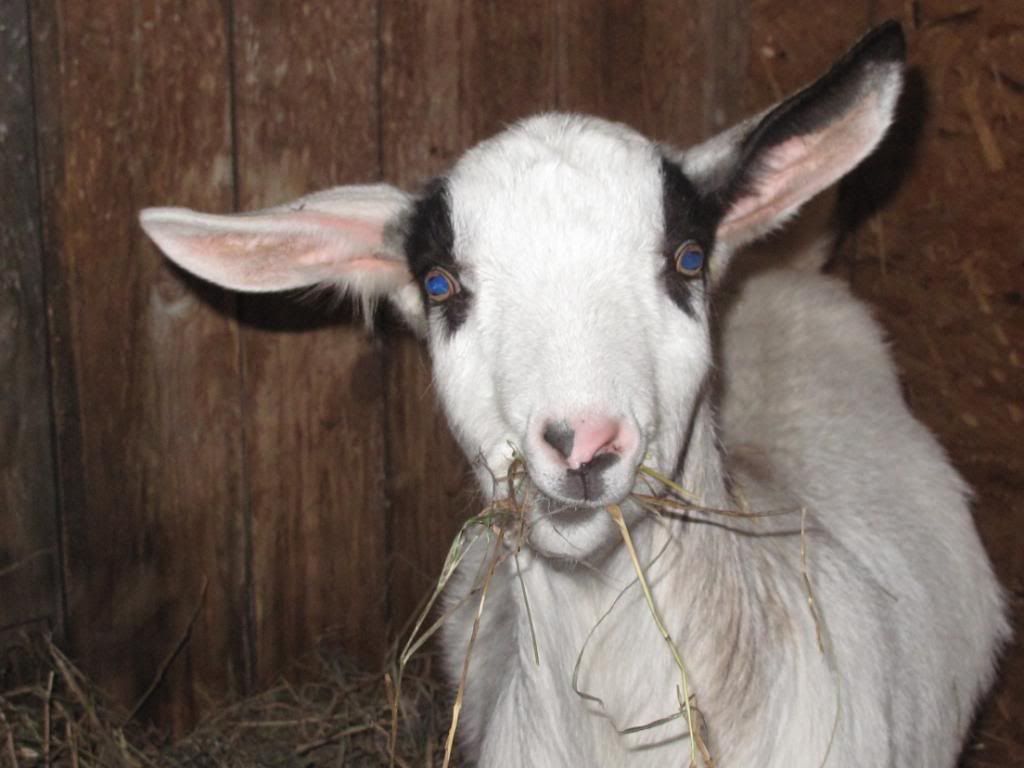 Earl checking out the new load of hay to climb in



Douglas asleep in daddy's chair