Exhausted
It's been a very long past two days. We got up by 6 AM yesterday morning so I could get the chores done and we could leave the house by 8 to pick up the calf and the goat kids. We got home around 3 or 4 and then I went to work making formula and getting everyone fed, including all our other animals.
Two of the baby goats clearly were younger than we were told. They were not doing well and were too cold outside, so we brought them in got them warmed up in blankets by the woodstove. They had a bottle and we hoped for the best. One of them we have lost, and the other one is hopfully going to make it. He's got the scours (which he had when we got him) so he's on electrolytes right now and he is getting up and being responsive. These two little ones could not have been more than a day old, if that. There just isn't any way. When we first saw them, we knew it would be trouble. The little one we lost did not respond to anything the entire trip home, while the other kids played with the calf and poked around at the hay. The other two kids are at least a week old, they are starting to eat hay a little bit, and they are drinking from the bottle, very, very well. One of them has waddles, or "goatie jewelery." It's adorable. I love the ear waddles, but this little guy has them on his neck. It's super cute.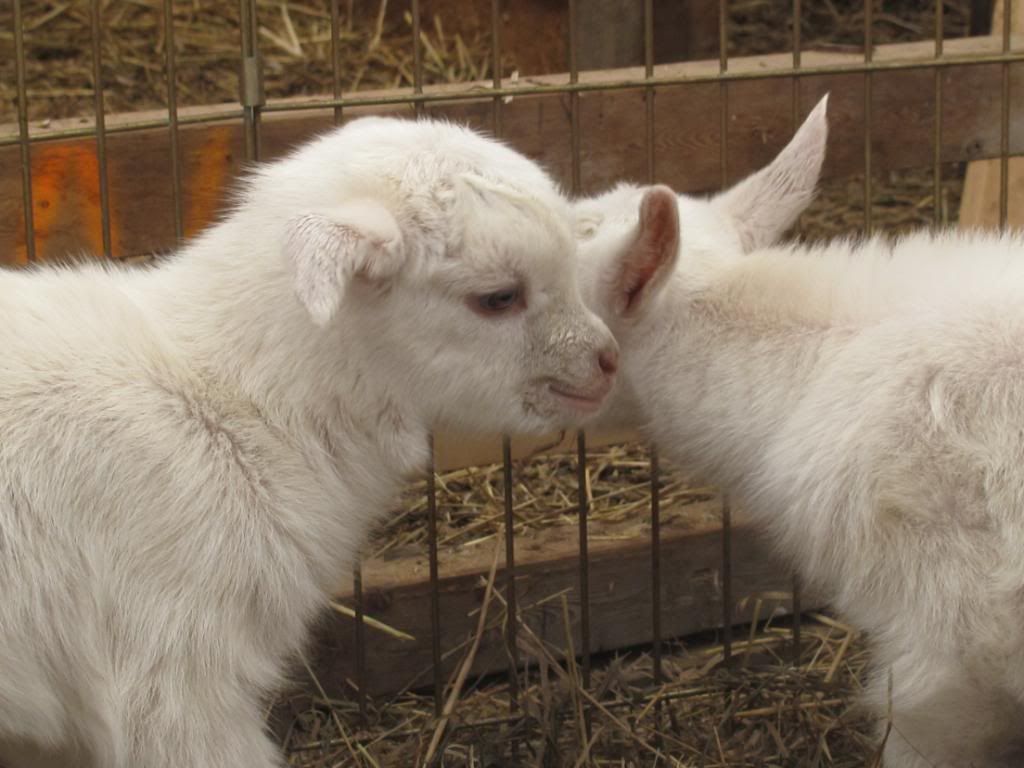 Isabelle, or, Izzie, our Jersey calf is doing great. She is a real sweetheart. She has three toes, but on both feet, two of them did not completely split as you can see in the pictures. This could be a good thing, or a bad thing. Only time will tell how she does on her feet as she grows. Right now she runs like crazy, hops, jumps, and can balance just fine. She was even able to stand up while we were driving home. She was a little unsure yesterday but after I gave her, her first bottle, she's really started to come around. She even gave me a kiss today! She loves the other animals, just loves them, and is so curious of everything, but very gentle. This morning on the way to the barn I heard all the animals calling for me, and then I heard a very quiet, very deep, Mooooooooo. I had to stop in my tracks. I cannot believe there is a cow in my barn. I'm used to all kinds of critter noises, but moooo is not one of them. This is the good part of being on the farm, having animals. There are difficult, sad, and emotionally trying things that happen. But then there are the wonderful, happy things, like Izzie moooing for the first time here. I cannot imagine life without these animals in it, no matter how much work goes into them, or how tired I am, I am grateful for having to get up early, heat bottles up, trudge up to the barn to be greeted by all those voices and faces.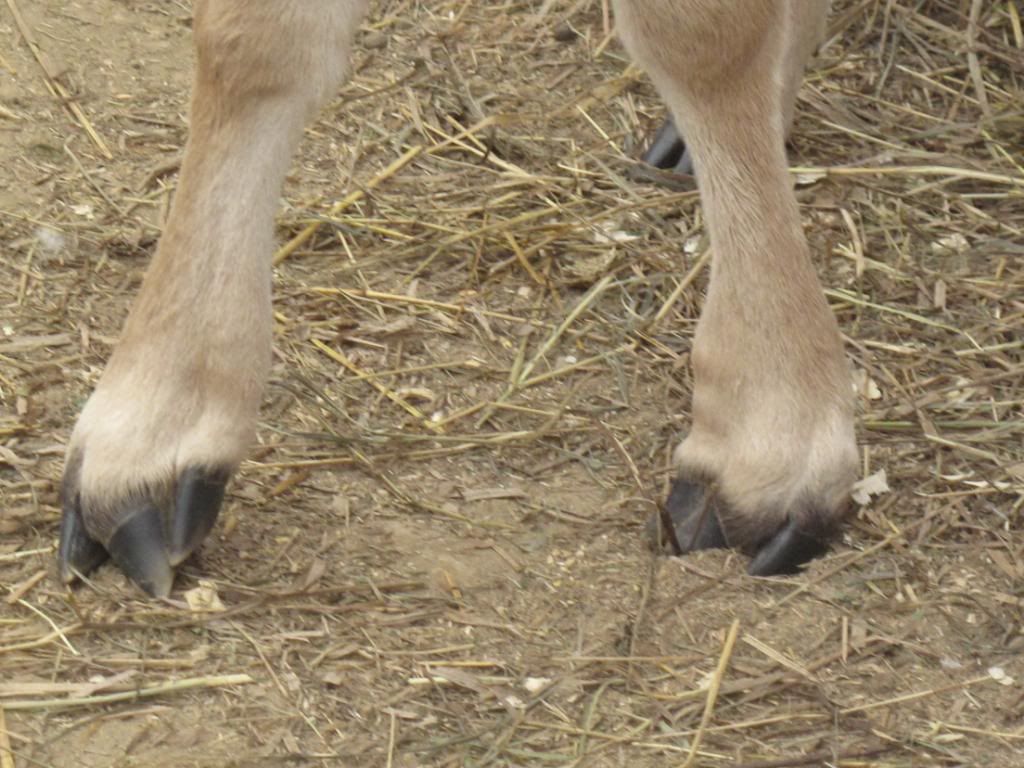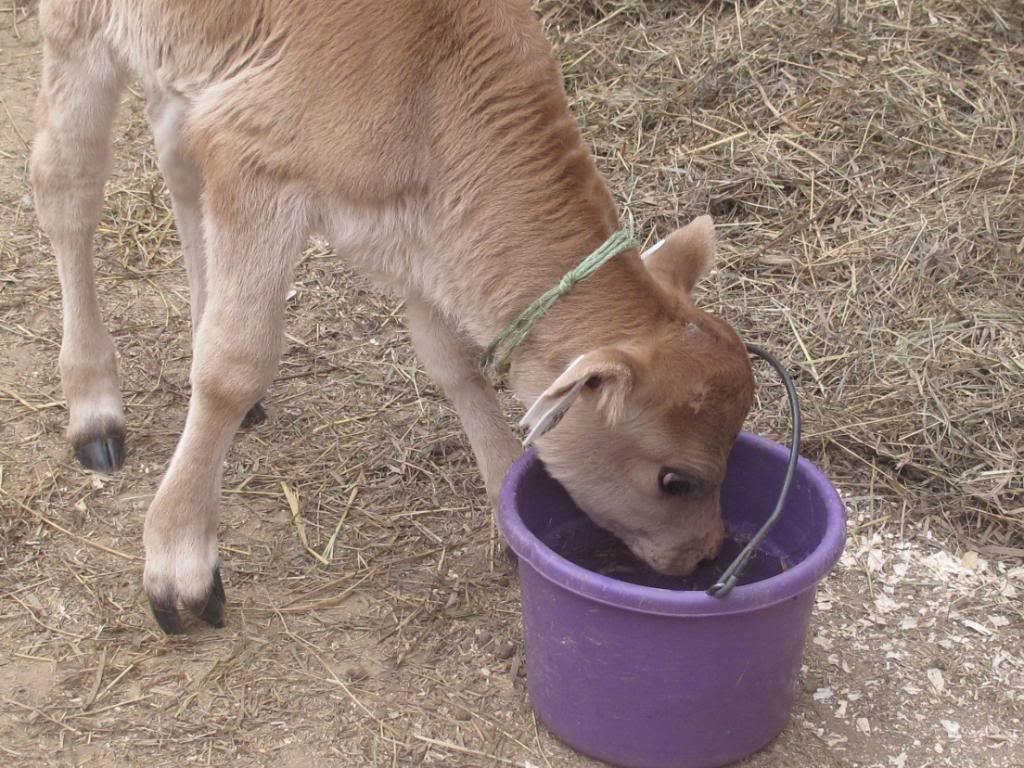 And if I have to loose sleep some nights worrying or going up to the barn, or whatever. So be it.
But still.... I am exhausted. Kevin did a lot of driving, and it was a lot of work getting these kids home. But none of them had a chance at life at all, so at least now we'll do our very best to give them a good shot at it.
The ferrier came and the horses got their feet trimmed, both of them behaved quite well including Jack the mini horse who usually likes to cause trouble. He had a look at Izzie but has never seen anything that like before. Not too many people have. When it comes to a cow born with something like that, not many people raise them up and see how they do. The calf never has a chance. So we live and learn. We do our best and take care of Izzie and hope that she gets good strength in her legs as she grows and that she does fine walking on her "different" feet when she is a full grown girl. They tagged her before we picked her up. Apparently it's illegal to sell a cow without the tags but we are not going to eat her so we really didn't want her tagged. My ferrier told me today if he wants to take one of his sheep to a show, she has to be tagged too.
There is still lots of work to do this evening, and a few more feedings to go. If I can get the little kid's (who is by the woodstove in the front room) runny poop under control, I can get more milk into him tonight.
It's going to be a VERY early night for us.