There are big fluffy snow flakes coming down right now. It's rather pretty outside. My favorite kind of winter day.
There other day there was a stranger here. No idea who this little buck was. I think he was a local but we were not sure and couldn't get a great picture of him, but he had both his antlers and we got a picture of those. He's a young buck. Deer Norman dropped his other antler yesterday, so he doesn't have "one up" on the other boys now!
We got out yesterday and hauled in some Ironwood and cut a dead Ash. It was cold, but a good day for working outside.
We have enough firewood cut and stacked to keep us going but it's important for us to get out and get wood in to add to our stash but also to keep us active and give us a good reason to get outside and work. The animals keep me busy but in the winter it's easy to just want to stay inside and that's never a good thing to do. To get through the winters in the bush you better keep your body and mind active - very active!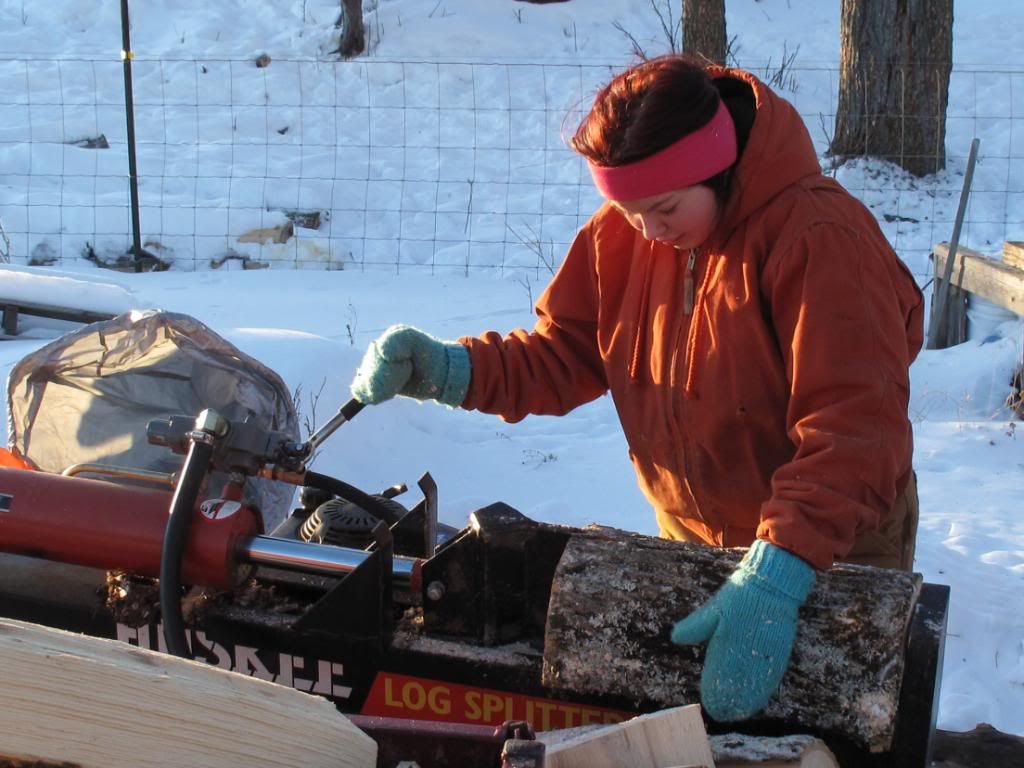 I had fun running the splitter yesterday. It's a lot of work, just as the entire process is, but it's fun work. I think the heaviest work (aside from cutting down the trees which so far just Kevin does, but I will learn to do to) is carrying the chains to hook the logs to the winch through the snow. In the hollow we were working in, the snow was knee deep easily. We don't have a lot of snow, but in the bush where it's piled up more and drifted there is a good amount.
I took this picture from the wood yard yesterday afternoon looking towards the house...
I thought it captured a beautiful time of day and beautiful moment.
Douglas is feeling so much better! He's really doing well. Him and Norman are getting along so good finally and playing. Norman is really starting to accept him and is coming to realize that Douglas is not here to replace him. I am so relieved! For a while there I was really getting worried. Norman is very spoiled, as all our animals are, but Norman worse than anyone. And there is nothing wrong with that, but I started to think maybe he would NEVER accept Douglas. But now he does realize it's fun to play with him.
and he's growing... he's maybe about 3 pounds now. So full of energy it's hard to keep up.
Flavious is growing up to be a very, very, handsome boy. The only thing Max has on him right now, is height. But since Max has something else mixed in him, that's part of why he's tall and long legged. Flav is doing great with the goats and he loves Wrambler the Haflinger. They are best buds. Wrambler loves both dogs, but Flav is easier to get along with since he's so laid back. I don't want to rush Flav's puppy hood but I do look forward to seeing him full grown, he's going to be stunning.
last night after a long days work outside, we all took a minute to just, take a break...
Time to get some lunch and get back to work. It's suppose to warm up this week so I should be able to get the barn cleaned up and catch up on some work up there too. The days are getting longer and it feels better knowing winter won't last forever.